Leveraging Innovations to Increase Educational Attainment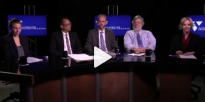 March 11, 2015
5:30 pm – 7:00 pm EDT
Online
Leveraging Innovations to Increase Educational Attainment
Participants
Robert Balfanz, PhD, Principal Investigator and Researcher, Center for the Social Organization of Schools, Johns Hopkins University School of Education
Ronald Chaluisan, Vice President, New Visions for Public Schools
Mariana Haynes, PhD, Senior Fellow, Alliance for Excellent Education
David Johnson, PhD, Associate Director of Research and Development, Urban Education Institute
Scott Sargrad, Deputy Assistant Secretary for Policy and Strategic Initiatives, Office of Elementary and Secondary Education, U.S. Department of Education
Rebecca Unterman, Research Associate, MDRC
On March 11, 2015 the Alliance and MDRC held a webinar to discuss recent innovations in high school reform and facilitate a conversation among education leaders about the design of high-impact strategies to keep all students on the path to high school graduation and college and career readiness.
Rebecca Unterman and Ronald Chaluisan examined the design and impact of small public high schools in New York City, which MDRC's ongoing evaluation finds increase high school graduation and college enrollment rates for almost all students served, including underserved students of color. Robert Balfanz and David Johnson discussed what matters most to ensure students are on-track to high school graduation and college readiness. Scott Sargrad discussed the implications for federal investments in high school improvement. Mariana Haynes moderated the discussion. Panelists also addressed questions submitted by webinar viewers from across the country.
Two presentations were made during the webinar.  To view them, click on the links below:
This event is made possible with support from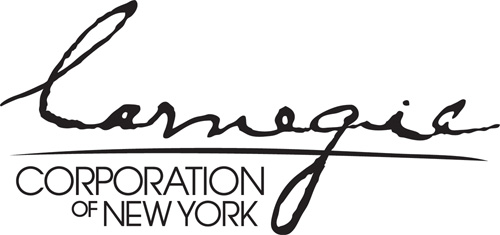 >>> HELLO, I'M MARIANA HAYNES.
WELCOME AND THANK YOU FOR
JOINING THE ALLIANCE, A
NONPROFIT, NONPARTISAN EDUCATION
AND POLICY RESEARCH FIRM BASED
IN NEW YORK CITY.
TODAY'S WEBINAR ON LEVERAGING
INNOVATIONS TO INCREASE
EDUCATIONAL ATTAINMENT BRINGS
TOGETHER THOSE TO DISCUSS
INNOVATIONS AND ONGOING SCHOOL
IMPLEMENT GRANT PROGRAM.
THEIR WORK HAS MADE AN ENORMOUS
CONTRIBUTION TO UNDERSTANDING
WHAT MATTERS MOST TO ENSURE
STUDENTS ARE ON TRACK TO HIGH
SCHOOL GRADUATION AND COLLEGE
READINESS.
IF YOU ARE ON TWITTER WE
ENCOURAGE YOU TO TWEET ABOUT
THIS WEBINAR.
THANKS TO CARNEGIE CORPORATION
FOR GENEROUS SUPPORT OF THIS
WEBINAR.
JOINING US IN THE STUDIO IS
REBECCA UNTERMAN, RESEARCH
ASSOCIATE FOR MDRC, DR. ROBERT
BALFANC, PRINCIPAL INVESTIGATOR
AND RESEARCHER AT THE CENTER FOR
SOCIAL ORGANIZATION OF SCHOOLS.
RONALD CHALUISAN AND SCOTT
SARGRAD IN THE U.S. DEPARTMENT
OF EDUCATION.
JOINING US BY PHONE FROM CHICAGO
IS DR. DAVID JOHNSON ASSOCIATE
DIRECTOR OF RESEARCH AND
DEVELOPMENT AT URBAN EDUCATION
INSTITUTE IN CHICAGO AND A
SENIOR RESEARCH ANALYST AT THE
UNIVERSITY OF CHICAGO CONSORTIUM
OF CHICAGO SCHOOL RESEARCH.
THANKS TO ALL OF OUR GUESTS FOR
JOINING US TODAY.
WE ENCOURAGE YOU TO USE THE
FORUM TO SUBMIT QUESTIONS AND WE
WILL TURN TO QUESTIONS FROM TIME
TO TIME THROUGHOUT THE WEBINAR.
THERE HAS BEEN SOME GOOD NEWS
THIS YEAR.
THE UNITED STATES POSTED AN ON
TIME HIGH SCHOOL GRADUATION RATE
OF 81%, THE HIGHEST LEVEL SINCE
STATES ADOPTED A NEW UNIFORM WAY
OF CALCULATING GRADUATION RATES.
STUDENTS CONTINUE TO FALL
THROUGH THE CRACKS EVERY DAY.
ONE IN FIVE FAILS TO GRADUATE
HIGH SCHOOL IN TIME.
MANY WHO DO EARN A DIPLOMA ARE
UNDER PREPARED.
TODAY'S COMPETITIVE GLOBAL
ECONOMY, SOME FORM OF POST
SECONDARY EDUCATION IS A
REQUIREMENT FOR CAREER PURSUITS
AND MORE THAN 3.1 MILLION JOBS
REMAINS UNFULFILLED.
GRADUATING STUDENTS CAN ADD
TRILLIONS TO ECONOMY, INCREASE
GRADUATION RATES WOULDAST $17.3
BILLION TO THE NATIONAL ECONOMY.
POLICY MAKERS AND PRACTITIONERS
CONTINUE TO GRAPPLE WITH
QUESTIONS ABOUT WHAT KNOWLEDGE
AND SKILLS STUDENTS NEED TO
SUCCEED IN HIGH SCHOOL AND
BEYOND.
YET THERE IS GOOD REASON FOR
INCREASED OPTIMISM.
THERE HAS BEEN EXPANSION ABOUT
WHAT MATTERS MOST FOR STUDENT
SUCCESS AND SCHOOL IMPROVEMENT.
THAT IS WHAT WE LEARN ABOUT
TODAY WHAT WE KNOW AND HOW WE
LEVERAGE THAT KNOWLEDGE.
AS STATES TRANSITION APPLYING
THE LESSONS LEARNED ABOUT HIGH
SCHOOL IMPROVEMENT WILL BE
CRITICAL.
TO BEGIN WE LOOK AT AN
INITIATIVE BEGUN IN NEW YORK
CITY IN 2002.
BEGINNING IN 2002 NEW YORK CITY
CLOSED MORE THAN 20 LARGE
FAILING HIGH SCHOOLS AND OPENED
MORE THAN 200 NEW HIGH SCHOOLS.
SO THE MOST RECENT MDRC REPORT
IN A SERIES OF RIGOROUS
EVALUATIONS SHOW INCREASED
GRADUATION RATES AND POST
SECONDARY ENROLLMENTS FOR
STUDENTS.
SO TO HELP US UNDERSTAND THE
MDRC FINDINGS AND IMPLICATIONS I
AM PLEASED TO WELCOME BECKY
UNTERMAN.
THIS IS A MONUMENTAL
UNDERTAKING.
>> THANKS FOR HAVING ME HERE.
SINCE 2010 MDRC RELEASED THREE
REPORTS DOCUMENTING EFFECTS ON
SCHOOLS OF CHOICE ON HIGH SCHOOL
GRADUATION RATE.
TODAY I SHARE FINDINGS WHICH
REPORTS THAT THERE IS A STRONG
POSITIVE EFFECT ON STUDENTS POST
SECONDARY ENROLLMENT.
FIRST WHAT ARE THE KEY FEATURES?
RYAN — RON WILL TALK ABOUT THIS
MORE BUT IT WAS CREATED ALONG
SIDE IMPLEMENTATION FOR ALL
RISING NINTH GRADERS.
BUILDING ON THE SMALL SCHOOL
TRADITION DATING BACK TO 1990s.
IN 1992 OVER 100 WERE CREATED
ACROSS THE CITY.
EACH SCHOOL HAD ITS OWN MISSION
AND ITS OWN FOUNDING TEAM.
THE FIRST IS THAT THEY ARE
ACCESSIBLE TO STUDENTS OF ALL
ACADEMIC ABILITIES.
THIS OCCURS BECAUSE IN THE
APPLICATION PROCESS THEY DO NOT
SCREEN STUDENTS BASED ON PRIOR
ACADEMIC ACHIEVEMENT LIKE MOST
OTHER SMALL SCHOOLS IN THE
DISTRICT.
THEY ARE SMALL IN SIZE SERVING
ROUGHLY 100 STUDENTS PER GRADE
AND SMALL IN FUNCTION BUILDING
IN THINGS LIKE ADVISORY
COMMITTEES AND FOSTER
RELATIONSHIPS BETWEEN ADULTS AND
STUDENTS IN THE BUILDING.
THEY ARE CREATED IN A DEMANDED
BOTTOM UP PROPOSAL PROCESS
EMPHASIZING ACADEMIC RIGOR AND A
COMMUNITY PARTNERSHIP.
AND THIS COMPETITIVE APPLICATION
PROCESS WAS OVERSEEN BY A CORE
TEAM AND INCLUDED NEW YORK CITY
TEACHERS UNION, PRINCIPAL'S
UNION AND NEW YORK CITY
DEPARTMENT OF EDUCATION.
THE SCHOOLS ARE LOCATED IN SOME
OF THE MOST DISADVANTAGED
EDUCATIONALLY AND POVERTY
STRICKB AREAS OF NEW YORK CITY.
WHAT DID WE FIND?
FOR ENROLLEES MORE LIKELY TO
GRADUATE HIGH SCHOOL AND IN
DOING SO THEY OBTAIN A REGION
DIPLOMA WHICH IN NEW YORK STATE
IS THE STANDARD FOR HIGH SCHOOL
GRADUATION AND ARE MORE LIKELY
TO ENROLL IN POST SECONDARY
ACROSS A VARIETY OF LEVELS.
WHEN WE LOOK ACROSS IN SUBGROUPS
NEARLY EVERY STUDENT SUBGROUP
BENEFITS FROM ENROLLMENT
INCLUDING STUDENTS ENTER HIGH
SCHOOL PERFORMING BELOW GRADE
LEVEL IN MATH.
THESE ARE LARGE AND CONSISTENT
YEAR AFTER YEAR.
COST PER GRADUATE IS LOWER THAN
THE CONTROL GROUP COUNTER PART.
[ INAUDIBLE ] AND FEWER STUDENTS
RETURNED FOR A FIFTH YEAR.
AND WE STUDY THESE SCHOOLS USING
A LOTTERY BASED EXPERIMENTAL
RESEARCH DESIGN.
I WON'T GO INTO TOO MUCH DETAIL
BUT AS PART OF THE DISTRICT WIDE
CHOICE PROCESS WHEN IT IS
OVERSUBSCRIBED AN ALGORITHM
BREAKS TIES BETWEEN STUDENTS.
THIS COMPONENT — THIS PROCESS
CREATES TWO NEARLY IDENTICAL
SETS OF STUDENTS.
ONE GROUP OF LOTTERY WINNERS WHO
HAD AN OPPORTUNITY TO ENROLL AND
ANOTHER GROUP THAT GO ON AND
ENROLL ELSEWHERE IN THE DISTRICT
AT ANOTHER SCHOOL.
OUR STUDENTS IN OUR SAMPLE ARE
ON AVERAGE 83% QUALIFIED FOR
FREE/REDUCED PRICE LUNCH.
TWO-THIRDS ENTER HIGH SCHOOL
PERFORMING BELOW GRADE LEVEL AND
90% ARE BLACK OR HISPANIC.
WHEN STUDENTS DO NOT HAVE THE
OPPORTUNITY TO ATTEND ON AVERAGE
THEY ENROLL IN SCHOOLS THAT ARE
LARGER AND OLDER IN THE
DISTRICT.
NOW, LOOKING AT THIS FIRST TABLE
PRESENTS OUR KEY FINDINGS ON
HIGH SCHOOL GRADUATION AND POST
SECONDARY ENROLLMENT.
LOOKING ACROSS THE FIRST ROW YOU
CAN SEE THAT 71.6% OF THE
STUDENTS THAT ENROLLED GRADUATED
HIGH SCHOOL AFTER FOUR YEARS
WHILE 62.2% OF THEIR CO-GROUP
COUNTER PARTS DID THE SAME.
THE DIFFERENCE IS THE IMPACT OF
ENROLLMENT.
IN THE TABLE YOU CAN SEE
STATISTICAL SIGNIFICANCE AT
THE .01 LEVEL.
LOOKING AT THIS TABLE YOU CAN
SEE AS I MENTIONED EARLIER THIS
IS BEING DRIVEN BY STUDENTS
OBTAINING REGIONS DIPLOMAS
[ INAUDIBLE ] OF 6.7 PERCENTAGE
POINTS.
AND THE SECOND PANEL PRESENTS
TWO MEASURES WE USE TO INDICATE
COLLEGE READINESS WHETHER
STUDENTS SCORED 75 OR ABOVE ON
THE ENGLISH AND MATH REGENTS
EXAM.
42% OF THE ENROLLEES SCORED
ABOVE THE 75 ON ENGLISH WHILE
35.8% CONTROL COUNTER PART SO
THE DIFFERENCE IS 6.3 PERCENTAGE
POINTS.
THERE IS NOT AN IMPACT ON
STUDENTS PERFORMING ABOVE THIS
LEVEL ON THEIR MATH EXAMS.
NOW, OUR NEW FINDING HERE IS
THAT 49% OF THE TARGET ENROLLEES
ENROLLED IN POST SECONDARY AFTER
GRADUATING HIGH SCHOOL IN FOUR
YEARS WHILE 40% OF THE CONTROL
GROUP COUNTER PARTS DID SO.
THIS IS IMPACT OF 8.4 PERCENTAGE
POINTS.
SO ALMOST ALL OF THE IMPACT ON
HIGH SCHOOL GRADUATION WAS
SUSTAINED AS STUDENTS MOVED INTO
POST SECONDARY.
AND OUR NEXT TABLE WE LOOK AT
THE POST SECONDARY IMPACT ACROSS
STUDENT SUBGROUPS.
IN THE FIRST ROW YOU CAN SEE FOR
STUDENTS THAT ENTERED HIGH
SCHOOL QUALIFYING FOR FREE AND
REDUCED PRICE LUNCH 47% OF THE
TARGET ENTERED POST SECONDARY
WHEREAS 38.1% OF THEIR CONTROL
GROUP COUNTER PARTS DID SO.
THIS IS AN IMPACT OF 9.6
PERCENTAGE POINTS.
ON THE REST OF THE TABLE YOU CAN
SEE THE IMPACT IS SUSTAINED
ACROSS MANY STUDENT SUBGROUPS
NOTABLY THE IMPACT FOR BLACK
MALE STUDENTS IS 11.3 PERCENTAGE
POINTS AND THOSE WHO FULLY MET
STANDARDS AND PARTIALLY MET
STANDARDS.
FINALLY, WE ARE ABLE TO FOLLOW
ONE COHORT OF STUDENTS, THOSE
THAT ENTERED HIGH SCHOOL IN
2005-2006 THROUGH FOUR YEARS OF
POST SECONDARY.
LOOKING ACROSS THIS TABLE YOU
CAN SEE THAT OVER TIME THE
LEVELS OF POST SECONDARY
ENROLLMENT FOR BOTH TARGET AND
CONTROL GROUP COUNTER PARTS
DECREASED OVER TIME BUT THAT
OCCURRED FOR BOTH GROUPS AND THE
IMPACT, THE DIFFERENCE BETWEEN
THEM WAS MAINTAINED.
NOW, WE DON'T HAVE DATA ON POST
SECONDARY DEGREE COMPLETION
AFTER FOUR YEARS.
WE HAVE IT AFTER 3 1/2 YEARS.
SO YOU CAN SEE HERE THE IMPACT
IS 1.4 PERCENTAGE POINT.
IT IS PROMISING BUT WE WON'T
KNOW ANYTHING UNTIL WE CAN
FOLLOW STUDENTS THROUGH FOUR
YEARS OF POST SECONDARY.
TO SUMMARIZE THE FINDINGS, SMALL
THEMES, HIGH SCHOOLS OF CHOICE
CAN BE EFFECTIVE REFORM
STRATEGY.
PARTICULARLY RELEVANT TO I THINK
THIS DISCUSSION TODAY I WOULD
LIKE TO ALSO BRIEFLY REVISIT
FINDINGS FROM A REPORT WE
RELEASED IN 2013.
WE WORKED AND INTERVIEWED 25
PRINCIPALS AND TEACHERS IN 25
EFFECTIVE SMALL SCHOOLS.
WE ASKED THEM WHAT FEATURES DO
YOU BELIEVE ARE MOST RESPONSIBLE
FOR EFFECTIVENESS AND WHAT DO
YOU BELIEVE ARE THE MOST SERIOUS
OBSTACLES TO CREATING AND
MAINTAINING EFFECTIVENESS OF
THESE?
IN INTERVIEWS PRINCIPALS
REPORTED THAT THE TEACHERS AND
DRIVE IN FLEXIBILITY OF THE
SCHOOL STAFF WAS MOST IMPORTANT
AS WELL AS THE PERSONAL
RELATIONSHIP THAT EXIST IN THE
BUILDINGS BETWEEN TEACHERS AND
BETWEEN TEACHERS AND STUDENTS.
AND FOCUS GROUPS RECEIVED THE
SAME THINGS IN ADDITION TO
CITING RELATIONSHIPS THEY
ADDRESS HIGH EXPECTATIONS.
THEY SAID THESE THINGS WORK
TOGETHER.
SO IN ORDER TO UNDERSTAND HOW TO
PUSH THEIR STUDENTS THEY NEEDED
TO HAVE CLOSE RELATIONSHIPS WITH
THEM AND BE ABLE TO KNOW EXACTLY
WHAT RESOURCES THEY NEED.
NOW, IN TERMS OF ONGOING
CHALLENGES, PRINCIPALS RECEIVE
DIMINISHING FINANCIAL RESOURCES
AS WELL AS MAINTAINING HIGH
ACADEMIC EXPECTATIONS YEAR AFTER
YEAR AFTER YEAR AS THEY KEEP
RECEIVING STUDENTS THAT ENTER
WITH PARTICULARLY LOW LEVELS OF
READING AND MATH.
TEACHERS PERCEIVE MUCH OF THE
SAME THING BUT NOTED IT IS
DIFFICULT IN A SMALL SCHOOL TO
REACT TO TURNOVER WHERE IN SMALL
SCHOOLS EVEN THOUGH THE RATE OF
TEACHER TURNOVER MIGHT BE THE
SAME, ONE TEACHER LEAVING MAKES
A BIG DIFFERENCE.
THANK YOU.
>> THANK YOU VERY MUCH.
>>> A LOT OF INFORMATION THERE
THAT WE ARE GOING TO GET INTO A
LITTLE BIT MORE.
THESE FINDINGS ARE IMPRESSIVE
NOT JUST BECAUSE THEY ARE
CONSISTENT BUT IN LIGHT OF THE
SCALE OF THE STUDIES, THE USE OF
REAL WORLD MEASURE OF COLLEGE
ENROLLMENT AND A DESIGN THAT
MEETS VERY HIGH STANDARDS OF
EVIDENCE.
THE OTHER PART IS THE COST
ANALYSIS.
IS THAT SOMETHING THAT CAN BE
DONE FOR STUDENTS WHO ENROLL AT
THE COLLEGE LEVEL TO DO SOME
SORT OF COST ANALYSIS FOR THOSE
WHO ARE PERSISTING?
IS THAT POSSIBLE OR FEASIBLE OR
IN THE PLANS TO LOOK AT THAT?
>> I THINK IT'S IN THE PLANS TO
LOOK AT IT.
>> NOT EASY.
>> YEAH, YEAH.
>> I THINK AS WE LOOK AT IT WE
WILL HAVE TO FIGURE OUT HOW TO
DO IT.
>> WANT TO FOLLOW UP ON THAT.
>>> SO NEXT WE ARE GOING TO TALK
WITH RON CHALUISAN, VICE
PRESIDENT OF NEW VISIONS FOR
PUBLIC SCHOOLS.
THIS IS 81 PUBLIC SCHOOLS IN NEW
YORK CITY SERVING MORE THAN
41,000 STUDENTS.
NEW VISIONS PLAYS A VERY
IMPORTANT ROLE AS PARTNERSHIP
SUPPORT ORGANIZATION TO MANY
SMALL HIGH SCHOOLS OF CHOICE.
WE ARE LOOKING TO YOU TO GO INTO
MORE DETAIL ABOUT WHAT THESE
SCHOOLS LOOK LIKE ON THE GROUND.
YOU HAVE BEEN AT THIS SINCE ITS
INCEPTION IN NEW YORK CITY IN
2002.
>> YES.
>> SO TALK ABOUT THE SPECIFIC
DESIGN, HOW YOU MONITOR PROGRESS
AND SOME OF THE KEY DRIVERS OF
CHANGE.
>> SO IN 2002 WE CAME TOGETHER
AND HAS BEEN IN HISTORY OF SMALL
SCHOOLS IN NEW YORK CITY.
WE STUDIED THAT CLOSELY.
THERE WERE A FEW DESIGN ELEMENTS
THAT WERE CRITICAL.
IT IS HEARTENING TO HEAR WHERE
SOME OF THE ELEMENTS COME FORTH
AS BEING VERY IMPORTANT.
SO WE REALLY STARTED WITH THIS
NOTION OF BEING FOCUSED ON
INSTRUCTIONAL LEADERSHIP AND
MOVING FROM OPERATIONS TO
LOOKING AT LEARNING AND TEACHING
WITHIN A SCHOOL.
AND THE WORK THAT THAT ENTAILED
AS FAR AS WHO THE LEADERS OF THE
SCHOOLS WERE.
THE OTHER PIECE WAS THAT IT WAS
A SMALL LEARNING COMMUNITY THAT
WAS BUILT ON HIGH EXPECTATIONS.
SO REALLY CONVINCING EDUCAORS
THAT WHAT IS POSSIBLE IS
POSSIBLE, WAS AN IMPORTANT PIECE
OF THE WORK AS WELL AS HAVING A
CLEAR FOCUS AND STRONG RIGOROUS
INSTRUCTIONAL PROGRAM.
WHAT IS INTERESTING IN
REFLECTING ON ALL OF THIS IS
THAT AS I THINK BACK ON THAT
THOSE WORDS ARE WORDS THAT ARE
USED QUITE OFTEN AND ARE FAIRLY
IN DEFINITION.
AT THAT POINT IN TIME THEY
REALLY WERE.
WE WERE LOOKING TO THE FIELD TO
DEFINE THOSE WORDS.
SO THERE WAS A BACK AND FORTH
BETWEEN US AND INTERMEDIATARY
ORGANIZATION AND GROUPS STARTING
SCHOOLS TO LOOK AT EVIDENCE OF
WHAT THEY MEANT WHEN THEY SAID
STRONG RIGOROUS PROGRAM OR
LEADERSHIP.
THE OTHER PIECE IS PERSONALIZED
LEARNING ENVIRONMENT.
THAT WAS TRUE FOR BOTH TEACHERS
AND FOR STUDENTS.
THIS NOTION THAT TEACHERS AND
STUDENTS NEEDED TO BE KNOWN WAS
AN IMPORTANT CONCEPT.
ADULTS WERE BEING ASKED TO WORK
ON TEAMS SO THEY HAD TO BE KNOWN
NOT ONLY AS TEACHERS BUT ALSO AS
LEARNERS.
WHAT WAS THE LEARNING STYLE?
HOW DID THEY GO ABOUT LEARNING
ABOUT LEARNING?
AND WHAT WERE THE SITUATIONS
THAT ALLOWED THAT KIND OF
LEARNING.
FOR STUDENTS IT WAS THE NOTION
OF HAVING VOICE.
WE INCORPORATED MANY YOUTH
DEVELOPMENT PRINCIPLES INTO THE
ORIGINAL DESIGN.
HAVING VOICED THOSE IN WHAT WAS
BEING LEARNED AS WELL AS HOW IT
WAS BEING LEARNED AND THE NOTION
OF PARTICIPATION THAT THAT
LEARNING WAS AN ACTIVE PROCESS.
IT WAS NOT A PASSIVE PROCESS.
SO THOSE ARE SOME KEY ELEMENTS.
AND THEN WE HAD A BIG COMPONENT
AROUND PARENTING AND COMMUNITY
ENGAGEMENT.
THERE WAS A SCHOOLS EXISTED
WITHIN COMMUNITIES AND
COMMUNITIES SHOULD AND COULD BE
INVESTED IN THE ONGOING LEARNING
OF THE STUDENTS AND THAT
RELATIONSHIP BETWEEN SCHOOL AND
COMMUNITY NEEDED TO BE VIBRANT
IN ORDER FOR THE SCHOOL TO HAVE
CHANCES OF SUCCESS.
WE REALLY JUST ORGANIZED AROUND
THESE PRINCIPLES AND LOOKED TO
THE FIELD OF PRACTITIONERS TO
START TO DEFINE THOSE THINGS.
AND WHAT WE TRY TO DO IS CREATE
A SYSTEM OF SCHOOLS, A COMMUNITY
OF SCHOOLS WHERE THE SHARING
WOULD HAPPEN.
WE QUICKLY REALIZED THAT THE
DATA SYSTEM THAT SCHOOLS HAD
AVAILABLE TO THEM WERE NOT
ADEQUATE.
THE DATA WAS LAGGING THE TIME
ELEMENT, THE INFORMATION THAT
THEY HAD FOR CLASSES WAS ONE OR
TWO YEARS BEHIND THE NOTION OF
REAL TIME, HOW ARE MY STUDENTS
DOING RIGHT NOW AND MY TEACHERS
DOING RIGHT NOW IS SOMETHING
EVERYONE WAS TRYING TO WORK ON.
SO WE ENDED UP FOCUSING QUITE A
BIT ON DATA AND THE NOTION THERE
WAS WHAT IS THE DATA NEEDED?
IF YOU REALLY WANT TO GET TO OUR
GOAL WHICH WAS ANOTHER IMPORTANT
PIECE WE MADE A FAIRLY AUDACIOUS
STATEMENT THAT WE WERE GOING TO
ACHIEVE AN 80% GRADUATION RATE
AND A 92% AVERAGE DAILY
ATTENDANCE RATE SO 80/92 FOR
SHORT AT A TIME WHEN IN THE CITY
THE GRADUATION RATE WAS
SOMEWHERE BELOW 60%.
SO MAKE THAT STATEMENT AND
SAYING HOW WE ARE GOING TO DO
THAT PUSHED US TO A PLACE WHERE
WE HAD TO ORGANIZE DATA SO THAT
SCHOOLS KNEW WHERE THEY STOOD
AGAINST THAT GOAL AND COULD MAP
OUT ROOTS TO GET TO THAT GOAL.
OVER THE LAST YEARS WE HAVE
MOVED THAT.
SO OUR CURRENT SCHOOLS ARE AT
ABOUT 73% GRADUATION RATE.
WE ARE NOT QUITE YET AT 80.
THAT IS A PHASE OF THE WORK AND
SOMETHING WE HAVE NOT YET GIVEN
UP.
I THINK SOME OF THE NEW WORK WE
ARE DOING WILL GIVE US A LEG UP
ON MOVING FROM 74 TO 80.
I THINK THE BIG SWITCH OF OUR
WORK HAS BEEN REALLY TRYING TO
GO FROM THIS BURDENSOME PROCESS
OF GATHERING DATA TO BEING
REALLY EFFICIENT IN THE
GATHERING OF DATA.
DECREASING TURN AROUND TIME FOR
SCHOOLS, WHAT DATA IS AVAILABLE
TO THEM AND HOW QUICKLY CAN WE
GET TO THEM.
THE NUMBER OF TIMES THAT THE
DATA IS AVAILABLE FOR SCHOOLS,
CONSOLIDATING IT INTO ONE PLACE
AND ALLOWING SCHOOLS TO REALLY
BE ABLE TO MANIPULATE THE DATA
EASILY SO THEY CAN ASK QUESTIONS
OF THE DATA AND CUSTOMIZE
RESPONSES TO THE NEEDS OF THE
SPECIFIC STUDENTS IN THEIR
SCHOOLS.
TO THAT END WE BUILT A NUMBER OF
TOOLS THAT HELP US TO DO THAT.
>> YOU HAVE BEEN ASKED THIS FOR
SOME TIME NOW.
WHAT HAVE YOU LEARNED ABOUT WHAT
IT TAKES TO CLOSE PERFORMANCE
GAPS PARTICULARLY WHERE THE BAR
HAS SHIFTED NOW AND NOT JUST A
FOCUS ON GRADUATION BUT GIVING
ACCESS TO STUDENTS WHO DO EARN A
DIPLOMA TO POST SECONDARY
EDUCATION?
HOW DO YOU DEAL WITH THESE
PERFORMANCE GAPS?
WHAT DO YOU FOCUS ON?
HOW DO YOU SIGNAL WHAT IS MOST
IMPORTANT WHEN YOU REFERENCE
DATA YOU COLLECT?
WHAT DO WE NEED TO BE PAYING
ATTENTION TO?
>> I THINK WE LOOK AT A NUMBER
OF DIFFERENT ELEMENTS.
ONE PIECE WE TALK ABOUT OR
DESCRIBE IT AS CORPS SYSTEMS.
WE ARE LOOKING AT ATTENDANCE,
STUDENT PROGRAMMING,
INTERVENTIONS AVAILABLE AND
GIVEN TO STUDENTS AND WE ARE
LOOKING AT IN NEW YORK CITY
CREDIT ACCUMULATION AND EXAMS
OBTAINING SPECIFIC SCORES ON
FIVE EXAMS.
WHAT WE FOUND WAS THAT SOME OF
THE SYSTEMS IN THE SCHOOLS WERE
IDIOSYNCRATIC.
TO THE SENSE THAT THERE IS A
WORK FLOW AND WE ARE ABLE TO
IDENTIFY THE WORK FLOW AND ABLE
TO GIVE INFORMATION, SPECIFIC
INFORMATION TO SCHOOLS WE HAVE
CREATED THESE SYSTEMS THAT ALLOW
US TO DO THAT IN A VERY
EFFICIENT WAY.
THAT IS THE DATA SYSTEM.
THERE IS A HUMAN SYSTEM THAT HAS
TO ACCOMPANY THAT.
SO THE CAPACITY TO ACTUALLY MAKE
USE OF THE DATA AND WHAT WE HAVE
DONE IS OVER THE VARIOUS YEARS
OF COACHING, THE INDIVIDUAL
COACHING THAT HAS HAPPENED AT
SCHOOLS, WE HAVE BEEN ABLE TO
DISTILL FROM THOSE COACHING
SESSIONS SOME VERY, VERY KEY
QUESTIONS THAT NEED TO BE MADE
OF THE DATA AND SPECIFIC TIMES
IN THE COURSE OF THE YEAR WHERE
THOSE QUESTIONS SHOULD BE ASKED.
SO WE RUN A SERIES OF STRUCTURED
CONVERSATIONS WITH SCHOOLS AND
WE USE A LOT OF THE TECHNOLOGY
THAT IS AVAILABLE TO US.
SO GOOGLE HANGOUTS MAKES IT
FAIRLY EASY IN DEALING WITH
DIFFERENT SCHOOLS.
BUT WE CREATE OPPORTUNITIES FOR
SCHOOLS TO SIT DOWN WITH THE
DATA IN FRONT OF THEM AND TO
QUERY THE DATA TO SEE HOW THEIR
STUDENTS ARE DOING AND WHETHER
OR NOT THERE IS AN
ORGANIZATIONAL RESPONSE TO THE
ISSUES THAT ARE COMING UP AS
OPPOSED TO AN INDIVIDUAL
RESPONSE.
SO IT'S OKAY THAT IN THE EARLY
DAYS AN ADVISER WAS ASKED TO DO
PHONE CALLS HOME, FOR EXAMPLE,
ON ATTENDANCE BUT IF YOU HAVE 24
ADVISERS OR 20 ADVISERS AS A
LEADER OF A SCHOOL WHAT IS THE
SYSTEM THAT ALLOWS YOU TO
AGGREGATE THAT INFORMATION AND
UNDERSTAND WHICH CALLS WERE MADE
AND WHAT THE RESPONSES WERE, HOW
YOU MIGHT ASSIST THE FAMILY IN
ADDRESSING THE ISSUE THAT IS
COMING UP FOR THAT STUDENT.
SO WE MOVED IN THE DIRECTION OF
CREATING THESE WORK FLOWS,
CREATING STRUCTURED
CONVERSATIONS WITH THE DATA
AVAILABLE.
SO THAT IS ONE.
I WOULD SAY THERE ANOTHER PART
WHICH IS REALLY AROUND
INSTRUCTIONAL GUIDANCE SYSTEM
WHICH IS RELATIVELY NEW WORK FOR
US AND REALLY DOCUMENTING AND
ORGANIZING CURRICULUM MATERIAL.
ONE OF THE BIG STRUGGLES IN
SCHOOLS IS CONTINUITY OF
CURRICULUM.
THERE IS THE CREATION OF AND
THEN CONTINUITY OF CURRICULUM
OFTEN HELD BY INDIVIDUAL
TEACHERS AND IF THERE IS TEACHER
TURNOVER MANY OF THE MATERIALS
LEAVE OR DIFFERENT TEACHERS HAVE
DIFFERENT MATERIAL.
ORGANIZING MATERIALS, HOUSING
THEM SO THAT THEY ARE ACCESSIBLE
TO THE TEACHERS AND THEN HELD ON
BY THE SCHOOL SO THERE IS
CONTINUITY IS AN IMPORTANT PIECE
OF IT.
ALSO THE ASSESSMENT PIECE OF
THAT CURRICULUM.
SO WE HAVE BEEN FORTUNATE ENOUGH
TO GET SOME FUNDING TO DO SOME
CURRICULUM WORK.
ONE PIECE OF WORK HAS BEEN IN
ALGEBRA AND LOOKING AT WHAT IS
THE SEQUENCE AND WHAT ARE KEY
MOMENTS OF ASSESSMENT?
WHAT MIGHT THOSE ASSESSMENTS
LOOK LIKE?
IF ALL GAVE THAT ASSESSMENT WHAT
WOULD WE LEARN AND HOW DOES THAT
IMPACT OUR WORK WITH TEACHERS IN
SUPPORTING THEM IN OTHER TO MEET
SOME OF THE BENCHMARKS THAT
BECKY WAS TALKING ABOUT
SPECIFICALLY WHERE THERE DIDN'T
SEEM TO BE EARLY IMPACT?
>> IT IS ALMOST LIKE THIS
CONCEPT OF PERSONALIZATION YOU
ARE LOOKING AT A SYSTEM IN ORDER
TO PERSONALIZE.
MORE STANDARDIZATION AROUND
CERTAIN AREAS SO THEY DON'T BURY
AND CAN DELIVER.
VERY INTERESTING EVOLUTION OF
WHAT THAT MEANS.
SO THANK YOU VERY MUCH.
IT WAS VERY HELPFUL.
>>> WE WILL TURN OUR ATTENTION
TO CHICAGO PUBLIC SCHOOLS WHICH
LAUNCHED AN INITIATIVE TO REDUCE
DROPOUT RATES I THINK STARTED IN
2007 BASED ON RESEARCH.
IT IS A PLEASURE TO WELCOME
DAVID JOHNSON WHO HAS BEEN
PATIENTLY WAITING ON THE PHONE.
THANK YOU, DAVID.
I'M NOT SURE ABOUT THE 2007 DATE
SO YOU WILL CORRECT ME, I HOPE,
IF THAT IS NOT CORRECT.
TELL US ABOUT THIS WORK OF
CONSORTIUM AND YOUR WORK WITH
THE URBAN EDUCATION INSTITUTE.
WHAT DOES RESEARCH TELL US ABOUT
ON TRACK INDICATORS AND WHAT
IMPACTS STUDENT PERFORMANCE AND
HOW DID CHICAGO PUBLIC SCHOOLS
USE THE FINDINGS?
>> THANK YOU VERY MUCH FOR THE
OPPORTUNITY TO SHARE SOME OF
THIS WORK.
I WANT TO SAY AS I'M STARTING
OUT THAT IT IS STRIKING THE
DEGREE TO WHICH OUR EXPERIENCE
HERE IN CHICAGO PARALLELS WHAT
YOU ALREADY HAVE BEEN HEARING
FROM BECKY AND RON.
THE WORK IS REALLY SOMETHING
THAT WE HAVE BEEN TREMENDOUSLY
IMPRESSED BY AND FOLLOWED
CLOSELY AND THE PARALLELS ARE
REALLY KIND OF UNCANNY.
THE 2007 NUMBER IS NOT
INACCURATE BUT IT IS A PARTIAL
PIECE OF THE STORY.
I WILL GET TO SORT OF WHERE THAT
2007 YEAR FITS INTO THE LARGER
ARC OF THINKING ABOUT THE WORK
WE HAVE BEEN DOING IN CHICAGO.
I DO WANT TO SAY BEFORE I JUMP
INTO TALKING ABOUT THE
PARTICULAR RESEARCH AND THE
FINDINGS FROM IT THAT ALTHOUGH I
HAVE THE PRIVILEGE OF SHARING
SOME OF THE FINDINGS TODAY
THAT'S ACTUALLY WORK THAT I'M
PART OF THAT IS SHARED WITH A
NUMBER OF COLLEAGUES.
SO IN HOLDING UP THESE RESULTS I
WANT TO MAKE SURE THAT I HOLD UP
THOSE PEOPLE AND ACKNOWLEDGE
THAT THE WORK IS SHARED.
THESE REPORTS THAT I WILL TALK
ABOUT A LITTLE BIT TODAY ARE ALL
ONLINE AND AVAILABLE PUBLICALLY
SO FOLK WHOSE ARE INTERESTED IN
LEARNING MORE CAN CERTAINLY SEEK
THAT OUT.
THE NUMBERS IN TERMS OF HOW
SIMILAR THINGS ARE, HOW PARALLEL
THE STORIES ARE WITH NEW YORK
ARE REALLY VERY STRIKING.
I WILL START BACK AS FAR AS 1999
WHICH IS WHERE THE ON TRACK
INDICATOR REALLY BEGINS TO TAKE
SHAPE AS A RESEARCH IDEA.
THE GRADUATION RATE, HIGH SCHOOL
GRADUATION RATE IN CHICAGO IN
1999 WAS SOMETHING IN THE HIGH
40s, 47%, 48% DEPENDING WHO YOU
ASK.
AND THERE WERE ALL SORTS OF
QUESTIONS BOTH IN THE SORT OF
PUBLIC DISCOURSE AND WITHIN THE
SCHOOL DISTRICTS ABOUT HOW TO
IMPROVE THAT NUMBER, HOW TO MOVE
THAT GRADUATION RATE.
AND THE CONSORTIUM WHICH HAD A
STANDING RELATIONSHIP WITH THE
DISTRICT, A LOT OF WHICH FOCUSED
ON DATA SHARING AGREEMENTS WHICH
ALLOWED US TO PROVIDE ONGOING
RESEARCH TO THE DISTRICT AROUND
KEY QUESTIONS THE CONSORTIUM GOT
INTERESTED IN PART THROUGH AN
EXTURNAL PROVIDER IN DOING SOME
RESEARCH AROUND THE
EFFECTIVENESS OF PROGRAMMING IN
THE MIDDLE GRADES TO ADDRESS
HIGH SCHOOL READINESS.
THERE WAS A QUESTION ABOUT HOW
TIMELY COULD WE MAKE FEEDBACK.
RON'S POINT ABOUT LAGGING DATA
THAT SCHOOLS HAD AVAILABLE TO
THEM AND THE ABILITY OR
INABILITY OF SCHOOLS TO REFLECT
ON THE EFFECTIVENESS OF THEIR
PRACTICE WAS SORT OF AT THE
CORE.
CLOSING THE FEEDBACK LOOP WAS
SOMETHING THAT WAS AN IMPORTANT
PART OF THE STORY.
IT WASN'T SOMETHING I THINK WE
NECESSARILY UNDERSTOOD AT THE
TIME.
THE ON TRACK METRIC WAS CREATED
TO HELP AN ORGANIZATION WORKING
WITH MIDDLE SCHOOL STUDENTS
UNDERSTAND HOW WELL THE EIGHTH
GREAT GRADUATES WERE PERFORMING
IN HIGH SCHOOL.
THE ON TRACK INDICATOR IS A
RELATIVELY SIMPLE METRIC ON THE
PART OF ITS VIRTUE BUT ALSO A
REALLY IMPORTANT PART OF THE
STORY AROUND IT IS HOW AVAILABLE
THE INFORMATION ALREADY WAS.
WE DID A LOT OF WORK IN A
SIMILAR VEIN TO WHAT NEW VISIONS
HAS DONE IN TERMS OF MAKING THE
REPORTING OF THAT NUMBER EASIER
FOR SCHOOLS TO DIGEST AND WORK
ON AND THE DISTRICT DESERVES AN
ENORMOUS AMOUNT OF CREDIT HERE
IN CHICAGO FOR HAVING OWNED THAT
WORK.
I WILL TALK ABOUT THE TIMELINE
ON WHICH THAT HAPPENED.
A STUDENT IS DEFINED AS BEING ON
TRACK IN NINTH GRADE IF THEY
EARN FIVE OR MORE CREDITS.
THAT'S THE BASIC FOR EARNING
SOPHOMORE STANDING BY THE END OF
THE YEAR AND IF THEY HAVE NO
MORE THAN ONE SEMESTER FAILURE
IN A CORE COURSE.
WHAT WE FOUND VERY EARLY ON WAS
THAT STUDENTS WHO WERE ON TRACK
IN NINTH GRADE WERE FOUR TIMES
MORE LIKELY TO GRADUATE FROM
HIGH SCHOOL THREE YEARS LATER
THAN STUDENTS WHO WERE OFF
TRACK.
INITIALLY THAT TURNED OUT TO BE
AN IMPORTANT POINT OF ORGANIZING
FOR PEOPLE THINKING ABOUT HOW
THEY MIGHT DRIVE BETTER
PERFORMANCE ACROSS THAT
TRANSITION INTO HIGH SCHOOL.
WE HAD RESEARCH FROM A BUNCH OF
DIFFERENT DIRECTIONS, SOME OURS
AND SOME FROM OTHER
ORGANIZATIONS POINTING TO THE
IDEA THAT THE NINTH GRADE
TRANSITION PLAYED A CRITICAL
ROLE IN STUDENTS TRAJECTORY
THROUGH HIGH SCHOOL.
AS IT TURNED OUT GRADES WERE
RIGHT AT THE CORE OF WHAT WAS
DRIVING STUDENTS ON TRACK
STATUS, NOT SHOCKING WHEN
TALKING ABOUT CREDIT
ACCUMULATION AND COURSE FAILURE.
WE LEARNED EARLY ON THAT MORE
THAN 95% OF STUDENTS WHO EARNED
A B AVERAGE DURING NINTH GRADE
EVENTUALLY WERE GOING ON TO
GRADUATE AND THAT B AVERAGE
BECOMES REAL CRITICAL RALLYING
POINT IN RESEARCH WE HAVE DONE
MORE RECENTLY.
WE SEE THE SAME PATTERN NOW WITH
MIDDLE GRADE STUDENTS WHEN WE
THINK ABOUT INDICATORS OF
READINESS FOR STRONG PERFORMANCE
IN HIGH SCHOOL THAT B CONTINUES
TO BE A REAL TIPPING POINT.
WE ALSO SAW THAT STUDENTS WHO
HAD LESS THAN A C AVERAGE IN
NINTH GRADE WERE MORE LIKELY TO
DROP OUT THAN TO GRADUATE.
THOSE PIECES OF INFORMATION
TAKEN TOGETHER ABOUT GRADES
PROVIDED A REAL IMPORTANT TOE
HOLD FOR THE DISTRICT AND FOR
SCHOOLS SPECIFICALLY IN TERMS OF
TRYING TO THINK ABOUT HOW TO
GRAPPLE WITH WHAT COURSE FAILURE
MEANT AND SORT OF WHERE THE
LEVERAGE MIGHT BE FOR THEM IN
ATTACKING IT.
I THINK ALMOST AS IMPORTANT IF
NOT MORE IMPORTANT THAN THE IDEA
THAT GRADES WERE IMPORTANT TO
THIS INDICATOR AND TO GRADUATION
ULTIMATELY WAS THE IDEA THAT
ATTENDANCE WAS ALSO CRITICAL.
AND WE SAW A COUPLE OF THE
THINGS EARLY ON IN THE RESEARCH
THAT I THINK WERE REALLY
PIVOTAL.
ONE WAS THAT ATTENDANCE RATES
VARY SUBSTANTIALLY ACROSS HIGH
SCHOOLS IN THE DISTRICT.
AS IT TURNS THEY VARY
SUBSTANTIALLY ACROSS ELEMENTARY
SCHOOL.
THAT VARIATION SUGGESTED THAT
THERE WAS SOMETHING IMPORTANT TO
LEARN ABOUT SCHOOLS SERVING
SIMILAR CHILDREN AND PERFORMING
DIFFERENTLY.
THERE WERE THINGS WE COULD LEARN
AS RESEARCHERS AND EDUCATORS
COULD LEARN FROM EACH OTHER
ABOUT HOW TO DO BETTER BY
SIMILAR KIDS.
IT WAS CLEAR RIGHT FROM THE
BEGINNING THAT SOME SCHOOLS
FIGURED THINGS OUT ALREADY AND
OUR JOB BECAME IN PART TO MUCH
IN THE SAME WAY THAT RON WAS
DESCRIBING TO HAVE THOSE KINDS
OF CONVERSATIONS WITH
PRACTITIONERS WE WORKED CLOSELY
WITH A GROUP IN CHICAGO CALLED
NETWORK FOR COLLEGE SUCCESS
WHICH HAS SIMILAR ORIENTATION IN
A LOT OF WAYS.
RON'S POINT ABOUT MAKING
ORGANIZATIONAL AND NOT
INDIVIDUALS CHANGE AND DRIVING
STRUCTURED CONVERSATION AROUND
SPECIFIC DATA POINTS RESONATE
DEEPLY WITH THAT EXPERIENCE.
WE SAW THAT ATTENDANCE WORK IN
PARTICULAR REALLY TAKE OFF WHEN
SCHOOLS WERE ABLE TO OWN THAT
DATA, TO RECEIVE THAT
INFORMATION FROM THE DISTRICT IN
REAL TIME AND TO HAVE THOSE
STRUCTURED CONVERSATIONS
INTERNALLY BUT OFTEN FACILITATED
WHETHER BY SOMEONE FROM THE
NETWORK FOR COLLEGE SUCCESS OR A
STAFF OF PEOPLE WHOM THE
DISTRICT INCREASINGLY DEVELOPED
OVERTIME INTERNALLY.
WE SAW NEARLY 90% OF THE
FRESHMEN WHO WERE MISSING LESS
THAN A WEEK OF SCHOOL DURING
NINTH GRADE WERE GOING ON TO
GRADUATE REGARDLESS OF INCOMING
ACHIEVEMENT.
THERE IS A GRAPH THAT I INCLUDED
THAT REALLY GIVES A STARK
PICTURE OF HOW FAST THE DROP OFF
OCCURS IN TERMS OF YOUR
PROBABILITY OF GRADUATING EVEN
FOR RELATIVELY MINOR INCREMENTS
IN TERMS OF THE NUMBER OF DAYS A
STUDENT IS MISSING.
THAT INFORMATION IN PARTICULAR
REALLY MADE IT POSSIBLE FOR
SCHOOLS TO THINK ABOUT
INTERVENING AROUND ATTENDANCE IN
A STRUCTURED ONGOING WAY WITH A
BENCHMARK AND A SET OF MEASURES,
DAILY ATTENDANCE AND KIND OF
RIGOR TO THE WORK THAT THEY WERE
DOING, A KIND OF SYSTEM TO THE
WORK THEY WERE TRYING TO DO IN
TERMS OF TRACKING AND
INTERVENING EARLY SO THEY DIDN'T
GET SO FAR BEHIND THE EIGHT BALL
THAT THAT PROBABILITY OF
GRADUATING FELL SO SHARPLY.
THERE IS A TIMELINE INCLUDED IN
THE SLIDES, AS WELL.
2007 IS A REAL KEY INFLECTION
POINT IN THIS STORY.
I STARTED AS FAR BACK AS 1999.
IN THE EARLY 2000s THE DISTRICT
AND CHICAGO INCLUDED ON TRACK AS
A METRIC ON THE HIGH SCHOOL
SCORE CARD.
THEY MADE IT PART OF THE
ACCOUNTABILITY SYSTEM.
THERE IS A SMALL BLIP IN THE ON
TRACK LINE IF YOU LOOK AT THE
DISTRICT WIDE RATE.
AT THAT POINT PEOPLE PAID
ATTENTION TO IT.
THAT LARGELY LOOKS AT THE SELL
OFF.
THERE WASN'T A LOT OF SUPPORT
AND FOR OUR PART WE WEREN'T
DOING MUCH TO HELP PEOPLE THINK
CRITICALLY ABOUT THE PROBLEM.
2007 IS THE YEAR IN WHICH THE
CONSORTIUM PUBLISHED THE REPORT
WE REFER TO IT AS THE WHAT
MATTERS REPORT.
IT WAS WHAT MATTERS FOR STAYING
ON TRACK AND GRADUATING FROM
HIGH SCHOOL.
THAT REPORT WAS THE REPORT THAT
CONTAINED THOSE FINDINGS ABOUT
GRADES AND ATTENDANCE.
THOSE HAVE BEEN BOLSTERRED WITH
SUBSEQUENT REPORTS.
THE PUBLICATION OF THAT REPORT
MET WITH A LOT OF ENTHUSIASM NOT
JUST IN SCHOOLS BUT ALSO INSIDE
THE DISTRICT.
PEOPLE WERE REALLY LOOKING FOR
WAYS TO THINK ABOUT WORKING ON
THESE PROBLEMS IN A COHERENT AND
SYSTEMATIC FASHION.
THAT REPORT GAVE PEOPLE REAL
TANGIBLE INDICATORS TO HOLD ON
TO AND ATTACK.
AND THE DISTRICT IMMEDIATELY
BEGAN PRODUCING DATA REPORTS
THAT THEY BEGAN PUSHING OUT TO
SCHOOLS, THINGS THAT AT THE
OUTSET WERE AS RUDIMENTARY AS
EXCEL SPREADSHEETS.
THEY HAVE BECOME MUCH MORE
SOPHISTICATED OVER TIME.
I CAN'T SAY THEY MATCH ANYTHING
QUITE AS NICE AS WHAT I HAVE
SEEN NEW VISIONS PRODUCING
LATELY.
THE SOPHISTICATION OF THE DATA
TOOLS IN SOME WAYS DOESN'T EVEN
THE STORY.
THE STORY WAS THAT SCHOOLS WERE
RECEIVING THAT REAL TIME
FEEDBACK AND IN THE CONTEXT OF
EVOLVING STRUCTURE OF ONGOING
SORT OF PROTOCOLS AND
CONVERSATIONS BETWEEN DISTRICT
OFFICIALS, OUTSIDE PROVIDERS AND
SCHOOL STAFF PEOPLE WERE GETTING
DEEP INTO THE WORK OF TRACKING
AND UNDERSTANDING THEIR
PERFORMANCE ON GRADES AND
ATTENDANCE AS THEY RELATED TO ON
TRACK AND THE RESULTS WERE
PRETTY DRAMATIC.
BETWEEN THAT 2007-2008 PERIOD
WHERE THE REPORT APPEARED AND
DATA REPORTS WERE FIRST
INTRODUCED WE HAVE SEEN MORE
THAN 25 PERCENTAGE POINTS
IMPROVEMENT IN THE ON TRACK RATE
IN CHICAGO.
AND IN SOME WAYS IT WAS EXCITING
TO HEAR BECKY DESCRIBING THE
FINDINGS AROUND THE SMALL
SCHOOLS IN NEW YORK AND THE
DISTRIBUTION OF THOSE POSITIVE
OUTCOMES ACROSS SUBGROUPS.
ONE OF THE THINGS WE HAVE BEEN
MOST STRUCK BY AS WE LOOKED AT
THE RESULTS IN CHICAGO OF THIS
SHARP RISE IN ON TRACK RATES HAS
BEEN THE FACT THAT THE MOST
VULNERABLE STUDENTS, THOSE WE
HAVE TRADITIONALLY DONE THE
WORST BY IN TERMS OF HOW WELL WE
SERVE OUR STUDENTS ARE THE ONES
WHO SEEM TO HAVE BENEFITTED THE
MOST.
THERE HAS BEEN MORE THAN 28
PERCENTAGE POINT RISE OF ON
TRACK RATE FOR AFRICAN-AMERICAN
MALES.
MORE THAN 25 PERCENTAGE POINT
RISE FOR LATINO MALES AND 24.5
PERCENTAGE POINT RISE FOR
STUDENTS WITH THE LOWEST
INCOMING TEST SCORES.
JUST TO UNDER SCORE THAT IS NOT
A PATTERN THAT ANY OF US WOULD
HAVE PREDICTED IN CHICAGO.
TYPICALLY WHEN WE MAKE A BIG
MOVE TO DO SOMETHING IN TERMS OF
SCHOOL IMPROVEMENT THE WORST OFF
ARE NOT THE FIRST TO BENEFIT BY
IT AND RARELY DO THEY BENEFIT
THE MOST.
IT IS A REALLY EXCITING MOMENT
IN THE DISTRICT.
IT IS EXCITING NOT JUST BECAUSE
THOSE IMPROVEMENTS HAPPENED IN
NINTH GRADE AND THE MOVEMENTS
WERE SO LARGE, BUT TO BECKY'S
POINT ABOUT HOW THESE EFFECTS
THAT THEY HAVE SEEN IN NEW YORK
HAVE BEEN SUSTAINED WE HAVE SEEN
THAT INCREASE IN NINTH GRADE ON
TRACK RATES SUSTAINED IN TENTH,
11th AND 12th GRADE AND WE HAVE
BEEN ABLE TO LOOK AT A COUPLE OF
DIFFERENT COHORTS OF STUDENTS
GOING FAR ENOUGH BACK WHERE WE
CAN SEE THE RISE IN ON TRACK AND
THE SUBSEQUENT RISE THREE YEARS
LATER IN GRADUATION RATES THAT
WE HAVE PUBLISHED FINDINGS LAST
APRIL SHOWING THAT THE RISE IN
ON TRACK RATES WAS DIRECTLY TIED
WITH A RISE IN THE GRADUATION
RATE.
ONE OF THE LAST SLIDES I
INCLUDED IS A SLIDE THAT IN AN
ELECTION YEAR IN CHICAGO IS VERY
POPULAR AMONG MAYORAL CANDIDATES
SHOWING THE PROJECTED RISE.
IT'S THE ON TRACK RATE RISING
WITH GRADUATION RATE RISING
BEHIND IT.
THE MAYOR HAS TAKEN TO EXTENDING
THAT LINE OUT A LITTLE FARTHER.
I WONDER IF HE AVOIDED RUN OFF
IF HE MADE THE POINT A LITTLE
MORE EXPLICITLY.
PEOPLE IN CHICAGO ARE NOW
CONFIDENTLY PROJECTING THE IDEA
THAT WE MAY HIT 80% GRADUATION
RATE IN THE COMING YEARS.
AND FOR SOMEONE WHO WAS WATCHING
THIS TREND OVER THE COURSE OF
THIS TIME PERIOD IT'S REALLY
REMARKABLE.
IT'S STAGGERING IN SOME WAYS TO
CONSIDER THE PROGRESS THAT HAS
BEEN MADE AND IT'S HEARTENING TO
HEAR IT HAS BEEN MADE IN SUCH A
SIMILAR WAY IN NEW YORK BECAUSE
IT CONFIRMS A LOT OF THINGS WE
HAVE BEEN MOST OPTIMISTIC ABOUT
IN TERMS OF WHAT THIS SAYS IS
POSSIBLE FOR URBAN EDUCATORS IN
SCHOOLS.
>> DO YOU HAVE MORE SLIDES YOU
WANT TO SHOW?
>> THAT IS THE END OF MY SLIDES.
IF YOU WANTED ME TO — THERE ARE
AT LEAST A HANDFUL OF OTHER
POINTS I WOULD MAKE CONNECTING
DOTS BETWEEN THINGS.
I FEEL LIKE RON WAS IN MY
PLAYBACK FOR AN EXTENDED PERIOD.
SO I FEEL LIKE I HAVE MADE MY
KEY POINTS.
THERE ARE A HANDFUL OF THINGS ON
THE PERSONALIZATION FRONT THAT I
COULD UNDER SCORE BUT THAT'S IT
FOR MY SLIDE SHOW AT THIS POINT.
>> I HAVE A QUESTION, BUT IF YOU
HAVE OTHER REMARKS YOU WANT TO
MAKE PLEASE DO.
>> I WILL SHARE ONE OTHER
THOUGHT AND THEN I WOULD BE
HAPPY TO TAKE THE QUESTION.
THE ONE THING I WAS STRUCK BY
LISTENING BOTH TO WHAT BECKY AND
RON SHARED WAS THIS ISSUE OF
PERSONALIZATION AND I LIKE THE
WAY YOU SUMMARIZED IT.
PERSONALIZATION ACHIEVED THROUGH
A SYSTEMATIC APPROACH WHICH IN
SOME WAYS IS A BIT COUNTER
INTUITIVE.
THE PROCESS BY WHICH WE WORK TO
UNDERSTAND THE DATA WE HAVE ON
KIDS AND WHAT IT TELLS US ABOUT
WHO IS AT RISK FOR WHAT.
AND THIS IS A SLIGHTLY COUNTER
INTATIVE WAY OF APPROACHING HOW
YOU PERSONALIZE THINGS.
BY STANDARDIZING THE PRACTICE OF
UNDERSTANDING THE DATA AND
WORKING DIRECTLY WITH SCHOOLS
AROUND HOW TO USE THE
INFORMATION WE HAVE GOTTEN TO A
POINT WHERE PEOPLE HAVE ACTUALLY
GOTTEN NOT LESS FLEXIBLE, NOT
LESS PROFESSIONAL BUT MORE SO ON
BOTH COUNTS.
I THINK WE HAVE SEEN REALLY
EXCITING RESULTS NOT JUST
BECAUSE THE INDICATOR PROVIDES
MEANINGFUL FEEDBACK TO SCHOOLS
ABOUT THEIR PERFORMANCE BUT ALSO
BECAUSE IT ENABLES A KIND OF
CAPACITY THAT THOSE OF US WHO
ARE SORT OF BROADLY BULLISH ON
PUBLIC SCHOOLS IN GENERAL HAVE
LONG THOUGHT WAS THERE.
RON MADE A NICE POINT ABOUT THE
INVESTMENTS IN THINKING ABOUT
ADULTS WORKING TOGETHER ON TEAMS
AND ADULTS AS LEARNERS.
I THINK THIS IS A REAL WE THINK
PART OF THE STORY IN CHICAGO IS
A REAL EXCITING STORY ABOUT
ADULTS LEARNING THEMSELVES ABOUT
THEIR OWN PRANGT S AND USING
THAT LEARNING TO DRIVE
IMPROVEMENT.
>> THE QUESTION CAME FROM JOHN
IN CLEVELAND ASKING ABOUT THE
UTILITY OF TESTS.
SO THERE IS THE INCREASED —
WHAT HAVE THE CONSORTIUM OR
OTHERS FOUND ABOUT THE USE OF
TEST SCORES IN PREDICTING
WHETHER STUDENTS ARE ON TRACK TO
GRADUATION AND WHAT INDICATORS
HAVE BEEN PREDICTIVE OF STUDENTS
LATER SUCCESS?
>> IT'S A GREAT QUESTION.
THE SHORT ANSWER IS THAT TEST
SCORES ARE PREDICTIVE OF OTHER
TEST SCORES.
WHAT WE UNDERSTAND ABOUT THE ON
TRACK RATE IS THAT WHEN YOU KNOW
A STUDENT'S ON TRACK STATUS IN
NINTH GRADE YOU DON'T NEED TO
KNOW A WHOLE LOT MORE ABOUT THAT
STUDENT IN ORDER TO PREDICT
ACCURATELY WHETHER OR NOT THEY
ARE GOING TO GRADUATE FROM HIGH
SCHOOL.
ON TRACK STATUS IN NINTH GRADE
FROM A STATISTICAL STANDPOINT
ISN'T IMPROVED.
THAT PREDICTION ISN'T IMPROVED
BY THROWING IN PRIOR ACHIEVEMENT
AND A WHOLE HOST OF DEMOGRAPHIC
AND BACKGROUND VARIABLES.
WE CAN THROW THE KITCHEN SINK IN
ON TOP OF ON TRACK AND THE
PREDICTION DOESN'T GET
DIFFERENT.
FROM US FROM A RESEARCH
STANDPOINT SAYS THE STORY IS IN
MANY WAYS NOT ABOUT PRIOR
ACHIEVEMENT BUT ABOUT WHAT
HAPPENS IN NINTH GRADE.
THE FUNDAMENTALLY HEARTENING
MESSAGE ON SOME LEVEL BECAUSE IT
SUGGESTS THERE IS AN ENORMOUS
AMOUNT IN THE CONTROL OF HIGH
SCHOOLS AND THAT TEST SCORES ARE
NOT IN ANY MEANINGFUL SENSE
DESTINY IN TERMS OF WHEN
STUDENTS REACH THE NINTH GRADE
THRESHOLD.
AS IT TURNS OUT ONE OF THE
THINGS EXCITING ABOUT THE
ATTENDANCE FINDING IS THAT IT
HAS BEEN PICKED UP AND WORKED
OVER IN SUBSEQUENT WORK.
COLLEAGUES HAVE PUBLISHED
ANOTHER STUDY LOOKING AT MIDDLE
GRADES INDICATORS OF HIGH SCHOOL
READINESS SO TRYING TO BUILD
BACKWARDS TO TRY TO UNDERSTAND
WHAT IS PREDICTIVE OF STUDENTS
SUCCESS IN HIGH SCHOOL.
AS IT TURNS OUT ATTENDANCE
CONTINUES TO BE PIVOTAL AND
ATTENDANCE IN SOME WAYS IS MORE
IMPORTANT AND POTENTIALLY MUCH
HIGHER LEVERAGE STRATEGY THAN
FOCUSING ON TEST SCORES WOULD BE
IF YOUR GOAL IS ULTIMATELY TO
MOVE NOT JUST HIGH SCHOOL
GRADUATION AND BUT ALSO COLLEGE
GRADUATION FOR THAT MATTER.
TEST SCORES ARE RELATIVELY
DIFFICULT TO MOVE.
THAT IS NOT NEWS WORTHY.
THE PROGRESS WE HAVE
DEMONSTRATED IN CHICAGO WHERE
BENCHMARK TEST IN 11th GRADE HAS
BEEN INCREMENTAL.
IT HAS BEEN PROGRESS BUT TINY.
IT IS TINY IN COMPARISON TO THE
PROGRESS SCHOOLS HAVE BEEN ABLE
TO MAKE ON ATTENDANCE AND GRADES
BOTH OF WHICH TURN OUT TO BE
MORE IMPORTANT ULTIMATELY IN
TERMS OF PREDICTING STUDENTS
LIKELIHOOD OF SUCCEEDING IN HIGH
SCHOOL AND COLLEGE AT THE END OF
THE DAY.
>> THAT IS VERY INTERESTING AND
ILLUMINATING.
WE GOT A QUESTION IN FROM DANIEL
IN PHILADELPHIA ASKING ABOUT
WHETHER OR NOT YOU'RE CONCERNED
ABOUT SCHOOL TEACHERS GAINING
THE RESULTS WITH USING GRADES TO
PUT MORE STUDENTS ON TRACK.
IS THERE A PROBLEM WITH THE
SUBJECTIVITY OF GRADES AND THEY
CAN BE MANIPULATED?
>> IT IS A REALLY IMPORTANT
QUESTION.
ANYTIME WE BUILD A SYSTEM IN THE
SCHOOL DISTRICT THAT IS DESIGNED
TO INCENTIVISE SOMETHING THERE
IS LEGITIMATE REASON TO BE
CONCERNED ABOUT WHAT THAT
INCENTIVE DOES TO THE BEHAVIOR
NOT JUST OF ADULTS BUT OF KIDS
FOR THAT MATTER.
WE LOOKED AT THIS AS PART OF THE
RESEARCH THAT WE PUBLISHED LAST
YEAR.
IT'S IMPOSSIBLE TO SAY THAT
THERE WAS NO GAMING AT ALL IN
ANY SCHOOL ANYWHERE AND THERE
HAVE BEEN VARIOUS EFFORTS IN THE
LOCAL MEDIA AND CHICAGO TO FIND
THE EXAMPLES.
AND IT IS A LEGITIMATE SET OF
QUESTIONS TO ASK.
ON BALANCE ACROSS THE DISTRICT
THERE IS NO EVIDENCE THAT WE
HAVE BEEN ABLE TO FIND OF THE
GRADES BEING GAINED IN THE WAY
THAT PEOPLE FEARED.
YOU'D EXPECT TO SEE THAT IN TWO
DIFFERENT PLACES WHICH ARE THE
IMMEDIATE PLACES WE LOOKED.
ONE WOULD BE YOU WOULD EXPECT TO
SEE THE MOST OBVIOUS THING TO DO
IF YOU WERE A TEACHER WOULD BE
CHANGE Fs INTO Ds.
LET'S TAKE THE FAILING KIDS AND
MOVE THEM UP A NOTCH.
IT'S NOT JUST A SHIFT IN THE
DISTRIBUTION FROM Fs TO Ds BUT A
SHIFT ACROSS THE BOARD.
WE HAVE MORE STUDENTS EARNING As
AND Bs NOW.
THAT REALLY SUGGESTS THAT IT HAS
NOT BEEN A QUESTION OF TEACHERS
REALLY MOVING KIDS OVER A
CATEGORY IN ORDER TO AVOID
GETTING HIT WITH THE STICK FOR
NOT HAVING — FOR HAVING FAILED
TOO MANY KIDS.
THE OTHER PLACE WROU EXPECT TO
SEE IT WOULD BE IF THE KIDS WHO
WERE UNDER PRIOR CIRCUMSTANCES
WERE DROPPING OUT, IF THOSE KIDS
WERE BEING KEPT IN THE DISTRICT,
IF WE WERE JUST GIVING KIDS A
FREE PASS AND PASSING THEM ALONG
FROM NINTH TO TENTH GRADE
HANDING OUT Ds INSTEAD OF Fs YOU
WOULD EXPECT TO SEE TEST SCORES
TAKE A HIT.
YOU WOULD EXPECT TO SEE THE 10th
AND 11th GRADE PLAN AND ACT
SCORES SHOULD DIP AFTER THAT
HAPPENS BECAUSE YOU ARE KEEPING
WEAKER STUDENTS IN THE SCHOOL AT
THAT POINT.
AS IT TURNS OUT NEITHER OF THOSE
THINGS HAPPEN.
THERE IS NO DIP IN TEST SCORES.
THERE IS AN INCREMENTAL RISE
WHICH YOU COULD INTERPRET AND WE
HAVE TALKED THIS OVER INTERNALLY
A FAIR BIT, AS INDICATING THAT
WHEN YOU KEEP THESE STUDENTS IN
SCHOOL, THE STUDENTS WHO
PREVIOUSLY BECAUSE OF ATTENDANCE
PROBLEMS OR COURSE FAILURES
MIGHT HAVE BEEN DROP OUTS THEY
LEARN AS MUCH AS STUDENTS WHO
HAVE BEEN THERE ALL ALONG WHICH
IS AN EXCITING THING TO SAY TO A
TEACHER.
IF I TAKE A CHILD WHO MIGHT HAVE
BEEN OUT OF SCHOOL AND KEEP THEM
IN SCHOOL AND KEEP THEM IN FRONT
OF YOU IN A CLASSROOM THAT CHILD
CAN LEARN.
IT'S A VERY SORT OF ELEMENTAL
AND AT THE SAME TIME
ILLUMINATING POINT FOR A LOT OF
THE TEACHERS WE WORKED WITH.
>> THANK YOU.
THESE ARE POWERFUL FINDINGS AND
SPEAKS TO IMPORTANCE OF USING
EVIDENCE AND DATA ON AN ONGOING
BASIS TO MAKE THESE KINDS OF
CRITICAL DECISIONS ABOUT WHAT TO
FOCUS ON AND WHAT TO IMPROVE.
SO I AM GOING TO TURN NOW TO
ANOTHER BODY OF RESEARCH TAKING
PLACE IN OTHER URBAN SYSTEMS,
PHILADELPHIA AND BALTIMORE AND
OTHER AREAS.
AND THIS RESEARCH UNDER PINS
MANY OF THE SUCCESSFUL NATIONAL
EFFORTS TO IMPROVE EDUCATIONAL
OUTCOMES FOR LOW INCOME STUDENTS
IN URBAN DISTRICTS.
I AM DELIGHTED TO WELCOME BOB
BALFANZ, DIRECTS THE EVERYONE
GRADUATES CENTER.
AND THE RECIPIENT OF A FEDERAL
INVESTING IN EDUCATION GRANT TO
TRANSFORM SCHOOLS SO MANY
STUDENTS CAN GRADUATE.
BOB, THE NATION HAS SEEN VAST
IMPROVEMENTS IN GRADUATION RATES
AND MANY HIGH SCHOOLS SERVING
HIGH NEEDS STUDENTS.
WOULD YOU IN YOUR VIEW TALK
ABOUT OVER THIS TIME PERIOD WHAT
HAS ACCOUNTED FOR THESE
IMPROVEMENTS IN GRADUATION
RATES?
WHAT ARE THE CHALLENGES THAT
REMAIN TO ENSURE WE HAVE MANY
MORE STUDENTS ACHIEVING HIGH
LEVELS OF EDUCATIONAL
ATTAINMENT?
>> THE FIRST THING IS TAKE A
MINUTE TO REFLECT TO THE
MAGNITUDE OF THE IMPROVEMENT
WHICH SHOWS ON A NATIONAL LEVEL
WHAT WE HEARD IS HAPPENING MORE
BROADLY WHICH WAS THAT LARGE
SCALE IMPROVEMENT IN THE OUTCOME
FOR PUBLIC SCHOOLS ARE POSSIBLE
THAT IN A DECADE WE WENT FROM
THE LOWEST MODERN GRADUATION
RATE.
71% TO 81% NOW WHICH IS THE
HIGHEST GRADUATION RATE IN OUR
NATION'S HISTORY.
IN THE DECADE IT WAS ENORMOUS
IMPROVEMENT.
IT MEANT MORE KIDS GRADUATED.
AND A NUMBER OF LOW GRADUATION
RATE HIGH SCHOOLS REALLY FELL
FROM 2000 INTO 1,200.
SOME OF THOSE WERE IN NEW YORK
WHERE THEY CLOSED A NUMBER OF
THE SCHOOLS AND REPLACED THEM
WITH SMALL SCHOOLS THAT WORKED
BETTER.
A NUMBER HAPPENED IN CHICAGO.
WE HAVE TO REALLY SEE THAT,
REALLY LARGE SCALE IMPROVEMENT
IS POSSIBLE.
THAT IS IMPORTANT TO KEEP IN
MIND.
WHY DID IT HAPPEN?
A COUPLE OF REASONS.
ONE WAS THAT WE LEARNED MORE
ABOUT WHY KIDS DROP OUT AND THE
SIGNALS ARE GIVEN.
VARIOUS THINGS ABOUT EARLY
WARNING INDICATORS.
WE KNEW WHERE THE SCHOOLS WERE.
WE KNEW WHO THE KIDS WERE AND
WHEN THEY FAILED AND GET TO THE
PROBLEM EARLIER.
SECOND OF ALL, ACCOUNTABILITY
MADE A BIG DIFFERENCE.
MOST OF THE PROGRESS OCCURRED
AFTER 2008 WHEN PEOPLE GOT THE
SIGNAL FROM THE FEDERAL
GOVERNMENT THAT RATES REALLY
MATTER AND THAT WAS A SERIOUS
THING AND TOLD PEOPLE TO DIRECT
YOUR ATTENTION THERE.
I THINK IT LOST ACCOUNTABILITY
THING.
IT IS SAYING THIS IS WHERE FOCUS
YOUR ATTENTION ON WE KNOW THIS
IS AN IMPORTANT THING FOR OUR
STUDENTS TO FOCUS HERE.
THAT REALLY HAS BIG EFFECT
ACROSS THE NATION ON FOCUSING ON
IMPROVING GRAD RATES.
PEOPLE WERE ABLE TO PUT TOGETHER
DIFFERENT AGGREGATIONS OF
EVIDENCE BASED STRATEGY.
NEW YORK TOOK ONE PASS AND
CHICAGO TOOK ANOTHER.
THEY ACTUALLY BOTH WORKED.
NEW YORK SHOULD BE MORE LIKE
CHICAGO AND CHICAGO MORE LIKE
NEW YORK BECAUSE IT'S GOING TO
TAKE THOSE THINGS OVER TIME.
AND THEN WHAT'S REALLY
HEARTENING IS THAT THIS ONLY GOT
BETTER IN PLACES IT WORKED IN.
THEY GOT SUBSTANTIALLY BETTER IN
THE STATES AND DISTRICTS THAT
WORK THE PROBLEM.
THEY STAYED FLAT OR GOING DOWN
IN DISTRICTS AND STATES THAT
HAVEN'T WORKED THE PROBLEM.
THE ANSWER OF WHAT WE HAVE TO DO
NEXT IS FIND WAYS TO BRING WHAT
HAS WORKED AND BRING CAPACITY
NEEDED TO IMPLEMENT IT IN THE
PLACES YET TO WORK THE PROBLEM.
>> THIS IS A PERFECT QUESTION.
BILL IN LOS ANGELES IS ASKING
ABOUT IS THIS SCALABLE?
SHOULD WE IMMEDIATELY SUGGEST
EACH SCHOOL SHOULD START USING
ON TRACK INDICATORS?
>> YES.
>> HOW DO WE MOBILIZE THE
COMMUNITY TO REALLY, AS YOU
SAID, WORK THE PROBLEM?
WHAT ELSE IS NEEDED TO ENSURE
THAT THEY ARE AS COMMITTED TO
USING ON TRACK INDICATORS?
>> IT IS AN ARGUMENT FOR STRONG
CENTRAL ROLE BECAUSE THEY CAN
HELP SHINE SPOT LIGHT ON PLACES
THAT NEED TO MAKE MORE PROGRESS
AND HELP CONNECT THEM WITH
PLACES THAT HAVE.
IN OUR DECENTRALIZED SYSTEM IF
YOU DON'T HAVE AN ACTOR AT THE
FEDERAL LEVEL IT DOESN'T GET
DONE.
WHO IS GOING TO BE MOTIVATED TO
MAKE SURE THIS DISTRICT IS AWARE
OF THIS?
AT THAT POINT IN TIME THE PEOPLE
IN THE DEPARTMENT OF EDUCATION
HAVE OTHER IMPORTANT ISSUES OEN
THEIR MIND.
I REALLY THINK THERE IS A
FEDERAL ROLE THERE.
AND ALSO AS WE SAID IT IS A
COMBINATION OF THE DATA AND THE
HUMAN SYSTEM AND RECOGNIZE NOT
JUST A DATA TOOL MAKES IT
HAPPEN.
THE DATA TOOL MAKES IT EASIER.
IF YOU DON'T BUILD THE HUMAN
SYSTEM TO USE THE DATA AND
INTERNALIZE IT YOU WON'T HAVE
THE PROGRESS.
>> AND THE POINT OF HAVING THE
STANDARD CALCULATION OF
GRADUATION RATES HAD A HUGE
IMPACT ON EXACTLY DRIVING THOSE
IMPROVEMENTS WHICH FORCE FOLKS
TO LOOK AT AN INDICATOR THAT WAS
MEANINGFUL AND CLEARLY
REPRESENTS WHAT WAS HAPPENING IN
THOSE SCHOOLS.
IT'S A GOOD EXAMPLE.
>> IN TERMS OF THERE IS A LOT OF
DISCUSSION AROUND WHAT WORKS,
WHAT DOESN'T, HOW DO YOU KNOW?
HOW DO YOU SPREAD AND SCALE
EVIDENCE-BASED SOLUTIONS SO THAT
THEY PRODUCE CONSISTENT GAINS?
YOU MENTIONED A LITTLE BIT IN
TERMS OF WHO WORKS THE PROBLEM.
WHAT ELSE HAVE WE LEARNED ABOUT
THE PROBLEMS OF IMPLEMENTATION,
THE CHALLENGES OF SCALING AND
SPREADING?
ARE THERE THINGS EMERGING NOW TO
HELP SOLVE SOME OF THOSE
PROBLEMS?
>> I THINK ONE THING IS THAT WE
HAVE — WE KNOW A LOT MORE THAN
WE KNEW IN 2000.
THERE HAS BEEN A BIG IMPROVEMENT
ABOUT EVIDENCE BASE THAT WORKS.
DIFFERENT LEVELS FOR
INSTRUCTIONAL IMPROVEMENT,
GETTING KIDS TO COME TO SCHOOL
AND GETTING KIDS COLLEGE READY.
WE HAVE A MUCH STRONGER
KNOWLEDGE BASE THAN A DECADE
AGO.
PART OF THE CHALLENGE IS THAT
SCHOOLS ARE INHERENTLY STILL
CRAFT BASED INSTITUTIONS.
THE INURSHA IS THAT PEOPLE FEEL
EVIDENCE IS INTERESTING AND
COULD BE A WAY TO GO BUT SO IS
WHAT A FELLOW TEACHER TOLD ME OR
WHAT I LEARNED AT ANOTHER SCHOOL
WHICH ALSO HAS VALUE.
THE PROBLEM IS THAT CRAFT-BASED
APPROACH DOESN'T SCALE.
IT ONLY LIVES IN THAT CLASSROOM
WITH THAT TEACHER OR THAT SCHOOL
AND THAT PRINCIPAL.
YOU HAVE TO BUILD INCENTIVES AT
THE FEDERAL AND STATE LEVEL TO
GET PEOPLE INCENTIVISED TO TAKE
A MORE EVIDENCE-BASED APPROACH.
THAT HAS TO BE WORKED TO GET A
SPREAD OF MOVING PEOPLE USING
MORE OF AN EVIDENCE-BASED
APPROACH.
IT TOOK MEDICINE 100 YEARS TO
GET THERE.
IT IS HUGE PROGRESS.
WE HAVE TO TAKE THE SAME VIEW.
>>> I WANT TO GET A LITTLE
SPECIFIC.
ONE OF THE THINGS THERE ARE
THESE HUGE NEEDS IN A LOT OF
AREAS PARTICULARLY URBAN AREAS
IN TERMS OF INTENSITY AND THE
KINDS OF CHALLENGES THAT KIDS
HAVE.
HOW DO YOU DESIGN WHOLE SCHOOL
ORGANIZATIONAL STRUCTURES TO
BEGIN TO ADDRESS VARYING LEVELS.
>> ONE WE HAD BECAUSE WE DID A
LOT OF WORK ABOUT THE WHOLE
SCHOOL PIECE.
WE STILL HAVE ON TRACK
INDICATORS OFTEN AS A SCALE OF
100 OR 200 KIDS IN A SCHOOL AND
LED US TO THINK WE HAD TO BUILD
SYSTEMS THAT LED TO ENHANCED
STUDENT SUPPORT BY BRINGING MORE
ADULTS INTO THE SCHOOL THROUGH
PROGRAMS LIKE COMMUNITIES IN
SCHOOLS THAT WORK ON DIPLOMAS
NOW MODEL WITH THE IDEA IF YOU
HAVE TOO MANY NEEDY KIDS AND NOT
ENOUGH ADULTS YOU HAVE CAPACITY
TO HAVE A PERSONALIZED OUTCOME
AND YOU NEED TO INFUSE THE
SCHOOL WITH ADDITIONAL CAPACITY
WHEN THEIR LEVEL OF NEED IS SO
HIGH THEY ARE IN A NEIGHBORHOOD
OF CONCENTRATED POVERTY FOR
EXAMPLE.
THE OTHER THING KEY IS BY USING
ON TRACK INDICATORS THAT LETS
YOU FINE TUNE SUPPORT BECAUSE
YOU ASK YOURSELF SHOULD WE
INTERVENE AT AN INDIVIDUAL
LEVEL, CLASSROOM LEVEL, SCHOOL
LEVEL, DISTRICT LEVEL?
WHAT IS THE MOST STRATEGIC POINT
TO INTERVENE?
ONCE YOU HAVE THE ONGOING SORT
OF DATA FLOW YOU CAN BE
CONTINUING TO ASK THAT QUESTION
ON A MORE OFTEN BASIS TO GET
MUCH MORE QUICKER FEEDBACK LOOP.
THAT LETS YOU FINE TUNE YOUR
RESPONSE.
SOMETIMES WE HAVE A SUBSET OF
KIDS WE HAVE TO HAVE A DIRECT
ANSWER FOR.
SOMETIMES IT IS ACTUALLY A
TEACHER ISSUE AND A SUBJECT.
THAT GIVES YOU THE ABILITY TO
FINE TUNE YOUR RESPONSE AND HAVE
MORE CONTINUOUS IMPROVEMENT
APPROACH AS OPPOSED TO ONE MODEL
THAT HAS TO FIX EVERYTHING OR
ELSE OR NOT.
WE TAKE OUR BEST SHOT AND HOPE
IT WORKS.
>> THIS IS OUT OF LEFT FIELD.
WHAT GETS YOU EXCITED ABOUT WHAT
YOU ARE SEEING AS THE
POSSIBILITIES?
>> WHAT'S REALLY EXCITING IS THE
COMBINATION OF THE THINGS THAT
ON TRACK INDICATORS AND
EXTENSIONS OF IT ALLOWING TEAMS
OF TEACHERS TO BECOME MORE
EMPOWERED AND POOL INSIGHTS.
THEY EACH HAVE DIFFERENT POINT
OF VIEW.
IF YOU CREATE STRUCTURES THEY
DEVISE INTERVENTIONS, SEE IF
THEY WORK.
THAT CREATES A MUCH MORE
POWERFUL IN-SCHOOL SYSTEM.
THAT IS ONE THING THAT EXCITES
ME IS THE POTENTIAL TO UNLOCK A
LOT OF THAT EXISTING TALENT AND
KNOWLEDGE IN THE SCHOOL.
DEPARTMENTALIZED HIGH SCHOOL YOU
NEVER KNOW WHO YOUR KIDS SOCIAL
STUDIES OR ENGLISH TEACHERS ARE.
YOU ONLY TALK TO MATH TEACHERS.
YOU CAN POOL YOUR KNOWLEDGE OF
THAT STUDENT AND CREATE A MUCH
MORE HOLISTIC SUPPORT FOR THEM.
THERE HAS BEEN AN EXPLOSION IN
THE ALLIED FIELDS, NEUROSCIENCE,
BEHAVIORAL SCIENCE.
NOW IT'S ALMOST A TSUNAMI WAVE
OF USEFULNESS THAT WE ARE
GETTING INSIGHTS FROM THOSE
FIELDS WHICH WILL LEAD TO MORE
POWERFUL INSTRUCTIONAL
ENVIRONMENTS FOR THE KIDS.
>> YOU HEARD THE WHOLE THING IN
TERMS OF CAPITALIZING ON THE
EXPERTISE AND BUILDING UPON THAT
FROM RON AND DAVE.
NOW WE ARE GOING TO TURN TO
SCOTT WHO WILL MAKE ALL OF THIS
HAPPEN.
OUR AUDIENCE KNOWS THAT FEDERAL
AND STATE GOVERNMENT PLAY KEY
ROLES IN DESIGNING AND INVESTING
IN HIGH SCHOOL REFORM.
TO TALK ABOUT THE POLICY
IMPLICATIONS OF THE EFFORTS WE
TURN TO SCOTT SARGRAD DEPUTY
ASSISTANT SECRETARY FOR POLICY
AND STRATEGIC INITIATIVES AT THE
DEPARTMENT OF EDUCATION.
HE HAS MULTIPLE — SCHOOL
IMPROVEMENT GRANTS AND OTHER
PROGRAMS AROUND ACCOUNTABILITY,
HIGH SCHOOL TRANSFORMATION.
WITH ALL OF THAT, WE ARE GOING
TO TALK ABOUT SCHOOL IMPROVEMENT
GRANT.
THE DEPARTMENT RECENTLY RELEASED
NEW GUIDANCE THAT ALLOWS FOR
EVIDENCE-BASED WHOLE SCHOOL
REFORM OPTION UNDER THIS
PROGRAM.
WHAT WAS THE RATIONALE FOR DOING
THIS AND HOW AN EVIDENCE-BASED
MODEL IS DEFINED?
THANK YOU FOR BEING HERE.
>> ABSOLUTELY.
I'M HAPPY TO TALK ABOUT SOME OF
THE HISTORY HERE AND HOW WE HAVE
BEEN TALKING ABOUT THE USE OF
EVIDENCE IN SCHOOL IMPROVEMENT
GRANTS AND ALSO PERFORMING LOW
PERFORMANCE SCHOOLS AND
GENERALLY IN OUR PROGRAM.
SO OUR WORK ON EVIDENCE REALLY
BEGAN BACK IN 2009 WITH RECOVERY
ACT AND INVESTING IN INNOVATION
PROGRAM.
THE IDEA THERE WAS THAT YOU HAVE
SOME PROGRAMS THAT HAVE A SMALL
LEVEL OF EVIDENCE, PROMISING
THEORY, A LITTLE BIT OF EVIDENCE
ABOUT IT MIGHT WORK AND HAS REAL
POTENTIAL.
THOSE KINDS OF PROPOSALS COULD
GET MONEY TO FURTHER DEVELOP AND
FIGURE OUT HOW TO BUILD MORE
EVIDENCE.
THE SECOND LEVEL THERE IS
ACTUALLY PRETTY GOOD EVIDENCE
THAT THIS IS WORKING.
THESE PROGRAMS AND INITIATIVES
NEED SOME MORE SIGNIFICANT
INVESTMENT TO VALIDATE WHAT THEY
HAVE LEARNED.
TO DEVELOP SOME HIGHER QUALITY
EVIDENCE TO TRY THIS IN
DIFFERENT POPULATIONS TO FIGURE
OUT IF IT IS GOING TO WORK IN
OTHER KINDS OF SITUATIONS AND
REALLY LOOKING AT THE HIGHEST
LEVEL OF EVIDENCE WHERE WE HAVE
REALLY STRONG INDICATIONS THAT
THIS IS WORKING FOR KIDS AND
THAT IT IS SOMETHING THAT WE
WANT TO INVEST VERY HEAVILY IN
FOR THE FEDERAL LEVEL AND SCALE
UP.
SO THERE ARE JUST A FEW EXAMPLES
OF THAT SO FAR.
IT'S A GEARED APPROACH AND HAS
BEEN A REALLY INTERESTING WAY
FOR US TO INCENTIVISE THE
DEVELOPMENT OF EVIDENCE AT THE
LOWER LEVELS AND SUPPORT THE
SCALING OF PRACTICES AND
STRATAEMGS THAT HAVE THE HIGH
LEVEL OF EVIDENCE.
THAT WAS SORT OF THE BEGINNINGS
OF THIS.
WHAT WE HAVE BEEN TRYING TO DO
IS INFUSE SOME OF THAT IN THE
OTHER PROGRAMS WE HAVE.
SCHOOL IMPROVEMENT GRANTS IS A
GOOD EXAMPLE.
WE HAVE BEEN LEARNING THROUGH
OUR IMPLEMENTATION THAT WE HAVE
FOUR MODELS TO BEGIN WITH AND
THOSE WERE BASED ON THE BEST
EVIDENCE AT THE TIME OF THE
TYPES OF THINGS THAT WORK IN
TURNING AROUND LOW PERFORMING
SCHOOLS, LEADERSHIP, TEACHERS,
CONSTRUCTIONAL PROGRAMS, TIME,
THOSE SORTS OF THINGS.
THOSE MODELS FOCUS ON THOSE
PARTICULAR COMPONENTS.
NOW ONE OF THE THINGS WE HAVE
SEEN IS IMPLEMENTATION REALLY
VARIES ACROSS SCHOOLS, STATES,
DISTRICTS AND WE NEED TO HELP
STATES AND DISTRICTS FIGURE OUT
WHAT ACTUALLY IS WORKING AND
WHERE CAN THEY FOCUS THEIR
EFFORTS RATHER THAN JUST ON SOME
MODELS THAT ARE FOCUSED ON SOME
PARTICULAR COMPONENT.
SO I'M STARTING WITH 2014
APPROPRIATIONS ACT.
WE WERE GIVEN AUTHORITY BY
CONGRESS TO INCLUDE A NEW MODEL
AROUND WHOLE SCHOOL REFORM WITH
EVIDENCE-BASED MODEL.
WE WERE REALLY EXCITED ABOUT
THIS AND JUST RECENTLY RELEASED
NEW REGULATIONS TO INCORPORATE
THIS NEW MODEL.
ONE OF THE THINGS WE NEEDED TO
DO FROM THE FEDERAL LEVEL IS
FIGURE OUT WHAT THAT MEANS.
THERE ARE TWO PARTS TO IT.
WHAT IS WHOLE SCHOOL REFORM
MODEL AND WHAT IS AN
EVIDENCE-BASED MODEL?
OUR NEW REGULATIONS WEIGH OUT
TWO THINGS.
FOR WHOLE SCHOOL REFORM MODEL WE
LOOK AT WHAT GENERALLY A WHOLE
SCHOOL REFORM MODEL SHOULD LOOK
LIKE.
THE MODEL HAS TO BE DESIGNED TO
IMPROVE STUDENT ACADEMIC
ACHIEVEMENT.
IT IS DESIGNED FOR IMPROVING
OUTCOMES FOR KIDS.
IT IS A MODEL IMPLEMENTED FOR
ALL STUDENTS IN A SCHOOL.
IT IS A WHOLE SCHOOL REFORM.
IT IS ONLY DESIGNED TO IMPACT
SPECIFIC STUDENTS BUT FOR ALL
STUDENTS.
THE LAST PIECE IS THAT THE MODEL
NEEDS TO ADDRESS IN A
COMPREHENSIVE WAY A FEW KEY
ELEMENTS BUILDING ON THE
RESEARCH ON WHOLE SCHOOL REFORM.
ONE IS SCHOOL LEADERSHIP.
WE KNOW HOW IMPORTANT EFFECTIVE
SCHOOL LEADERS ARE TO TURN
AROUNDS IN PARTICULAR, TEACHING
AND LEARNING AND AT LEAST ONE
CONTENT AREA.
MAKING SURE THAT THE REFORM IS
FOCUSED ON WHETHER IT IS
LITERACY OR MATH OR OTHER KINDS
OF CONTENT AREAS BUT REAL FOCUS
ON ACADEMIC CONTENT INCLUDING
PROFESSIONAL LEARNING FOR
EDUCATORS.
HOW DO YOU MAKE SURE TEACHERS
AND PRINCIPALS HAVE PROFESSIONAL
LEARNING EXPERIENCES THEY NEED.
THE THIRD PIECE IS STUDENT
NON-ACADEMIC SUPPORT.
THERE IS A LOT OF EVIDENCE THAT
THAT REALLY MATTERS, THE THINGS
THAT GO ON OUTSIDE THE CLASSROOM
AND OUTSIDE THE STRICT VIEW OF
ACADEMICS AND OTHER SUPPORTS FOR
STUDENTS ARE REALLY IMPORTANT.
THE LAST PIECE IS FAMILY AND
COMMUNITY ENGAGEMENT.
WE KNOW MOST SUCCESSFUL SCHOOL
TURN AROUNDS ARE IN PLACES WHERE
THE DISTRICT ENGAGES THE FAMILY
AND COMMUNITY IN WHAT THEY ARE
DOING.
THOSE ARE THE COMPONENTS OF THE
MODEL THAT WE WANTED TO SEE.
PART TWO OF IT IS THE
EVIDENCE-BASED PART OF THE
MODEL.
WE THROUGH OUR INVESTING PROGRAM
AND GENERAL REGULATIONS
DEVELOPED TIERS OF EVIDENCE.
WHAT WE PUT FORWARD WAS THIS
MODERATE LEVEL OF EVIDENCE IS
WHAT WE WERE REALLY LOOKING FOR.
NOT THE HIGHEST LEVELS OF
EVIDENCE BUT NOT JUST A THEORY
THAT THIS IS GOING TO WORK.
SO WE HAVE THROUGH OUR INSTITUTE
OF EDUCATION SCIENCES HAVE
STANDARDS FOR STUDIES.
AND SO THE PLACE WHERE WE GO TO
ANALYZE THE EVIDENCE OF
EFFECTIVENESS AND LOOK AT THE
QUALITY OF THE STUDIES THAT ARE
COMING IN.
SO THE STUDIES THAT THE MODELS
NEED TO HAVE NEED TO MEET THAT
STANDARD OF THE QUALITY OF THE
STUDY.
THEY HAVE TO FIND FAVORABLE
IMPACTS ON THE STUDENT OUTCOME
MEASURES AND WHAT WE NEED THE
OUTCOME TO BE IS FOCUSED ON
STUDENT ACHIEVEMENT MEASURES.
ARE THE STUDIES FINDING POSITIVE
SIGNIFICANT IMPACTS ON STUDENT
OUTCOMES.
FOR THE MODELS THEY NEED TO HAVE
AT LEAST ONE STUDY THAT MEETS
THE REQUIREMENTS.
WE WANTED TO HAVE THE PROPOSAL
REFORM PART OF THIS AND THE
EVIDENCE BASED PART OF THIS.
>> COULD DISTRICTS THINK ABOUT
USING FUNDS IN ORDER TO SPREAD
INNOVATIONS OR EVIDENCE-BASED
APPROACHES ACROSS SCHOOLS SO
THAT THEY HAVE MORE OF A
SYSTEMIC DISTRICT SUPPORTED
REFORM OR IS IT ONLY — DOES IT
HAVE TO BE SCHOOL BY SCHOOL?
>> THAT'S A REALLY GOOD QUESTION
AND SOMETHING THAT WE HAVE BEEN
SORT OF THINKING ABOUT AND
STRUGGLING WITH BECAUSE IT IS
ORIGINAL DESIGNED AS A FEDERAL
TO STATE TO SCHOOL PROGRAM, VERY
FOCUSED ON SCHOOLS AND HOW TO
HELP TURN AROUND AND STATES THAT
GOT MONEY FROM FEDERAL
GOVERNMENT RAN COMPETITIONS
WHERE DISTRICTS APPLY ON BEHALF
OF THEIR SCHOOLS BUT IN A LOT OF
WAYS IT WAS A VERY
SCHOOL-FOCUSSED PROGRAM.
ONE OF THE THINGS WE LEARNED IS
THAT PLACES THAT HAVE MULTIPLE
LOW PERFORMING SCHOOLS YOU NEED
TO HAVE A STRONG DISTRICT ROLE
THAT IS THINKING SYSTEMICALLY
ABOUT TURNING AROUND.
THERE ARE A LOT OF PLACES WHERE
IT IS THE ONLY SCHOOL IN THE
DISTRICT.
THAT IS A DIFFERENT ANIMAL IN A
LOT OF WAYS THAN A LARGE SYSTEM
THAT HAS MULTIPLE LOW PERFORMING
SCHOOLS.
IN EITHER CASE WE HAVE SEEN YOU
DO NEED STRONG DISTRICT ROLE.
WE HAVE BEEN TRYING TO THINK
ABOUT THAT IN A COUPLE OF WAYS.
ONE IS IN THE REQUIREMENT THAT
WE PUT ON DISTRICTS WHEN
APPLYING FOR FUNDS WE TRY TO
MAKE SURE THAT DISTRICTS ARE
REALLY CONSCIENTIOUS ABOUT HOW
THEY ARE THINKING ABOUT
PLANNING, NEEDS ASSESSMENTS FOR
SCHOOLS, HOW THEY ARE DECIDING
WHO THE EXTERNAL PARTNERS ARE
THEY ARE WORKING WITH, HOW THEY
ARE SCREENING THOSE FOLKS AND
HOLDING THEM ACCOUNTABLE AND
ALIGNING DISTRICT-LEVEL
RESOURCES WITH THE INTERVENTIONS
THAT ARE HAPPENING IN THE
SCHOOLS, HOW THEY MIGHT BE
MODIFYING DISTRICT POLICIES AND
PRACTICES TO SUPPORT
SCHOOL-LEVEL REFORMS.
WE ARE NOW ASKING DISTRICTS TO
ADDRESS THOSE THINGS WHEN THEY
ARE APPLYING TO THEIR STATES FOR
FUNDS.
THAT IS PART ONE.
PART TWO IS THE ACTUAL USES OF
THE DOLLARS.
BECAUSE OF THE WAY THE PROGRAM
IS STRUCTURED IT IS VERY FOCUSED
ON MONEY GOING TO THE LOWEST
PERFORMING SCHOOLS AND FOR
SCHOOL LEVEL INTERVENTION.
THERE ARE WAYS THE DISTRICTS CAN
SUPPORT SCHOOLS MORE BROADLY
DISTRICT 10 USED DOLLARS TO
IMPLEMENT INTERVENTIONS OR
BROADER INTERVENTIONS TARGETED
ON A NUMBER OF LOW PERFORMING
SCHOOLS THAT ARE ELIGIBLE FOR OR
RECEIVING THE DOLLARS.
A GOOD EXAMPLE IS THINGS AROUND
EARLY WARNING INDICATOR SYSTEMS.
DISTRICTS CAN TAKE ADVANTAGE OF
THE DOLLARS TO IMPLEMENT SYSTEMS
LIKE THIS.
THERE ARE CHALLENGES WHEN THE
DISTRICT HAS OTHER SCHOOLS THAT
ARE HIGHER PERFORMING AND NOT
ABLE TO USE SIG DOLLARS.
WE WANT TO MAKE SURE THE MONEY
IS SUPPORTING THOSE SCHOOLS
DIRECTLY BUT THERE ARE WAYS THE
DISTRICT CAN THINK ABOUT
DISTRICT-LEVEL WORK IN THIS
CASE.
>> IT SEEMS THAT WITH THE PAST
TEN YEARS UNDER NO CHILD LEFT
BEHIND IT HAS BECOME
INCREASINGLY APPARENT THAT
LEAVING A DISTRICT OUT IN TRYING
TO DO SCHOOL BY SCHOOL REFORM IS
NOT THE WAY TO GO BUT IT TAKES A
WHILE FOR IT TO EVOLVE INTO
WHERE WE HAVE CLARITY ABOUT WHAT
THAT WOULD LOOK LIKE IN TERMS OF
TRYING TO RUN A PROGRAM AND
TRYING TO PROVIDE GUIDANCE FOR
THE VAST VARIETY OF DISTRICTS IN
THE PARTICULAR CONDITIONS WITHIN
THOSE DISTRICTS IS CHALLENGING.
IT'S VERY CHALLENGING.
SO I WANTED TO TALK A LITTLE BIT
ABOUT THE CURRENT DEBATE OR THE
STALLED DEBATE AS IT WERE AROUND
THE ELEMENTARY AND SECONDARY
ACT.
ARE THERE CERTAIN POLICIES THAT
THE ADMINISTRATION IS THINKING
ABOUT AND WHAT IT WOULD LIKE TO
SEE FOR LEVERAGING SOME OF THE
INNOVATIONS AND IMPROVEMENTS
AROUND HIGH SCHOOL REFORM?
>> ABSOLUTELY.
I THINK OUR ADMINISTRATION'S
PRIORITIES BROADLY AND
EVERYTHING FROM FOCUS ON EARLY
CHILDHOOD EDUCATION AND MAKING
SURE THAT IS A BIG PIECE OF A
NEW LAW TO ACCOUNTABILITY THAT
NEEDS TO BE IN PLACE AND ALSO
THE IDEA OF SUPPORTING STATE AND
LOCAL INNOVATION.
THAT IS IMPORTANT IN ADDITION TO
OTHER PIECES.
WHAT WE HAVE BEEN TALKING ABOUT
AND THINKING ABOUT IS WHICH OF
THE PROGRAMS THAT WE HAVE BEEN
WORKING ON ACTUALLY FIT INTO
THIS SPACE AND SHOULD BE PART OF
A NEW ESEA.
WE THINK IT IS IMPORTANT TO
CONTINUE THAT KIND OF
EVIDENCE-FOCUSED PROGRAM IN A
NEW LAW.
WE HAVE BEEN ABLE TO DO THAT
THROUGH APPROPRIATIONS LANGUAGE
FOR THE PAST FEW YEARS BUT IT
COULD BE GREAT TO SEE THAT IN A
NEW LAW AND PERMANENTLY
AUTHORIZED.
WE HAVE ALSO PROPOSED THROUGH
OUR 2016 BUDGET A NUMBER OF
PROGRAMS THAT ARE FOCUSED ON
THIS IDEA OF USING EVIDENCE AND
BUILDING EVIDENCE OF WHAT WORKS.
SO INCREASED FUNDING FOR I 3 IS
A BIG PIECE OF IT.
ANOTHER PIECE IS A SEPARATE IDEA
THAT WE HAVE BEEN PUTTING OUT
THERE AROUND HOW TO LEVERAGE
SOME OF THE EXISTING FEDERAL
FORMULA DOLLARS TO SUPPORT WHAT
WORKS.
SO IN OUR 2016 BUDGET IT WAS
$100 MILLION LEVERAGING WHAT
WORKS COMPETITION THAT WE
PROPOSED THAT WOULD HELP
DISTRICTS USE THEIR EXISTING
FEDERAL DOLLARS FOR ACTIVITIES
THAT HAVE EVIDENCE BASE.
THERE ARE ALMOST $15 BILLION IN
FUNDS THAT GO OUT TO SCHOOL
DISTRICTS AND NOT A LOT OF
EVIDENCE ABOUT WHAT THOSE HAVE
BEEN USED FOR OR HOW EFFECTIVE
THEY ARE.
THIS IDEA IS TO HAVE SOME FUNDS
THAT GO TO DISTRICTS WHO ARE
WILLING TO LEVERAGE THEIR
DOLLARS FOR PROFESSIONAL
DEVELOPMENT AND OTHER FEDERAL
FUNDS AND FOCUS THOSE RESOURCES
ON EVIDENCE-BASED PRACTICES OR
TRY TO TAKE LARGER FEDERAL
FUNDING STREAMS THAT AREN'T
SMALLER TYPE PROGRAM AND GET
DISTRICTS TO THINK ABOUT HOW TO
USE THEM FOR EVIDENCE-BASED
ACTIVITIES.
THE THIRD PIECE IS I KNOW WE
HAVE A PROPOSAL ON OUR BUDGET
FOCUSED ON INCREASED FUNDS FOR
EVIDENCE-BASED INTERVENTIONS.
THAT IS SOMETHING WE WANT TO BE
IN THE RE-AUTHORIZATION
CONVERSATION IS HOW TO MAKE SURE
SOMETHING LIKE SIG WHERE
FOCUSING ON LOW PERFORMING
SCHOOLS AND MAKING SURE STATES
AND DISTRICTS ARE INVESTING
FUNDS IN THOSE SCHOOLS AND HOW
IT IS INCLUDED IN
RE-AUTHORIZATION.
SPECIFICALLY FOCUS ON
EVIDENCE-BASED STRATEGIES.
WE WOULD LOVE TO SEE SOMETHING
LIKE THAT MAKE IT INTO THE
RE-AUTHORIZATION.
>> WE WOULD, TOO.
GOOD LUCK WITH THAT.
THAT IS MARVELOUS.
>>> WHAT ABOUT ESEA WAIVERS?
WE GOT A QUESTION FROM PAUL IN
OHIO.
HOW CAN WE USE WAIVERS OR
PERHAPS A REAUTHORIZE ESEA TO
MAKE SURE STATES TEND TO FACTORS
THAT MEAN A GREAT DEAL
PARTICULARLY FOR STUDENTS WHO
ARE NEEDIEST AND IN DANGER OF
DROPPING OUT?
HOW CAN WE DRAW ATTENTION TO
RESEARCH AND ENCOURAGE THEM TO
PROVIDE SUPPORT TO ATTEND TO
THIS INFORMATION?
>> I THENG THAT IS ONE OF THE
THINGS WE HAVE BEEN EXCITED
ABOUT ABOUT THE WAIVER PROCESS
WITH STATES IT HAS BEEN ABLE TO
OPEN UNINNOVATION AT THE STATE
AND LOCAL LEVEL AND AVOID SOME
OF THE PRESCRIPTIVE MANDATES OF
NO CHILD LEFT BEHIND IN EXCHANGE
FOR MORE SOPHISTICATED SYSTEMS.
WE ARE EXCITED ABOUT WHAT WE
HAVE SEEN FROM STATES AND
DISTRICTS IN THIS AREA.
THE WAIVERS DO REQUIRE STATES TO
IDENTIFY LOWEST PERFORMING 5% OF
THE SCHOOLS, PRIORITY SCHOOLS
AND TAKE DRAMATIC ACTION TO TURN
THEM AROUND AND BUILD ON THE
PROGRAMS WITH IDEA OF KEY TURN
AROUND PRINCIPLES THAT NEED TO
BE APPLIED TALKING ABOUT
LEADERSHIP STAFFING, USE OF
DATA, NONACADEMIC SUPPORT AND
THINGS WE KNOW MATTER AND TRYING
TO ENCOURAGE STATES AND
DISTRICTS TO TAKE THOSE
FRAMEWORKS AND THEN BUILD
EVIDENCE INTO THAT WORK.
THE OTHER PIECE OF THIS IS IN
ADDITION TO LOWEST PERFORMING
SCHOOLS THROUGH WAIVERS STATES
ARE FOCUSING ON SCHOOLS WITH
LARGEST ACHIEVEMENT GAPS.
WHERE PARTICULAR GROUPS OF KIDS
ARE STRUGGLING WHETHER
HISTORICALLY LOW PERFORMING OR
SOMEWHAT HIGHER PERFORMING
COMPARED TO PEERS THERE ARE HUGE
GAPS AND NOT PERFORMING AS WELL
AS WHITE STUDENTS.
HOW CAN STATES AND DISTRICTS
IDENTIFY THOSE SCHOOLS AND THEN
TAKE ACTION TO HELP CLOSE THOSE
GAPS AND IMPROVE PERFORMANCE IN
PARTICULAR GROUPS OF KIDS?
STATES AND DISTRICTS HAVE TAKEN
THAT CHALLENGE ON.
IT IS DIFFICULT WORK.
IT IS NOT A LOT OF EVIDENCE YET
ABOUT SOME OF THE THINGS THAT
WORK FOR STRUGGLING GROUPS OF
STUDENTS.
IT'S EXCITING TO HEAR OTHERS
TALK ABOUT SOME OF THE WAYS THAT
A FEW DISTRICTS HAVE DONE THIS
AND THEN WE CAN FIGURE OUT I
THINK WE ARE IN A UNIQUE
POSITION IN A FEDERAL LEVEL TO
LINK PEOPLE TOGETHER AND SAY
SOMETHING IS REALLY WORKING IN
MASSACHUSETTS HOW DO WE HELP
THOSE PEOPLE OUT WITH SOMEBODY
IN MINNESOTA WHO IS TRYING TO DO
THE SAME KIND OF THING?
THAT IS A ROLE WE HAVE BEEN ABLE
TO PLAY WELL.
WE HAVE BEEN ABLE TO HELP THEM
LEARN FROM EACH OTHER AND FIGURE
OUT WHAT IS WORKING AND WHAT'S
NOT AND RATHER THAN HAVING THEM
ALWAYS LEARN FROM US OR FROM
SOME EXTERNAL EXPERT THEY CAN
LEARN FROM EACH OTHER.
>> THANK YOU SO MUCH.
>>> I WANT TO — IF ANYONE WANTS
TO WEIGH IN ON OTHER FEDERAL
INITIATIVES IN TERMS OF DOING
THE KINDS OF THINGS SCOTT WAS
TALKING ABOUT, HOW DO WE
LEVERAGE ATTENTION AND
INVESTMENT IN USING
EVIDENCE-BASED APPROACHES?
ANYONE WANT TO MAKE COMMENTS
HERE ABOUT THAT?
DAVE, I'M GOING TO TURN TO YOU.
CAN YOU TALK A LITTLE BIT ABOUT
CHICAGO PUBLIC SCHOOLS AND HOW
IT HAS USED SOME OF THE SCHOOL
IMPROVEMENT FUNDS TO SPREAD
INNOVATIONS ACROSS SCHOOLS?
>> SURE.
SO I'LL TALK A LITTLE ABOUT THE
NETWORK FOR COLLEGE SUCCESS
WHICH IS ONE OF OUR PARTNER
ORGANIZATIONS HERE IN CHICAGO.
AND YOU KNOW CHICAGO HAS HAD A
NUMBER OF SIG HIGH SCHOOLS OVER
THE LAST FEW YEARS AND THOSE
HIGH SCHOOLS IN SOME INSTANCES
HAVE BECOME REAL MODELS IN
CHICAGO ESPECIALLY AROUND THE ON
TRACK WORK FOR HOW TO DO THAT
WORK EFFECTIVELY.
THE FUNDS THAT THEY OBTAINED
THROUGH THOSE GRANTS ENABLED
THEM TO REALLY DO SOME VERY
INTENSIVE WORK AROUND BUILDING
THE KIND OF SUPPORT THAT THE
ADULTS IN THE BUILDING NEEDED
FIRST AND FOREMOST TO DO THE
WORK OF REALLY MAKING SENSE OUT
OF THE DATA THAT THEY WERE
TRACKING BUT THEN ALSO TO PULL
IN THE SUPPORT STAFF.
BOB MENTIONED THE IMPORTANCE OF
SORT OF BRINGING IN ADDITIONAL
RESOURCES WHEN YOU FIND YOURSELF
FACING PROBLEMS THAT ARE BEYOND
THE SCOPE OF WHAT THE SET OF
INDIVIDUALS THAT YOU HAVE
ACTUALLY GOT ON STAFF ALREADY
ARE TRAINED TO HANDLE OR CAN
HANDLE IN TERMS OF THEIR
COGNITIVE CAPACITY.
THERE ARE ONLY SO MANY THINGS AN
ADULT CAN DO IN A DAY.
THE MONEY ENABLED THE SCHOOLS TO
BRING IN ADDITIONAL RESOURCES
AND DEVELOP NOVEL WAYS OF
COORDINATING THOSE RESOURCES
WITH TEAMS OF TEACHERS.
WE HAVE SEEN IN A HANDFUL OF
INSTANCES NOW BECAUSE OF THE
STRUCTURE IN CHICAGO BOTH AT THE
DISTRICT LEVEL WHERE HIGH
SCHOOLS ARE LENGED TOGETHER WITH
ELEMENTARY SCHOOLS IN GEOGRAPHIC
NETWORKS BUT ALSO BECAUSE OF
HIGH SCHOOLS THEMSELVES OFTEN
TIMES VOLUNTARILY ARE LINKED
TOGETHER IN PROFESSIONAL
LEARNING COMMUNITIES.
THE NETWORK FOR COLLEGE SUCCESS
KWOERDINATES ONE OF THOSE BUT
THERE ARE OTHERS THAT ARE HOME
GROWN.
SIG SCHOOLS HAVE REALLY BEEN
LEADERS IN A LOT OF INSTANCES IN
THE NETWORKS.
I THINK WE HOLD UP OFTEN TIMES
IN TALKING ABOUT THIS THE
EXAMPLE OF HANCOCK HIGH SCHOOL
WHICH IS A HIGH SCHOOL WE KNOW
FAIRLY WELL IN CHICAGO.
IT'S A SCHOOL SERVING
PREDOMINANTLY LOW INCOME AND
LATINO POPULATION.
IT HAS BEEN AMONG VANGUARD OF
SCHOOLS THAT HAVE PRODUCED
DRAMATIC RESULTS ON ON TRACK,
NOT THE LEAST OF WHICH HAS BEEN
OVER THE LAST FEW YEARS POSTING
A 90 PLUS PERCENT ON TRACK RATE
AMONG NINTH GRADERS.
THEY HAVE REALLY BEEN A REAL
IMPORTANT SITE OF LEARNING FOR
OTHER SCHOOLS AND THE MONEY IN A
LOT OF WAYS I THINK HAS SERVED
AS AN IMPORTANT KIND OF CATALYST
NOT JUST FOR DEVELOPING THOSE
NOVEL SYSTEMATIC APPROACHES,
THOSE STRUCTURES, THOSE
OPPORTUNITIES FOR TEACHERS TO
MEET AND BREAK OUT OF THE
DEPARTMENTALIZED STRUCTURE, BUT
ALSO TO REALLY CREATE THE KINDS
OF OPPORTUNITIES FOR ADULTS TO
LEARN FROM EACH OTHER ACROSS
SCHOOLS.
I THINK AS MUCH SILOING AS GOES
ON INSIDE THE SORT OF SINGLE
OFTEN LARGE URBAN PUBLIC SCHOOL
THERE IS A GREAT DEAL OF SILOING
THAT HAPPENS IN THE SENSE THAT
SCHOOLS DON'T LEARN VERY WELL
FROM EACH OTHER.
AND THAT'S FOR A VARIETY OF
REASONS, SOME OF THEM
ORGANIZATIONAL AND SOME FRANKLY
JUST LOGISTIC.
I THINK WHERE WE HAVE SEEN A
GREAT SERVICE FOR THE PUBLIC
SCHOOLS IN CHICAGO HAS BEEN
WHERE IT HAS ENABLED SCHOOLS TO
REACH BEYOND NOT JUST IN TERMS
OF LESSONS FROM OTHERS BUT
THINGS THEY ARE ABLE TO SHARE
WITH THE OTHER SCHOOLS, AS WELL.
>> RON?
>> I THINK ABOUT THIS A LOT
AROUND SCHOOL TO SCHOOL.
SOMETIMES WE SET UP SITUATIONS
WHERE THERE IS THE WINNER AND
LOSER.
AND THAT DOESN'T BODE WELL FOR
ADULT LEARNING.
WHAT I WAS INTRIGUED IN THE
CONVERSATION WITH BOB BEFORE WAS
THIS NOTION OF THERE IS
IDENTIFYING THE CHALLENGE WELL
AND UNDERSTANDING THE HUMAN
CAPACITY WITHIN THE SCHOOLS TO
ADDRESS THAT CHALLENGE AND THEN
FIGURING OUT THE RIGHT
INTERVENTION TO DO THAT.
WHAT BECOMES INTERESTING IS
OFTEN SCHOOLS ARE LUMPED
TOGETHER AS CHALLENGED SCHOOLS
BUT ARE OFTEN CHALLENGED IN
DIFFERENT WAYS.
AND THE NOTION OF LEARNING
TOGETHER, OF PROBLEM SOLVING
TOGETHER RATHER THAN LEARNING
FROM IS AN INTERESTING CONCEPT I
THINK ABOUT.
SO IS THERE A WAY TO INCENT WHAT
MAY SEEM COUNTER INTUITIVE WHICH
ARE STRUGGLING SCHOOLS
STRUGGLING AROUND DIFFERENT
THINGS TO COME TOGETHER TO LEARN
TOGETHER?
AND I DON'T KNOW THAT THAT IS
POSSIBLE BUT I FIND IT AN
INTRIGUING IDEA.
>> ON THAT POINT ONE OF THE
THINGS IN OUR CROSS DISTRICT
NETWORK IN 12 BIG DISTRICTS
ABOUT 50 SCHOOLS.
AND THE THING THAT EVOLVES
THROUGH THAT WORK WAS OUR
PRINCIPALS NETWORK WHERE WE
BRING PRINCIPALS TOGETHER FROM
TEN DIFFERENT DISTRICTS AND THEY
ARE ESSENTIALLY DOING THAT, ALL
IDENTIFIED AS LOW-PERFORMING
SCHOOLS AND HAVE DIFFERENT
PROBLEMS AND ARE LEARNING AND
SHARING WITH EACH OTHER.
THEY HAVE STARTED TAKING ON A
BROAD-THEMED ANNUAL PROJECT THAT
THEY APPROACH IN DIFFERENT WAYS.
THIS YEAR LOOKING AT HOW TO
REDUCE COURSE FAILURE FROM THE
DATA.
EACH HAS A DIFFERENT STORY IN
THEIR SCHOOL HOW IT IMPACTS
THEM.
IT'S NOT THE SAME.
THEY ARE WORKING IT AND SHARING
IT WITH EACH OTHER.
ONE THING THEY REPORTED SAYING
IS THAT IT IS DIFFICULT FOR THEM
TO NETWORK IN THEIR OWN DISTRICT
BECAUSE YOU ARE FROM A LOW
PERFORMING SCHOOL WHAT CAN WE
LEARN FROM YOU?
BY HAVING THEM BAN TOGETHER THEY
CREATE A LEARNING COMMUNITY AND
A LOT OF PROFESSIONAL GROWTH AND
SHARING.
>> OFTEN TIMES I HEAR THEIR
DEMOGRAPHICS ARE DIFFERENT.
SO REALLY THINKING ABOUT ARE WE
STRUGGLING WITH DIFFERENT TYPES
OF STUDENTS DO WE HAVE DIFFERENT
THINGS TO LEARN WITH EACH OTHER?
THE DEMOGRAPHICS ARE SIMILAR.
THERE IS A LIKELIHOOD THAT THEY
COULD APPLY THINGS DIFFERENTLY
WITHIN THEIR SCHOOLS.
>> IS THERE A PROBLEM WHEN YOU
ARE DOING THIS KIND OF
NETWORKING IN INSURING FIDELITY
TO WHATEVER THE EVIDENCE-BASED
REFORM IS.
YOU TALKT ABOUT IN ORDER TO DO
STANDARDIZATION WE ARE LOOKING
AT A LOT OF PROMISE AROUND
NETWORKS AS A POWERFUL VEHICLE
FOR ADULT LEARNING?
AND THEN WE HAVE THE QUESTION
ABOUT TRYING TO INFUSE THESE
EVIDENCE-BASED APPROACHES IN
MODELS.
THERE IS A LOT OF DIFFERENT
PIECES TO THIS.
CAN ANYBODY GIVE ME INSIGHT INTO
HOW YOU ARE THINKING ABOUT IT TO
BALANCE THE TENSION ACROSS SOME
OF THE ASPECTS OF GOOD, SOLID
REFORM?
>> I OFTEN THINK OF THE
DIFFERENCE BETWEEN REPLICATING
SOMETHING AND ENGAGING IN THE
SAME TYPE OF QUESTIONING OF
SOMETHING.
AND I DO THINK THERE IS A BIT OF
A DIFFERENCE THERE.
SO YOU HAVE A PROBLEM THAT
YOU'RE TRYING TO FIND A SOLUTION
TO.
YOU COULD SAY IF YOU DID A
THROUGH Z YOU WILL SOLVE THAT
PROBLEM AND THEN CHECKING TO SEE
WHETHER A THROUGH Z IS DONE AND
IN SOME CASES THAT WORKS.
IN OTHER CASES IT'S HERE IS A
SERIES OF POTENTIAL QUESTIONS
THAT COULD LEAD YOU DOWN VARIOUS
ROADS TO GET TO THAT OUTCOME AS
YOU ENGAGE IN THESE QUESTIONS
WHAT IS YOUR PLAN AND THEN HOW
DO YOU KNOW WHETHER OR NOT YOU
ARE MOVING TOWARDS THE OUTCOME
AND HOLDING FIDELITY TO THAT
WHILE COLLECTING EVIDENCE OF
PROGRESS IS ANOTHER WAY TO THINK
ABOUT THAT PARTICULAR —
>> SO YOU ARE ADHERING TO A
PROCESS OF INQUIRY WHERE YOU ARE
CONSTANTLY CHECKING WITH THE
DATA AND COURSE CORRECTING AS
NEEDED?
>> AND BEING HELD TO THAT COURSE
CORRECTION.
THE ACCOUNTABILITY TO YOUR
ANALYSIS AND COURSE CORRECTION.
>> MAKE THOSE CHANGES BECAUSE
DATA TELLS YOU IT IS NOT
WORKING.
>> ANY OTHER FINAL COMMENTS?
WE WERE JUST ABOUT OUT OF TIME.
>> I GUESS ONE THING I WOULD ADD
TOO, IS IT IS IMPORTANT TO HAVE
THIS PERSONALIZATION BUT ALSO
SYSTEMATIC APPROACH THAT IT IS
BETWEEN INNOVATION AND
ACCOUNTABILITY.
DO YOU NEED ACCOUNTABILITY TO
TELL YOU WHERE TO DIRECT
INNOVATIONS?
THEY CAN'T KEEP DOING THE SAME
THING.
YOU NEED TO STRUCTURE
ACCOUNTABILITY SYSTEMS TO ALLOW
FOR INNOVATION TO HAPPEN.
YOU HAVE TO LOOK AT THAT
DIALOGUE RIGHT AND YOU CREATE A
POWERFUL WAY TO GO FORWARD.
ACCOUNTABILITY TELLS YOU WHERE
TO GO AND ARE YOU MAKING A
DIFFERENCE?
ARE YOU ON THE RIGHT COURSE?
THEN STRUCTURE THE
ACCOUNTABILITY SO IT DOESN'T SAY
ONLY ONE SOLUTION.
>> DAVID, ANY FINAL COMMENTS?
>> NOTHING TO SAY BEYOND WHAT'S
ALREADY BEEN SAID EXCEPT TO
THANK EVERYBODY FOR OFFERING THE
THOUGHTS AND IN SO MANY
DIFFERENT WAYS I FEEL LIKE THIS
IS AN EXTREMELY HEARTENING
DISCUSSION FOR US IN CHICAGO.
WE HAVE WATCHED A LOT OF THESE
THINGS UNFOLDING IN OTHER
DISTRICTS AND WITH THE EFFORTS
OF SIMILAR ORGANIZATIONS AROUND
THE COUNTRY AND IT IS EXTREMELY
EXCITING TO HEAR SUCH POSITIVE
RESULTS FROM OTHER FOLKS.
>> THANK YOU.
>>> SO THAT'S ALL THE TIME WE
HAVE TODAY.
IF YOU MISSED ANY PART OF
TODAY'S WEBINAR YOU CAN WATCHED
THE ARCHIVED VIDEO.
AND I INVITE YOU TO FOLLOW THE
ALLIANCE ON TWITTER AND ON
FACEBOOK ON
FACEBOOK.COM/ALLFORED.
THE CODE WORD FOR TODAY'S
WEBINAR IS RESEARCH.
ENTER THAT CODE WORD TOWARDS THE
BOTTOM OF THE WEBINAR PAGE TO
EARN EXTRA POINTS AND WORK YOUR
WAY TOWARDS BADGES IN THE ACTION
ACADEMY.
HAVE A GREAT AFTERNOON.
>> IF WE CAN START TO REFERENCE
THESE IDEAS ON A REGULAR BASIS
AND CRYSTALLIZE AND GET THEM
RIGHT.
THAT IS WHY I NEED TO GO BACK
AND MAYBE GET ASSISTANCE.
SO WE CAN SHARE THAT WITH THE
ADVOCACY STAFF.
THANK YOU.
Categories:
Uncategorized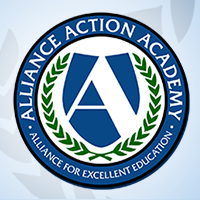 Welcome to the Alliance for Excellent Education's Action Academy, an online learning community of education advocates. We invite you to create an account, expand your knowledge on the most pressing issues in education, and communicate with others who share your interests in education reform.
Register Now
or register for Action Academy below: