Lessons Learned: How Schools Are Transforming Education Using Digital Learning and Technology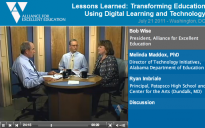 July 21, 2011
2:00 pm – 3:00 pm EDT
Washington, DC
Participants
Ryan Imbriale, Principal, Patapsco High School and Center for the Arts (Dundalk, MD)
Melinda Maddox, PhD, Director of Technology Initiatives, Alabama Department of Education
Bob Wise, President, Alliance for Excellent Education
The Alliance for Excellent Education held a webinar to highlight and discuss a few schools that are successfully implementing digital learning and what can be learned from them. From schools located in rural areas where the closest Walmart is more than 120 miles away to those located in the heart of the city, some schools are ahead of the curve and successfully utilizing digital learning and the effective use of technology to improve student outcomes. Over the past year, the Alliance has been studying schools that are making a positive impact on education through these innovative practices. This webinar highlighted some best practices and examples from these profiled schools and provides a model for other schools interested in transforming its student learning.
The webinar was held on July 21. Alliance President Bob Wise moderated the event and was joined by Ryan Imbriale from Patapsco High School and Center for the Arts (Dundalk, MD) and Melinda Maddox with the Alabama Department of Education. Following the discussion, there was an interactive conversation among the panelists using questions submitted by participants from the around the country.
Supplemental Materials
Categories:
Uncategorized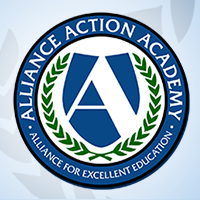 Welcome to the Alliance for Excellent Education's Action Academy, an online learning community of education advocates. We invite you to create an account, expand your knowledge on the most pressing issues in education, and communicate with others who share your interests in education reform.
Register Now
or register for Action Academy below: