Accelerating Blended Learning

Registration Required
June 25, 2014
8:00 pm – 8:30 pm EDT
The Alliance for Excellent Education Invites You to Attend A Webinar
Accelerating Blended Learning
Panelists
Scott Ellis, Chief Executive Officer, The Learning Accelerator
Chip Slaven,  Counsel to the President and Senior Advocacy Advisor, Alliance for Excellent Education
Please join the Alliance for Excellent Education for a webinar with The Learning Accelerator (TLA), a nonprofit organization dedicated to jump-starting implementation of blended learning across the nation.
Blended learning combines traditional face-to-face instruction, usually offered by a teacher in a traditional school building with high-quality digital content, including online instruction and other technological tools. In its most effective form, blended learning personalizes the learning of each student, allowing opportunities for students to take both required and elective courses and create a portfolio of opportunities and paths to succeed. Successful blended learning also allows for competency-based progression that empowers students to move at their own pace and advance only when they have mastered content; and uses technology to make implementation possible at scale. These three key elements of blended learning are what TLA focuses on in its work.
TLA works to help districts overcome barriers they face in blended learning implementation with the understanding that implementation is complex and requires careful planning. Scott Ellis, The Learning Accelerator's chief executive officer, will share the organization's story and broad national vision and efforts in school districts around the country. Chip Slaven of the Alliance will share his lessons learned from implementing blended learning at the district level and moderate questions submitted from viewers across the country.
Register and submit questions for the webinar using the registration form below. After registering, you will receive an email confirmation. Please check your email settings to be sure they are set to receive emails from alliance@all4ed.org.
Please direct questions concerning the webinar to alliance@all4ed.org.
If you are unable to watch the webinar live, an archived version will be available athttps://all4ed.org/webinars after the event airs.
Categories:
Uncategorized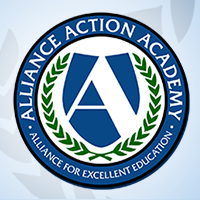 Welcome to the Alliance for Excellent Education's Action Academy, an online learning community of education advocates. We invite you to create an account, expand your knowledge on the most pressing issues in education, and communicate with others who share your interests in education reform.
Register Now
or register for Action Academy below: