Leading Blended and Digital Learning: Creating a Culture Starts with Principals

June 21, 2016
6:00 pm – 6:45 pm EDT
Google Hangouts On Air
Leading Blended and Digital Learning: Creating a Culture Starts with Principals
Panelists
Thomas C. Murray, Director of Innovation, Future Ready Schools, Alliance for Excellent Education
Lynn T. Ochs, Senior Learning Designer, Mayerson Academy, Ohio Blended Learning Network
Stacey Wang, Director of Personalized Learning, Oakland Unified School District (CA)
The shift to Future Ready Schools (FRS) with blended and digital learning is dramatically changing the role of the school leader and requires focused attention on the critical importance of school culture in a successful transition. This webinar, presented on June 21, 2016 by FRS and the Friday Institute for Educational Innovation, addressed key strategies implemented by leading principals to build a dynamic school culture that supports student-centered, personalized learning enabled by digital tools. This webinar is part of the FRS leadership Hub, a one-stop-shop of professional learning opportunities for school leaders.
Stacey Wang, representing Oakland Unified School District (CA), and Lynn Ochs, representing Ohio Blended Learning Network, are recent facilitators of the Friday Institute's Leadership in Blended and Digital Learning program, where they facilitated local cohorts that were part of a national cohort of school leaders that implemented blended and digital learning in their schools.
Click above to watch this engaging conversation on leadership, school culture, and the transition to digital learning. Panelists also addressed questions submitted by viewers from across the nation.
Watch the webinar above.
Please direct questions concerning the webinar to alliance@all4ed.org. If you are unable to watch the webinar live, an archived version will be available in "Resources" of the FRS Dashboard after the event airs.
---
Future Ready Schools is a collaboration between the US Department of Education and the Alliance for Excellent Education, a Washington, DC–based national policy and advocacy organization dedicated to ensuring that all students, particularly those traditionally underserved, graduate from high school ready for success in college, work, and citizenship.
www.futureready.org
Follow Future Ready Schools on Twitter (twitter.com/FutureReady);
Facebook (facebook.com/futurereadyschools); and
the Future Ready Schools' Leadership Hub (futureready.org/hub).
---
If you are interested in renting the Alliance's facilities for your next meeting or webinar, please visit our facilities page to learn more.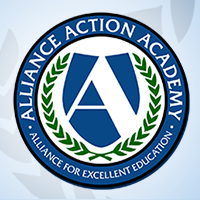 Welcome to the Alliance for Excellent Education's Action Academy, an online learning community of education advocates. We invite you to create an account, expand your knowledge on the most pressing issues in education, and communicate with others who share your interests in education reform.
Register Now
or register for Action Academy below: