Blended Learning: Recommendations and Resources

July 28, 2016
6:00 pm – 6:45 pm EDT
Google Hangout
Future Ready Schools Invites You to a Webinar
Blended Learning: Recommendations and Resources
Panelists
Kira Keane, Partner, The Learning Accelerator
Saro Mohammed, Partner, The Learning Accelerator
Tom Murray, Director of Innovation, Future Ready Schools, Alliance for Excellent Education
On July 28, 2016 Future Ready Schools (FRS) hosted a webinar as part of the FRS Leadership Hub, a one-stop-shop of professional learning opportunities for school leaders. This Google Hangout shared the latest action-oriented recommendations and resources from The Learning Accelerator (TLA) to help schools successfully implement blended learning.
Over the last three years, TLA has worked to understand the challenges educators face in implementing blended and personalized learning at scale. TLA partner Kira Keane provided an overview of these critical issues and highlight the free tools available to overcome these challenges. As a bonus, TLA partner Saro Mohammed shared her recent work to help us understand if, how, and when blended learning is effective. This webinar focused on practical steps district leaders can take to transform teaching and learning in their schools.
This webinar
defined blended learning as the integration of in-person learning with technology to enable the use of real-time data, personalization, and competency-based progression;
shared solutions to the seven top barriers to implementing blended learning;
offered an historical body of evidence supporting the effectiveness of personalized learning and learning for mastery, both of which blended learning can enable at scale; and
introduced a five-step guide for districts to develop a blended learning measurement system of their own.
Panelists addressed questions submitted by viewers from across the country.
View the webinar above.
Please direct questions concerning the webinar to alliance@all4ed.org. If you are unable to watch the webinar live, an archived version will be available at in the Resources section of the Future Ready Dashboard after the event airs.
Additional Resources
---
Future Ready Schools (FRS) is a collaboration between the U.S. Department of Education and the Alliance for Excellent Education, a Washington, DC–based national policy and advocacy organization dedicated to ensuring that all students, particularly those traditionally underserved, graduate from high school ready for success in college, work, and citizenship.
www.futureready.org
Follow FRS on Twitter (twitter.com/FutureReady); Facebook (facebook.com/futurereadyschools); and the Future Ready Schools' Leadership Hub (futureready.org/hub).
---
If you are interested in renting the Alliance's facilities for your next meeting or webinar, please visit our facilities page to learn more.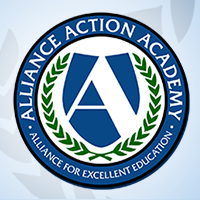 Welcome to the Alliance for Excellent Education's Action Academy, an online learning community of education advocates. We invite you to create an account, expand your knowledge on the most pressing issues in education, and communicate with others who share your interests in education reform.
Register Now
or register for Action Academy below: