The Common Core State Standards and Equity: Educators Tell Their Stories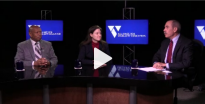 January 21, 2015
7:00 pm – 8:00 pm EDT
The Common Core State Standards and Equity:
Educators Tell Their Stories
Panelists
Erin Frew, Principal, New Tech West High School (Cleveland, OH)
Dewey Hensley, EdD, Chief Academic Officer, Jefferson County Public Schools (Louisville, KY)
Henry Johnson, EdD, Assistant State Superintendent, Division of Curriculum, Assessment, and Accountability, Maryland State Department of Education
Bob Wise, President, Alliance for Excellent Education
This webinar focused on the intersection of the Common Core State Standards (CCSS) and equity.
In 2014, the Alliance began documenting—through a series of video monographs—the stories of schools, districts, and states across the country as they implement the CCSS. Specifically, educators shared what they are doing to ensure that struggling secondary students are prepared for college, a career, and life. Their insights from the practitioner level serve as a valuable resource for other schools, districts, and states as they implement the CCSS.
Bob Wise moderated a conversation with three educators who participated in the digital monograph. Henry Johnson, Dewey Hensley, and Erin Frew shared lessons they have learned as they implement the CCSS and the ways in which they are providing all students, especially those who struggle, with preparation for life after high school. They also discussed the ways in which they are ensuring equity and mastery for all students.
Bob Wise:                    Hello.  I'm Governor Bob Wise, president of the Alliance for Excellent Education.  Welcome and thank you for joining us.
We're coming to you live from our brand-new recording studio.  We are so excited about this new facility and the promise it holds for future online events, for interaction, for sharing information, for learning from each other.  It is fitting that we would use this new studio as the launch pad for an ambitious new endeavor.
Today, the Alliance launches its first-ever digital monograph on our website.  I will give you the URL information later in the hour.  But for now, I wanna remind you that, as is the case with all Alliance webinars, we want you to be a part of today's discussion.  So please follow us @All4Ed on Twitter, and use the hashtag #CoreMatters.
As many of you may know, a monograph is a highly detailed, thoroughly documented written publication that focuses on a single issue.  This monograph does just that:  focuses on the implementation of Common Core State Standards and the implications for meeting the equity imperative, for serving all of our students, including our most traditionally underserved students.  But yet this monograph differs from a traditional monograph in that it is digitally recorded, not written.
Last year the Alliance convened administrators and educators from California, Colorado, Kentucky, Maryland, and Ohio in Washington, D.C., to talk about how they were implementing the Common Core State Standards in their states, their districts, and their schools.  Now everyone, from parents to politicians, has an opinion about the Common Core State Standards.  But we thought it was important to listen to the people who are actually doing the work.  Specifically, we wanted to hear how they were working to implement the standards for secondary students, especially those who historically have been the most underserved.  So let's take a look at what some of these educators have to say about the Common Core.
Bob Wise:                    So we're privileged to be joined on this webinar by some of the participants from that convening in July.  In studio today, we're joined by Dr. Henry Johnson.  He is the assistant state superintendent in the Division of Curriculum, Assessment & Accountability at the Maryland State Department of Education.  In the middle is Ms. Erin Frew.  Erin is the principal of New Tech West High School, a part of the Cleveland Metropolitan School District in Cleveland, Ohio.  And last and certainly not least, we're joined via telephone by Dr. Dewey Hensley, chief academic officer for the Jefferson County Public Schools in Louisville, Kentucky.  I wanna thank all of you for joining us today.
The Alliance decided to showcase what states, districts, and schools are doing to ensure struggling secondary students are ready for college, career, and life.  Once again, our goal was to examine that intersection between the Common Core and equity.  This series highlights the work of these states, these districts, these schools that are leading the way in this country in implementing the Common Core State Standards, and with our particular focus on struggling middle and high school students.
The states featured in the monograph were selected because they are successfully implementing the Common Core and are seeing results across all student groups.  The districts and schools were chosen because they serve a significant percentage of low-income students or students of color and have seen promising results with these particular groups of students.  These schools and districts are showing that all students can achieve higher standards with the successful efforts and the right supports.
The monograph will highlight the successes, the struggles, and the future plans of these schools, districts, and states in an effort to inform both practice and policy.  The film clip that you just saw is just a sample of the kind of quality that you'll see in these digital monographs, and the experiences, and the lessons.
So don't forget, as we get started, we wanna hear from you.  To ask us a question, use the form below this video window.  We will turn to these questions from time to time throughout the webinar.  You can also tweet us @All4Ed, using the hashtag #CoreMatters shown in the left corner of the video screen.  So with these preliminaries out of the way, let's dive right into our program.
So we're gonna begin this conversation by asking each of our panelists how things are going in their state, their district, or their school.  So Dr. Johnson, if I could begin with you, how is Common Core implementation coming along in Maryland?  And I know you've been hard at it.
Henry Johnson:          I'm pleased to say that I think that we're doing quite well in the state of Maryland.  We have provided opportunities for our teachers to receive more training.  We've provided opportunities for our executive officers to understand the standards better.  And with this we feel that the type of professional development we've afforded our educators is now being transferred into the schools, where the students are very excited about this new way of learning.
Bob Wise:                    So I notice – if I could just pull out one phrase I heard, "professional development."  Sounds like you focused on that early on.
Henry Johnson:          Yes, we have been focusing on professional development in Maryland since we adopted the standards in 2010.  We do a lot of summer trainings.  We do a lot of webinars for teachers and educators.  We do regional forums across the state, in which we invite teachers and parents and other community members to come in to learn more about the implementation of the Common Core.  So we feel that in order to do the Core justice, and to do the standards justice, that we need to make sure that all of our community understands the standards and is really kinda at the point where they don't feel so intimidated by all the outsiders that are pretty much against the Core.
Bob Wise:                    So Dr. Hensley, Dewey Hensley, at the district level in Jefferson County, Kentucky, including Louisville, what insights do you have, what experiences have you noticed, and how is the implementation of the Common Core going?
Dewey Hensley:          Well, the Common Core has been extremely important for us.  We're Kentucky's largest school district, with over 101,000 students, and it would be easy in our 155 schools, in the past, to lack a cohesive approach.  But what Common Core has done for us is truly made us coherent.  It's brought a level of coherence to our district that's guiding, like Dr. Johnson said, our professional learning, where we've shifted professional learning to better reflect the kinds of things that the Common Core is gonna require of not only our kids, of course – we're about learning – but also what our teachers are going to do to cultivate that learning.
So we've really invested a lot in shifting our professional learning and our focus.  I called it, for our school district, is Common Core helped us to put kids back at the center of our universe.  And it was a Copernican revolution in a sense, in that with the rigor of the Common Core, with the coherence of the Common Core, the kind of deeper learning that the Common Core both offers and mandates that you foster with children inside classrooms, we looked at how we could shift our resources, how we could change our professional learning so that it was inside out, so that teachers had clear goals and a belief system that said every single kid, when he or she masters the Common Core, is truly college and career ready.
So while, of course, we're still working on that, it's been powerful to see how many of our schools are embracing the meaning of Common Core; that we know if students are hitting the Common Core, that they have a stamp of approval or almost a stamp of guarantee that they are college and they are career ready and we've done our part.  So it's given an intentionality, a purpose, a coherence to our work here in Jefferson County that has helped us to get all – as you referenced before, all student groups in our district – for two years in a row, for the first time in the district's history, at least that we've measured it, all student groups have the needle, the arrow pointing upwards and are making sizable gains in academic achievement.
Bob Wise:                    That's important.  And Dewey, I have to say, as I prepared for today, I was not sure that I was gonna run into Copernicus, who did experience, as I –
Dewey Hensley:          [Laughs]  I apologize for that, Bob.
Bob Wise:                    No, no, I think it's a great analogy because, as I recall, he did experience some pushback.
Dewey Hensley:          He certainly did, and my team here has also experienced that pushback.  Once teachers recognized that we were going to provide the supports, that we were truly ensuring – we did two things that were really important.  One, we went district-wide as a professional learning community.  And one of the big rocks that I put out there was to say, we're going to train everyone to be professional learning communities, to become those professional learning communities, because it takes a cohort of teachers.  It takes teachers collaborating and encircling a group of kids, to guide those kids to that challenge of the Common Core.  So we're gonna put that structure in place for you, provide the professional learning, the leadership to make that happen.
Then we shifted from an old model of resource teachers who were out in the orbit, so to say, of that universe, and we put them inside schools in order to give direct coaching around goal clarity with the Common Core.  So we ensured that the training around the Common Core armed those, what we called, goal-clarity coaches with a clear understanding of what the Common Core required and how to coach those professional learning communities inside the schools so they had what they needed.  And that kind of shift has really paid off for us, and also that pushback, that "Let's take Dewey out and hang him in effigy" kind of sentiment, has fairly rapidly gone away as we're seeing – nothing breeds success like success.
So as we see more and more kids, particularly those students that in the past were on the other side of that opportunity gap or were sometimes even disenfranchised – as we see more of those students find success, that's because of great teaching.  That's because of great principal leadership.  And that's led to them embracing the Common Core even more than maybe I would've thought in this relatively short time of implementation.
Bob Wise:                    Very encouraging.  So let's turn to Erin Frew, principal at New Tech West High School in Cleveland, Ohio.  So at the high school level, Erin, how are you doing with the Common Core, and how goes implementation?
Erin Frew:                  Implementation is going rather well, actually.  We focused a lot over the past year and a half on, again, the professional development, taking time to really unpack the standards, whether it was the LA standards or the math standards, and seeing how they applied not just to those particular subject areas but across the curriculum.  And once we kind of had that epiphany as to where we needed to get students to be, we have now begun sharing them, since the beginning of the school year, with the students.  So we're really involving the students in tracking how they're progressing towards mastery.
At my school, we have a large English language learner population.  We have a significant special ed population.  And so involving them and seeing where they're at, and understanding that, yes, there may be a gap to where we want them to be, and talking very explicitly about what the expectations are with them, and having them track their very own progress – not just the teacher, but them – has been really helpful for the students.  And we've seen very large gains in terms of our tracking data, and so it's been really interesting to see how much buy-in we have from the students in terms of making progress towards Common Core implementation.
Bob Wise:                    So you involve the students as well as the teachers.
Erin Frew:                  Well, it affects them the most, so it makes sense to involve them in understanding:  "This is your goal; this is what college and career readiness expectations are; and this is where we want you to be by the time you graduate from this school."  And they understand that it's a lot of hard work.  There's been a lot of "But this?  This is so hard!"  Yes, yes, it is hard, and the expectations have grown from what you saw in eighth grade, because our ninth graders are particularly affected as PARCC testing is a graduation requirement for them.  So involving them and helping them understand what they're expected to be able to do by the end of ninth grade, by the end of tenth grade, and so on, has really helped point them to the kind of work that's – why we're asking them to do the kind of work we're asking them to do.
Bob Wise:                    And by involving the students, has that also assisted in informing the parents and having them understand and accept?
Erin Frew:                  The parents are a harder sell.  I think there have been some questions about the intensity of the work that's being done.  Talking through some of the standards with parents is somewhat difficult.  I think making them understand that the test is the test and the standards are the standards, and not to confuse the two.  And what I've discovered when I've had conversations with parents is, quite often they really don't have much of a problem with the standards once they understand what the standards are.  Their problems tend to be around the testing requirements and the amount of time that tends to have to go to actual testing.  But in terms of once they have a good understanding of what the standards are and what they mean for their particular child, they tend to come on board and the resistance goes down.
Bob Wise:                    And as I recall with New Tech West, you're a school that has a fairly high percentage of free and reduced lunch; as you said, high ELL; and also students with disabilities.  So these are some of the most traditionally challenged populations.
Erin Frew:                  Correct.  I mean, my average student entering in the ninth grade comes in with a 5.6 grade level, so we have a big gap to close.  So we use a lot of different techniques to assist them.  What we found is that Common Core has forced us to really think about how we're exposing students to things.  So for example, my world studies teachers – it's a team-taught class of English and history for ninth graders – they actually had the students read Dickens.  So they read Oliver Twist.  And the kids who were a little bit farther along read entirely – they didn't read the whole book, 'cause it's very long, but they read actual selections, all the actual selections; where some of our more limited readers, they did read along with the class, but then in their support sessions, either with their ELL tutor or with the intervention specialist, we utilized a graphic novel format for them so that they could get the understanding a little better and still be exposed.  So we did have them exposed to the actual reading, and then they were supported by that other technique, and they loved it.  Those kids – I was surprised by how much they really liked Oliver Twist.  They were very excited to read it.  I was surprised.
Bob Wise:                    But still, you're bringing traditionally challenged students who come to you with a several-grade deficit.  You're moving them to meeting the standards of the Common Core.
Erin Frew:                  Correct.
Bob Wise:                    So let me ask each of you in turn, and Dewey, why don't I start with you?  So we've talked about what you've been doing successfully.  From your vantage point, what's the biggest challenge you're facing in implementing the standards?  Lack of curriculum materials, time for professional development, technology readiness for assessments?  What are some of the challenges that are keeping you up at night?
Dewey Hensley:          Well, the first challenge is ensuring that we have teachers that understand how to scaffold for students, that are able to intervene and give kids who in the past wouldn't have had access, let's say, as Erin was describing, to grade-level reading.  We have to now ensure our teachers are so gifted with scaffolding skills that they can help students get access to grade-level reading text or to the mathematics that the Common Core says their grade should master.  And that sounds like "Well, haven't they always done that?"  No, unfortunately, in the past, with the level of rigor, we were able to – teachers were able to keep kids in different places in the strata of content.  They could kind of have students that read below grade level – unfortunately using old programs and things that haven't caught up with the Common Core.  They would have kids spend their time in their level that meets them right where they are, and a little bit above that, but the kid would never have actual access to the grade-level text.  They wouldn't have access to Dickens, or they wouldn't have access to what many of the other on-grade-level students were reading.
So what it's required us to do is really intentionally train our teachers so that they have scaffolding skills; they know how to take a student who may not have had that kind of access to the grade-level work in the past and remove obstacles for them, to have ways to annotate texts, to have ways to break mathematical problems into their different components and parts so that a student that would struggle with that is still a part of the conversation.  They have access to what everyone else in the room has.
A second challenge for us, of course, has been that level of rigor.  Getting teachers to be accustomed to that level of thinking in their work – I mean, teachers do a great job of meeting the needs of kids and also having the curriculum.  But figuring out a way to ensure that that level of rigor is where they spend most of their time, that the work is rigorous, that the work is meaningful, that there are deeper and enduring skills that are a part of that work, is really something that's important and goes along with the Common Core helping to foster resiliency and persistence in those students, because in the past it's easy for teachers to not want kids to struggle, to have kids that they would never give them the level of work or have them enter content through a high level of rigor, because they were trying to protect them from disappointment of some sort.  And what we have to do with students, and teachers are starting to figure out, is they've gotta get to that right level of rigor, and they've gotta help kids persevere.  They have to help them work and struggle and work collaboratively until they can get through some of these things, and the best way to do that is with effective scaffolding and intervention that helps the kids get there.
And the last thing that I can think of right off the top of my head is the resources.  We've had to be very careful that we don't fall into the trap of the old resources with a new cover, where a vendor or a textbook or materials that we used in the past would simply say "Common Core-aligned" on the front cover, and then schools migrate toward it and attempt to use that, when in fact it really isn't at the level of rigor; it really isn't a coherent content, particularly in mathematics; it's really not the grade-level kind of text that students need access to.  It's more literature than it is nonfiction, for example, when the Common Core mandates we spend a lot more time in meaningful, real-world reading and literacy.
So those are just a few things or a lot of challenges with the Common Core.  None of them are challenges you can't overcome; you just have to be very intentional and purposeful in how you approach those issues.
Bob Wise:                    So Henry, at the state level, you interact with the schools, of course with the school districts such as Dewey's talking about; and then you've also got policymakers and a number of others as well.  So what particular challenges have you been meeting?
Henry Johnson:          Well, I think that for us probably the greatest challenge is helping everyone to understand at the school level, and particularly in the district level, that the Common Core State Standards are not just standards for English language and literacy teachers and mathematics teachers.  And so that's one of the reasons why we have really centered a lot of our professional development on disciplinary literacy so that across the board science teachers, math teachers, fine arts teachers, PE teachers really understand the Common Core, so they can implement some of the same strategies in their classrooms that the English/language arts and mathematics teachers are implementing.
And then, of course, you have – probably one of the greatest challenges we're facing is that people just have not really, in some instances, taken the time to really understand the standards.  When the teachers understand the standards, when the parents, as Erin said, understand the standards, they don't have a problem with it.  Yes, they do have a problem with some of the assessment that's aligned to the standards.  But the standards themselves and providing more rigorous educational opportunities for their children and for the students in the state is not a problem.
But we really do feel that, as I mentioned earlier on – and I will probably harp on this throughout our conversation – that if you provide educators with adequate professional development opportunities on a day-to-day basis and throughout the year, they will get a better understanding of the standards and we will see those standards implemented across the board in all subject areas.
Bob Wise:                    Erin, what about where you are?
Erin Frew:                  At the school level, I think a lot of the – it's a readiness issue in terms of are we really ready to have an assessment.  I think that's where my pushback comes from the teachers.  Are we ready to design our instruction with the rigor and depth so that we are sure our students are as prepared as possible to meet that testing requirement?  Technology is always an issue.  We're very lucky we're a one-to-one computing school, so we do have access, but making sure that it works when it says it's going to work is also a problem.
But in terms of understanding the standards, I think my particular staff has worked really, really hard to go to the professional development sessions, to take time to unpack the standards, to realize that responsibility for implementing them goes across all content areas.  And so for us, I think a lot of it is just nerves around testing.
Bob Wise:                    So Peggy in Chicago asked us a broad question:  What specifically is changing and in what subjects?  And I don't know that we can get to that one in this forum, but I think this follow-up to it is very important.
So what is it that teachers need to know and do differently?  Because each of you has spoken about, obviously, the importance of professional development, the importance of preparation.  But also, this isn't just about tweaking teaching, is it?  It's about transforming.  And so, Erin, perhaps, why don't we start with you, and we'll go with Henry and Dewey about what do teachers need to know and do differently, particularly, once again, to reach that population that everyone's been trying to reach for all these years?
Erin Frew:                  I think the biggest thing that we've realized as a school is that it's no longer about covering massive amounts of content.  It's about really focusing on particular pieces of readings or writings or problems and getting to a real depth of knowledge, taking the time to really be thoughtful in what we choose to have our students read.  Are we going to just have them read a small selection from a text?  Are we going to have them read the whole text?  If so, what particular close reading strategies are we going to have them use?  How are we going to scaffold them up to understand the vocabulary so that they're reading at that grade level even if their zone of proximal development may not necessarily be there?
So talking about how do we pre-teach those kinds of vocabularies so that when students that are a little bit behind or have a gap are able to come in and access.  Thinking about how we better utilize our resource teachers, our intervention specialists, our bilingual tutors to support those children who do come in with even larger gaps than a traditional student at the school.
So it's really thinking very thoughtfully about depth of knowledge as opposed to coverage, and for a lot of secondary teachers, that's a big shift.  And once we really get a handle on that, I think the comfort level will really increase and we will begin to do a better job of teaching students how to think, because as the president referenced last night, you no longer need to just be able to answer a question and have that in the back of your memory book.  Anybody can use Google.  I mean, we all – but how do you ask the right question on Google?  Now, that's actually a skill, so that you don't get 5,000 useless hits.
And that's kind of where we need to teach our students:  How do they access knowledge?  How do they think about gaining knowledge?  And how do they learn to learn?  And all of that is kind of encompassed in the Common Core standards, I think.  And so that's where I've shifted my staff – and it's really difficult, complex work – at the teacher level.  And I think as we move towards that, we'll be able to better assist our students.
Bob Wise:                    So Henry, at the state level, you just talked about professional development and trying to reach teachers across the state.
Henry Johnson:          And I'd like to piggyback on what Erin said, particularly at the secondary level.  The old stand-and-deliver model just does not work with the new standards, and I think that is going to be one of the areas that secondary teachers really are going to have to work on.  It's more problem-based learning.  It's looking at close reading, looking at information more in depth.  And you really have to be creative in your approach to teaching and learning with the new standards.
One of the groups that I think that do this very well are elementary teachers, because they've always been doing it.  And so what we have found in the state of Maryland is that we're finding tremendous success at the elementary level, because those teachers are accustomed to problem-based learning and collaborative learning, and they do that every single day, whereas at the secondary level that's not always the case.  And so that's why we've taken the time to really kind of infuse some professional learning opportunities into the practices that we do in Maryland, to provide an opportunity for teachers to learn how to teach the standards in a different way than they are accustomed to.
Bob Wise:                    And Dewey, at the district level?
Dewey Hensley:          Well, I think Erin and Henry both hit it extremely well.  Teachers have to be able to make that shift to conceptual understanding.  They have to be able to take the concepts of why you're learning something, of where it fits in the continuum of learning that you're doing, how it becomes applicable.  And that's touching on some higher points in Bloom's taxonomy.  That's back to that level of rigor.
So teachers have to make that shift, along with their students, about looking at things in terms of the concept, looking at how they apply it and how they learn and transfer that knowledge to another subject or another kind of problem.  And for teachers to do that, it requires them to (a) really truly understand those standards.  You can't just be correlated in the classroom with what you do with the standards.  You have to be congruent.  You have to have a deep understanding of the standard and break it apart into its academic language, into the knowledge base and the prerequisites a kid needs to understand and, on the other side of that, how kids are going to use it, so that they understand in a meaningful way why I'm learning this and what it does for me and how I use it as a tool to solve problems or to read a complex text or to have knowledge from reading that's really content-rich nonfiction.  They have to be able to have that deeper understanding of why something is important.  And in order for students to do that, teachers have to guide them to that level of ownership of the knowledge and the skill, and also they have to fit those pieces together for and with kids so they get the overall concept.
Bob Wise:                    So let me shift – a question that's come in – several questions come in are pretty much in the same vein, summarized by a participant from the state of Washington, which is:  Before the Common Core State Standards, we had achievement gaps with populations of our children – low-income, children of color and ethnicity.  That was before the Common Core standards.  Now the standards have been raised.  And so have you seen changes in the support, or lack thereof, for the standards over time; and particularly, how are parents of traditionally underserved children feeling about the standards and the implementation?  And how do you come to grips with that?
Henry Johnson:          I'll start.  I think one of the things that's been a problem for us in the past in traditional education is that we always made assumptions that children of color/students with disabilities could not learn at the same level as other students.  So therefore, you do have that achievement gap, and it increases the achievement gap.  You have classrooms in which you have all of the students at the same level with students with disabilities, and they're being taught at a different level than other students.
What the Common Core now is forcing teachers to do is to include those students into the teaching that's taking place every single day and find ways in which, as Erin said, to target those students and meet those students where they are, to help raise that achievement gap.  Are we going to have achievement gaps?  Yes.  But I don't think that Common Core is going to be a panacea of success for those students and that we're going to get rid of the achievement gap.
But what we want to do is to provide those opportunities and, as you mentioned earlier, equitable opportunities for all students, to push them as far as we possibly can, give them the rigor that they need in order to be successful beyond high school and not be so dependent upon the stigma that's attached to whatever their situation is in life, whether they have a disability, whether they're a minority student, whether they are economically disadvantaged.  We don't want students – we as educators don't want to use those excuses for the lack of success for students in the future.  And I think that the Common Core State Standards provide us with the opportunity to give them that inroad that they need to success, just like all other students across this country.
Bob Wise:                    And Henry, if I can ask you to follow up – 'cause working at the state level, while the Common Core is voluntarily adopted by each of the states, administered by the states, run by the states, is there a benefit, though, that now that a number of your colleagues in other states – and I would say the same for districts and schools – have adopted the Common Core, now you're much better able to share good practice, what's working, and so that everyone learns and benefits from it?  Is that something you're seeing?
Henry Johnson:          Yeah, that's absolutely what we're seeing from ESEA to ESEA.  For example, in Maryland we are working with a number of states – and Dewey mentioned one of the challenges is resources.  We are working with a number of states in providing resources and looking at resources that are, in fact, Common Core-aligned and not just some sticker slapped on a textbook and saying, "This is a textbook that's Common Core-aligned."  So we are doing that across states.
We're also working with – some of our district people are working with other districts.  We're looking at a repository of good resources that we can put on our website, and we're looking at resources that other states have that are working really well for them.  So we have not done this traditionally in education before, and it's really, really exciting because we can gather together, put the best minds together across this country, and provide opportunities for all of our students now, across the country, and not just within individual states and individual districts.
Bob Wise:                    Erin, you work every day and interact every day with both – as you said earlier, with the students and the parents.  You have a school that's largely traditionally underserved students.  What's the ebb and flow of the Common Core in their minds?
Erin Frew:                  So I think what I've seen is, there is – while there's some pushback from the students in terms of "Wow, this is hard; this is hard work," what we've done with them to kind of close that door in terms of the complaining about it is remind them that struggling is okay; that if it's not difficult for you to get through the first time, then it's not hard enough, that it's not rigorous enough.  We tend to use the term "depth of knowledge" – we aren't asking you to go deep enough – as opposed to "rigor."  So for the students, I think it has helped close that gap in terms of what our expectations are.  And I think we had high expectations before we went full implementation of Common Core.  But it's really had us up our game.
In terms of the parents, interaction has not been as much as I would like, and the pushback has never been really about the standards.  It's always been about testing.  And so, again, we're just focusing them on the fact that the standards are gonna help us help your child get where they want to go, attaining those goals that you have for them and that they have for themselves.
To kind of go back to what Henry was talking about in terms of conversations across districts and conversations across networks, I'm part of a network of schools, and it's really helped us as a network, the New Tech network, focus our conversation in terms of reading and writing, that whole literacy piece, and really thinking about, in terms of project-based learning, which is what the network focuses on, how do we help students read and explain both verbally and in writing what they're thinking?  And so it's improved our instructional practice both as a school and, I would argue, as a network.
Bob Wise:                    And Dewey, you certainly work in a very diverse school district, large number of students.  What's been your observations about how people are feeling, particularly parents of traditionally underserved students, and meeting the challenges?
Dewey Hensley:          Well, first, Bob, just to comment on that idea of gap students or students who are on the other side of the opportunity gap, I always tell my people here, the answer is never lowering the roof; the answer is always building better ladders.  And our challenge is to take the Common Core and build the kind of instruction, curriculum alignment, the kind of interventions, the kinds of supports that enable kids to reach that higher expectation.  And I simply won't tolerate the notion that because the standards got higher, that somehow minority and poor students could never reach that standard, but other kids could.  We simply won't tolerate that.
One of the things that always has concerned me about our work is, when we send a student to college that is proficient on our state assessments in the past, and that student would get to college, if he or she were poor and they landed at a university or a college somewhere and they suddenly had to go into remedial classes, what we were signaling to them was, all the things they feared, their greatest doubts, would be confirmed, that doubt that "I really belong here."
Being the first person in my family, from eastern Kentucky, close to the West Virginia border, to have gone to college; the first to actually graduate from high school, one of my biggest challenges was getting to college and facing that doubt, that "Am I really good enough?"  And whenever I had academic deficiencies, which I did – whenever I came across those, it was a struggle, because I wasn't truly, truly prepared.  Now, I was fortunate enough to run into mentors at the college level, and others, that saw something in me, that pushed me on.  Had I not had those kind of interactions, it would've been very possible for me to drift away.
What the Common Core does is says, when we get a kid to the standard, they are ready.  There's no doubt about it.  It's more rigorous.  It's a higher level of preparedness for college and for career when they get there, so there's less struggle, there's more that those kids have to adopt.  In Jefferson County, I could say, we're not after – we're not really trying to get college attendance.  We're trying to get college graduation.  We're trying to get not a college-going culture, but a college-finishing culture.  And the Common Core helps us to do that.  It plays an important role in ensuring that those students are prepared.
Another thing that the Common Core has enabled me to do here, and my team to do, at district leadership level is to redefine the gap, to move away from the gap as comparing one student group to another; to a different concept, which is to compare each student and each student group to the proficiency line.  So what we tried to do is say, we're trying to get each – we name and claim each student in a way that we try to ensure that they cross that proficiency line, because we know if they're proficient in our assessments with the Common Core, in all the other things that are immeasurable, they've mastered the Common Core in both its measurable sense and in the dispositions it cultivates in a student, that we will close that gap, that gap between them and success.
Bob Wise:                    So you all have really tapped a vein of interest amongst a lot of participants, so one participant in Baltimore asks:  What types of strategies are being used at the school, the district, and the state level to help educators and students succeed with the new standards?  So is there something else to add to her question from this discussion?
Erin Frew:                  So I think in terms of what the teachers do, a lot of it goes back to what we've been talking about throughout, is that we spend a lot of time really making sure we understand what the standard says and what the expectation is for the student to be able to do at the end of mastering the standard.  And then we take the time to explain to the student, "This is what we expect you to be able to do when you've mastered this."  And so let's talk about individually – and I like what Dewey said about "name and claim," because we have students, with their teachers, name and claim the standard and how they want to get there.
And so we spend a lot of time with the kids, making sure that they understand this is where they're supposed to be, and these are some issues that you're having in terms of getting there, and here are some supports we're going to give you, whether it be pulling aside some students to pre-teach them vocabulary so that when they go in and read a selection, they have that confidence to understand the vocabulary; whether it is pulling aside some students and giving them very specific instruction around how to use a calculator because at their eighth-grade school they didn't have access to that.  I mean, there are many different small, little things that you can do that really provide support to kids.  But they need to understand that this is the goal that we have for you.  It shouldn't be hidden from them.  They need to understand what it is we expect them to be able to do when they've mastered that standard.  And we found that's been very helpful for our students.
Bob Wise:                    Henry?
Henry Johnson:          And I think Erin is a perfect example of what we need to do and what we're doing at the state level:  providing schools with good principals, principals who really understand the standards, who really understand what it means to be college and career ready, particularly at the secondary level; and making sure that those people, those principals, are given the resources that they need in order to implement the Common Core State Standards.
And so we have provided professional development opportunities for our principals, in which we ask them to bring representatives from their staff, so that we can give them an overall viewpoint of the standards and how those standards will work in Maryland, because we have several pieces of legislation that are tied to the success of the standards for high school students.  And so, therefore, we want to make sure that our principals truly understand what they need to do with their staff in order to prepare students to be college and career ready.
Bob Wise:                    And Dewey?
Dewey Hensley:          I would add to that, right in the midst of that is, what really turns around schools and, even more importantly, turns around kids is cohorts of teachers working collaboratively.  If teachers work collaboratively around the table, whether it's capital-letter professional learning community PLC or it's small-letter PLC with embedded professional learning happening during the day with teachers, their ability to have goal clarity on exactly what the Common Core requires, their ability to align what they do at a level of rigor and at a level of congruency so that it's congruent with what the Common Core requires, and to really focus on learning instead of teaching, on ensuring that every kid has those qualities and that knowledge and skill that the Common Core is asking for, is calling for schools to be powerful enough to cultivate in kids.  I think those groups of teachers together are the key.  That great leader that Henry's talking about, that great principal, knows how to pull teachers together around a group of kids who understand the Common Core and help kids master it.
Bob Wise:                    So we're getting a number of questions on teaching and technology.  So technology, I think, is one of the game changers that makes it possible to reach every child, if done effectively, and to support that teacher.  So any observations on how technology is supporting teachers and students in achieving the Common Core, particularly, once again, those students that have been traditionally underserved?  So Erin, why don't I start with you?  I know how much involved your school is with this.
Erin Frew:                  So I think that technology really is a game changer if it's used appropriately.  I think it's really vital that teachers understand that they are still the – they have the locus of control for those students, and they have to be very thoughtful about what technology, what software they choose to support kids.  Much like with textbooks, you can slap a lot of stuff on – Common Core-ready, helpful for English language learners, helpful for our special needs students – that doesn't mean it actually works.
But what I would say is, where technology provides a lot of benefit for the student – particularly, in my case, bilingual learners and special needs students – is having them be able to listen to the text as they read along.  Google makes a product called Speak Write Learn that's free that we use quite a bit.  So we wean them off using the headphones, but it highlights for the students as they go along.  And so they can see what part of the text they're reading, and they can take the time to make sure that they go in; if they don't understand, they can asterisk it and go back and make notes.  And that's been really helpful for a lot of our students.
And for the teachers, technology takes some of that burden away in terms of tracking things, making sure that they can make notes about – they carry around their laptops or their Chromebooks or whatever they have, and they make notes about "This particular student needs assistance here; this particular student needs assistance there."  And they can do planning sessions together, so that's really helpful.  And they model that for the students, so our students do project-based learning, so they're working in groups.  So they can use Google Hangouts on their phones at home to collaborate when they're there, as well as use it as a shared space to collaborate in class.  But, again, technology is a support.  Without the proper planning and the proper curation by the teacher, it's just a textbook that someone said might work.
Bob Wise:                    But does when used properly, all for the ability to personalize and to reach each student where they live.  Is that a good – Henry?
Henry Johnson:          Yeah, I think that's absolutely right, Bob.  And one of the things that we have to remember is that we're in the 21st century and these students are digitally connected every single day of their lives.  I mean, we can go anywhere and see a three-year-old on an iPad, or a two-year-old sitting in a stroller with his or her parent, looking at a movie or playing a game.
So these students know how to manipulate technology very well and to get the information they need off the technology.  But as Erin said, the teacher needs to understand how to use the technology, and needs to understand how to use the technology in the classroom that is going to pique the interest of the students to learn.  And that's one of the challenges that we have, is that the students are much farther ahead in understanding how to use the technology – Google Hangout, all these other resources that are available to them – and it's our job at the state level, and Dewey will probably tell you at the district level, to provide that professional learning for teachers around the technology so they can infuse it and incorporate it into their lessons every single day.
Bob Wise:                    So Dewey, we've got two minutes for you on this.  One of the challenges, of course, just like in education, is to honor webinar's time.  But I know what –
Dewey Hensley:          I would just say, I agree with Henry and Erin exactly.  You have to be cautious to some degree with technology.  It can't be a crutch.  But you can be bold with it in terms of use it as a tool to access information, students using it as a tool to create, to synthesize, to communicate.  All those things that are higher-order thinking, technology opens the door for that.
Bob Wise:                    So I wanna thank all of you, both for your participation today and as much so for your participation in the actual digital monographs.  If you liked what you've seen and you wanna see more, they're here.  The folks on this webinar, as well as many others that you saw in the initial film clip, are featured at length in the digital monographs.  So where can you go?  It's very easy.  The URL is all4ed.org/commoncoreequity.  All4ed.org/commoncoreequity.  Just like any of the major live streamers:  You can get it at any time, any hour, and watch at your convenience.  So we also encourage you to please follow the Alliance on Twitter @All4Ed for additional updates.
And finally, we realize we weren't able to get to all the questions, but please send us an email at alliance@all4ed.org to request to receive our bimonthly blog post about the Common Core and equity, called Core of the Matter.
What I have been struck by here when watching the many hours of discussion that are on the digital monograph, as I've observed these educators and others, what I've been struck by is the commitment to making sure that all children will benefit from the Common Core standards.  It's not enough simply to raise standards and then say, "Get there."  Instead what's happening is, teaching and learning are truly being transformed.  And you see on this digital monograph series how it's taking place and, most importantly, how it's taking place for those students who will benefit the most.
So we encourage you to come into the Common Core of the Matter blog, the URL, the digital monograph, to find out what researchers and policymakers, what are their perspectives on what is needed to help struggling secondary students be ready for college, career, and life using the Common Core state standards.
Today is the first of several discussions with educators just like these about how they are making the Common Core work for all students.  Adoption of the standards was about aspiration.  It is now the implementation of the standards where we have a real opportunity to change practice and policies to ensure that all students, especially those who have been historically underserved, graduate from high school with the skills they need to succeed in life.  Please stay connected to the Alliance to find out more about future events and resources on this very, very important topic.
If you've missed any of today's webinar, you can watch archive video on demand at www.all4ed.org/webinars.  The video will be available within one day.  And if you are a member of the Alliance Action Academy – and if you're not, go to the Alliance website to find out how you become one.  But if you're a member of the Alliance Action Academy, the codeword for today's webinar is MONOGRAPH, all in capital letters, M-O-N-O-G-R-A-P-H.  You can enter that codeword in the box towards the bottom of this web page to earn 50 extra points on the Action Academy.  You're working towards that degree.
As you heard from these educators, this is hard work.  But it's also vitally necessary work.  This is not a passing fad.  This is about good teaching.  And our educators are doing what it takes, working together across schools, across districts, across states to make the promise of higher standards for all students a reality.  We congratulate them, we thank them, on their successes and all their efforts.  And we thank you for watching, and we hope to see you again soon.  We thank you for your participation and look forward to the next set of discussions.
Categories:
Uncategorized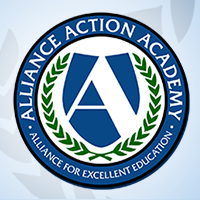 Welcome to the Alliance for Excellent Education's Action Academy, an online learning community of education advocates. We invite you to create an account, expand your knowledge on the most pressing issues in education, and communicate with others who share your interests in education reform.
Register Now
or register for Action Academy below: