Implementing English Language Arts Common Core State Standards: Close Reading of Text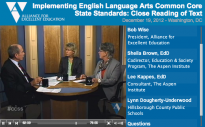 December 19, 2012
2:00 pm – 3:15 pm EDT
Washington, DC
Panelists
Sheila Brown, EdD, Codirector, Education & Society Program, The Aspen Institute
Lynn Dougherty-Underwood, Director of K–12 Literacy, Hillsborough County Public Schools (FL)
Lee Kappes, EdD, Consultant, The Aspen Institute
Bob Wise, President, Alliance for Excellent Education
As technology advances and the American economy becomes increasingly knowledge based, students need higher literacy skills to succeed in college, a career, and life. Forty-six states plus the District of Columbia are in the process of implementing English language arts Common Core State Standards. These rigorous literacy standards require regular practice in closely reading text to build students' knowledge-based competencies necessary for reading proficiency.
The Alliance for Excellent Education held a webinar featuring Sheila Brown and Lee Kappes of the Aspen Institute, authors of a recently released primer, Implementing the Common Core State Standards: A Primer on Close Reading of Text. They examined the use of close reading as a key instructional approach for building students' abilities to assess, evaluate, and synthesize information from text. Practitioner-leader Lynn Dougherty-Underwood from Hillsborough County Public Schools (Florida) discussed what integration of this instructional approach looks like in practice. Bob Wise, president of the Alliance and former governor of West Virginia, moderated the discussion.
Supplemental Material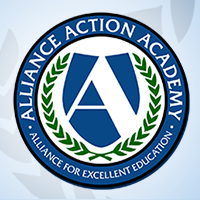 Welcome to the Alliance for Excellent Education's Action Academy, an online learning community of education advocates. We invite you to create an account, expand your knowledge on the most pressing issues in education, and communicate with others who share your interests in education reform.
Register Now
or register for Action Academy below: