How Blended Learning Can Help Turn Around Struggling Schools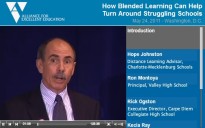 May 24, 2011
9:00 am – 11:00 am EDT
Resources for the Future, First Floor Conference Center 1616 P Street, NW Washington, DC 20036
Presenters
Hope Johnston, Distance Learning Advisor, Charlotte-Mecklenburg Schools (North Carolina)
Ron Montoya, Principal, Valley High School (Nevada)
Rick Ogston, Executive Director, Carpe Diem Collegiate High School (Arizona)
Kecia Ray, Executive Director of Learning Technologies, Nashville Public Schools (Tennessee)
Moderator
Bob Wise, President, Alliance for Excellent Education
Blended learning and the effective use of technology can help turn around struggling schools and improve the graduation and dropout rates while raising student achievement. On May 24, 2011, the Alliance for Excellent Education hosted an event to showcase four school districts that demonstrate how digital learning and technology used in a blended-learning environment have played critical roles in turning around their schools.
Blended learning is traditional classroom instruction used in combination with online and personalized learning and the effective use of technology. Representatives from the four school districts painted a picture of how the lives of their students have improved and how they are better prepared for college and their careers because of the access and opportunities afforded by a blended-learning environment.
Other issues addressed included how these school districts worked with external partners; timelines for and how to maintain their programs; and how resources were reallocated. District representatives shared data and student outcomes demonstrating tangible results for students. Following their presentations, they further discussed the implications of blended learning on improving America's secondary schools.
Supplemental Material:
Hope Johnston's presentation (PDF)
Ron Montoya's presentation (PDF)
Rick Ogston's presentation (PDF)
Kecia Ray's presentation (PDF)
Bob Wise's presentation (PDF)
Categories:
Uncategorized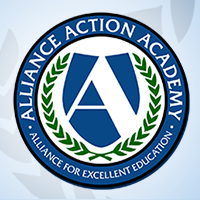 Welcome to the Alliance for Excellent Education's Action Academy, an online learning community of education advocates. We invite you to create an account, expand your knowledge on the most pressing issues in education, and communicate with others who share your interests in education reform.
Register Now
or register for Action Academy below: