February 25, 2009
9:30 am – 11:30 am EDT
Washington Court Hotel 525 New Jersey Avenue, NW Washington, DC
Presenters
Ana Diaz-Booz, Principal, School of International Business
Libia Gil, Senior Fellow, American Institutes for Research
Glenn Hillegas, Former Principal, Stanley E. Foster Construction Technology Academy
Ash Vasudeva, Deputy Director, Stanford Redesign Network, Stanford University
Nearly one hundred educators, administrators, policymakers, and other key stakeholders gathered on February 25, 2009 at High School Renewal: Big Success for San Diego's Small Schools, a forum hosted by the Alliance for Excellent Education, to discuss San Diego's high school reform initiative and the experiences of two of its small high schools—the School of International Business (SIB) and the Stanley E. Foster Construction Tech Academy (CTA). The event focused on the challenges of high school redesign, policies and practices to successfully overcome those challenges, and the implications of these experiences for national and federal efforts to improve America's schools.
Governor Bob Wise, president of the Alliance for Excellent Education, opened the forum by noting President Obama's acknowledgment of the high school crisis in the previous evening's address to the joint session of Congress and set the stage for the importance of addressing the high school crisis. Governor Wise went on to note his optimism for the future is rooted in best practice on the ground and experiences in schools like those featured in this event.
Dr. Libia Gil, a senior fellow at American Institutes of Research (AIR), provided context for the discussion by describing San Diego's reforms, implementation challenges, and broad lessons learned. The San Diego High School Renewal Initiative is designed around the idea that students learn and perform better in smaller, more personalized learning environments. In 2004, as part of the initiative, the San Diego Unified School District closed three low-performing, large high schools and re-opened them as fourteen small schools within the three campuses. The two schools featured at this forum were two of the four schools that replaced Kearney High School. Each of the fourteen schools is designed to improve academic rigor, raise expectations for all students, increase the number of college-ready high school graduates, increase personalization and student engagement, and improve students' connections to postsecondary and work opportunities.
AIR worked with the fourteen small schools to build capacity at the both the school and district levels to support and sustain the initiative. This included engaging parents and the community in the process to use their support as a catalyst for sustained reform. Dr. Gil noted that the San Diego experience has demonstrated the importance of a visionary leader and consistent district support of them, a shared vision between school leadership and staff, and a focus on student success. She emphasized that structural changes alone will not transform a school; they must be combined with instructional and cultural changes to achieve significant growth in student outcomes.
Ana Díaz-Booz, principal of the School of International Business (SIB), described her experience as part of the team of teachers from Kearney that helped plan and implement the conversion to the four small schools. To facilitate success, Ms. Díaz-Booz has established a school culture that prioritizes the personalization of the educational experience for each student. SIB is unique from the other small schools in that its focus is on emerging English language learners (ELL). The school has successfully implemented a range of strategies to meet their needs. SIB's ELLs perform increasingly well on the California high school exit exam and perform consistently higher than their peers across the district. Another key strategy employed at SIB is the emphasis on college preparation and the significant participation in a dual-enrollment program provided through a partnership with nearby Mesa Community College. Each student at SIB is required to take at least one college course—at no cost to the student or his/her family—prior to graduation. The results are impressive: in February 2008, 28 percent of SIB students had completed nine college credits; by June 2008, 100 percent of the students had completed at least three credits. As a result, the majority of SIB seniors graduate early and 80 percent of them continue on to full-time enrollment at Mesa Community College.
Glenn Hillegas, executive vice president of the San Diego AGC Training and Trust and former principal of Stanley E. Foster Construction Tech Academy (CTA), shared the story of CTA's conversion from a small learning community housed at Kearney High School into a small autonomous school. CTA's approach to education is based upon the theory that successful schools employ strategies that address a school's structure, culture, and instruction. Schools must be designed to provide students with rigorous coursework, relevant experience, and supportive relationships through thematic pathways. In addition, staff members need continuous support and strategic professional development. At the heart of a successful school is the relationship between teachers, students, and content.
CTA strives to integrate rigorous academic subject matter throughout its work-based classes. The school's graduation standards are aligned with the entrance requirements for the University of California system. Much like SIB, CTA has formed partnerships with Mesa Community College to offer its students the option of earning college credit while in high school.
Industry partners play an important role at CTA. The school's board of directors is comprised of stakeholders from local industries (half are union-affiliated and half are not). The board members provide essential feedback and direction with the school's funding, curricula development, and mentorship program. Mr. Hillegas noted that without these resources, both financial and in-kind, CTA would not be the success it is today.
Dr. Ash Vasudeva, deputy director of the School Redesign Network at Stanford University, put the context of the small schools' experiences within the bigger context of a larger, districtwide transformation. As such, the small schools were supported by the district with the flexibility to create policies and actions for high needs populations (ELL students), autonomy in hiring and creating budgets, and support for a larger mission of dramatically changing school culture. Additionally, districts are capable of creating communities of support within industry, the community, and professionals. These communities can keep movements and reforms going through changes in leadership and over time. He noted the significance of having mission-driven principals and the commitment to community outreach and engagement.
Dr. Vasudeva went on to describe the essential design features of the two small schools that contributed to their successes. In addition to the strong mission and focused leadership, these schools use a blended curriculum of advanced academics and technical knowledge and skills paired with key structural designs that enhance personalization and break down the walls between school, community, and postsecondary life.
Finally, Dr. Vasudeva called upon the federal government to fund and support the research and development of innovative new systems and policies for creating human capital, as well as policies supporting pathway based curricula and instruction.
After a brief question and answer period, Governor Wise concluded the event by reiterating the importance of a federal investment in turning around America's public schools and President Obama's charge that dropping out of high school is no longer an option for the nation's youth. Governor Wise highlighted several areas of policy that federal policymakers should focus on, including:
supporting a state-led effort to develop common, voluntary, national standards;
improving the indicators used to evaluate schools and ensuring that they include accurately calculated graduation rates;
investing in data systems that will assist educators and policymakers in making informed decisions about education from the classroom to the capitol;
serving as a catalyst for state and district systems of improvement that differentiate among schools' needs and empower school leaders to implement effective strategies to address those needs;
addressing the literacy needs of adolescents;
providing funding to turn around the lowest-performing high schools; and
supporting innovative practices that engage and educate secondary students in new ways, such as through partnerships with businesses, through organized education around themes, and through the use of technology.
Case Study Handout: San Diego City School District's Small School Successes: The Stanley E. Foster Construction Tech Academy and the School of International Business 
PDF
Handout: Kearny High Educational Complex 
PDF
Handout: The Stanley E. Foster Construction Tech Academy (English) 
PDF
Handout: The Stanley E. Foster Construction Tech Academy (Spanish) 
PDF
Handout: School of International Business Brochure (English) PDF
Handout: School of International Business Brochure (Spanish) PDF
Report Card: School of International Business: School Accountability Report Card 
PDF
Agenda 
PDF
Audio* and 
Video (Windows Media) of the Entire Event
I. Welcome and Introductions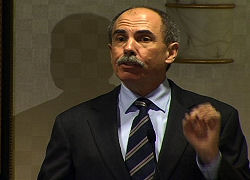 Governor Bob Wise, President, Alliance for Excellent Education 
Video
II. Presentations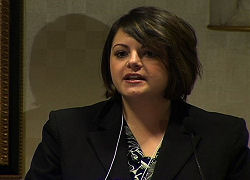 Lyndsay Pinkus, Senior Policy Associate, Alliance for Excellent Education 
Video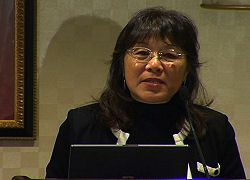 Libia Gil, Senior Fellow, American Institutes for Research 
Video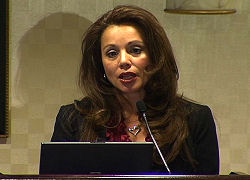 Ana Díaz-Booz, Principal, Kearny High Educational Complex, School of International Business (San Diego, CA) 
Video
Presentation: Student Academic Programs That Work 
PDF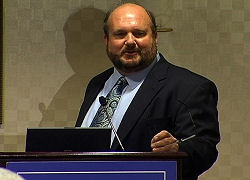 Glenn Hillegas, Executive Vice President, San Diego AGC Training and Trust, and Former Principal, Stanley E. Foster Construction Tech Academy (CA) 
Video
Presentation: An Autonomous Small School Preparing Students for College and Careers in Architecture, Construction and Engineering 
PDF
III. Response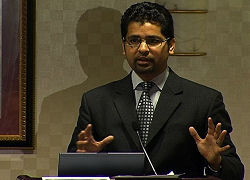 Ash Vasudeva, Deputy Director, School Redesign Network, Stanford University 
Video
IV. Question and Answer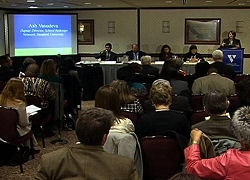 Video
V. Closing Remarks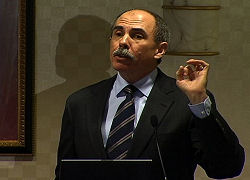 Governor Bob Wise, President, Alliance for Excellent Education 
Video
Categories:
Uncategorized