Future Ready Librarians: Investing Strategically in Digital Resources

December 11, 2018
10:00 pm – 11:00 pm EDT
YouTube Live

Future Ready Schools® Invites You to Participate in a Webinar
Future Ready Librarians:
Investing Strategically in Digital Resources 
Panelists:
Bill Bass, Library Director, Parkway Schools (MO), @billbass
Fran Glick, Coordinator, Library Media & Instructional Technology, Baltimore County Public Schools (MD), @franglick
Kim Lindskog, Library Support Specialist , Parkway Schools District (MO), @klindskog
Moderator:
Shannon McClintock Miller, Future Ready Librarian Spokesperson, K-12 District Teacher Librarian, Van Meter Community School (IA)
On December 11, 2018 Future Ready Schools® (FRS) held a webinar that is part the ongoing professional learning opportunities for school leaders.
In this webinar, panelists discussed how we, as Future Ready Librarians, should leverage an understanding of school and community needs to identify and invest strategically in digital resources such as eBooks, eResources, digital tools and apps, and other digital tools for our libraries and Makerspaces.
Webinar participants will gain knowledge and inspiration from these librarians and their descriptions of  how they have assisted with budgets and resources within their district, throughout the country, and as leaders in the field of librarianship.
Supplemental Materials:
---
Future Ready Schools® (FRS) is a project of the Alliance for Excellent Education (All4Ed), a Washington, DC–based national policy, practice, and advocacy organization dedicated to ensuring that all students, particularly those underperforming and those traditionally underserved, graduate from high school ready for success in college, work, and citizenship. www.FutureReady.org

Follow FRS on Twitter (twitter.com/FutureReady); Facebook (facebook.com/futurereadyschools); and the FRS Leadership Hub (futureready.org/hub).
---
If you are interested in renting the Alliance's facilities for your next meeting or webinar, please visit our facilities page to learn more.
Shannon M. Miller:    Hi everybody. We're so excited to have you here today for our last webinar of 2018. And today we're going to be talking about Investing Strategically in Digital Resources.
My name is Shannon McClintock Miller, and I serve as a Future Ready Librarian Spokesperson and also the District Teacher Librarian in the Community School in Iowa. You can find me on Twitter and I'll be tweeting during this too and watching what everybody else is talking about and saying.
If you have any questions and you can also find me at my blog and my e-mail. And today I'm excited because I get to have three of my friends and colleagues, and people that I really respect and admire with me today. And so I'm going to go ahead and first let my friend, Bill Bass, introduce himself.
Bill Bass:                    Hi everyone. My name is Bill Bass. I am a Innovation Coordinator responsible for innovation in our library program at Parkway School District in Saint Louis, Missouri.
Shannon M. Miller:    Thank you Bill. And go ahead Kim, and go ahead and introduce yourself too.
Kim Lindskog:            Okay. And I too work with Bill in Parkway in Saint Louis, and I am a Library Support Specialist working with Future Ready librarians in our program guidelines in leadership and community connection and partnership.
Shannon M. Miller:    Great. Yeah, you guys are very lucky to work together so I'm glad that you're here today. And Fran, go ahead and introduce yourself.
Fran Glick:                 Hi everybody, my name is Fran Glick. I am the Coordinator of Library Media Programs and Digital Resources in Baltimore County public schools in Baltimore, Maryland.
Shannon M. Miller:    Thank you Fran, for being with us too. And during also the webinar and always you can find them at their Twitter names too on the bottom. They're great people to follow too.
And as I said earlier, if you have any questions or you want to make a comment, or you have something to share, please post it on the Future Ready Lives hash tag. And this is a conversation that's going on all the time. It's a great one to follow.
And I also just wanted to put this up to you because as we're following Future Ready Lives, also the Future Ready hash tag is another one that a lot of us include and even just to follow the conversation that's happening, not just within libraries, but within Future Ready schools, as well.
Today we're going to talk about the last wedge. We went through all of these now in the last two years of our webinar series, and we're going to talk about what we do as librarians when it comes to that wedge in resources wedge of Future Ready schools.
I'm going to go ahead and hand it over to our guests, who are going to tell us all kinds of great things when it comes to investing strategically in digital resources.
Bill Bass:                    So as we get started here one of the things that I think about a lot when we talk about investing in digital resources is that of a digital content strategy and just the way that we use digital content in our schools.
So as we have, as in Parkway, as Kim and I have been thinking about how we invest strategically and how we're strategic about those things, one of the biggest things that we have started to have broader conversations about as an organization is just this idea of what a digital content strategy is.
Because we recognize  that more and more content is coming into our district and more and more content is responsible for the work of it we are doing. Right? That's where kids are accessing content. It's not that they are accessing it in physical spaces, but it's really around how do we access digital content in meaningful ways, and how do we have a strategy around that?
So it's not just our library content, but it is the content that comes through our curriculum department and through the work of the other coordinators in my district is the other coordinators, as well as the ways that we really focus our efforts around that.
And that's why as we think about at least in Parkway, as we think about that strategy and that investment that we have in digital resources, we have to recognize that it's not just a one – it's not just the library. And that's really what I want to focus on here, as we move onto our next slide.
So the next piece that goes along with this is the role of digital content. And when we look at the role of digital content in our schools we really, in Parkway we have three different ways that we think about this, or at least three main ways that we think about this.
The first one is instructional use, and that's really around how do we want to use the content? Where do we want that content to live? And how are we going to access it? So what is the instructional use? What do we want our kids to do and what do we want them to learn? So that's a big part of that.
The second piece that comes with the role of digital content in our schools as we think about it is that student use. So one of the biggest things is yes, we have digital content, and that digital content goes from kindergarten through 12th grade. However, different products are targeted towards different grade levels.
And that's obviously not a secret, but how are we going to support content for those different grade levels, and how are they going to access it? That's really that key point, is what are the ways that the kids are going to access those best for their learning needs. Right?
So the last, the other part of that student use is just are the kids going to find the content engaging? Is it something that is going to enhance their experience? One of the things that we talk about a lot is okay, there are lots of ways that we can get content to kids, but what's as important is whether or not the kids will actually access that content. Right?
Because it's great, one of the reasons, one of the great equalizers of technology is being able to access this content from anywhere, and using any type of device. And that's a really important piece that comes with that, is that technology allows for that access to occur.
The last piece that we think about when we talk about the role of digital content is really this idea of teacher engagement. And so how do teachers interact with that digital content? How do they access it, both library content and outside of the library.
So when we think about one of the things that we do in Parkway is we have a partnership with our public library that gives kids access to different content through the library. Now that's amazing and that's great, except that if teachers aren't going to use it and the kids aren't going to access it, then it's just a system that isn't actually benefitting our kids.
And that's really where we are spending our time and thinking about how we are investing strategically to a great extent. It is about the library, but it's about more than just a library because it's about how we find ways to interject digital content into our schools and into our classrooms and get that in front of kids.
So I want to turn this over to Kim and give her an opportunity to talk about that next slide that the different types of content that we talk about in Parkway.
Kim Lindskog:            So as we think about digital content type it is very closely related to the advocates for student privacy. So all of these edges of the wedges are so interconnected that if we're not talking about the data and privacy in conjunction with the digital content  type, we're doing a disservice to our kids.
Because the data and privacy, we need to check before we go any further. Is it appropriate for all users? Is there parental consent needed for students that are 13 or 18 years of age? And what type of data is being collected? I think those are things that we haven't really, not paid attention to, but we haven't focused on before selecting that digital content.
So once we find that appropriate I think we can go into the next phase, like what is the curriculum going to look like? Is it cross curricular? Does it have to do with direct instruction? Will it support inquiry based learning experiences or game based learning?
So thinking about those in terms of curriculum, I think is one of the things we need to ask ourselves, but then moving into scope. Can the content by customized for personalized learning? Differentiation, individualized learning, because all school districts and community do different things, so how do we support all of those different areas.
And thinking about scope, does the product support student growth? And what is that return on investment? So as they look at the standard alignment, you know, not only standards. Does it have competencies? Is it related to that or their suggested lessons?
I know as we look at different products and things like that, one of the things that gets me excited about talking to librarians is if they have suggestions for lessons for K, 2, 3, 5, et cetera.
And then thinking about that report customization for the teachers. Does the platform support us running different types of reports so that we can address school and student needs? And then also thinking about all those things it relates back to that scope. Does it provide data points to evaluate its use? What are the metrics that are available.
So I think these are things that we think about in terms of strategically selecting digital content, but also thinking about in the end, what does this, the subscription base? Is it a onetime purchase? What are the terms of renewal? And is it sustainable?
So thinking about those and asking yourself those questions, I think helps us decide what kind of digital content fits our community as a whole. So then as we think about that, we then have to move in with technology where Bill will talk about that piece on the next slide.
Bill Bass:                    Thanks Kim. With all the pieces, you know, whether it is our digital content strategy or the content type, one of the main drivers behind this is whether or not we have the access to the digital content.
That is absolutely a significant piece, but it's also important to understand that that access comes with the need for devices, or kids, or for that whether that is school provided devices or their own devices.
So a few of the things that we think about when we think about the technology and the ways that that technology enhances the experience. First of all we recognize that authentication is important, regardless of what the digital content is. Most of the time there is a sign on. Now that is obviously not in all cases, but most of the time there is a sign on.
And so if the platform doesn't support a single sign on using an authentication method that we already have in our district, well that's a barrier to entry for our kids, and that's one of those pieces that we want to be sure that when they are, when we give them access to the content, that they can actually access it.
So that single sign on, that authentication with single sign on is a really important piece for us.
Another piece that is super important for us is that it is the ______. We have a variety of different types of devices in our district, whether that's Chrome Books, we have some iPads, we have Atlas, and we have kids who are coming in with all of their phones and every make and model of phone that is available, they have it.
And so that, if they can't access it because it is only available on an iPhone or only available through Endway. That's a barrier to entry for our students, and honestly at this point if it's not device agnostic, we take a really hard look at it and we try to find alternatives.
Because products and content that we have to have a specific device for aren't something that is sustainable for us in the long run, or something that we want to give kids access to, because we want them to be able to access it anytime, anywhere, and without a device that we have to provide for them. We want them to be able to basically use whatever that content is wherever they are.
We also want to talk about equitable access in terms of technology, and when we talk about equitable access it's not just access to devices. I mean that's certainly part of it, but we also have to think about the classroom conditions. And so those classroom conditions, sometimes that's just Wi-Fi. Right? That's just having wireless available for them.
In other cases it's that we need to be able to, in some kids, to meet IEPs or specific learning plans that they have. We need to be able to print out some of that content, because that becomes an important piece in order for us to reach that student. And that's the equity piece.
The equitable access really comes down to us wanting to reach all kids and not just the kids who happen to have access. And that becomes a more important piece and technology, while it is giving us that, we recognize that not every kid has internet access at home.
We recognize that there are lots of families that don't have devices. And so we recognize that through that we need to be able to maybe download that content in different ways.
So we really need to really think about what conditions we need to create in order to make sure that those, that kids can access those things through the technology. Otherwise again, it's access without access is really how we like to think of that.
And the last piece of the technology is really about sustainability, and it's the scope on how much technology and how much content can we actually provide? There are budgetary restraints. There are things that we have to think about beyond just we can't subscribe to every service and we can't give our kids access to everything that we want to.
So we have to choose wisely and that's where that strategic investment comes in. We really like this wedge because what it does is it forces us to think about what is going to stand the test of time. What is going to provide the access that we need, and what is going to give our students the things that they need?
And equally important, what's going to give our teachers the content and things that they need to reach their students regardless of where they are in their learning path?
And so with that I think that technology is an important piece of that, but as Kim is about to talk about on our next slide, is that professional development that really brings in and makes the case for us in the long-term.
Kim Lindskog:            So yes, with the professional development the questions that are on this slide, those questions help us determine the digital content selection in terms of professional development. So if we look at are there any barriers to entry, you know, like Bill was talking about. Does the platform seem to be intuitive? Are educators able to integrate and transform lessons with ease?
Those questions will help us to think about what kind of develop is needed for the librarians to push this content out and be usable in relation to the content type and the technology used.
So as part of our development in the district we take or I have a Future Ready Librarian class inside of school and the first thing that we do is we reflect on those questions about content, type and technology, but in either things that they're considering to purchase or things that they've already purchased and maybe they want to rethink that.
So that's kind of where we start, and then moving through the course we look at how can they transfer those thoughts about the digital content to other edges of the wedge. You know, like thinking about students as creators, building instructional partnerships.
You know, and that equitable access, those are important pieces to also to because like I said, most of these pieces, all those wedges are tied together and the more that we can use those and use the vocabulary around that I think that'll help us in our decision with digital content.
But we also went through a program evaluation and in that we had a piece that identified responsiveness to community, and that responsiveness to community meant that we have a flexible use of the budget to meet school needs.
Now digital content is a part of that, but there is also different pieces to that budget like maker space, and furniture, and things like that. And how can we strategically make this the hub of the school, so to speak?
And once they've kind of looked at those, once they've transferred to the wedge pieces, then we kind of, we have them consider all the places that they have funding, because they do have a lot of places where the funding comes in.
And with that can they take that funding and that transfer and that reflection and create some sort of visual proposal that makes sense to or helps them to explain how they flexibly implement the funding so that it leverages an understanding of school and community needs.
And that was a huge part of our program evaluation in addition to thinking about the future ready elements that are necessary for programming and services.
So thinking about those three or I guess several pieces, the content strategy, the content type and the professional development and the technology pieces, and also the role. All of those are what make that edge of the wedge as we have seen it so far.
So thinking about that, Fran is going to share more with us on a district and school perspective.
Fran Glick:                 Thanks Kim. I have the opportunity to speak to two parts of how we approach this work here in BCPS, and just to set a little bit of context I think it's important just to share what our district profile looks like right now.
So we have 114,000 students, and all of our students in grades 1 to 12 have access to a device. Our secondary students take their devices home. So that work obviously took years to accomplish, but as of today we are sort of at that goal place in all of our students having access to their own device for learning.
We have used that opportunity to think very specifically over the years as the roll out was happening about what we've been subscribing to, what kinds of content and tools are available for teachers, and students, and families. And as Bill mentioned, equity is really important to us, and so we've always had pride in being able to provide digital content for all of our students.
What we've been able to do because our students have devices is continue to look very carefully, you know, the language of this wedge talks about understanding the school and community needs. and so for us, from a district perspective that's looking at school campuses.
But that's also looking at our community of BCPS as a whole and thinking about what do our teachers need to teach in classrooms where students have access to a device for learning? What do our parents need? What do our students need in order to access content that's differentiated?
So we have to think about all of those things from the district perspective, and then I'm also going to share some of the work that we've been doing at the school level and ways that we really think about what that investment looks like for a building based professional.
So in our next slide we talk about how we think about all of this from the district perspective. So we always begin with the student in mind. We have to think about what are the learning needs of a student and how can we, as a school system make sure that we're providing resources for our students from K to 12?
And very closely aligned to that work around thinking about our students is working with our colleagues in curriculum and instruction, and making sure that we're working with content specialists to look at digital tools and resources that support the standards of multidisciplinary content.
Making sure that we're looking at tools that our curriculum partners want to subscribe to. Making sure that our students have access to resources that will allow them to be learners independently that dovetails in with the content.
And that collaboration that happens at the district level has been really important in helping us make sure that we have tools that are accessible for students and support all content areas.
We, like many school systems, have a learning management system, and we have a digital ecosystem. We work to make sure that our students sign on one time and they are at that point they have access to all of the content.
We want to make sure that whenever possible through the way that our teachers work inside the learning management system that the content is portable so it can come out of the container that it belongs in or the tool is accessible through the platform that teachers are using as part of their instructional design.
And so that's been an important work. The strategy there is to work with vendor partners and make sure that we're all on the same page about what access means and how we use it inside of our ecosystem.
Accessibility is a key factor in making sure that our students have access if they have a disability, if they are a second language learner. That there is translation tools and a variety of ways for students to access the resources. That it's not limited to one modality per student.
So that means making sure that we have read aloud functions, and translation tools, and ways to download content in case a student goes home and doesn't have access to the internet, but is still able to access content that they need for their learning.
Student data privacy has been a significant element of our work here in BCPS. Our vendor partners sign data privacy agreements because it's really important to us that we're clear about how we protect our students and that our vendor partners are clear about what it means to have that relationship with us.
Cost is of course always a factor. There is limited resources and that means that we, the strategy means looking very carefully at what we're spending. That we are covering all the bases that we need to spend with the limited resources that we have.
We monitor that return on investment. We look at usage statistics every year and do detailed analysis of what's getting used. We certainly can't afford to invest in tools that aren't being used as heavily, even with the work that we do to leverage them. We have to look really carefully at what usage looks like.
We're fortunate here in Maryland. There are 24 school systems in the state of Maryland, and we all partner together as part of the MDK12 Digital Library Consortium. What that means in Maryland is that we negotiate our pricing together. So as a state our vendors are obligated to charge one price for each LEI and obviously there is nuances within that.
But what that means fundamentally is that there aren't side negotiations happening. They negotiate with us. We work together to select and evaluate resources so we have that shared investment.
To be part of MDK12 every LEA subscribes to one anchor database, and then there are many offerings and dependent upon budgets, and size, and all of the considerations that go into making these selections. School systems are able to make choices from that MDK12 Consortium pricing list.
In Baltimore County we have an incredible partnership with Baltimore County Public Library and all of our students have access to all of the digital content at BCPL using their student IDs. So our student data information is fed into the Polaris System, which is the system that BCPL uses for their OPAC.
And so our students can get access to all of the digital content at our public libraries from school or from home, and that has been an incredible way for us to share resources that we don't subscribe to here at the district level, but that our public library partners do.
And we also as a benefit of that partnership every branch, public library branch has a school liaison that works with the schools in their area. And so we've had incredible work happening with collaborations around co-teaching experiences. Public librarians coming into schools, working with students, helping them learn how to navigate the digital content on the public library side.
It's just, it's just been an incredible – continues to be an incredible partnership that we benefit from.
At the school level I get  the opportunity to really help our school based staff do their best work and think very strategically about their investment. And when I was thinking about the word investment, I was thinking, you know, those of us at the district level often think of the financial side when we talk about an investment.
But the investment of time and attention is really often what's happening at the school level because the resources are available to them without them having to necessarily worry about cost and all of those things.
So the first thing I want to talk about at the school level is from the library perspective is the collection development analysis. Every year our school libraries complete a really detailed collection development analysis, and they look very specifically at the content that they have.
Obviously print resources, but non-print resources too, specifically e-books play into that analysis. And they think very strategically about how they're using the resources and ways that they can better enhance the ability to market those resources to their colleagues. So that plays into really instructional practice.
Because we've been in the midst of this teaching and learning transformation for the past five years we've really changed what our classrooms look like, and that positions our library media specialist to be incredible instructional partners to their colleagues.
That they can share that there is an e-book that's just the right tool for that lesson. And they can model and demonstrate that teachers can project e-book content and teach right from the resource itself, and that's equally true of access to other digital content that we have.
We think about at the school level, you know, our strategies have to be pretty significant. People are busy. Time is tight. Teachers are invested in the curriculum demands in their classrooms.
And so those strategies have to really think about how can I be that best instructional partner? How can I show you the resources that we have? How can I be a shoulder partner with you and help  you understand the benefit of using this tool in your instruction?
I think also about how when we want our library media specialist to market their resources we've done some really interesting work and these are, there is lots of great stuff on Twitter and lots of other places in Future Ready Librarians Facebook group about the best way to market e-books.
They don't take up physical space, so how can we make sure that our students know that they have access to all of that e-book content?
In the Mid Atlantic we're in winter now, and so we had a snow day a couple of weeks ago and I saw tweets that just warmed my heart from my library media specialist reminding kids that hey it's a snow day, but you can read a book because we have all of these e-book available in our library platform.
And then at the school level we have professional learning support. We have a, we call them a STAT teacher, but they're instructional coach in every building.
And so we work to make sure that there is a strong partnership between the school librarian and the professional development teacher so they are equally aware when they're sitting in grade level planning meetings. When they're in conversations and coaching other teachers.
That they have an equal awareness of the digital content that's available so that they can make those suggestions in as teachers are planning for instruction, or as they're modeling instructional practice for teachers. They have an awareness of the resources and tools that are available.
We also, you know, the work of professional learning and supporting the community is an incredible part of making sure that we're really investing.
So we invest in professional learning in our collection development. We worked really hard with the school library media specialist to make sure that they understand how significant the work is, and their best ways to go about doing that incredible work of building high quality collections.
We've worked on what our instructional partnerships need to look like. So those best ways to design co-teaching experiences with other staff to make sure that when we're writing lesson plans, that we're including digital content.
We're including instructional tools, so that students have the opportunity to access the kinds of information sources that they need, but then turn those into products of their choice using the variety of tools that we have.
One of the things that Bill was talking about is sort of that overwhelming sense, and I can't tell what slide we're on but maybe we can go to the next one. That is the incredible amount of things that are out there for teachers to use, and how do we best support teachers in knowing what the right tool for the right job is?
Whether it's worthwhile in our case, whether it violates anything about student data privacy. And so we have a whole page for all of our teachers and staff that looks at every and identifies information about every, and it's public, so I can tweet it out so everybody can take advantage of the work that we've done.
But it looks at describing what the tool is. We've used a controlled vocabulary, so we tag what it's for. We talk about what it means in instruction and how to best use it in instruction. So we have those stand alone anytime glaring resources for teachers.
So if they're home, if they see something, hear something, hear from a colleague that they're using content or a tool that they're unfamiliar with they have those anytime learning supports, which we think of really helped our teachers have the ability to continue to revisit the content in order to get what they need.
Obviously we do plenty of face to face professional learning too, but when you're planning that lesson at 10:30 at night you may not have anybody to talk to, and so you need those kinds of resources too.
And then one of the things that really I think helps us from a district perspective, but also from the school perspective is our curriculum writing collaborations. In Baltimore County we write our own curriculum and every summer we bring teams of teachers together to write curriculum.
And at the district level we work with our content colleagues to make sure that before that work begins they understand what kinds of resources they have access to, and then we make sure our curriculum writers are aware of what those integrations can look like and how they function.
And then what happens is, as teachers are teaching the written curriculum that includes access to digital content and tools, it's a way for them to recognize that hey, when I need to personalize this experience for a student I have a model in the instruction that's been designed for me in our curriculum.
And then they get introduced to tools and resources that they can use in other content areas and they have the ability to recognize that that tool may have a secondary use or another use for them in their classroom. Thank you.
Bill Bass:                    All right. So with that, so thank you Fran, thank you Kim. I'm going to, we have a number of questions that have come through and I mean truly it's not a number. It's a lot. So I'm going to, we only have time for a few, so really sorry that we can't answer everything.
We will try to, you know, we are all online people and if you, you know, we are also sharers. So if you contact us on Twitter or something like that, I confidently can say that we all will respond with something and help you out as we can.
So the first question that I had I'm going to throw to Kim. And basically Kim, one of the things that was kind of a theme in the questions that I saw was about balance between e-materials and print materials, and how do we advocate for libraries when there is so much available for us?
And, you know, and then we have the internet too that has presumably a lot of like free content available. So how do we go about advocating for our libraries and for the content that we have in those libraries?
Kim Lindskog:            Well I think with advocacy and the library, I think it's about becoming the face of those resources that are available. And getting out there and sharing what it is that you have in relation to them. So content is very personal these days. You have student to student, you have different relationships. Student to teachers. Teachers to librarians.
So thinking about all those different pieces is how you're going to market those digital content. So one of our librarians, she will buy a certain product that she knows is going to go with the curriculum, and then go have her five minutes of harassment, as she calls it, in the morning before school.
So she just drops in. She says you would not believe what I have to support this. If you want to come see it, you know, come see me whether it is print or digital. And we really push that people might think that the newsletter piece is dead, but not so much.
Pushing those resources out, whether it's in a newsletter or whether it's in a S'More flier, those sorts of things and getting it out there and putting it where they'll find it is probably one of the most important things in that.
And I think in the last couple of years using the table cubes and the library menus of what services and things we have to offer has really helped our librarians become the face of both digital and print content.
Bill Bass:                    Thank you so much for that. Another question that I'm actually going to give to Fran. Fran, there are lots of, well one of the themes that I see across all these questions, it has to do with budgeting and the way that we kind of at the district level if you think about budgeting, if you frame that.
Can you just talk a little bit about how you prioritize between digital materials and print materials, especially when there is like budgets are not limitless. Right. We all have restraints. And so if you can just kind of give us a little insight as to how you approach that in your work?
Fran Glick:                 Sure. I'm going to start at the school level and then I'll speak a little bit about the district. At the school level once we recognize that we were on the path towards a one to one implementation we began to shift our collection development practice and made the recommendation that from that every year 20 percent of a school library's purchasing should be e-book content.
And that looking, that when our school ed remedial specialists go to purchase e-book content they're attentive to what are the novels that are being read in the curriculum? What are the unlimited nonfiction texts that I'm going to be able to specifically bring to my content partner in another subject?
And so it's not only making that intentional 20 percent division, but also being very specific about what that is. And so that not only are we just saying just spend this much on that, but there is a reason and there is a strategy behind why to do it.
At the district level there are a lot of needs to fill, and it's difficult I think to not, to work without a strategy because if we're not attentive to everyone we're leaving someone behind. And so I think that's the work at the district level is to make sure that we're able to say are we meeting everyone's needs?
And I'll give you a more specific example without saying a product name. A few years ago we recognized that we were under serving our emergent reader community with digital content. And really, I mean there hadn't been a lot divulged for them, and fortunately now there is more.
And so it was really important for us to say okay, we have all of these things for the high school students. We need to shift a little bit and make sure that we're meeting the needs of our youngest learners and teaching them those beginning foundational steps around information literacy, which is accessing the content.
Bill Bass:                    Thank you Fran. I appreciate that. We're going to take one more question, and this there is another theme that came through. It was really about prioritizing, like we gave you a lot of information today. We gave you a lot of things to consider and approaches to consider.
But one of the things that I think is equally important is recognizing that you can't do everything. Right. And so you do have to prioritize. There are only so many dollars. There you have to have a hierarchy to a certain extent of the considerations that you have.
So for instance, one of the things that we absolutely believe in Parkway is that one of our biggest priorities is that access, and if it's not cross compatible, if whatever the digital tool is isn't cross compatible really, we're probably not going to go with that content, because one of the things that we truly believe is that we should be able to give our students access anywhere.
So one of the, the very first thing is we look as we evaluate digital content, the very first thing we look at really is what kind of access our kids have and is it only relegated to a IOS device or an Android device. Or really is it Web based that you can access it from anything? We can't access it from anything we're probably not going to do that. So that's the first one.
You know, the single sign on is another piece that we think is super important because that just breaks down the barriers. And so we kind of look at it rather than  look at it in terms of here are our priorities, we look at it in terms of here are the barriers we want to break down based on this content, and then we prioritize how we look at that content based on those barriers that we want to remove.
So I wouldn't say that there is one thing that is the most important as is the highest priority. I think that it is a variety of things that we have to really consider in order to make meaningful decisions and intentional decisions around the type of content. Not that just we provide our students, but that we allow providers to have access to our students. Right.
And so I think it's you kind of have to think about it in very broad, with a very broad lens, and then drill down into the really important critical things that we have to think about.
So take all of those things that we talked about and choose the ones that are best for your community at that point in time, because that will be, that is how you're going to serve your students and your community best overall and in the long run.
So with that I want to turn it back over to Shannon to kind of close us down and give us some words of wisdom as we – [Audio goes blank].
Shannon M. Miller:    Okay. Thank you guys so much. You're all so great and your stories just really inspire me too as we look even at our community.
And I'm in a small district in Iowa of about 800 kids in our entire district, so a lot different than what all of you serve, but still the same type of things that we think about and it's really exciting looking at we're a one to one school and looking at technology and the resources we use, not just within our district, but within our state too.
So I have a lot to think about as well, and I thought about this as you were talking, like I think we get to the point too this time of year when we are going on break that it's a good time for us too, to think about our own professional learning and things that we're doing maybe over break and reading.
And so I wanted to share a few things tonight with all of you, just so you have some things kind of to put into your pocket as you go into break, as well. When we share this online we'll also share the slide deck so you have the links to these resources that are in these slides too.
But one of the best places I think to go when you're looking for more information about Future Ready schools and Future Ready librarians is just the website and also the page that focuses on us as librarians. And there is lots of information here. One of my favorite things probably to see are the things that are being posted all the time and updates.
One of the biggest updates we had this year of course was the updated framework that now shows that literacy piece in there and things that we've talked about throughout the year and even last year, as well. And so you can take a look at this and even get this either from like at a conference or your follow it rep, or even just by downloading it too.
And so if you need this to share in your library, or with your administrators, or you community it's a great place to go to be able to get that.
Another place one of my favorite things I think to look at are the great case studies that Follett has done, and it's neat to see not just the stories, and I think that all of you, you have case study on here. And Fran, you even have a great video that I love sharing.
And these are really great for our continued learning, but also just really awesome information and inspiration too. So you can check those out on there.
You can also get a digital badge or sticker for your e-mail signature, for your blog. I love these, but I really love these, I have this on my e-mail signature and you can even print them off as stickers to share with your librarians and community. So these are really fun and it's a great thing to put that to support that we are Future Ready librarians on the things that we do.
A couple of things though that hold a lot of our resources when we're looking at this and just looking back too at, you know, the last two years of this webinar series as we wrap up the last one for 2018 is this assembly that has all of the webinars, the poster that I just shared, the stickers, the website, just all kinds of things on here that really will continue that learning.
And one of my favorite places to go, and we're adding things to these collections all the time, is this collection set by Destiny and it's really neat because we have one for each one of the wedges. And so resources are being put into here and shared, and these are a great place to go to be able to just further your knowledge of whatever you're looking at within those wedges, as well.
We also have a couple of tablets that have really good resources, and so if you're one that uses tablet or you have things to share, please feel free to share these. These are just great cross source places to share resources. And one of the neatest things I think that came out of our fall institutes for Future Ready schools is this tablet.
And when we were in Illinois one of the librarians came up to me and she said, I just love everything I'm learning and I know that I need to collaborate with my public librarian, but just tell me exactly what that looks like. And so this is a place that just ideas are being shared all the time, and just little tidbits of information, and ideas, and projects that people are doing.
And again, please feel free to share your stories too, because that's what makes us all better. As librarians we're such great sharers and collaborators, and so this is a great place to be able to do that.
We also have our awesome Future Ready Librarian Facebook page, and I heard this mentioned a couple of times tonight, and I love the ideas being shared on here. One thing that is really great is that you can search this group, and so over on the left hand side, kind of three-quarters of the way down you'll see that Search box.
And so when you're looking for ideas like Fran mentioned, you know, looking at how we're marketing our resources, you can type in there what you're looking for and be able to find those ideas, as well.
Our group is great. We're almost to 20,000 people which is amazing, and it's just a place that is so supportive and just great to get ideas and resources, but a place too, to note that we're never alone. It's, I think one of the things that I love the most about what we have in our community.
Also using Instagram, just using that Future Ready Libs you can now follow at hash tag and Instagram, and so search that up and you can follow it. And I love visual things and to see what people are doing, and so lots of good examples.
And of course, on Twitter, like I said, in the beginning of our webinar, the Future Ready Libs hash tag this great conversation going on, but also the one that we had for a long time, TL Chat. Also follow Future Ready. We have a hash tag for Future Ready, but we also have a Twitter of course. And the conversation on there is so important for us as librarians.
And it's one too for us to be part of, and so share our stories on there so administrators and teachers and others can see also the great things that we're doing as librarians.
I wanted to share just a couple of things too. One thing that is going on right now is the Future Ready School Film Festival. There is a link in this slide that we'll share with you too, when we share the webinar online. This is something though, that you can go and you can read more about it, a great new project.
And this must be submitted by February 10th, but we still have plenty of time, and so check that out too.
As we also wrap up 2018 and all the great things we've done as Future Ready Librarians and as Future Ready schools, I just wanted to thank everybody that is involved too. Of course my partner, Mark Ray, and all of our thought partners and different collaborators that we have.
We just really thank you for being part of this and we thank every librarian within our country and around the world we have people that are joining these conversations and great things that we're doing, and really the difference that we're making.
And so we're all doing amazing things and just keep sharing the story and keep making a difference, because this is what is truly making a difference for our kids and for their future and the future of education.
So we thank all three of you for coming. I can't wait to see you in the new year, and I hope that we stay connected and every one of us has a really great holiday. So have a great rest of your week and we'll see you in 2019.
[End of Audio]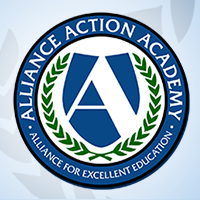 Welcome to the Alliance for Excellent Education's Action Academy, an online learning community of education advocates. We invite you to create an account, expand your knowledge on the most pressing issues in education, and communicate with others who share your interests in education reform.
Register Now
or register for Action Academy below: