Future Of The Profession: A New Learning Ecology For Teachers And Students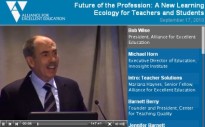 September 17, 2010
12:30 pm – 3:30 pm EDT
Hyatt Regency, Columbia B 400 New Jersey Avenue, NW Washington, DC
Presented by
Alliance for Excellent Education and Center for Teaching Quality
With support from
MetLife Foundation
Presenters
Joseph A. Aguerrebere, Jr., President and Chief Executive Officer, National Board for Professional Teaching Standards
Jennifer Barnett, Technology Integration Specialist, Winterboro High School (Alpine, AL)
Barnett Berry, Founder and President, Center for Teaching Quality
Karen Cator, Director of the Office of Education Technology, U.S. Department of Education
Antonia Cortese, Secretary-Treasurer, American Federation of Teachers
Segun Eubanks, Director of Teacher Quality, National Education Association
Michael Horn, Executive Director of Education, Innosight Institute
Carrie Kamm, Mentor-Resident Coach, Academy for Urban School Leadership (Chicago, IL)
Jose Vilson, Math Coach and Educator, Inwood IS 52 (New York, NY)
Bob Wise, President, Alliance for Excellent Education
Audio, video, and materials from the event available below …
On September 17, the Alliance for Excellent Education and the Center for Teaching Quality cohosted an event to discuss the emerging realities facing the nation—the funding crisis, the teacher shortage, and new technologies—that will reshape learning environments and expectations for the teaching profession. This event featured presentations on how school structures can capitalize on the transformative power of technology, the implications for creating a student-centered profession, and the federal and state policies that can support a new learning ecology for students and teachers. To read a summary of the event, click here.
Agenda 
PDF

Speaker Biographies 
PDF

"Teaching 2030: Creating a Student-Centered Profession," a CTQ PPT by B. Berry, J. Barnett, C. Kamm, and J. Vilson 
PDF
"Disrupting Class: How Disruptive Innovation Will Change the Way the World Learns," an Innosight PPT by M. Horn 
PDF
The Online Learning Imperative: A Solution to Three Looming Crises in Education, an Alliance policy brief
Call for Action: Transforming Teaching and Learning to Prepare High School Students for College and Careers, an Alliance policy brief
EVENT-DAY
COMPLETE VIDEO (flash popup) and 
AUDIO*
VIDEO HIGHLIGHTS (flash popup)
Categories:
Uncategorized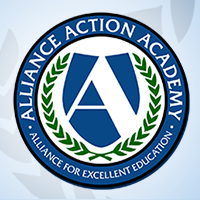 Welcome to the Alliance for Excellent Education's Action Academy, an online learning community of education advocates. We invite you to create an account, expand your knowledge on the most pressing issues in education, and communicate with others who share your interests in education reform.
Register Now
or register for Action Academy below: