From Striving to Struggling: The Proposed Elimination of Striving Readers and the Need to Reverse Course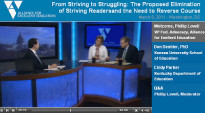 March 9, 2011
1:00 pm – 2:00 pm EDT
Washington, DC
Participants
Don Deshler, PhD, Director of the Center for Research on Learning, Kansas University School of Education
Phillip Lovell, Vice President of Federal Advocacy, Alliance for Excellent Education
Cindy Parker, Literacy Coordinator, Kentucky Department of Education
Strong literacy skills are essential for a productive career in both school and in the workforce. Millions of American students struggle to read and write at grade level and many more cannot read and understand complex texts. Unfortunately, Congress is eliminating funding for the new comprehensive Striving Readers program. Revised in 2010, the new comprehensive Striving Readers program supports comprehensive and systemic policies and practices to strengthen literacy for children from birth through grade 12.
Congress has passed a short-term measure to prevent the federal government from shutting down, and the House of Representatives has passed proposed funding levels for the remainder of the year. The House-passed proposal would eliminate funding for Striving Readers in 2010 and 2011, while the short-term measure that has been signed into law eliminates the program in 2011.
On Wednesday, March 9, the Alliance for Excellent Education hosted a webinar to provide an update on the budget negotiations taking place on Capitol Hill and how they will affect funding for the new comprehensive Striving Readers program. Alliance Vice President of Federal Advocacy Phillip Lovell was joined by Don Deshler from the University of Kansas' Center for Research on Learning and Cindy Parker with the Kentucky Department of Education to discuss the new Striving Readers Comprehensive Program, the research behind it, and the importance of comprehensive literacy plans in preparing students for college and careers. The webinar also provided an opportunity for Dr. Deshler, Ms. Parker, and Mr. Lovell to address questions submitted by viewers across the country.
The Alliance for Excellent Education is a Washington, DC-based national policy and advocacy organization that works to improve national and federal policy so that all students can achieve at high academic levels and graduate from high school ready for success in college, work, and citizenship in the twenty-first century. For more information about the Alliance, visit www.all4ed.com.
Categories:
Uncategorized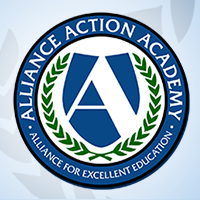 Welcome to the Alliance for Excellent Education's Action Academy, an online learning community of education advocates. We invite you to create an account, expand your knowledge on the most pressing issues in education, and communicate with others who share your interests in education reform.
Register Now
or register for Action Academy below: