Building a STEM Pathway: Xavier University of Louisiana's Summer Science Academy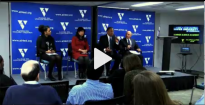 February 19, 2015
4:00 pm – 5:30 pm EDT
Online and at the Alliance's Office (See registration details below)
Building a STEM Pathway: Xavier University of Louisiana's Summer Science Academy
Panelists
Loren Blanchard, PhD, Provost and Senior Vice President for Academic Affairs, Xavier University of Louisiana
Norman Francis, PhD, President and Recipient of the 2006 Presidential Medal of Freedom, Xavier University of Louisiana
Mariana Haynes, PhD, Senior Fellow, Alliance for Excellent Education
Tasha Inniss, PhD, Program Director, Division of Human Resource Development, Directorate for Education and Human Resources, National Science Foundation
Michael Smith, Special Assistant to the President and Senior Director of Cabinet Affairs, My Brother's Keeper at the White House
Brandi Temple, Biology/PreMed Undergraduate Student, Xavier University of Louisiana
Bob Wise, President, Alliance for Excellent Education
On Thursday, February 19, 2015 the Alliance for Excellent Education and Xavier University of Louisiana, a small historically black university, held a discussion about the Xavier Summer Science Academy, a dynamic pre-collegiate program that prepares middle and high school students to enter college and complete a STEM degree program. The academy helps Xavier continue to rank first nationally in the number of African American students who earn STEM degrees and first nationally in the number who go on to complete medical school.
Panelists highlighted the rationale, design, and impact of the Xavier Summer Science Academy to address the underlying reasons for the enormous preparation gap between high school and college, particularly among the growing number of minority students.
In conjunction with the event, the Alliance released Building a STEM Pathway: Xavier University of Louisiana's Summer Science Academy, a report that describes the dynamic model for accelerating students' math and science learning and includes video footage of STEM learning environments that build students' academic competencies and self-efficacy.
.
>>> GOOD MORNING, I'M BOB WISE
PRESIDENT OF THE NONPROFIT
ADVOCACY BASED ORGANIZATION IN
WASHINGTON, D.C.
WELCOME TO THE WEBCAST HERE AT
THE ALLIANCE.
WE'RE DELIGHTED YOU HAVE JOINED
THIS WEBCAST HOSTED BY THE
ALLIANCE IN XAVIER UNIVERSITY OF
LOUISIANA.
HISTORICALLY BLACK COLLEGE
LOCATED IN THE HEART OF NEW
ORLEANS.
TO LEARN ABOUT XAVIER'S SUMMER
ACADEMY.
THIS LANDMARK PRE COLLEGE
PROGRAM ACCELERATES MIDDLE AND
HIGH SCHOOL STUDENTS MATH AND
SCIENCE LEARNING, WHILE AT THE
SAME TIME REDUCING BARRIERS TO
STUDENT'S LONG-TERM SUCCESS SO
YOU KNOW THIS EVENT IS BEING
LIVE-STREAMED SO WE ENCOURAGE
YOU TO TWEET ABOUT TODAY'S
EVENTS USING #ALLFORIT AS YOU
SEE ON THE MONITORS.
TODAY ALSO SERVES AS RELIEF OF
NEW ALLIANCE REPORT.
BUILDING A STEM PATHWAY.
XAVIER UNIVERSITY OF LOUISIANA
SUMMER SCIENCE ACADEMY.
THIS EXTENSIVE REPORT
INTERSPURSED WITH VIDEO SEGMENTS
OF THE PROGRAM HIGHLIGHTS THE
IMPERATIVE TO BROADEN
PARTICIPATION IN THE NATION'S
WORK FORCE.
THE VIDEOS FOCUS ON AN ARRAY OF
APPROACHES TO DEEPEN THE
STUDENT'S LEARNING AND DEVELOP
SCIENTIFIC AND MATHEMATIC
PROFICIENCIES.
YOU CAN FIND THE REPORT ON THE
ALLIANCE'S WEBSITE AT
WWW.ALLFORED.ORG/STEM.
THE ALLIANCE IS EXTREMELY
GRATEFUL FOR THE OPPORTUNITY TO
SHARE XAVIER'S STORY.
WE ARE LIGHTED TO BE JOINED BY A
GROUP OF HIGHLY ACCOMPLISHED
INDIVIDUALS TO HELP THEM THAT
STORY.
WITH US, ARE XAVIER UNIVERSITY
LEADER WHOSE ENGINEERED THE
POWERFUL BRIDGE PROGRAMS.
IN ADDITION, WE WILL HEAR FROM
XAVIER ALUMNI WHO BENEFITTED
FROM PARTICIPATING AT THE SUMMER
PROGRAMS AND HAVE GONE ON TO
PERFORM AT THE HIGHEST LEVELS
AND A SPECIAL THANKS TO
DR. NORMAN FRANCIS WHO WILL JOIN
US TELEPHONICALLY.
DR. FRANCIS, PRESIDENT OF XAVIER
FOR 46 YEARS LED XAVIER'S
SUCCESS AS TOP PRODUCER OF
AFRICAN-AMERICAN STUDENTS WHO
EARNED STEM DEGREES AND WENT ON
TO COMPLETE MEDICAL SCHOOL.
IN 2006 HE RECEIVED THE NATION'S
HIGHEST CIVIL HONOR PRESIDENTIAL
MEDAL OF PRE FREEDOM FROM
PRESIDENT BUSH.
SO, WHAT IS THE XAVIER
UNIVERSITY SUMMER SCIENCE
ACADEMY?
LET'S TAKE A LOOK AT AN
INTRODUCTORY VIDEO CLIP.
MM
>>> IF YOU BELIEVE WHAT STUDENTS
CAN LEARN, THAT STUDENT WITH
START TO BELIEVE, YEAH, I CAN
LEARN AND THAT WAS THE GENESIS.
FOR THEM TO SOLVE THE FUTURE
PROBLEMS OF OUR NATION, WE MUST
EDUCATE THEM TO DO SCIENCE AND
PROBLEM SOLVING.
NOT WHERE IT'S VERY RIGID AND
INFLEXIBLE BUT MAKING IT FUN AND
IMAGINATIVE.
>> WHEN I GO TO SCHOOL I WANT TO
BE MARINE BIOLOGY GIST.
>> OBGYN.
>> ANESTHESIOLOGY.
>> MORE IMPORTANTLY THEY'RE
LEADERS IN THOSE GOALS.
>> WE DECIDE 30 YEAR AGO THE
ONLY WAY WE WERE GOING TO GET A
POOL OF GOOD STUDENTS WAS TO
JOIN WITH THE HIGH SCHOOLS.
>> THE APPLICATION OF MEDICAL
SCHOOL FROM MINORITIES, AND
PARTICULARLY AFRICAN-AMERICANS
WAS DROPPING.
>> AND CARMICHAEL SAID WE CAN DO
SOMETHING ABOUT THAT.
MINE WAS THE TO TRY TO MAKE THEM
LEARN FROM CHEMISTRY AND
UNDERSTAND THEY COULD LEARN
CHEMISTRY.
>> DR. CARMICHAEL AND GROUP OF
FACULTY MEMBERS DECIDED THEY'LL
CREATE A MODEL WHERE WE TAP INTO
HIGH SCHOOL STUDENTS NOT ONLY
HELPING THEM DEVELOP A BETTER
SENSE OF ABILITY BUT ALSO THAT
ESTEEM.
>> THIS WAS RATCHETING UP OF
KIDS WHO WERE LEAGUER TO LEARN.
>> FOR ME I CALL IT THE
GRANDMOTHER OF THEM ALL, WAS THE
SOUL PROGRAM.
>> ABUSE OF JUICE IF YOU DO NOT
KNOW THE DEFINITION OF ABUSE.
>> BASICALLY, WHAT IT IS, IT'S A
COLLEGE PREP PROGRAM FOR
STUDENTS TO PREP TELL FOR NOT
JUST TEST BUS EXPERIENCE OF
COLLEGE.
OUR CLASSES ARE VERY RIGOROUS.
AND S.O.A.R. PROMPTS STUDENTS TO
THINK BEYOND, REALLY UNDERING
THE INFORMATION AND BEING
ANALYTICAL ABOUT IT.
TO GARNER A BETTER STANDING.
>> THAT'S WHAT SPEAKS TO
XAVIER'S SUCCESS RATE.
PLACING THEM IN OTHER LEVELS OF
STUDY, PARTICULARLY IN SCIENCE,
TECHNOLOGY, AND ENGINEERING AND
MATH REALM.
>> IT'S MIND-BOGGLING TO REALLY
UNDERSTAND, BECAUSE THE NUMBERS
ARE THROUGH THE ROOF.
XAVIER HAS HAD THE PLEASURE OF
BEING RANKED NUMBER ONE IN THE
UNITED STATES.
FOR THE PAST 25 TO 30 YEARS AND
THE NUMBER OF AFRICAN-AMERICANS
THAT WE PLACED INTO MEDICAL
SCHOOL.
NUMBER ONE IN THE NATION.
NOW, WE DON'T THINK THAT IS
ACCIDENTAL.
>> ONE OF THE BASIC THINGS WE
TRY TO DO IS TO ACKNOWLEDGE THAT
THE TEACHERS HAVE THE CONTENT.
THEY KNOW THE FIELD AND MATH.
>> THERE'S ONE SIDE TO GET THEM
TO WHERE THEY NEED TO BE.
WHAT WE FOUND, THE TEACHERS
THEMSELVES DEPARTMENT FEEL VERY
CONFIDENT IN THEIR ABILITY TO
DELIVER MATHEMATICAL AND
SCIENTIFIC INSTRUCTION
EFFECTIVELY.
SO THERE'S A COMMUNE THAT
ACTUALLY HAPPENED WHERE WE
REALIZE YOU HAVE TO HELP US BOTH
ON TEACHERS AND STUDENTS TO GET
THEM READY FOR COLLEGE.
>> IT'S NOT TEXT BOOK SUBJECT.
THEY MUST EXPERIENCE IN LIFE IT
HELPS CONNECT DOTS.
FOR KIDS THAT WANT TO EXCEL.
>> IT HELPS BROADEN OUR LIVES
ABOUT CHEMISTRY AND CHANGE
THINGS YOU'VE HEARD.
RESEARCH TELLS STUDENTS LEARN
FROM EACH OTHER.
AND THEY LEARN FROM TEACHING
STUDENT RELATIONSHIP.
IT'S ONE OF THOSE PRACTICES
WE'VE NOT MASTERED.
AS A TEACHER AND INSTRUCTOR, I'M
THE FACILITATOR.
>> THIS SUMMER I'M DOING BREAST
CANCER RESEARCH AT JOHNS HOPKINS
UNIVERSITY.
I THINK IT'S VERY IMPORTANT TO
HAVE BRIDGE PROGRAMS FOR STEM
CAREERS.
FOR ME IT TAKES A LOST WORK.
I THINK IT'S VERY IMPORTANT TO
GET THE HEADS-UP BEFORE DECIDING
WHAT YOU WANT TO DO.
WHEN I DID FINISH MY LAST YEAR
OF HIGH SCHOOL.
I REALLY MADE SURE I DEVELOPED
STUDY FIELDS BY THE TIME I GOT
TO COLLEGE IT WASN'T AS HARD OF
A TRANSITION.
>> WHEN YOU THINK THE STUDENTS
ENGAGE IN SCIENCE, INSTEAD OF
BEING PASSIVE IN IT.
>> AND THIS HAS BEEN A CROWNING
POINT OF OUR SUMMER PROGRAM AS
WELL, THAT YOU HAVE GOT TO HAVE
THAT DEEP UNDERSTANDING OF
SCIENTIFIC CONCEPTS, WHEN THEY
COME TO OUR DOORS OR ANY OTHER
UNIVERSITY'S DOORS, THEY WILL
CONTINUE TO PERSIST AND GRADUATE
FROM YOUR UNIVERSITY.
>> EDUCATION STILL IS THE ANSWER
TO MANY OF THE PROBLEMS THAT WE
HAVE IN THIS COUNTRY AND IT WILL
CONTINUE TO BE UNTIL WE CAN
SPEND MORE TIME CLOSING THE GAP
BETWEEN SCHOOLS, AND COLLEGES.
AND THE SUMMER BRIDGE PROGRAM IS
AN ANSWER TO THAT.
MM
>>> AS DR. BLANCHARD NOTED IN
THE VIDEO CLIP THAT WE SAW.
IT'S NOT AN ACCIDENT THAT XAVIER
UNIVERSITY HAS THE HIGHEST RATE
OF MEDICAL SCHOOL ATTENDANTS OF
HISTORICAL BLACK COLLEGES.
SOMEONE WHO HAS SPENT A LOT OF
TIME DOCUMENTING WHY THAT'S NOT
AN ACCIDENT AND WHY IT IS — WHY
THEY'VE BEEN ABLE — WHY XAVIER
HAS ACCOMPLISHED THIS, MARIANA
HAYNES, SENIOR FELLOW AT THE
ALLIANCE.
>> THANK YOU, GOVERNOR WISE.
THIS VIDEO REPORT, BUILDING A
STEM PATHWAY THAT THE ALLIANCE
IS RELEASING TODAY PROVIDES A
LENS INTO THE KIND OF ACADEMIC
AND SOCIAL LEARNING THAT CAN
BUILD STUDENT'S PROFICIENCIES IN
STEM COURSE WORK.
IT DESCRIBES HOW ENHANCING THE
CONFIDENCE TO INVEST EFFORT IN
UNDERSTANDING CHALLENGING
CONTENT, CAN BOTH WE TAUGHT AND
LEARNED.
THE VIDEO CLIPS CAPTURE THE
POWER OF THESE LEARNING
ENVIRONMENTS.
IT SATISFIES STUDENT'S NEEDS FOR
CONFIDENCE AND AUTONOMY AND
THEIR SENSE FOR BELONGINGNESS.
THE STRATEGIES XAVIER USES ARE
NOT NEW.
THEY ARE VERY UNIQUE FOR THOSE
WHO DESIGNED THE PROGRAM AND
THOSE WHO IMPLEMENT THEM THEY
MUST USE MANY RESEARCH
STRATEGIES SIMULTANEOUSLY.
WE'RE FORTUNATE TO HAVE THOSE
WHO PROVIDE FURTHER INSIGHTS
INTO THE SUMMER SCIENCE ECONOMY
AND NATURE OF EXPERIENCE THAT
THEY HAVE MIDDLE AND HIGH SCHOOL
STUDENTS INTERESTED IN THE STEM
CAREER.
WITH US WE HAVE DR. BLANCHARD,
WHO YOU'LL SEE A LOT OVER THE
NEXT COUPLE OF WEEKS.
DR. TASHA INNISS, PROGRAM
DIRECTOR OF HUMAN RESOURCE
DEVELOPMENT AT THE NATIONAL
SCIENCE FOUNDATION AND XAVIER
GRADUATE, MICHAEL SMITH, SPECIAL
ASSISTANT TO THE PRESIDENT AND
SENIOR DIRECTOR OF CABINET
AFFAIRS FOR MY BROTHER'S KEEPER.
AND BRANDI TEMPLE.
BRANDI TEMPLE IS A CURRENT
BIOLOGY AND PRE MED
UNDERGRADUATE STUDENT AT XAVIER
UNIVERSITY.
AS GOVERNOR WISE MENTIONED.
UNFORTUNATELY GOVERNOR FRANCIS
COULD NOT BE HERE TODAY.
AND HE'LL BE JOINING US FROM NEW
ORLEANS WHERE THERE IS A BALMY
46 DEGREES.
I WANT TO TAKE A MOMENT TO
EXPRESS MY APPRECIATION TO
DR. FRANCIS, FOR WELCOMING US
INTO N TO LEARNING ABOUT THIS
PROGRAM.
THIS WAS AN EXTRAORDINARY
OPPORTUNITY.
THE XAVIER MODEL DEMONSTRATES
HIGH IMPACT LEARNING STRATEGIES
THAT OTHER EDUCATORS CAN
DISTILL, ADAPT, AND SCALE TO
IMPROVE PROFICIENCY IN MATH AND
SCIENCE.
AS A VERY SPECIAL THANKS TO
DR. BLANCHARD, HE SERVED AS OUR
GUIDE AND CHAMPION TO CREATE
THIS NARRATIVE TO TELL THE
XAVIER STORY.
GOVERNOR WISE, I'M GOING TURN
BACK TO YOU FOR THE DISCUSSION
ABOUT SOME UNDERLYING REASONS
FOR THE ENORMOUS GAP BETWEEN
HIGH SCHOOL, COLLEGE AND MATH,
SCIENCE AND LITERACY AND WHAT
ACCOUNTS FOR THE SUCCESS OF THE
XAVIER SUMMER SCIENCE PROGRAM.
>> THANK YOU.
>> THANK YOU VERY MUCH.
MARIANA, THANK YOU FOR THE WOK
YOU DID IN PREPARING THIS
REPORT.
SO, IT IS NOW MY GREAT PRIVILEGE
TO INTRODUCE DR. NORMAN FRANCIS.
SHE'S PROJECTED POWERFUL
INFLUENCE ON NATIONAL EDUCATION
ISSUE, INCLUDING COMMISSION ON
NATIONAL INFLUENCE AND EDUCATION
THAT PRODUCED A 1983 REPORT "A
NATION AT RISK."
DR. FRANCIS, THANK YOU FOR JOIN
US BY TELEPHONE AS WELL AS ALL
YOU'VE MADE AVAILABLE TO THE
APPLIANCE AS WE WERE DOCUMENTING
THE XAVIER UNIVERSITY STORY AND
THIS PARTICULARLY IMPORTANT
SUMMER BRIDGE PROGRAM.
IF I COULD WELCOME YOU TO THIS
WEBCAST, AND BEGIN WITH A
QUESTION, WHICH IS, WHILE THE
UNITED STATES LAGS BEHIND OTHER
COUNTRIES IN GRADUATING STUDENTS
IN STEM FIELDS, XAVIER HAS
PERFECTED A MODEL FOR EDUCATING
MINORITY STEM STUDENTS.
IF YOU COULD GIVE A LITTLE
BACKGROUND FROM YOUR POINT OF
VIEW ON THE SUMMER SCIENCE
ACADEMY.
WHEN WAS IT LAUNCHED AND WHY?
>> WELL, THANK YOU VERY MUCH FOR
ALLOWING ME TO BE WITH YOU BY
PHONE.
I ABOUT 47, 48 HOURS AGO, I
PARTICIPATED IN A REVALRY OF NEW
ORLEANS MARDI GRAS, AND I SPENT
ABOUT 3 1/2 HOURS ON A FLOAT
WITH NO COVER AND WINDS AND
TEMPERATURE OF ABOUT 20 DEGREE,
AND I'M AT AN AGE WHERE YOU
CAN'T TAKE THAT AS WELL AS YOU
USED TO.
BUT I'M HAPPY TO BE HERE.
LET ME SAY I HAVE BEEN THE MOST
PRIVILEGED INDIVIDUAL TO BE IN
HIGHER EDUCATION AS LONG AS I
HAVE BEEN.
BUT, TO HAVE BEEN ABLE TO HAVE A
FRONT ROW SEAT ON WAYS TO
EDUCATE YOUNG PEOPLE SO THAT
THEY COULD SOAR WITH THE EAGLES,
AND WE HAVE PROVED THAT.
THIS PROGRAM IS ABOUT THREE
DECADES-PLUS OLD.
AND IT REALLY GREW OUT OF A
RESPONSE, A GROUP OF DEDICATED
FACULTY, WANTED TO DO WHEN THEY
LEARN FROM AN NSF REPORT THAT
AFRICAN-AMERICAN'S APPLICATIONS
TO MEDICAL SCHOOL HAD DECLINED.
AS THE VIDEO SHOWED, THEY SAID,
WE CAN DO SOMETHING.
SO THAT OUR SUMMER HIGH SCHOOL
ACADEMY WAS BORN ON THE
PRINCIPLE THAT EVERYBODY IS
SPECIAL, AND CAN LEARN IN A
LOVING AND CARING ENVIRONMENT
WHERE ACHIEVEMENT REALLY IS A
VIRTUAL THAT NEEDS TO BE
NOURISHED AND AT THE SAME TIME.
EXPECTATIONS HIGH FOR THOSE WHO
WISH TO USE THEIR TALENT.
AND THE HOURS THAT WENT INTO THE
WORK OF DESIGNING THIS SYSTEM,
AND IT IS A SYSTEM, I HAVE HAD
THE OPPORTUNITY, TO READ SOME OF
THE RESEARCH THAT'S OUT THERE,
AND AS WAS SAID EARLIER, THIS IS
A SYSTEM.
YOUNG PEOPLE COME, KNOWING, OF
COURSE, THAT THEY WANT TO LEARN,
BUT THEY HAVE NOT EXPERIENCED
SOMETIMES THE RIGGER FROM THE
TEACHING AND THE LEARNING
ENVIRONMENT OF THEIR EARLIER
BACKGROUND.
AND WHAT WE DID AT XAVIER WAS TO
MANAGE THE PROCESS, START EARLY,
START AT THE MIDDLE SCHOOL AND
THEN FOLLOW STUDENTS WHO WANTED
TO COME BACK EACH SUMMER, AND
THEY DID, TO THEIR GRADUATION
FROM HIGH SCHOOL.
AND THE BEAUTY OF THIS IS
SOMETHING THAT RESEARCHERS HAVE
TALKED ABOUT FOR ALL OF US IN
HIGHER EDUCATION.
WE HAD TO LINK UP WITH THE
SCHOOLS.
AND HAVE THAT PARTNERSHIP, THAT
WOULD LEAD STUDENTS FROM WHERE
THEY WERE TO WHERE THEY WISH TO
GO IN COLLEGE AND BEYOND.
AND, SO, THE PROGRAM WAS
DESIGNED TO BRING STUDENTS IN,
SHOW THEM THE RIGGERS OF
LEARNING AND THE RIGGERS THAT
WERE GOING TO BE REQUIRED IN THE
SCIENCE FIELD, IF THEY INDEED
WANTED TO BECOME A SCIENTIST,
BUT ALSO TO SHOW THEM WHAT AN
EXCITEMENT COMES WHEN ONE LEARNS
AND GETS THE CONFIDENCE OF
KNOWING THEY CAN DO WHAT MANY
PEOPLE THOUGHT THEY COULDN'T DO
AT ALL.
AND THE BEAUTY OF THIS PROGRAM,
AND I MUST SAY, IT WAS ONE OF MY
SPECIAL BLESSING, BEING A
PRESIDENT AT THE TIME, AND
WATCHING THIS UNFOLD, AND WHAT
WE DID WAS REACHED AT THE LEVEL
OF HIGH SCHOOLS, WANTING TO
EXPECT CERTAIN THINGS IN
ADDITION TO LEARNING.
THEY BROUGHT THE YOUNGSTERS IN,
BROKE THEM IN TO SMALL GROUPS OF
MAYBE 20 APIECE, AND THEN PUT IN
TO THE MIX THE COMPETITION OF
WANTING TO LEARN AND COMPETE
AGAINST EACH OTHER.
AND FOR MANY, MANY OF THEM, THEY
HAD NEVER BEEN CHALLENGED IN THE
HIGH SCHOOL.
SOME CAME THINKING THEY KNEW
EVERYTHING THAT NEEDED TO BE
LEARNED UNTIL THEY GOT, WELL,
THEIR AGE, AND FOUND OUT THEY
WEREN'T AS SMART AS THEY THOUGHT
THEY WERE AND THEY LETTERED FROM
EACH OTHER.
AND WHAT WAS THE BEAUTY OF ALL
OF THIS, IS THAT YOU HAD A
FACULTY, AND A TEAM, MADE UP OF
A COLLEGE FACULTY MEMBER, TWO
HIGH SCHOOL TEACHERS AND THE
BEAUTY THE ALL WAS TO HAVE TWO
SENIORS AT XAVIER, WORKING WITH
EACH GROUP WHO HAD ALREADY
GRADUATED AND WERE ON THEIR WAY
TO GRADUATE SCHOOL AND OR
MEDICAL OR DENTAL SCHOOL.
IT PUTS THE STUDENTS INTO A
CIRCLE THAT WAS A RING OF HOPE
AND EXCITEMENT AND I MUST SAY,
AS I WITNESSED IT, AND I HAVE
THOUGHT DR. INNISS IS SITTING
THERE LISTENING, SHE CAN GIVE
YOU MORE HAVING HAD THE
EXPERIENCE, IT WAS RIGOROUS FROM
8:00 IN THE MORNING, TO
SUPPLEMENT IRAND AFTER SUPPER,
WORK.
THAT WAS UNHEARD OF.
IT WAS UNHEARD OF AS WE LEARNED
AND WHEN WE DID THE WORK IN THE
'80s FROM "THE NATION AT RISK."
THAT WE WERE USING A VARIANT
FORM OF NINE MONTHS, AND GO AND
REST OF WHATEVER YOU WANTED TO
DO FOR THROUGH MONTHS AND COME
BACK.
WE ADDED WITH THESE STAR
PROGRAMS AN EXTRA MONTH, ALMOST,
TO THAT LEARNING SYSTEM, SO THAT
THEY WERE GOING TO SCHOOL NOT
NINE MONTHS BUT TEN MONTHS A
YEAR AND THEY WERE DOING IT AND
ENJOYING IT, BECAUSE THERE WERE
PEOPLE WHO WERE INVOLVED, WHO
REALLY CARED ABOUT THEM.
FOR THE FIRST TIME, SOME OF THEM
HEARD TEACHERS SAYING, I KNOW
THAT YOU CAN DO THIS, AND I'M
GOING TO HELP YOU.
EVERYBODY WILL HELP EACH OTHER.
SO, I HAVE PREACHED THIS ALL
THROUGH MY JOURNEY ABOUT
TEACHING YOUNG PEOPLE, IN
PARTICULAR, TOUGH SUBJECTS.
I SAY WE WERE FORTUNATE, WE
OPENED A COLLEGE OF PHARMACY
BACK IN 1935 AND WE WERE STILL
YOUNG AT THAT POINT, AND SCIENCE
WAS A MAJOR PART OF WHAT WE WERE
DOING, IN ADDITION TO THE,
QUOTE, LIBERAL ARTS, WAS
FUNDAMENTAL TO KNOWING WHAT YOU
SHOULD KNOW AND BE ABLE TO
CHANGE WITH CHANGE.
BUT SCIENCE IS ENGRAINED IN OUR
HISTORY AND OVER THOSE YEARS,
YOUNG PEOPLE WERE GRADUATING,
GOING ON AT THAT TIME, TO THE
FAMOUS MAHARI MEDICAL SCHOOL,
HARVARD MEDICAL SCHOOL AND MANY
OF THEM BECAME THE FIRST MAJOR
IN FED CAL SCHOOLS IN THE
COUNTRY BECAUSE THEY HAD A
BACKGROUND IN THE SCIENCES.
WHEN WE DEVELOPED SCIENCE
ACADEMY, THIS WAS NOT KNEW TO
US.
IT WAS JUST A KNEW DYNAMIC THAT
WE WERE FACING IN THIS COUNTRY
WHERE HIGH SCHOOLS WERE, QUOTE,
NEGLECTING TO HIRE AT
EXPECTATIONS.
TEACHING WERE ALL WHAT THEY
SHOULD HAVE BEEN.
THERE WERE GREAT TEACHERS BUT
NOT ENOUGH OF THEM.
AND WE HAD PARKS WANTING OUR
YOUNGSTERS TO LEARN AND
ENCOURAGING THEM TO GO TO SCHOOL
AND GO TO SCHOOL IN A WAY THEY
WOULD BE CHALLENGED.
ACHIEVEMENT IN THE ACADEMIC
ACADEMY AT XAVIER WAS REALLY A
VIRTUE AND A VIRTUE THAT WAS A
STANDARD FOR THOSE YOUNGSTERS TO
KNOW THAT WE FELT NOT ONLY WERE
THEY SPECIAL BUT THEY WERE
UNIQUE AND THEY COULD BE
ANYTHING THEY WANTED TO "B" SO,
AS I SPEAK HERE TODAY, I CAN'T
SAY ENOUGH ABOUT THE FACULTY,
THE STAFF, THE STUDENTS WHO HAVE
COME AND HAVE — AND I HAVE HAD
THE PRIVILEGE OF WATCHING, AND
HANDING A DIPLOMA TO MANY OF
THOSE STUDENTS WHO WENT THROUGH
OUR HIGH SCHOOL PREP PROGRAM.
SUMMER PROGRAM.
I MET THEM ALL OVER THE COUNTRY
AT DIFFERENT TIMES WHEN THEY
WENT TO OTHER INSTITUTIONS AND
ASKED ME, HOW IS XAVIER DOING.
I SAID WHAT DO YOU KNOW ABOUT
XAVIER?
OH, I WENT TO YOUR SUMMER PREP
SCHOOL.
BUT THE ACCOUNTABILITY AS WE
TALK ABOUT IT TODAY, HOW DO YOU
MEASURE THESE THINGS?
WELL, FOR ME IT WAS WHEN I MET
PARENTS WHO SAID TO ME, I DON'T
KNOW WHAT YOU DID TO MY
YOUNGSTER IN THOSE PROGRAMS, BUT
I'VE NEVER SEEN HIP OR HER STUDY
AS MUCH AS THEY ARE STUDYING,
HAVING BEEN THROUGH THOSE SUMMER
PROGRAMS.
>> 0 TO HAVE TEACHERS TELL ME,
THEY CAN TELL WHEN A STUDENT
RAISED HIS OR HER HAND THEY'VE
BEEN TO THE SUMMER BRAM AT
XAVIER.
TO THIS AUDIENCE AND ALL OF YOU,
WASN'T TO SAY, I TRUST XAVIER
WILL CONTINUE MANY DECADES IN
THE FUTURE TO CONTINUE TO OFFER
THESE EXTRA SPECIAL PROGRAMS,
JOINING WITH HIGH SCHOOLS AND
HIGH SCHOOL TEACHERS.
IN ADDITION, HELPING HIGH SCHOOL
TEACHERS TO LEARN AND GET THEIR
PREPARATION TO TEACH THE SCIENCE
THAT WE NEED.
THE FUTURE OF THIS COUNTRY WILL
BE DEPENDENT UPON A NUMBER OF
PEOPLE, BUT IN PARTICULAR,
PEOPLE WHO CAN AND IN FACT
NAVIGATE THE SCIENCE FIELDS OF
THE WORLD, AND TO BE ABLE TO DO
THE RESEARCH AND TO THE SERVICE
THAT THIS COUNTRY NEEDS.
WE HAVEN'T CLOSED THEM
COMPLETELY YET.
BUT XAVIER WILL CONTINUE TO DO
IT.
>> I'M PLEASED TO SAY AND
DR. BLANCHARD MADE PUBLIC IN THE
NATEST REMARKS THAT THE LATEST
NSF REPORT XAVIER IS IN THE TOP
THREE OF THE 50 COLLEGES IN THE
UNITED STATES WHO HAVE GRADUATES
RECEIVING Ph.D.s IN THE
SCIENCES.
>> THAT'S AN AMADING FEAT, IF
YOU WILL AND ACCOMPLISHMENT AND
IF YOU CHECK THEM WE FIND 50% OF
THEM IF NOT MORE WENT TO THIS
SCIENCE ACADEMY.
>> I WANT TO THANK ALL OF YOU
FOR THE OPPORTUNITY TO GIVE
THESE REMARKS AND TO SAY THAT WE
ARE PROUD OF THE GRADUATES OF
OUR FACULTY AND FOR ME, AS I
LEAVE THE ACADEMY, I WILL
CONTINUE TO BE A SUPPORTER AND
IN FACT, STILL BREACH THE GOSPEL
THAT EVERYBODY CAN LEARN, IF
THEY WILL GIVE THEM THE
OPPORTUNITY TO DO SO AND IF WE
BELIEVE THEY CAN AND EVERY CHILD
CAN LOOK ON THE FACE MUCH THE
TEACHER AND TELL WHETHER THAT
TEACHER BELIEVES HE OR SHE CAN
LEARN.
>> WE HAVE THE MODEL.
IT'S NOTHING NEW.
SOME PEOPLE CALL IT OLD SCHOOL.
WE NEED OLD SCHOOL WITH NEW
SCHOOL WITH THE ELECTRONIC
TECHNOLOGY OF THE WORLD.
FOR ME IT'S BEEN A BLESSING.
I'M THANKFUL AND THANKFUL FOR
THIS OPPORTUNITY.
>> THANK YOU VERY MUCH.
DR. FRANCIS AND THANK YOU VERY
MUCH FOR MAKING XAVIER
UNIVERSITY'S FACILITIES AND
FACULTY AVAILABLE TO THE
ALLIANCE AS WE DOCUMENT THIS
SUCCESS WITH THE SUMMER SCIENCE
ACADEMY.
YOU MENTIONED YOUR COLLEAGUE,
DR. LOREN BLANCHARD.
DR. BLANCHARD, WOULD YOU TALK
MORE AND FILL IN SOME ON WHAT
EXACTLY THESE PROGRAMS ARE
DESIGNED TO DO AND WHAT ACCOUNTS
IN YOUR ESTIMATION FOR THE
EXTRAORDINARY SUCCESS OF HELPING
STUDENTS ADVANCE UP THE ACADEMIC
LADDER TO PURSUE THAT STEM
CAREER?
>> A LOT OF THIS IS BASED ON THE
FACT THAT XAVIER HAS LONG
UNDERSTOOD THAT STUDENTS OFTEN
COME IN UNDERPREPARED TO HANDLE
THE RIGGER OF A COLLEGE
CURRICULUM PARTICULAR IN THE
STEM DISCIPLINES.
IT'S NO SECRET BASED ON
LONGITUDINAL AND EMPIRICAL DATA
THAT AFRICAN-AMERICAN STUDENTS
IN PARTICULAR LAG BEHIND OTHERS
AS IT RELATES TO MATH, SCIENCE,
AND READING, THREE ESSENTIAL
COMPONENTS OF THREE ESSENTIAL
DISCIPLINES THAT WHERE, IF YOU
WANT TO HAVE A LEVEL OF SUCCESS,
THAT THOSE ARE THE AREAS WHERE
YOU NEED TO HAVE THAT LEVEL OF
SUCCESS.
AND SO, WITH THAT, AS
DR. FRANCIS MENTIONED, IT'S BEEN
LONG NOW, 30 YEARS, WHERE
FACULTY AT XAVIER, CAME TOGETHER
WITH FACULTY AT LOCAL FEEDER
SCHOOLS THROUGHOUT THE GREATER
NEW ORLEANS AREA, TO REALLY MAKE
A DETERMINATION OF WHAT COULD WE
DO TO START BRIDGING THIS GAP SO
STUDENTS WHO HAD BEEN COMING IN
IN AN UNDERPREPARED WAY CAN
REALLY SURE THEMSELVES UP NOT
ONLY IN THE STEM DISCIPLINES BUT
MORE IMPORTANTLY IN THE AREAS OF
ANALYTICAL REASONINGS,
SCIENTIFIC LITERACY AND
SCIENTIFIC THINKING.
EMBEDDED IN SUCH A WAY STUDENTS
HAVE A LEVEL OF EXCITEMENT.
THEY HAVE A BRAVADO, A
CONFIDENCE ABOUT THEMSELVES IN
THOSE RESPECTIVE AREAS SO THEY
CAN GO ON AND PURSUE CAREERS IN
STEM DISCIPLINES.
THAT'S REALLY THE BACKGROUND
BEHIND IT AS IT RELATES TO WHAT
WE'VE SEEN HISTORICALLY IN IT
AFRICAN-AMERICAN STUDENTS WHO
COME IN NOT REALLY MEASURING UP
THE WAY WE WOULD LIKE TO SEE
THEM MEASURE UP IN ORDER TO
HANDLE THE COLLEGE CURRICULUM.
IN ADDITION TO THAT, TO ANSWER
THE SECOND PART OF YOUR
QUESTION, YOU KNOW, THE REALITY
IS THAT IT'S EXCITING TO REALLY
WRAP YOUR HEADS AROUND THE FACT
THAT WE BEGAN WORKING WITH
STUDENTS AS EARLY AS 8th GRADE
AND THESE STUDENTS RISING 8th
GRADERS WHO COME IN, HAVING THIS
REAL FEAR OF MATHEMATIC, AND
THEN WE GIVE THEM THIS SENSE OF
UNDERSTANDING, NOT ONLY THE
MATHEMATICAL SKILLS BUT
UNDERSTANDING THAT THERE IS A
LOT OF FEAR AND ANXIETY AROUND
MATHEMATICS AND HOW TO BEGIN TO
DO AWAY WITH SOME OF THAT FEAR
AND ALSO PREPARE THEM IN SUCH A
WAY THAT NOW, WHEN THEY MOVE
INTO THE NINTH GRADE AND TAKE
ALGEBRA FOR THE FIRST TIME, THAT
THEY HAVE HAD GOOD EXPERIENCES
IN THAT AREA.
AND HAVE A GREAT UNDERSTANDING
OF WHAT MATHEMATICS ACTUALLY ME,
AND THEN ALSO BE ABLE TO CONNECT
THE DOTS BETWEEN, NOT ONLY
UNDERSTANDING WHAT THAT NINTH
GRADE MATHEMATICS WILL DO FOR
THEM BUT HOW IT CONNECTS TO
BIOLOGY, HOW IT CONNECTS TO
CHEMISTRY AND IT'S ALL WITHIN
THE WHOLE ATMOSPHERE, IF YOU
WILL, OF FUN AND ENGAGEMENT.
STUDENTS REALLY APPRECIATE THE
TEAM APPROACH.
IT'S ALL BASED — I'M SURE
DR. ENNIS, AS WELL AS SOON TO BE
DR. TIPPLE.
WILL SHARE WITH YOU, IT'S REALLY
ALL BASED AROUND STUDENTS
WORKING COOPERATIVELY.
WORKING TOGETHER TO REALLY
UNDERSTAND NOT ONLY THE VALUE OF
SCIENCE AND MATH.
BUT ALSO UNDERSTANDING THAT
WHOLE CRITICAL THINKING PIECE
AND HOW THEY COULD IMBED IT INTO
THEIR LIVES.
THE OTHER ASPECT AND I KNOW I'M
RUNNING SHORT — HOLD ON.
I GUESS I'M NOT RUNNING SHORT —
THE OTHER THING THAT I'LL SAY IS
THAT, IT STARTS AT 8th GRADE AND
THAT MANY OF THESE STUDENTS,
THEY MATRICULATE DIRECTLY INTO
XAVIER.
THEY WILL MAJOR IN ONE OF THE
STEM DISCIPLINES AND THEN IT
DOESN'T STOP THERE, BECAUSE THEN
WE ALSO ARE CONTINUING TO HOLD
THEIR HANDS AS THEY GO ON IN TO
GRADUATE AND/OR PROFESSIONAL
SCHOOL AND TO ACQUIRE EITHER
THAT Ph.D. AND/OR THE M.D. IN
THE SCIENCE AREAS.
SO, HOW REMARKABLE IS THAT?
JUST THINK ABOUT IT.
WE SEE A STUDENT AS AN
ADOLESCENT, AS AN 8th GRADER,
AND WATCH THEM MORPH INTO
DR. TASHA INNISS, WHO WELL
ESTABLISHED NOT ONLY IN THE
FIELD, BUT HAD HER ROOTS RIGHT
THERE AT XAVIER AS YOUNG AS 8th
GRADE AND THEN TO NOW SEE HOW IT
TIES IN VERY NATURALLY WITH THE
MISSION OF THE UNIVERSITY AND
THAT IS TO PRODUCE THE STRONGEST
LEADERS THAT WE POSSIBLY CAN IN
THE PROFESSIONAL FIELDS.
AND SO THAT'S HOW IT ALL KIND OF
TIES TOGETHER.
YOU KNOW, IT'S NOT MAGICAL.
BUT IT KIND OF FEELS MAGICAL
WHEN YOU'RE THERE, ESPECIALLY
DURING THE SUMMER WHEN YOU SEE
THAT WE'VE GOT 300 TO 400
STUDENTS JUST AMASSED ACROSS ALL
OF THESE SCIENCE AREAS, ENGAGING
IN NOT JUST TRADITIONAL, BUT
NONTRADITIONAL, SCIENTIFIC
METHODS IN ORDER TO REALLY KIND
OF BUILD, AS I SAY, NOT ONLY
THEIR UNDERSTANDING BUT BUILD
THEIR CONFIDENCE IN THOSE
RESPECTIVE AREAS AND THE END
RESULT HAS BEEN FOR US, AND I'M
SURE DR. FRANCIS WOULD PROBABLY
AGREE, THAT IT WAS NEVER
NECESSARILY OUR GOAL THAT WE
WOULD BE NUMBER ONE IN THE
NATION AND NUMBER OF
AFRICAN-AMERICANS THAT WOULD
GRADUATE FROM XAVIER.
NOW THAT I HAVE THE MICROPHONE,
I'LL ALSO SAY NUMBER ONE IN THE
NATION IN THE NUMBER OF
AFRICAN-AMERICANS WHO COMPLETE
MEDICAL SCHOOL AND NUMBER THREE
IN THE NATION BEHIND HOWARD AND
SPELLMAN IN THE NUMBER OF
AFRICAN-AMERICANS WHO GO ON TO
COMPLETE Ph.D.s IN STEM
DISCIPLINES.
THAT WAS NOT OUR GOAL.
OUR GOAL REALLY WAS TO HELP
AFRICAN-AMERICAN STUDENTS IN
PARTICULAR, AND
NONAFRICAN-AMERICANS ALIKE, TO
REALLY BUILD A GREATER SENSE OF
UNDERSTANDING, AND A GREATER
SENSE OF CONFIDENCE IN STEM
DISCIPLINES.
AND LOOK AT WHAT HAS HAPPENED AS
A RESULT OF THAT.
AND, YOU KNOW, WE BELIEVE
WHOLEHEARTEDLY, THAT IT'S
LARGELY TIED TO THE EARLY
IDENTIFICATION OF STUDENTS WHO
PERHAPS DO NOT HAVE THAT SENSE
OF UNDERSTANDING OF THE VALUE OF
STEM DISCIPLINES, BRINGING THEM
IN AS EARLY AS 8th GRADE, AS
I'VE SAID AND BIDDING THEIR
UNDERING AND BUILDING THEIR
CONFIDENCE IN SUCH A WAY WHERE
THEY GO ON TO DO POWERFUL THINGS
IN THE WORLD OF AREA OF STEM
DISCIPLINES.
>> SO, LET ME DRILL DOWN A
LITTLE BIT.
ON HOW DO YOU SET THE GOALS WHAT
STUDENTS NEED TO LEARN IN THE
SUMMER PROGRAM.
>> THOSE GOALS ARE SET IN
COLLABORATION WITH K THROUGH 12
TEACHERS AND TEACHERS THAT W —
AT XAVIER, FACULTY AT XAVIER, AS
WELL AS COLLEGE STUDENTS AT
XAVIER, IN THOSE RESPECTIVE
DISCIPLINES.
IT'S LIKE A TRIATIC RELATIONSHIP
WE'VE FORMED.
BASICALLY, IT'S TRYING TO
UNDERSTAND AND HELP K THROUGH 12
TEACHERS UNDER THAT MANY OF THE
MATHEMATICAL AND/OR SCIENTIFIC
CONCEPTS THAT WE EXPECT TO SEE
WHEN A STUDENT ENTERS OUR DOORS
AS A COLLEGE FRESHMAN THAT THEY
ARE NOT IN PLACE.
SO, THEN, WHAT ARE THOSE
SCIENTIFIC SKILLS?
WHAT ARE THOSE MATHEMATICAL
CONCEPTS THAT WE EXPECT IN ORDER
FOR THEM TO BE ABLE TO HAVE THAT
SENSE OF UNDERSTANDING OF HOW TO
MOVE FORWARD IN THOSE RESPECTIVE
DISCIPLINES.
UNTIL — THERE'S A LOT OF
PLANNING THAT OCCURS AMONGST THE
K-12 TEACHER, XAVIER FACULTY
MEMBERS, AS WELL AS XAVIER
COLLEGE STUDENTS.
NOT ONLY IN TERMS OF THE CURRENT
CONCEPTS, BUT THINKING OF
NONTRADITIONAL WAYS TO DELIVER
THOSE CURRENT CONCEPTS THAT'S
BASED ON BEST PRACTICE, AS WELL
AS BASED ON SCIENTIFIC RESEARCH
THAT'S OUT THERE, BUT I THINK
THAT MORE IMPORTANTLY, WHAT ENDS
UP HAPPENING, IS THAT THEN THE K
THROUGH 12 TEACHERS GET A BETTER
UNDERSTANDING OF WHERE THOSE
GAPS LIE.
AND THEY, THEN, BASED ON A LOT
OF WORK WE'RE DOING IN MATH AND
SCIENCE INSTRUCTION OF TEACHERS
AS WELL AS PROFESSIONAL
DEVELOPMENT OF K THROUGH 12
TEACHER, THEY THEN GET A BETTER
UNDERSTANDING OF WHAT IT IS THAT
THEY NEED TO BE DOING IN ORDER
TO FORM AND CRYSTALLIZE, IF YOU
WILL, THAT RELATIONSHIP THAT WE
HAVE BETWEEN XAVIER AND K
THROUGH 12 SCHOOLS TO GET
STUDENTS EXACTLY WHERE THEY NEED
TO BE IN ORDER TO ARRIVE AT THE
DOORS OF XAVIER, READY TO HANDLE
THE RIGGER OF A COLLEGE
CURRICULUM.
SO, I THINK THE REAL KEY ELEMENT
IN AWFUL THIS IS UNDERSTANDING
THAT THERE'S GOT TO BE THAT
SENSE OF RELATIONSHIP BUILDING.
AND SENSE OF ALMOST FEELING
NAKED IN THAT YOU COME IN AND
YOU REALIZE THAT THE GLASS IS
NOT AS FULL AS YOU THINK IT IS.
AND SO YOU WORK TOGETHER TO
REALLY BUILD A PROGRAM IN SUCH A
WAY, WHERE YOU CAN GET THAT
GLASS AS FULL AS IT POSSIBLY
CAN, BASED ON THE KIND OF
RELATIONSHIPS THAT YOU PERFORM
AND KIND OF INSTRUCTION THAT YOU
DELIVER ACCORDINGLY.
>> I CAN ALSO TELL THERE'S A LOT
OF EVALUATION THAT'S GOING INTO
THIS.
THIS PROGRAM, SUMMER ECONOMY,
EMERGED OVER TIME.
TALK ABOUT HOW YOU EVALUATE AND
TERMING WHAT WORKS?
A LOT OF EVALUATION COMES IN THE
FEEDBACK THAT HAPPENS IN THE
REGULAR SCHOOL YEAR AS WELL.
IT DOESN'T HAPPEN JUST WITH
SUMMER.
REALITY, THERE'S A LOT OF
COMMUNICATION THAT OCCURS
THROUGHOUT THE REGULAR SCHOOL
YEAR, NOT ONLY WITH STUDENTS AND
PARENTS BUT THE TEACHERS WITHIN
THOSE RESPECTIVE SCHOOLS AND
REALLY TRYING TO UNDERSTAND HOW
THE STUDENTS DOING AND MORE
IMPORTANTLY THAT WE, DURING THE
REGULAR SCHOOL YEAR, HAVE
TUTORIAL SERVICES AS WELL AS
OTHER SERVICES AVAILABLE TO WORK
WITH RESPECTIVE HIGH SCHOOL
STUDENTS TO CONTINUE TO GIVE
THEM THE LEVERAGE THAT THEY NEED
SO THEY CAN BE SUCCESSFUL IN
DISCIPLINE, MATHEMATICAL AND
SCIENTIFIC DISCIPLINES.
IN ADDITION TO THAT, WE CONTINUE
TO MONITOR THE GRADES OF THE
STUDENTS.
IN HOW THEY ARE PERFORMING.
WE WATCH AS THEY GO TO SCIENCE
FAIRS.
WE WATCH AS THEY COMPETE IN
DIFFERENT KINDS OF SCIENTIFIC
COMPETITIONS THAT ARE HELD
THROUGHOUT THE CITY AND STATE.
ALL OF THAT, THE CLOSE
MONITORING OF THE STUDENTS AND
THE GOAL OF TRYING TO RECRUIT
THEM INTO XAVIER, IF NOT XAVIER,
HOPE THEY CAN GO ON TO MAJOR IN
A STEM DISCIPLINE IN ANOTHER
UNIVERSITY BUT MORE IMPORTANTLY,
THEN THE REAL EVALUATION COMES
IN THE FACT OF REALLY WATCHING
HOW MANY OF THOSE STUDENTS
ACTUALLY COME IN TO XAVIER,
PERSIST, AND, YOU KNOW, IT
DOESN'T STOP ONCE THEY GET IN TO
XAVIER.
WHAT I MEAN BY THAT, IS THAT
THERE IS A CIRCLE OF SUPPORT
THAT IS JUST UNBELIEVABLE IN
TERMS OF NOT ONLY THE FACULTY,
ONE-ON-ONE MONITORING EACH ONE
OF THE STUDENTS AS THEY COME IN
TO XAVIER, BUT ALSO ENSURING
THAT THEY UNDERSTAND THAT
SUPPORT IS ALL AROUND THEM, AND
THAT IT'S A DEMOCRAT ALMOST LIKE
BUILDING BLOCKS TO REACHING
EDUCATIONAL EXCELLENCE, AND THAT
THEY HAVE CLEARED DEVELOPMENT
PLANS, AND PLACED CAREER
DEVELOPMENT PLANS IN PLACE WHERE
THEY KNOW VERY CLEARLY WHAT IS
HAPPENING ONCE THEY REACH
XAVIER'S DOOR AFTER THEIR
FRESHMAN YEAR, AFTER THEIR
SOPHOMORE YEAR, JUNIOR YEAR,
WHERE IN MANY INSTANCES, AS YOU
HEARD OR WILL HEAR FROM BRANDI
TEMPLE, THAT SHE SPENDS TIME,
REALLY ENGAGED IN THE FIELD
WORKING ALONGSIDE RESEARCHERS IN
SCIENCE AREAS, BECAUSE WE KNOW
WHOLEHEARTEDLY, THAT WHEN YOU
PROVIDE THOSE KINDS OF
OPPORTUNITIES FOR STUDENTS TO
GET LINKED INTO RESEARCH AND
UNDERGRADUATE RESEARCH AT A
YOUNG AGE, AND TO GIVE THEM
OPPORTUNITIES TO WORK ALONGSIDE
FACULTY MEMBERS, NOT ONLY AT
XAVIER BUT OTHER UNIVERSITIES IN
THAT SAME AREA, THAT THEY HAVE
THAT INTEREST, THAT IN MANY
INSTANCES, THAT IS THE SPRING
BOARD FOR SUCCESS FOR THEM
BECAUSE WE KNOW THAT'S NOT ONLY
GOING TO HELP THEM TO PERSIST
BUT TO GRADUATE AND THEN TO GO
ON TO BUILD UPON THE KIND OF
RESEARCH THAT THEY HAVE STARTED
WHILE THEY WERE RIGHT THERE AT
XAVIER.
SO, THE END RESULT IS THE FACT
THAT WE DO LOOK AT NUMBERS
RELATIVE TO HOW MANY GRADUATE
FROM XAVIER.
BUT MORE IMPORTANTLY, HOW MANY
OF THEM GO ON TO GRADUATE
PROFESSIONAL SCHOOL BUS THE REAL
JOY AND REAL BEAUTY IS WHAT I
DESCRIBED, THAT IS HOW MANY
ACTUALLY COMPLETE THEIR M.D.s
AND Ph.D. PROGRAMS.
THAT'S THE BEAUTY.
>> ONE MORE QUICK QUESTION.
BEFORE I TURN TO DR. INNISS.
YOU MENTIONED XAVIER'S FULL
FOCUS DEVELOPING SECONDARY
STUDENTS AS WELL AS MATH AND
SCIENCE TEACHERS.
AT PRESENT, I BELIEVE XAVIER IS
THE ONLY HISTORIC BLACK COLLEGE
ACCEPTED AS A PARTNER IN THE 110
NETWORK THAT'S STABBED TO
PREPARE 100,000 EXCELLENT STEM
TEACHERS BY 2021.
COULD YOU TELL ME A LITTLE ABOUT
THAT.
>> IT'S A COMMUNITY OF
ORGANIZATIONS, 200 TO BE EXACT,
ALL WORKING COLLABORATIVELY TO
PRODUCE 100,000 STEM TEACHERS BY
2021.
XAVIER WAS INVITED INTO THIS
BODY OF ORGANIZATIONS,LY WE'RE
REALLY PROUD ABOUT, BUT IT'S
REALLY DESIGNED TO PROVIDE THE
SPRING BOARD, THE LEVERAGE, IF
YOU WILL, IN WORKING WITH A
COMMUNITY OF OTHER ORGANIZATIONS
ALL WITH THE COMMON GOAL OF
LOOKING AT THE WAYS IN WHICH WE
CAN IMPROVE OUR PREPARATION OF K
THROUGH 12 TEACHERS BUT MORE
IMPORTANTLY, PRODUCE LARGER
NUMBERS OF K THROUGH 12 TEACHERS
IN THE DISCIPLINES OF STEM.
SO, WITH THAT, WE HAVE BEEN
REALLY FORTUNATE SO FAR, OUR
GOAL IS THAT WE'RE GOING TO
PRODUCE 100 OF THAT 100,000
WITHIN — BY 2021, AND WE
ALREADY HAVE ABOUT 25 OF THAT
100 THAT'S PRODUCED.
BUT, IN ADDITION TO THAT, WE
HAVE ALSO COMMITTED TO WORKING
WITH 250 CURRENT STEM TEACHERS,
IN ORDER TO PROVIDE GROWING
LEVELS OF PROFESSIONAL
DEVELOPMENT FOR THEM.
SO THAT THEY THEN CAN EITHER GO
ON TO PURSUE THEIR MASTERS
AND/OR THEIR DICTORAL DEGREES IN
STEM DISCIPLINE BUS MORE
IMPORTANTLY TO MAKE SURE WE HAVE
THEM TO CONTINUE TO GROW IN
THEIR RESPECTIVE FIELDS.
SO, WE'RE REALLY EXCITED ABOUT
OUR COMMITMENT AND MORE
IMPORTANTLY, OUR ABILITY TO WORK
WITHIN THAT ORGANIZATION OF
INSTITUTIONS IN ORDER TO REALLY
REACH THAT COMMON GOAL OF
100,000 TEACHERS BY 2021.
IT'S A LOT TO GO BUT WE FEEL
WE'RE TRYING TO DO OUR PART.
>> SO, YOU TALKED ABOUT, VERY
SUBTLY, I MIGHT ADD, HOW THIS IS
A GREAT RECRUITMENT MECHANISM AS
WELL.
ONE OF THE PEOPLE — THOSE ON
PANEL YOU'VE BEEN VERY
SUCCESSFUL WITH.
LET ME TURN TO DR. TASHA INNISS,
ORIGINALLY FROM NEW ORLEANS, SHE
GRADUATED IN MATHEMATICS FROM
THE XAVIER.
AND WAS ONE OF THE
AFRICAN-AMERICAN WOMEN, IN
MATHEMATICS AT UNIVERSITY OF
MARYLAND.
TASHA, TELL US ABOUT YOUR
EDUCATIONAL JOURNEY THAT BROUGHT
YOU TO YOUR POSITION AT NSF AND
SPELLMAN?
>> THANK YOU, GOVERNOR WISE?
YOU SAID MY WHOLE EDUCATIONAL —
HOW MUCH TIME DO I HAVE?
GOOD MORNING, EVERYONE, THIS IS
SUCH A TREMENDOUS HONOR.
I ABSOLUTELY ADORE DR. FRANCIS,
SORRY HE COULDN'T BE HERE.
DR. BLANCHARD WAS ONE OF MY
FAVORITE PEOPLE.
HE WAS ONE OF MY PROFESSORS
WHILE AT XAVIER.
>> AND SHE WAS MY STAR PUPIL.
>> LOVE THAT.
>> I HAVE TO SAY, WHERE I AM
TODAY AND ALL THAT I HAVE DONE,
IS NOT ONLY DUE TO MY FAMILY,
BUT ALSO DUE TO MY FAMILY AT
XAVIER.
XAVIER IS AN AMAZING, AMAZING
PLACE.
AND GROWING UP IN NEW ORLEANS
POOR, FROM A SINGLE MOTHER, YOU
KNOW, YOU REALLY — DR. FRANCIS
TALKED ABOUT THIS CIRCLE AND
THIS RING OF HOPE.
XAVIER GIVES YOU THAT, THAT RING
OF HOPE.
SO I ACTUALLY GRADUATED, AND
IT'S BECAUSE OF MY PARTICIPATION
IN THE SUMMER PROGRAM.
MOST OF THE SUMMER PROGRAMS I
PARTICIPATED IN WAS CALLED SOAR
II, STRESS ON ANALYTICAL
REASONING PART 2 AND THIS WAS
FUNDED BY NSF SPECIFICALLY
GEARED TO STUDENTS INTERESTED IN
MATH, ENGINEERING AND COMPUTER
SCIENCE.
AND I LOVED MATH SINCE THE
FOURTH GRADE, SO I KNEW I WOULD
DO THAT.
BUT, AFTER LEAVING — WELL,
WHILE I WAS A STUDENT AT XAVIER,
DURING THE SUMMER, I ALWAYS HAD
A PLAN AND WOULD PARTICIPATE IN
SUMMER RESEARCH PROGRAM AND
BECAUSE OF MENTORSHIP THAT I
RECEIVED BECAUSE OF MY
PROFESSORS.
WE TALKED EARLIER ABOUT A MENTOR
OF MINE, DR. DEREK RIVEREZ.
DR. FRANCIS, EVERY TIME I SEE
HIM, HE KNOWS WHERE I AM AND
WHAT I'M DOING AND HE'S THE
PRESIDENT OF THE UNIVERSITY.
IT'S REALLY A FAMILY.
AND THEY REALLY DO KEEP UP WITH
YOU.
SO I PARTICIPATED IN SUMMER
PROGRAMS WHILE I WAS AT XAVIER,
THEN IT WAS THERE THAT I
REALIZED I LOVED TEACHING MATH.
I MEAN, IT'S THE MOST BEAUTIFUL
THING EVER.
I WAS LIKE, I WANT TO TEACH IT.
AND THEY SAID, WELL, IF YOU WANT
TO TEACH IT ON THE COLLEGE
LEVEL, YOU HAVE TO GET A Ph.D..
OKAY, I'LL GET A Ph.D..
XAVIER SAY US CAN DO WHATEVER
YOU WANT TO DO.
THEY PREPARED ME, BUILD MY
CONFIDENCE.
I WENT ON AND GOT MY MASTER'S
DEGREE FROM GEORGIA TECH AND
THEN WENT ON TO THE UNIVERSITY
OF MARYLAND AND IT'S
INTERESTING.
THERE WERE THREE OF US.
BUT, YOU KNOW, WE ARE JUST
TRYING TO FOCUS ON FINISHING.
HE SAID, DO YOU KNOW, DO YOU
KNOW?
YOU'RE GOING TO BE THE FIRST.
I SAID FIRST WHAT?
HE SAID FIRST BLACK WOMAN, I
SAID REALLY?
I JUST WANT TO FINISH.
I WANT TO FINISH!
>> SO, I REALLY FEEL THAT WHERE
I AM TODAY IS BECAUSE OF THE
MENTORSHIP AND SUPPORT AND
GUIDANCE THAT I RECEIVED FROM
EVERYONE AT SAVIOR.
FROM PRESIDENT FRANCIS TO
PROVOST BLANCHARD, MY COLLEAGUES
AND PEERS.
THEY CALL ME POSTER CHILD FOR
XAVIER BUT I HAVE A SINCERE LOVE
FOR XAVIER IN MY HEART.
>> LET ME PUSH TO SEE IF WE CAN
GET MORE DETAILS.
YOU TALKED ABOUT SO THE,
ANALYTICAL REASONING.
COULD YOU TALK ABOUT OTHER
PROGRAMS THAT YOU PARTICIPATED
IN THAT PARTICULARLY YOU THINK
PREPARED YOU FOR YOUR STUDIES IN
APPLIED MATHEMATICS?
THERE'S A CONTENT — I ALSO
HEARD YOU — WHICH I WOULD ASK
YOU TO ADDRESS BUT I ALSO HEARD
YOU TALK ABOUT THE SUPPORT
SYSTEM.
IF YOU COULD TALK A LITTLE BIT
ABOUT THOSE.
>> SO, AS I SAID, I PARTICIPATED
IN SOAR 2.
AND WE WERE — DURING THE
SUMMERS WE HAVE ALL OF THESE
PROGRAMS.
WE HAD SOAR 2 THERE.
WE HAD STUDENTS WITH SOAR 1.
WE CALLED IT SOAR 1 AT THE TIME.
WE HAD BIO STAR, CHEM STAR.
MATH STAR, SUPERSTELLAR EXCEL.
ALL OF THESE PROGRAMS ON CAMPUS.
AND I THINK WHAT WAS BEAUTIFUL
ABOUT PARTICIPATEDING IN SOAR 2.
WAS NOT ONLY THE RIGGER OF
ACADEMIC TRAINING, AND WHEN I
SAY RIGGER, IT WAS EXTREMELY
INTENSE.
BUT, HOW THEY CREATED IT, WAS
THAT WE WERE WORKING TOGETHER.
LIKE WE WERE INVESTED IN EACH
OTHER.
YOU KNOW, WE WANTED EVERYBODY TO
SUCCEED AND UNDERSTAND.
SO, WE HAD, YOU KNOW, THESE NEAR
PEERS BEFORE THERE WAS A WORD
FOR IT.
WE HAD COLLABORATIVE LEARNING
BEFORE THERE WAS A WORD FOR IT.
AND SO JUST THE WAY IT'S
STRUCTURED AND THE ONE THING I
ABSOLUTELY LOVE ABOUT THE SUMMER
PROGRAM, IT WAS FUN COMPETITION.
WE HAD THIS THING KNOWN AS
QUIZBALLS.
AND SO WE WOULD STUDY ALL WEEK
VIGOROUSLY, AND FOUR OF US
PARTICIPATE IN THIS TEAM AND WE
WOULD GET QUIZZED ON EVERYTHING
WE LEARNED THAT WEEK.
SO WE'RE COMPETING AGAINST THE
OTHER TEAMS AND IT WAS LIKE,
OKAY, WHO HAS THE BRAGGING
RIGHTS THIS WEEK?
IT'S GOING TO BE US.
SO, YOU KNOW, IT'S LIKE THEY
INSTILLED THIS FUN COMPETITION,
BUT IT WAS ALL WITH THE ULTIMATE
GOAL OF HAVING US BE SCHOLARS
AND REALLY LEARN THE MATERIAL IN
MATH AND SCIENCE.
SO, I LOVED PARTICIPATING IN
SOAR 2.
>> SO YOU'RE IN THE SUMMER
PROGRAM FOR A MONTH AT A TIME
AND THEN YOU GO IN THE FALL AND
RESUME YOUR CLASSES IN MIDDLE
SCHOOL AND HIGH SCHOOL.
HOW WAS THAT TRANSLATION, THAT
TRANSITION?
>> I HAVE TO SAY THAT I ACTUALLY
PARTICIPATED IN SOAR 2 RIGHT
BEFORE I ENROLLED IN XAVIER.
SO, I HAD ACCEPTED TO GO TO
XAVIER BECAUSE XAVIER IS THE
FAMILY SCHOOL AND THAT'S WHEN I
ACTUALLY PARTICIPATED IN SOAR 2.
BUT I WORKED FOR ONE OF THE
SUMMER PROGRAMS, MATH STAR, THAT
DR. BLANCHARD TALKED ABOUT WHERE
WE WERE PREPARED MIDDLE SCHOOL
STUDENTS TO GO ON AND LEARN
ALGEBRA.
AND WHAT I — I KEPT UP WITH THE
STUDENTS THAT I WORKED WITH AT
MATH STAR AND WHAT I FOUND IS
THAT THEY WERE DOING REALLY,
REALLY WELL IN ALGEBRA AND THEY
WERE TALKING ABOUT COMING TO
XAVIER.
THIS IS EIGHTH GRADE.
I'M GOING, I'M GOING TO XAVIER,
YOU'RE AT XAVIER, WE'RE COMING
TO XAVIER.
THE TRANSITION WAS VERY SMOOTH
AND WHAT I FIND THE STUDENTS ARE
MORE SUCCESSFUL WHEN THEY GO
BACK TO THEIR HIGH SCHOOLS.
>> I WANT TO ADDS PART OF THE
JOY AS WELL, EARLY ENGAGEMENT OF
THE STUDENTS.
MANY STUDENTS AT MIDDLE AND HIGH
SCHOOL LEVEL, THEY ARE SOMEWHAT
INTIMIDATED.
THEY DON'T UNDERSTAND WHAT IT
MEANS TO OPERATE ON THE COLLEGE
CAMPUS.
TO HAVE THESE STUDENTS COME ON A
COLLEGE CAMPUS, STARTING AS
EARLY AS 8th GRADE AND ALL OF
THE WAY UP ALL SUMMER.
YOU IMAGINE NOT ONLY DO THEY, AS
DR. INNISS JUST MENTIONED, BY
THE TIME SHE REACHES XAVIER'S
DOORS YOU HAVE THAT FAMILIARITY
OF WHAT IT MEANS TO BE A COLLEGE
STUDENT AND YOU HAVE XAVIER
STUDENTS THAT ARE IN SUMMER
SCHOOL AT THE SAME TIME THAT WE
HAVE ALL OF THESE SUMMER
PROGRAMS RUNNING.
SO YOU'VE GOT LOTS OF
INTERACTION HAPPENING BETWEEN
THE SUMMER PROGRAM PARTICIPANTS
AND XAVIER STUDENTS AND XAVIER
COLLEGE FACULTY AND I THINK
THAT'S REALLY AN IMPORTANT
ASPECT OF IT AS WELL.
HAVING THEM TO UNDERSTAND AND TO
NAVIGATE THAT COLLEGE
ENVIRONMENT, AS EARLY AS
POSSIBLE.
AGAIN, IN — IT DISSOLVES THAT
SENSE OF INTIMIDATION OF WHAT A
COLLEGE CAMPUS OFTEN MEANS IN
PEOPLE'S HEADS, THE PERCEPTION
THAT THEY HAVE, THAT IT'S A
PLACE I CAN'T BE BUT IN
ACTUALITY, IT'S A PLACE THAT YOU
CAN BE.
>> SO, DR. INNISS, NATIONAL
SCIENCE FOUNDATION PLAYED AN
IMPORTANT ROLE AND YOU REFERENCE
THIS IN SUPPORTING XAVIER SUMMER
SCIENCE ACADEMY.
CAN YOU TALK ABOUT THE GRANT
PROGRAMS YOU'RE DIRECTING AND
WHAT THE GOALS ARE AND HOW THEY
ARE DESIGNED TO BROADEN
PARTICIPATION OF STEM FIELDS FOR
CHILDREN OF COLOR AND RACE
ETHNICITY?
>> YES.
THANK YOU FOR THAT.
SO, I WORK AT THE NATIONAL
SCIENCE FOUNDATION.
I ACTUALLY WORK WITH A PROGRAM
CALLED LOUIS STOCK EXCHANGE
ALLIANCE FOR PARTICIPATION.
LETTER KNOWN AS LSM.
IT'S INTERESTING MY PATH OR
DIVINE ORCHESTRATION PROUD ME TO
THIS PLACE.
BECAUSE THE GOAL IS INCREASE
QUALITY AND QUANTITY AT STEM TO
EARN DEGREES.
I WAS AS XAVIER, I SAW WHAT
XAVIER DID.
NOW I GET TO WORK WITH THE
PROGRAM AND WE GET TO MAKE
DECISIONS ABOUT PROGRAMS TO FUND
THAT ARE REALLY MAKING AN EFFORT
AND IMPACT ON STUDENTS OF COLOR
AND HELPING THEM GET BACK
LAUREATE DEGREES IN STEM.
>> SO IN THAT YOU'RE ALSO
PLAYING AN EVALUATION ROLE AS TO
WHAT IS WORKING AND WHAT ISN'T.
SO, OBVIOUSLY, XAVIER IS ONE OF
THE ONES THAT IS PROVING
POSITIVE?
>> YES.
THAT'S CORRECT.
IT'S INTERESTING, I THINK THAT
XAVIER WAS DOING A LOT OF THINGS
THAT WERE RESEARCHED BASED
BEFORE THEY BECAME RESEARCHED
BASED.
SO NOW I'M IN A ROLE WHERE I GET
TO SEE ALL OF THE INNOVATIONS
THAT ARE BEING DONE AND HOW, YOU
KNOW, WE'RE MAKING A DIFFERENCE.
TRYING TO MOVE THE NEEDLE.
LIKE DR. FRANCIS SAYS, THERE'S
STILL A GAP BUT WE'RE DOING OUR
PART TO MAKE SURE WE'RE
ADDRESSING THAT GAP.
>> THANK YOU, LET'S TURN TO
BRANDI TEMPLE.
SHE'S A JUNIOR AT XAVIER
UNIVERSITY MAKERING IN BIOLOGY
AND ALUMNUS OF XAVIER'S SUMMER
STEM PROGRAM.
YOU'VE SEEN THE COMPLETE
PICTURE.
BRANDI, IF YOU COULD TELL US
ABOUT YOUR BACKGROUND, HOW YOU
BECAME INTERESTED IN STEM AND
WHY YOU DID PARTICIPATE IN THE
SUMMER SCIENCE PROGRAMS AT
XAVIER.
>> GOOD MORNING, EVERYONE.
AS YOU MENTIONED I'M A JUNIOR
BIOLOGY MEMBER AT XAVIER, BUT
BEFORE COMING TO XAVIER I GROUP
UP IN BAKER, LOUISIANA OUTSIDE
OF BATON ROUGE, 90 MINUTES FROM
NEW ORLEANS.
SO, NOT TOO FAR FROM HOME.
I WENT TO BATON ROUGE HIGH
SCHOOL.
I GRADUATED.
IN ADDITION TO MY HIGH SCHOOL IT
WAS A COLLEGE PREP SCHOOL.
I HAD THE ADVANTAGE OF HAVING
EARLY EXPOSURE TO LEARNING MY
INTERESTS AND CULTIVATING MY
INTERESTS BEFORE ACTUALLY GOING
INTO COLLEGE.
SO, FROM MY FRESHMAN YEAR IN
HIGH SCHOOL, I KNEW THAT I LOVED
SCIENCE.
I TOOK EXTRA SCIENCE COURSES TO
SEE WHAT PART OF SCIENCE I
REALLY LIKED AND I FOUND OUT I
LOVE BIOLOGY.
EVEN AFTER TAKE THE EXTRA
COURSES I KNEW THERE WAS
SOMETHING I NEEDED BEFORE GOING
INTO COLLEGE WHICH WAS WHAT LED
ME TO XAVIER'S SCIENCE SUMMER
PROGRAM.
I AA STUDENT ATTENDED BEFORE I
DID AND I READ ABOUT HER
EXPERIENCE IN MY HIGH SCHOOL'S
NEWSPAPER.
I HEARD ABOUT XAVIER FROM A
MENTOR OF MINE WHO WAS A
PEDIATRICIAN.
SHE SAID IF YOU WANT TO GO TO
MEDICAL SCHOOL XAVIER IS THE
PLACE TO BE.
XAVIER HAS IT GOING ON.
I LOOKED INTO THIS PROGRAM, I
APPLIED FOR IT.
GOT ACCEPTED AND WENT THERE IN
2011.
FROM THAT EXPERIENCE, LIKE I
SAID, I REALIZED I KNEW I WANTED
TO GO TO MEDICAL SCHOOL.
HOWEVER, EVEN FROM BEING IN THE
SUMMER SCIENCE PROGRAM, MY
INTEREST EXPAND BECAUSE I
LEARNED ABOUT RESEARCH, SO NOW,
INSTEAD OF JUST GOING TO MEDICAL
SCHOOL, I WANT TO GET MY
RESEARCH DEGREE.
SO THAT'S BACKGROUND HOW I GOT
INTO THE SUMMER PROGRAM.
>> SO, COULD YOU TALK WHAT THE
PROGRAM OFFERED AND WHAT WAS
MOST MEANINGFUL FOR YOU IN
PREPARING FOR A STEM DEGREE
PROGRAM?
>> I THINK THE MOST IMPORTANT
THING IS THE OUTRAGEOUS EXPOSURE
TO PROFESSIONALS IN SCIENCE
AREAS.
LIKE I SAID, I KNEW THERE WAS
SOMETHING MORE I NEEDED BEFORE
GOING TO COLLEGE TO HELP ME
PREPARE.
WHAT I REALIZED IT WAS, I DIDN'T
KNOW MY OPTIONS AS FAR AS
CAREERS IN STEM AND BIOLOGY.
AS I MENTIONED, I THOUGHT I
WANTED TO GO TO MEDICAL SCHOOL
BUT AFTER GOING INTO THE
PROGRAMS AND MEETING SO MANY
PEOPLE IN RESEARCH AND WE GOT TO
CHAT IN THE RESEARCH LAB.
SO MY FIRST TIME SEEING CELL ON
A PLATE WAS REALLY FASCINATING.
THAT'S WHEN I DECIDED RESEARCH
WAS SOMETHING I WANTED TO GO
INTO AND LEARN MORE ABOUT.
I THINK THAT WAS THE MOST
IMPORTANT THING.
MY PEERS AND I GOT EXTRA
EXPOSURE TO WHAT WE COULD DO
WITH OUR STEM DEGREES AND HOW
FAR CAN WE GO.
BECAUSE I THINK OFTEN, WITH
AFRICAN-AMERICANS IN PARTICULAR,
WHEN WE REALIZE WE LOVE SCIENCE,
WE IMMEDIATELY THINK, OKAY,
MEDICAL SCHOOL BUT WE DON'T KNOW
ABOUT EVERYTHING ELSE SCIENCE
BRINGS.
WE DON'T KNOW ABOUT ENGINEERING,
MATHEMATICS OR TECHNOLOGY.
THAT OPENED UP A LOT OF DOORS
NOT ONLY FOR MYSELF BUT MY PEERS
WHO REALIZE THEY WANT TO GO INTO
ENGINEERING OR LOVE MATH LIKE
YOU DO.
THAT WAS, I DEFINITELY WOULD
SAY, MOST IMPORTANT WAS THAT
EXPOSURE AND AS DR. FRANCIS
MENTIONED, BECAUSE TALK TO OUR
PEER, TALK ABOUT OUR IDEAS AND
WHAT WE WANTED TO DO AFTER
GRADUATING OR WHAT WE WANTED TO
DO IN COLLEGE.
THAT LED US TO TALK ABOUT
DIFFERENT THINGS WE COULD DO
WITH WHAT WE WERE INTERESTED IN.
AS I MENTIONED BEFORE, WITH ME
WANTING TO GET A Ph.D. THAT CAME
FROM A GROUP LEADER OF MINE WHO
TOLD ME, OKAY, YOU SEEM LIKE YOU
REALLY LOVED THAT RESEARCH LAB.
MAYBE YOU CAN COMBINE THE TWO
INSTEAD OF GIVING UP ON MEDICAL
SCHOOL.
I HAD NO IDEA THAT WAS AN
OPTION.
LIKE REALLY?
HOW DO YOU DO THAT?
THAT'S WHEN HE TOLD ME ABOUT
LOOKING INTO BOTH DEGREES AND
LOOKING INTO THE PROGRAMS THAT
OFFERED BOTH DEGREES.
THAT WAS AMAZING AS WELL.
I WOULD DEFINITELY SAY, THAT
COLLABORATION WITH OUR GROUP
LEADERS AND ALSO AMONGST EACH
OTHER REALLY DID HELP EACH AND
EVERY ONE OF US AS WELL.
ALSO, THE COURSES THAT WE TOOK.
IN MY PROGRAM SPECIFICALLY, WE
TOOK READING, WRITING,
MATHEMATICS AND WE ALSO HAD A
BUSINESS COURSE.
NOW, THAT — I GUESS LOOKING AT
IT, YOU WOULDN'T THINK THAT HAD
ANYTHING TO DO WITH STEM,
HOWEVER, TO BE A GREAT
PROFESSIONAL, YOU HAVE TO KNOW
HOW TO REED.
YOU HAVE TO KNOW HOW TO WRITE.
YOU HAVE TO KNOW MATHEMATICS AND
YOU HAVE TO KNOW BUSINESS SIDE.
BUSINESS INNOVATION IS A HUGE
PART OF ANY STEM PROFESSION.
I THINK THAT REALLY HELPED US TO
KNOW, OKAY.
THIS IS FAR MORE THAN WHAT WE
EVER THOUGHT IT WAS.
WE REALLY HAVE TO START NOW
PREPARING TO BE GREAT
PROFESSIONALS WHICH STARTED — I
DID IT AFTER MY — SUMMER AFTER
MY JUNIOR YEAR, SO, AS JUNIORS
GOING INTO OUR SENIOR YEAR, WE
REALIZED WE HAD A LOT MORE TO DO
BEFORE WE WERE ABLE TO GET TO
THAT NEXT STEP AND ALSO
PROFESSIONALS HELPED US WITH
THAT AS WELL WHEN THEY TOLD US
ABOUT, WE HAVE TO GO TO GRADUATE
SCHOOL AND MEDICAL SCHOOL AND
OTHER PROFESSIONAL SCHOOLS.
THAT WAS ALSO REALLY A HUGE PART
THAT HELPED ME WHEN I WAS THERE,
WHICH IS KNOWING I HAVE TO MAKE
A GAME PLAN AND WE HAD TO MAKE A
FIVE-YEAR PLAN OURSELVES WHEN WE
WERE THERE AS WELL.
THAT HELPED ME TO SEE, LOOK,
THIS IS WHAT I HAVE TO DO.
EVEN WHEN I GET TO XAVIER, DOING
SUMMER PROGRAMS AND RESEARCH
THAT'S A HUGE PART OF IT AND
THAT HELPED TO PREPARE TO GET TO
THE NEXT STEP.
>> DEVELOPING A BUSINESS PLAN,
BRANDI, I'M PREPARED TO BUY
STOCK IN WHATEVER COMPANY YOU'RE
GOING TO BE STARTING IN ABOUT
FIVE YEARS.
>> OKAY.
>> SO, A COUPLE QUESTIONS, FOR
ANYBODY WHO WANTS TO TAKE THEM.
WHY IS MATHEMATICS A STUMBLING
BLOCK FOR STUDENTS IN OUR
STUDENT STEM?
>> I'LL PASS THAT TO YOU.
>> OKAY.
>> FIRST AND FOREMOST AS A
PROFESSOR, I HAVE A PHILOSOPHY.
EVERYONE CAN DO MATH.
EVERYONE CAN UNDERSTAND MATH.
IT'S HOW IT'S TAUGHT.
IN TERMS OF THE LARGEST BARRIER,
TWO THING, ONE, STUDENTS MAY
ENCOUNTER TEACHERS WHO ARE
INTIMIDATED BY MATH OR HAVE A
FEAR OF IT AND, TWO, THEY JUST
DON'T HAVE THE SELF-CONFIDENCE
TO SAY, REALLY, I CAN DO THIS.
SO, I CREATED A SUPPORTIVE
ENVIRONMENT, IN MY CLASSROOM AT
SPELLMAN BASED ON WHAT I LEARNED
AT XAVIER BY SAYING, WE'RE GOING
TO HELP EACH OTHER.
YOU CAN DO IT AND YOU WILL DO
IT.
>> AND PERHAPS ON A BROADER
BASIS, WHAT ARE SOME OF THE
MAJOR CHALLENGES FOR YOUNG
PEOPLE THAT DO WANT TO PURSUE A
STEM CAREER?
YOU SAID, DR. BLANCHARD, YOU
OBVIOUSLY CREATED THIS PROGRAM
BECAUSE YOU SAW THE CHALLENGE.
WHAT IS IT YOU SAW KEEPING
STUDENTS —
>> A LOT OF IT TIES INTO WHAT
DR. INNISS JUST MENTIONED AND
THAT IS THE FEAR OF THE STEM
DISCIPLINES AND NOT REALLY
HAVING THAT BROAD UNDERSTANDING
OF WHAT CAN YOU ACTUALLY DO WITH
A STEM DEGREE AS MISS TEMPLE
JUST MENTIONED BEYOND BECOMING A
MEDICAL DOCTOR.
AND, SO, I THINK THAT ONE OF THE
MOST IMPORTANT ASPECTS IS THAT
EARLY EXPOSURE, NOT ONLY TO STEM
PROFESSIONALS, BUT HELPING THEM
TO REALLY UNDERSTAND, AS IT
RELATES TO THE DEVELOPMENT OF A
PLAN, OF HOW YOU ACTUALLY CAN
TAKE THE STEPS THAT YOU NEED, IN
ORDER TO SURE UP YOURSELF IN
SUCH A WAY WHERE YOU REALLY CAN
ARRIVE AT BECOMING THAT STEM
PROFESSIONAL THAT YOU DESIRE.
AND THAT IT GOES WAY BEYOND JUST
THE M.D. AND THAT THE
INTERESTING PART IS THAT WE HAVE
MANY UNIVERSITIES THAT COME IN
TO RECRUIT OUR XAVIER STUDENTS
IN STEM DISCIPLINES.
YOU CAN IMAGINE IT'S THROUGH THE
ROOF AND WE'RE HAPPY ABOUT THAT.
AND IT'S INTERESTING TO SEE
THAT, ALTHOUGH WE DO A — WE
THINK WE DO A FINE JOB IN MAKING
SURE XAVIER STUDENTS UNDERSTAND
ALL OF THE OPTIONS THEY HAVE IN
STEM DISCIPLINES, WHEN THESE
UNIVERSITIES COME IN AND THEY
BEGIN TALKING ABOUT ALL OF THESE
OTHER TYPES OF INNOVATIVE
SCIENTIFIC AND MATHEMATICAL
PROGRAMS THAT LEADS TO THESE
KINDS OF CAREERS THAT THEY HAD
NOT KNOWN ABOUT.
IT'S SO AMAZING TO WATCH THEM,
AND MORE IMPORTANTLY TO REALLY
UNDERSTAND HOW THEY ARE TRYING
TO RESHAPE THEIR CAREER PLANS IN
ORDER TO MEASURE UP TO THE KIND
OF PROFESSION THAT THEY HAD NOT
HEARD OF BEFORE.
SO, I THINK THE BEAUTY OF IT IS
THAT IF WE CAN START EARLY ON,
AS WE HAVE BEEN TRYING TO DO AT
XAVIER AND BEEN SUCCESSFUL OF
THAT FOR MANY YEARS.
EARLY EXPOSURE, NOT ONLY TO STEM
PROFESSIONALS OF BROAD FIELDS
BUT IN ADDITION TO THAT, REALLY
HELPING THEM TO UNDERSTAND THAT
THERE IS A PATHWAY THAT YOU HAVE
TO TAKE IN ORDER TO REACH THAT
PARTICULAR GOAL, AND THAT IT'S
NOT ALWAYS GOING TO BE EASY, BUT
THAT AS LOG AS YOU UNDERSTAND
THAT YOU'VE GOT THE CONFIDENCE
IN YOURSELF TO DO IT, BUT MORE
IMPORTANTLY YOU'VE GOT TO TAKE
ADVANTAGE OF ALL OF THE SUPPORT
SERVICES IMAGINABLE, NOT JUST
THE UP WITHES WITHIN THE
UNIVERSITY SETTING BUT THOSE
WITHIN THE COMMUNITIES,
ESPECIALLY THE MINORITY
COMMUNITIES THAT ARE AVAILABLE,
THAT ALL OF THAT TOGETHER REALLY
HELPS TO SHAPE YOU INTO THE
PERSON THAT YOU ULTIMATELY CAN
BECOME.
>> I THINK THAT'S A GREAT SEGWAY
TO OUR NEXT SPEAKER, AND I'M
DELIGHTED TO BE ABLE TO
INTRODUCE MICHAEL SMITH, SPECIAL
ASSISTANT TO THE PRESIDENT OF
THE UNITED STATES AND SENIOR
DIRECTOR OF CABINET AFFAIRS FOR
"MY BROTHER'S KEEPER" AT THE
WHITE HOUSE.
IN HIS ROLE HE MANAGES THE
PRESIDENT'S INITIATIVE TO FACE
PERSISTENT OPPORTUNITY GAPS
FACED BY BOYS AND ALL PEOPLE OF
COLOR TO MAKE SURE ALL YOUNG
PEOPLE CAN REACH THEIR FULL
POTENTIAL.
>> THANK YOU, GOVERNOR.
IT'S GREAT TO PEA HERE AND BRING
GREETINGS FROM THE WHITE HOUSE A
FEW BLOCKS DOWN THE ROAD.
SITTING HERE AND LISPING TO THIS
PANEL, I THOUGHT OF THIS
TRADITION, THAT YOU WILL BE
KNOWN BY YOU WORK, BY WHAT YOU
FIELD, YOU PRODUCE.
NOT WHAT YOU SAY, YOU DESIGNED,
YOUR GLOWING ORATORY.
AS I LISTEN TO DR. INNISS AND
DOCTOR-TO-BE TEMPLE, WHAT A
POWERFUL THING TO BE KNOWN FOR,
WHAT YOU HAVE DONE,
DR. BLANCHARD AND DR. FRANCIS,
AT XAVIER IS REMARKABLE.
I'M INSPIRED AND SO GLAD,
GOVERNOR WISE, THAT YOU'RE
SIGNING A SPOTLIGHT OP THIS WORK
TODAY.
IT'S AN HONOR TO BE HERE TODAY.
AN HONER TO SOMEWHAT SHARE THE
STAGE WITH DR. FRANCIS WHO IS A
LEGEND AMONG US, TOILING IN
THESE FIELDS FOR DECADES,
EXPANDING OPPORTUNITY AND
BIDDING LADDERS FOR OPPORTUNITY
AND HELPING LEVEL THE PLAYING
FIELD.
IT'S AN HONOR TO BE HERE WITH
THEM.
IT'S FUNNY YOU HEAR GRAMMY AWARD
WINNER OR ACADEMY AWARD WHIPPER
X.
I FEEL WE SHOULD SAY
PRESIDENTIAL MEDAL OF FREEDOM
WINNER, DR. FRANCIS.
WHAT A LIGHT TO COMMITMENTS OF
COMMUNITIES IN MOST NEED.
I THOUGHT I WOULD TALK A LITTLE
ABOUT "MY BROTHER'S KEEPER" AND
THE CHALLENGE THAT LIES BEFORE
US, THAT THIS WORK IS REALLY
HELPING TO ADDRESS.
WE ALL KNOW THE CHALLENGES IN
THIS ROOM.
I THINK MANY HAVE SEEN "THE
WASHINGTON POST" ARTICLE THAT
SAID, POOR KIDS THAT DON'T DO
EVERYTHING RIGHT DON'T DO BETTER
THAN RICH KIDS THAT DO
EVERYTHING WRONG.
MORE AND MORE IN THIS COUNTRY,
IF WE DON'T PAUSE YOUR ZIP CODE
WILL BE A DETERMINING FACTOR
WHERE YOU END UP IN THIS
COUNTRY, THE GREATEST COUNTRY ON
THE FACE OF THE EARTH.
LAND OF OPPORTUNITY WHERE
EVERYTHING IS POP, ANYTHING IS
IN YOUR FUTURE.
IF WE DON'T PAUSE THAT PROMISE
MIGHT NOT BE TRUE.
WE KNOW THE STATS FOR BOYS AND
YOUNG MEN OF COLOR.
COMES FROM EVERYTHING TO THE
DROP-OUT CRISIS, WHEN IT COMES
TO READING BY THIRD GRADE, WHEN
IT COMES TO UNEMPLOYMENT, THEY
FALL STAGGERINGLY BEHIND YOUR
PEERS.
WHEN YOU LOOK AT THINGS BEHIND
THE JUVENILE JUSTICE SYSTEM,
LOOK AT HOMICIDES, FOR INSTANCE
BLACK BOYS MAKE UP 6% OF THE
POPULATION BUT OVER HALF OF OUR
NATION'S MURDER VICTIMS.
AT THE SAME TIME, THESE YOUNG
PEOPLE ARE NOT TALENTED.
WE KNOW THERE ARE BOYS AND YOUNG
OF COLOR IN COLLEGE THAN IN
JAIL.
WE KNOW THREE OUT OF FOUR ARE
DRUG FREE.
SEVEN OF 8 ARE NOT TEENAGE
FATHERS.
11 OUT OF 12 ARE NOT IN HIGH
SCHOOL.
THEY SERVE IN MILITARIES.
THAT'S WHY THE PRESIDENT CREATED
"MY BROTHER'S KEEPER."
ALMOST A YEAR AGO, FEBRUARY 7th
HE LAUNCHED IT TO ADDRESS
OPPORTUNITY GAPS FACED BY BOYS
AND YOUNG MEN OF COLOR AND
ENSURE ALL YOUNG PEOPLE IN THIS
COUNTRY CAN REACH THEIR FULL
POTENTIAL.
WEIR IMPLEMENTING A CRADLE TO
COLLEGE CAREER STRATEGY JUST NOT
PICKING ONE MOMENT OF A BOY OR
YOUNG MAN OF COLOR BUT LOOKING
AT THAT WHOLE SPECTRUM.
WE'RE LASER FOCUSED ON KEY
INTERVENTION.
BEFORE I TOOK THIS JOB I RAN THE
SOCIAL INNOVATION FUND FOR THE
ADMINISTRATION.
LOOK AT STATS.
1 IN 8 NONPROFIT SPEND ZERO
DOLLARS ON EVALUATION.
52% DO HAVE A THEORY OF CHANGE
OR LOGIC MODEL.
WE HAVE TO FOCUS ON WHAT WORKS
BY LOOKING AT WHAT IS
INNOVATIVE.
TRY NEW THINGS FROM TIME TO
TIME, BUT NEED TO KNOW WHEN TO
SHUT THOSE EXPERIMENTS DOWN WHEN
THEY ARE NO LONGER WORKING AND
WE'LL FOCUS ON KEY MILESTONES ON
BOYS AND YOUNG MEN OF COLOR.
AIMS ZERO TO 24 HA THE MOST
IMPACT AND THOSE GO FROM
ENTERING SCHOOL READY TO LEARN
AND REDUCING VIOLENCE AND
PROVIDING YOUNG KIDS WITH A
SECOND CHANCE.
IT'S ABOUT THREE THINGS.
WE CONTINUE TO MAKE A PROMISE,
IN AMERICA IF YOU WORK HARD AND
PLAY BY THE RULES, WE HAVE THE
RESPONSIBILITY TO HELP YOU
SUCCEED NOT JUST BECAUSE IT'S
THE RIGHT THING TO DO BUT WE
KNOW WHEN ALL OF OUR CHILDREN
SUCCEED.
WE START TO BELIEVE OUR
NEIGHBORS CHILDREN AND OUR
CHILDREN WE AS A NATION SUCCEED.
IT'S ALSO REALIZING DESPITE HOW
HARD YOUNG PEOPLE AND BOYS AND
YOUNG MEN OF COLOR WORK, THERE
ARE UNFAIR BARRIERS AND
OBSTACLES IN THEIR WAY.
WE HAVE TO REMOVE THOSE
OBSTACLES.
WE HAVE TO GET IN THE WAY LIKE
DR. FRANCIS AND XAVIER TEAM HAS
FOR MANY YEARS AND REMOVE THOSE
BARRIERS.
THIRD IS IT'S AN ECONOMIC
IMPERATIVE.
WE CAN NO LONGER AFFORD TO HAVE
SO MANY YOUNG PEOPLE SITTING ON
THE SIDELINES NOT IN SCHOOL AND
NOT WORKING IF WE'RE TO REMAIN
GLOBALLY COMPETITIVE.
WE HAVE TO PAUSE.
I THINK THERE'S A STAT AND YOU
KNOW BETTER THAN I DO.
BY 2018 THERE WILL BE 2.4
MILLION STEM CAREER JOBS LEFT
UNFULFILLED.
WE'VE DOUBLED THE UNEMPLOYMENT
RATE FOR BLACK AND LATINO MEN IN
THIS COUNTRY BUT WE HAVE ALL OF
THESE JOBS THAT WILL GO
UNFULFILLED.
WE HAVE A SOLUTION AND CAN DO
SOMETHING ABOUT IT FROM THE WORK
WE'RE DOING.
WHAT WE'RE DOING, THERE'S A
FEDERAL TASK FORCE, EVERY
CABINET MEMBER SITS ON THAT TASK
FORCE AND MAKES RECOMMENDATIONS
TO THE PRESIDENT AND ACTIVELY
PURSUING POLICIES AND WE'LL
RELEASE A REPORT THAT SHOWS ALL
SORTS OF INCREDIBLE THINGS ALONG
THESE MILESTONES FROM
ELIMINATING SUSPENSIONS AND
EXPULSION, NEW CORRECTIONAL
EDUCATION GUIDANCE.
THERE'S A SUMMIT ON EARLY KED
EDUCATION WHERE A BILLION
DOLLARS OF INVESTMENTS WERE
ANNOUNCED.
$70 BILLION TO SUPPORT HEALTHIER
LEARNING ENVIRONMENTS IN SCHOOLS
ACROSS THE COUNTRY.
GO ON AND ON.
EVEN LOOK AT THE FUTURE AND LOOK
AT THE PRESIDENT'S BUDGET WHEN
IT COMES TO HBCUs THE GOVERNMENT
PRICE $200 MILLION FOR THE FIRST
IN THE WORLD FUND.
$120 MILLION INCREASE OVER THE
2015 FUNDING LEVEL AND SETS
ASIDE 30% OF THE FUNDING FOR
MINORS SERVING INSTITUTIONS.
THIS IS AN ADMINISTRATION THAT
DEEPLY BELIEVES IN THIS ISSUE,
TRYING TO MAKE SURE WE ALINE OUR
RESOURCES WHERE OUR PASSION IS.
THIS IS SOMETHING THE PRESIDENT
CARES ABOUT.
WE HAVE POLICY TASK FORCE.
A STRATEGY WHERE THERE ARE 200
COMMUNITIES ACROSS THE COUNTRY.
MAYORS, TRIBAL LEADERS AND
COUNTY EXECUTIVES.
THAT ACCEPTED MY BROTHER'S
KEEPER AND THEY ARE IMPLEMENTING
PLANS.
THEY HAVE 180 DAYS TO START
IMPLEMENTING PLANS TO REDUCE
THESE OPPORTUNITY GAPS FOR BOISE
ANDDOWN MEN OF COLOR AND LASTLY
THERE'S TONS OF PRIVATE SECTOR
SUPPORT.
THIS IS SOMETHING THE GOVERNMENT
CAN'T DO ALONE.
LOCAL GOVERNMENT AND FEDERAL
GOVERNMENT ARE ALL WORKING
TOGETHER.
MAGIC JOHNSON, RECENTLY RETIRED
CEO OF DELOITTE HAVE HELPED TO
BRING IN HUNDREDS OF MILLIONS OF
DOLLARS FROM PHILANTHROPY.
THAT IS AN OVERVIEW WHAT WE'RE
TRYING TO DO TO MAKE SURE WE'RE
LIFTING ALL BOATS.
NOT ONLY THE HUGE CHALLENGE FROM
BOYS AND YOUNG MEN OF COLOR BUT
ALL CHILDREN ESPECIALLY THOSE
MOST VULNERABLE HAVE AN
OPPORTUNITY TO SUCCEED.
>> THANK YOU, AGAIN, DR. WISE,
DR. XAVIER, DOCTOR, DOCTOR,
DOCTOR, DOCTOR, EXCITED TO BE
HERE AND THE WORK YOU'RE DOING.
>> THANK YOU VERY MUCH.
FROM THE WHITE HOUSE AND THAT
PRESENTATION.
I JUST LIKE TO FOLLOW UP, ON
SOMETHING YOU SAID, AND WAS SAID
BY EARLIER SPEAKERS AS WELL.
XAVIER GOT INTO THIS BECAUSE OF
THE MORAL IMPERATIVE.
THIS IS ALSO, WHAT YOU MENTIONED
AS WELL, THE MORAL IMPERATIVE IS
NOW JOINED WITH THE ECONOMIC
IMPERATIVE.
BECAUSE WE.
>> Chris:ED THE MILESTONES — WE
CROSSED A MILESTONE IN 2014 AND
THAT IS FOR THE VERY FIRST TIME,
THE MAJORITY OF STUDENTS IN OUR
PUBLIC SCHOOL SYSTEM ARE
STUDENTS OF COLOR, SO IT IS NOW
NOT JUST A MORAL IMPERATIVE.
BUT IT IS A VITAL ECONOMIC
IMPERATIVE THAT THEY DO WELL.
IT'S VITAL FOR TWO REASONS
ECONOMICALLY.
YES, MISS SMITH, AS YOU
MENTIONED, THEY ARE OUR WORK
FORCE OF THE FUTURE, ABILITY TO
FILL 2.4 MILLION STEM JOBS.
EVEN MORE THAT ARE — REQUIRE A
HIGHER SKILL LEVEL IF FOLKS
AREN'T ABLE TO ACHIEVE THAT
SKILL LEVEL.
SO WE HAVE SEVERAL MILLION JOBS
THAT ARE WANTED RIGHT NOW, NEED
PEOPLE TO FILL.
SO IT'S THE WORK FORCE ISSUE.
THERE'S A CONSUMER ISSUE AS
WELL.
OUR ECONOMY IS TWO-THIRDS DRIVEN
BY CONSUMPTION.
THAT'S WHAT YOU AND I GO AND
SPEND.
WHETHER THE MALL, BUYING
SERVICES, GOING TO THE DOCTOR,
BUYING AN AUTOMOBILE, A HOUSE,
SO, TWO-THIRDS OF OUR GD GROSS
DOMESTIC PROFIT ARE CONSUMER
DRIVE.
SO THOSE KIDS, ARE THEY GOING TO
BE $10 AN HOUR CONSUMERS OR $30,
$450, $50 AN HOUR CONSUMERS WHO
DO WE WANT TO TALK INTO YOUR
MALLS OR SERVICE CENTERS?
THE ABILITY TO DRIVE AN
ECONOMY — THAT'S WHY I THINK
THE PRESIDENT'S INITIATIVES SO
IMPORTANT, BECAUSE THE SINGLE
GREATEST ECONOMIC PACKAGE IS A
DIPLOMA, OR HIGHER EDUCATION.
SOME KIND OF POST SECONDARY
ATTAINMENT.
SO, THAT'S WHY WHAT XAVIER IS DO
SOMETHING SO IMPORTANT AND WHY
WE WANT TO HIGHLIGHT IT, BOTH
THE MORAL IMPERATIVE, BUT ALSO
THIS IS WHAT OUR COUNTRY WILL
RISE OR FALL ON IN SO MANY WAYS.
AND, SO, THANK YOU FOR BRINGING
THAT UP AND GIVING US AN EVEN
BROADER LENS TO LOOK AT THIS
THROUGH.
SO, LET ME — WE HAVE A FEW
MINUTES REMAINING.
LET ME SEE IF THERE ARE ANY
QUESTIONS FROM THE AUDIENCE.
>> YES?
>> AND WE HAVE A MICROPHONE
COMING OVER TO YOU.
>> THANK YOU.
GOOD AFTERNOON.
I WORK AT THE NATIONAL COUNCIL.
I SAW WE HAVE A INITIATIVE IN
LOUISIANA.
THIS IS REALLY EXCITING BECAUSE
WE'RE HIGHLIGHTING WORK THAT IS
ACTUALLY MEANINGFUL AND WORKING.
THANK YOU FOR DOING THAT.
MY QUESTION IS, IF YOU COULD
DESCRIBE THE PROFILE OF A
STUDENT THAT IS GOING TO THE
PROGRAM, THE SUMMER PROGRAM AT
THE MIDDLE SCHOOL LEVEL AND ALSO
THE HIGH SCHOOL LEVEL.
WHAT KIND OF STUDENT ARE WE
LOOKING AT?
>> IT RANGES BUT IF WE WERE TO
LOOK AT THE AVERAGE STUDENT, AT
THE MIDDLE SCHOOL LEVEL, IT'S
TYPICALLY STUDENTS WHO COME FROM
EITHER MEDIUM OR LOW PERFORMING
SCHOOLS, AND STUDENTS WHO
OFTENTIMES DO GET SOME SUPPORT
IN THE K-12 SETTING, BUT NEED
ADDITIONAL SUPPORT IN ORDER TO
REALLY HELP THEM TO ACHIEVE AND
BE ABLE TO MASTER A COLLEGE
CURRICULUM.
AND THE SAME HOLES TRUE
OFTENTIMES FOR HIGH SCHOOL.
NOW, DON'T GET ME WRONG.
THEY ARE NOT ALL COMING FROM LOW
OR MEDIUM-RISK SCHOOLS.
WE DO HAVE A NUMBER OF THEM
COMING FROM THE HIGH-PERFORMING
SCHOOLS, BUT STILL, EVEN WITH
THE KIND OF PREPARATION THAT
THEY RECEIVED, AND YOU HEARD
BRANDI TALK ABOUT THAT, THAT SHE
REALLY WANTED TO SHORE UP EVEN
MORE TO MAKE SURE THAT SHE
COULD, AND THAT OTHER STUDENTS
COULD, COMING FROM THOSE
HIGH-PERFORMANCE SCHOOLS, REALLY
BE ABLE TO NOT ONLY MAKE IT
THROUGH OUR COLLEGE BUT TO LAND
IN THE CAREERS, THE STEM CAREERS
THAT THEY WANT TO LAND IN.
IT'S A BROAD ARRAY.
IT'S NOT ONLY AFRICAN-AMERICAN
STUDENTS.
WE'VE GOT — XAVIER HAS CHANGED
OVER THE YEARS IN TERMS OF
STUDENT DEMOGRAPHICS TO THE
POINT WHERE, AT ONE POINT, ABOUT
10 OR 12 YEARS AGO, WE WERE 90%
AFRICAN-AMERICAN STUDENTS.
NOW WE'RE 70% AFRICAN-AMERICAN
STUDENTS AND THE SECOND LARGEST
DEMOGRAPHIC GROUP ARE VIETNAMESE
AMERICAN STUDENTS AT XAVIER.
SO, THE REALITY IS THAT THE
VALUE OF WHAT WE HAVE BEEN ABLE
TO DO AT XAVIER, LARGELY THROUGH
THOSE SUMMER SCIENCE PROGRAMS,
THAT THAT HAS BEEN REALLY GOOD,
NOT ONLY FOR THE
AFRICAN-AMERICAN COMMUNITY, BUT
OBVIOUSLY FOR OTHER COMMUNITIES
AS WELL, THAT REALLY UNDERSTAND
THAT XAVIER HAS SOMETHING IN
PLACE THAT REALLY HELPS THOSE
STUDENTS TO GET TO THEIR END
GOAL OF EITHER BECOMING A
MEDICAL DOCTOR AND/OR A Ph.D. IN
STEM DISCIPLINES.
>> OTHER QUESTIONS?
>> DOCTOR INNISS, I THINK YOU
ALLUDED TO THIS AND WANT TO SEE
IF YOU CAN SAY MORE ABOUT IT.
>> THE FEEDBACK TO HIGH SCHOOL
STUDENTS WHERE MASKING AN
STUDENT IN THE FIRST
INSTRUCTION, ARE YOU ABLE TO
CREATE FEEDBACK LOOPS TO THE
HIGH SCHOOL TEACHERS?
>> THROUGH THE SUMMER PROGRAMS
OR NSF?
>> OKAY, I'LL SAY FOR THE SUMMER
PROGRAMS.
BUT, YES.
WHAT HAPPENS IS THAT, XAVIER HAS
LONG HAD THIS MATH SCIENCE
TEACHER INITIATIVE AND WHAT IT'S
DESIGNED TO DO IS TO WORK —
IDENTIFY FACULTY MEMBERS.
MANY OF THEM WHO HAVE STUDENTS
IN THEIR CLASSES WHO COME
THROUGH OUR SUMMER SCIENCE
PROGRAMS, WHO EITHER FEEL
THEMSELVES THAT THEY NEED MORE
WORK IN THE AREA, AND THAT THEY
REALLY WANT A BETTER
UNDERSTANDING OF THE BEST
PRACTICES AS IT RELATES TO
MATHEMATICS INSTRUCTION, OR THE
FACT PRINCIPALS WILL NOMINATE
FACULTY MEMBERS TO COME THROUGH
RESPECTIVE INITIATIVE THAT WE'VE
GOT.
IT'S TWOFOLD IN TERMS OF MATH
SCIENCE TEACHER INITIATIVE.
YOU CAN EITHER PURSUE A MASTERS
DEGREE, OBVIOUSLY BEING EXPOSED
HEAVILY TO HIGH QUALITY
MATHEMATICAL INSTRUCTION THAT'S
BASED IN, PERHAPS, NONTRADITION,
OR YOU CAN JUST COME IN AND
PARTICIPATE IN A SERIES OF
WORKSHOPS THAT ARE AVAILABLE
THROUGH THE UNIVERSITY AND THAT
USUALLY OCCURS DURING THE
ACADEMIC YEAR BUT ALSO HAS A
SUMMER COMPONENT.
SO, WITH THAT, IT'S PROVIDING
THOSE TEACHERS AN OPPORTUNITY TO
CONTINUE TO DEVELOP THEMSELVES
IN SUCH A WAY WHERE THEY,
THEMSELVES NOT ONLY BEING
EXPOSED TO SOME OF THOSE BEST
PRACTICES BUT CAN MORE
IMPORTANTLY IMPLEMENT IT
DIRECTLY IN THEIR INSTRUCTION
AND WATCH THE KIND OF IMPACT IT
HAS ON K THROUGH 12 STUDENT
LETTERING AND WE'RE ABLE TO TAKE
THAT DATA AND SHOW THAT HOW THE
IMPACT THAT THEY'RE GOING
THROUGH THE MSTI IS WHAT IT'S
KNOWN AS.
IMPACT THAT MSTI HAS HAD ON THE
K THROUGH 12 LEARNING OF
STUDENTS.
OF COURSE YOU HAVE OTHER FACTORS
INVOLVED.
>> BUT THE REALITY, WE'VE BEEN
ABLE TO HAVE A CLEARING HOUSE
DATA TO SHOW THE KIND OF
EVIDENCE, IF YOU'RE REALLY
INTERESTED IN SHORING UP YOUR
SKILLS AS A TEACHER, WE'VE GOT A
PATHWAY TO HELP YOU TO DO THAT.
>> TELL ME YOUR NAME?
>> ELIZABETH.
>> I CAN SPEAK ABOUT THE POINT
OF NATIONAL SCIENCE FOUNDATION
AND WHAT WE FUND.
I'M IN THE EDUCATION AND HUMAN
RESOURCES DIRECTATE.
SO WE HAVE THIS PROGRAM CALLED
DISCOVERY RESEARCH, 2 THROUGH 12
AND A LOT OF FUNDED PROGRAMS
THEY ARE GEARED TOWARDS
PROFESSIONAL DEVELOPMENT OF
TEACHERS.
>> ALL OF THE RESEARCH BASED —
IT'S REALLY KIND OF GETTING IT
FROM THE RESEARCHERS TO THE
PRACTITIONERS.
SO WE'RE TRYING TO, I GUESS,
CLOSE THE GAP BETWEEN THE
RESEARCH THAT'S BEING DONE.
THEN TEACHERS IMPLEMENT IN THEIR
CLASSROOMS.
WE FUND A LOT OF CLASSROOMS THAT
ARE GEARED TOWARDS SHORING OF
THE SKILLS OF K THROUGH 12
TEACHERS.
>> I HAVE A QUESTION.
SO, HOW DO YOU RECRUIT STUDENTS
AND MAKE STUDENTS AWARE OF THIS
OPPORTUNITY, STARTING STUDENT
THE IN MIDDLE SCHOOL?
>> IT'S BEEN QUITE NATURAL.
IF YOU'VE DONE IT FOR 30 YEARS.
PEOPLE TEND TO KNOW.
BUT IT'S THROUGH OUR WEBSITE.
IT'S RIGHT ON THE WEB PAGE.
WE'VE BEEN REALLY FORTUNATE THAT
YOU REALLY HAVEN'T HAD TO
RECRUIT, BECAUSE OF THE VALUE
THAT THE SUMMER SCIENCE ACADEMY
HAS HAD IN THE LIVES OF SO MANY
STUDENTS FOR YEARS THAT IT'S
BECOME COMMON KNOWLEDGE
CERTAINLY NOT ONLY WITHIN THE
NEW ORLEANS REGION AND
THROUGHOUT THE STATE AND
COUNTRY.
I SHOULD HAVE MENTIONED THAT,
THEY COME FROM ALL OVER THE
UNITED STATES.
IT'S NOT JUST BECAUSE THEY STAY
WITHIN OUR DORMITORIES AND THEY
UNDER WHAT IT'S LIKE TO EAT IN A
COLLEGE CAFETERIA.
THE REALITY, IT'S BEEN
FORTUNATE.
THAT IT'S BEEN LOW RECRUITMENT.
WE'VE POSTED ON THE WEBSITE.
I TELL YOU, IT'S POSTED RIGHT
NOW AND I CAN IMAGINE, WE'VE GOT
OUR DIRECTOR OF THE SUMMER
SCIENCE ACADEMY WITH US, AND SHE
WOULD PROBABLY SAY, WE REACHED
OUR MAX.
BECAUSE THEY FILL UP VERY, VERY
FAST.
>> THANK YOU VERY, VERY MUCH.
>> AND I WANT TO THANK ALL OF
OUR GUESTS WHO BRAVED THE COLD
AND TO YOU, OUR AUDIENCE
MEMBERS, FOR JOINING US TODAY, A
FEW PARTICIPATING DIGITALLY,
HOPEFULLY, YOU'RE NOT AS COLD.
THE WEBCAST FOR THIS EVENT, IS
ARCHIVED ON THE ALLIANCE
WEBSITE.
WWW ALL4ED.ORG/WEBINARS.
AND THE REPORT THIS PANEL IS
DISCUSSING, BIDDING A STEM
PATHWAY, ALSO AVAILABLE ON THE
ALLIANCE WEBSITE, AT
WWW.ALL4ED.ORG/STEM.
WE WILL CLOSE OUT — BEFORE WE
CLOSE OUT, I WANT TO THANK ALL
OF YOU FOR PARTICIPATING,
BRANDI, DR. INNISS,
DR. BLANCHARD, AND CERTAINLY
DR. FRANCIS FOR PARTICIPATING
BUT ALSO FOR WHAT YOU'RE DOING
TO NOT ONLY ENRICH THE LIVES OF
MANY STUDENTS, BUT ALSO TO BRING
FORWARD WHAT IT IS THAT YOU'RE
DOING, AND WHAT OTHERS CAN BE
DOING AS WELL.
>> WE — CAN I JUST QUICKLY
SAY — I KNOW WE'RE ABOUT TO
CLOSE OUT.
I WOULD BE REMISS IF I WEREN'T
TO SAY THANK YOU TO YOU,
GOVERNOR WISE AND DR. MARIANA
HAYNES.
AS MICHAEL SMITH CALLED IT,
PUTTING THE SPOTLIGHT ON XAVIER.
THE REALITY — AND I'LL BE BRIEF
WITH THIS — DR. FRANCIS, AS YOU
WELL KNOW, IS RETIRING FROM
XAVIER AFTER 47 YEARS SERVICE TO
THE UNIVERSITY.
I WOULD SAY TO YOU THAT THE ONE
POINT OF PRIDE THAT HE HAS
ALWAYS HAD, AND N EVERYWHERE HE
GOES, THAT HE TALKS ABOUT.
IS THIS SUMMER SCIENCE ACADEMY,
BECAUSE HE UNDERSTANDS THE RICH
VALUE THAT IT'S HAD IN THE LIVES
OF SO MANY YOUNG PEOPLE, WHO ARE
NOW LEADING PROFESSIONALS IN
STEM DISCIPLINES BUT THE LAST
THING I'LL SAY, HE ALWAYS SAYS
THIS.
THERE'S A LOT OF WORK STILL TO
BE DONE AND WHAT I MEAN BY THAT,
IF YOU THINK ABOUT XAVIER
UNIVERSITY, WE'VE NEVER HAD ANY
MORE THAN 4,000 STUDENTS FOR —
AS LONG AS WE HAVE BEEN IN
BUSINESS, BUT YET, WAS ONLY
4,000 STUDENTS TOTAL, WE ARE
NUMBER ONE IN THE MATH AND
SCIENCES FOR MEDICAL SCHOOL AND
NUMBER THREE IN THE STEM
DISCIPLINES FOR Ph.D.s.
THINK ABOUT ALL OF THE
UNIVERSITIES IN THE COUNTRY THAT
WE HOLD THAT DESIGNATION.
WHILE IT IS A POINT OF PRIDE,
IT'S ALSO A POINT OF
UNDERSTANDING, THAT THERE IS
STILL SO MUCH WORK TO BE DONE IN
ORDER TO REALLY GET TO THE POINT
WHERE WE REALLY ARE SERIOUS IN
THESE UNITED STATES, ABOUT
PREPARING MORE MINORITIES FOR
STEM DISCIPLINES AND AS YOU
SAID, GOVERNOR WISE, IT REALLY
ISN'T JUST A MORAL IMPERATIVE
AND WE HOLD FAST TO THAT, BUT WE
DO BELIEVE IT'S ALSO A CIVIC AS
WELL AS ECONOMIC IMPERATIVE.
>> THANK YOU VERY MUCH.
AND I CAN'T THINK OF BETTER
WORDS TO CONCLUDE THE PANEL ON
AND WE'LL CLOSE OUT TODAY'S
EVENT WITH A FINAL LOOK OF
ANOTHER CLIP OF FIVE MINUTES
LONG OF STUDENTS IN ACTION AT
THE XAVIER SUMMER SCIENCE CAD
MY.
>> BEFORE YOU DO, LET ME THANK
YOU —
MM
>> 20.6 GRAHAMS OF —
>> ONE IMPORTANT WAY XAVIER
PROGRAMS BUILD SCHOLARS IS BY
DEVELOPING THEIR ABILITY TO
REFLECT ON LEARNING AND MAKE
ADJUSTMENTS.
>> USING VARIETY OF STRATEGY
THEY LEARN MORE OF WHAT THEY
KNOW AND HOW THEY LEARN.
LOOK AT S.A.T. SCORES, THE
MEASURE FOR COLLEGE AND ONE OF
THE TOUGHEST NEEDLES TO MOVE.
>> I HAVE A STUDENT, MICHAEL,
WHO CAME INTO THE PROGRAM AND
BEGAN WITH 17 ON THE S.A.T. BUT
THEY WORKED THROUGH THE PROGRAM
AND NOW 21 ON THE S.A.T.
BUT THE PROGRAM IS ALSO WHERE
THEY CAN GO BACK TO OUR
RELATIONSHIP WHERE THEY ARE WITH
THAT STUDENT BUT SEE HOW THE
STUDENT HAS GROWN AS AN
INDIVIDUAL AND AS A SCHOLAR.
MY FIRST YEAR, DOING THE
PROGRAM, 2009-2010, MY FIRST
GROUP, TWO OF THEM ARE IN
MEDICAL SCHOOL RIGHT NOW AND
IT'S AMAZING, MORE SO, THE
STUDENTS BECOMING MORE CONFIDENT
IN THEIR LEARNING.
>> I WAS RECENTLY IN OTHER
PROGRAMS, AND THEY REALLY SPARK
MADE INTEREST, BECAUSE IT REALLY
HELPED ME GET ON TO THAT NEXT
LEVEL AND I THOUGHT CHEM STAR
WOULD REALLY HELP ME IN 11th
GRADE WITH CHEMISTRY.
IF I STARTED HERE, HOW DO I GET
HERE?
>> IT HELPS YOU TO BROADEN OUR
HORIZON ABOUT CHEMISTRY AND
CHANGE EVERYTHING THAT, YOU
KNOW, THINGS THAT YOU'VE HEARD
ABOUT CHEMISTRY, SUCH AS, OH,
IT'S TOO HARD.
THIS BASICALLY ISN'T GOING TO
HELP YOU.
>> IT'S REALLY MUDDLE AND GRIT.
TO PERSEVERE.
THAT IS WHAT IS MOTIVATING THEM.
WE CANNOT ALLOW THEM TO SETTLE.
I DIDN'T GET IT.
I SAID WE'RE GOING TO DO IT
AGAIN.
WE'LL KEEP DOING IT UNTIL WE GET
IT.
AND, AFTER A WHILE, THAT WILL
HAPPEN ON ITS OWN.
STUDENTS WILL FIGHT FOR THAT.
IT'S BUILDING GRIT IN THE
STUDENTS.
SO WHERE THEY CAN GO INTO THE
MEDICAL FIELD, NURSING FIELD,
PHARMACY FIELD TO ALWAYS DRIVE
DESPITE THE STRUGGLES THEY MAY
HAVE.
.
MINE WAS TO TRY TO MAKE THEM
LEARN FROM CHEMISTRY AND TRY TO
MAKE THEM UNDERSTAND THAT THEY
COULD LEARN CHEMISTRY.
CHEM STAR, BIO STAR, MATH STAR,
THEY WERE DESIGNED TO TRY TO
HELP YOU THROUGH MAYBE THE FIRST
GRADING PERIOD SO THAT YOU SAW
YOU COULD DO IT.
WE COULDN'T TEACH THE WHOLE
THING IN A SHORT PERIOD OF TIME
DURING THE SUMMER BUT WE COULD
GIVE YOU A LEG UP, SO THAT WHEN
YOU GOT INTO ALGEBRA OR YOUR
FIRST BIOLOGY COURSE OR FIRST
CHEMISTRY COURSE, AT LEAST YOU
KNEW YOU COULD PERFORM.
>> CHEM STAR IS A SUMMER PROGRAM
FOR KIDS WHO WANT TO EXCEL, FOR
KIDS WHO WANT TO UM WHY START
THE NEXT YEAR AND I THINK THE
REALLY IMPORTANT ESPECIALLY IF
YOU STRUGGLE.
SO IT'S NOT THE FIRST TIME
YOU'RE SEEING MATERIAL DURING
THE SCHOOL YEAR.
>> HOW MANY HYDROGENS DO I HAVE
ON THE PRODUCT SIDE?
>> WE'RE FALLING BEHIND IN THE
STEM AREA.
SO WE MUST SPARK OUR YOUTH TO GO
FURTHER.
WE HAVE TO IGNITE THE FLAME
UNDERNEATH THEM, SO THEY TAKE
THES EXPERIENCE AND GO FORWARD
SO THEY'RE NEXT GENERATION
DOCTORS.
WE NEED THEM TO THINK ON THAT
LEVEL WHERE THEY INQUIRE ABOUT
THE KNOWLEDGE OF THAT SCIENCE
INSTEAD OF JUST KNOWING THE
FACTS OF IT.
FACTS WON'T SOLVE THE PROBLEMS
OF OUR NEXT AND UPCOMING
GENERATIONS.
WE NEED THINKERS, TO BUILD THE
STUDENTS AS THINKERS AND ENGAGE
IN SCIENCE INSTEAD OF BEING
PASSIVE IN IT.
>> WE BELIEVE WHOLEHEARTEDLY
THAT PART OF OUR RESPONSIBILITY,
IS TO MAKE SURE THAT WE ARE
PREPARING STUDENTS FOR THOSE
LEADERSHIP ROLES IN THEIR
PROFESSIONS, SO CONSEQUENTLY,
GETTING THEM ON TO GRADUATE AND
PROFESSIONAL SCHOOL AND MAKING
SURE THEY FEEL ABSOLUTELY READY,
AND BEYOND READY, BECAUSE THAT
WHOLE CAREER PATH, IT STARTS
WITH GRADUATING AND PROFESSIONAL
SCHOOL BUT WE WANT THEM TO LAND
IN CAREERS THAT HAVE MORE
MEANING AND VALUE AND THAT MORE
IMPORTANTLY THEY ARE LEADERS IN
THOSE ROLES.
>> WE SET LETTERING GOALS FOR
STUDENTS BY MODELING THE
LEARNING GOALS FURTHER.
SO TODAY WE'LL TALK ABOUT WHAT
WE'RE GOING TO ACCOMPLISH.
WE ARE DEFINITELY GOING TO MAKE
SURE THEY'RE ENGAGED IN THAT
PROCESS SO THE KIDS INTERNALIZE
THAT PROCESS INSTEAD SAYING I
HAVE TO DO THIS.
INSTEAD OF SAYING I CAN DO THAT,
SO THEY CAN GO ON TO THE NEXT
LEVEL.
>> WITH QUIZBALL, WE WANT THEM
TO BECOME RESPONSIBLE LEARNERS.
THEREFORE YOU HOLD YOURSELF
ACCOUNTABLE AND YOU HOLD YOUR
GROUP ACCOUNTABLE.
DO THE SAME THING WHEN YOU LEAVE
CHEM STAR.
HOLD YOUR PEERS ACCOUNTABLE FOR
LEARNING, TO DO SO YOU HOLD
YOURSELF ACCOUNTABLE FOR
LEARNING SO WHEN YOU STUDY YOU
CAN ARE ENGAGED IN THE LEARNING
PROCESS SO YOU CAN HELP OTHERS
OUT AS WELL.
>> EVERYTHING IS REALLY CLOSE.
WE HAVE CLOSED GROUPS.
WE ARE ALWAYS HELPING EACH OTHER
OUT.
I WAS A LOT BETTER TEACHER THAN
I THOUGHT I WOULD BE, SO —
MM
>>> THANK YOU, EVERYONE.
[ APPLAUSE ]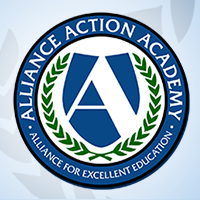 Welcome to the Alliance for Excellent Education's Action Academy, an online learning community of education advocates. We invite you to create an account, expand your knowledge on the most pressing issues in education, and communicate with others who share your interests in education reform.
Register Now
or register for Action Academy below: