Engineering Solutions to the National Literacy Crisis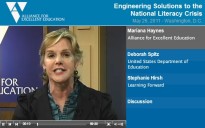 May 26, 2011
1:00 pm – 2:15 pm EDT
Washington, DC
Participants
Mariana Haynes, PhD, Senior Fellow, Alliance for Excellent Education
Stephanie Hirsh, Executive Director, Learning Forward
Deborah Spitz, Group Leader, Early Childhood and Reading Group, Office of Elementary and Secondary Education,United States Department of Education
Speaker Biographies (PDF)
Young adults who lack reading and writing proficiency likely will be relegated to the ranks of unskilled workers in a world where literacy is an absolute precondition for success. According to the National Assessment of Educational Progress, almost 70 percent of eighth-grade students and 60 percent of twelfth-graders fail to read at a proficient level. The consequences for the individual and the costs to the nation are staggering in terms of lost wages and earnings over a lifetime.
Federal and state leaders have begun to take action to dramatically improve the reading and writing skills of students in the United States. The development and adoption of the English language arts common core state standards is a bold, first step. With federal support through the Striving Readers Comprehensive Literacy program, states have put into place literacy teams to begin developing a comprehensive birth—grade twelve literacy development systems aligned to the English language arts common core state standards. Now, Congress can act on legislation—the LEARN Act—newly introduced by Senator Murray that would continue the investment in states' comprehensive literacy plans.
On May 26, the Alliance for Excellent Education hosted a webinar to discuss the importance of comprehensive literacy plans, the competitive Striving Readers grant program, and the need for improving educator effectiveness. Webinar participants, who included Mariana Haynes from the Alliance, Deborah Spitz from the U.S. Department of Education, and Stephanie Hirsh from Learning Forward, discussed the key levers to scale and sustain literacy improvements as central to reducing the enormous gaps in students' reading and writing skills and to ensuring students are college- and career-ready.
Supplemental Material
Website Links
Categories:
Uncategorized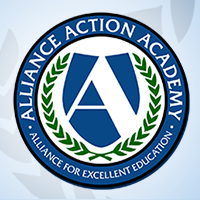 Welcome to the Alliance for Excellent Education's Action Academy, an online learning community of education advocates. We invite you to create an account, expand your knowledge on the most pressing issues in education, and communicate with others who share your interests in education reform.
Register Now
or register for Action Academy below: