Education News From Washington, DC—The Federal Role In Confronting The Crisis In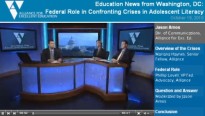 October 19, 2010
2:00 pm – 3:00 pm EDT
Washington, DC
Since 2001, states have been called upon to focus on early literacy in accordance with the federal No Child Left Behind Act. Congress has dedicated substantial funds to improving reading skills for students in kindergarten through grade three, but this targeted investment has not resulted in the ultimate goal of preparing students to succeed in college and careers. Early literacy focuses on foundational skills essential for learning to read. After about grade four, students must know how to "read to learn" and deal with increasingly complex text in diverse subject areas such as mathematics, science, and social studies.
According to the National Assessment of Educational Progress, also known as the Nation's Report Card, almost 70 percent of eighth-grade students fail to read at a proficient level. This translates into approximately six million struggling readers in grades seven through twelve. Improving older students' ability to read and write at high levels must become a national priority, especially because students in the bottom quartile of achievement are twenty times more likely to drop out of school than those at the top.
On October 19, the Alliance for Excellent Education hosted the latest in its series of interactive webinars on education news in Washington, DC. This webinar focused on the crisis in adolescent literacy, as well as state and federal efforts to improve reading and comprehension skills of America's older students. The webinar included a short presentation followed by a question and answer session driven by questions from webinar participants.
Several research reports on adolescent literacy were mentioned during the webinar. These reports, as well as other relevant reports, are listed below:
Reports published by the Alliance for Excellent Education:
Additional Alliance for Excellent Education publications on adolescent literacy are available here.
Reports from Carnegie Corporation of New York:
The Center on Instruction has a comprehensive list of additional reports on adolescent literacy at http://www.centeroninstruction.org/resources_searchresults.cfm?searchterms=Adolescent%20Literacy&explicit=1.
Watch or listen to video/audio from other webinars in this series.
Categories:
Uncategorized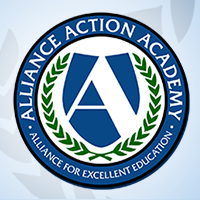 Welcome to the Alliance for Excellent Education's Action Academy, an online learning community of education advocates. We invite you to create an account, expand your knowledge on the most pressing issues in education, and communicate with others who share your interests in education reform.
Register Now
or register for Action Academy below: