Education News From Washington, DC—A Primer On High School Graduation Rates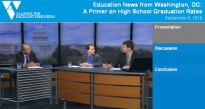 September 8, 2010
6:00 pm – 7:00 pm EDT
Washington, DC
Fewer than ten years ago, the assumption based on official federal sources was that the national public high school graduation rate was roughly 85 percent. However, a number of nationally respected, politically diverse researchers began questioning the accuracy of that rate and developed alternative estimation methods that more accurately placed the national graduation rate around 70 percent and the rate for historically disadvantaged minority students close to 50 percent.
There are a number of reasons for the previous widespread underestimation of the graduation rate crisis. First, officials did not have comprehensive education data systems that could follow students over time and track their outcomes. Second, the various formulas used to produce graduation rates often produced misleading outcomes. Lastly, there was no meaningful federal accountability for improving graduation rates, and thus no incentive to acknowledge or, more importantly, address the situation.
Thankfully, this situation is beginning to change. Investments in statewide longitudinal data systems are making it possible to track individual students throughout their educational career. And, for the first time, states will be required to report exactly how many students graduate on time with a regular diploma at the end of the 2010–11 school year. For the 2011–12 school year, states will be required to set graduation rate goals and be held accountable for making improvements toward those goals.
To learn more about the new reporting requirements for high school graduation rates, as well as some of the policies that states have put into place, click on the image below to watch the latest of the Alliance's interactive webinars on what is happening in Washington, DC on education reform. The webinar included a short presentation by Gov. Wise, followed by a question and answer session during which Gov. Wise answered questions submitted by viewers.
Categories:
Uncategorized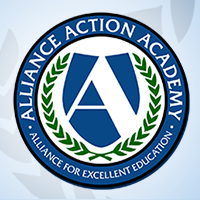 Welcome to the Alliance for Excellent Education's Action Academy, an online learning community of education advocates. We invite you to create an account, expand your knowledge on the most pressing issues in education, and communicate with others who share your interests in education reform.
Register Now
or register for Action Academy below: