September 25, 2009
1:30 pm – 3:30 pm EDT
Hyatt Regency Hotel; Room: Regency A 400 New Jersey Avenue, NW Washington, DC
PRESENTERS

Alice Cain, Senior Education Policy Advisor, U.S. House of Representatives Committee on Education and Labor
Bethany Little, Chief Education Counsel, U.S. Senate Committee on Health, Education, Labor, and Pensions
Carmel Martin, Assistant Secretary for Planning, Evaluation and Policy Development, U.S. Department of Education
Celia Sims, Senior Policy Advisor, Office of U.S. Senator Richard Burr (R-NC)
Peter Zamora, Senior Education Counsel, Office of U.S. Senator Jeff Bingaman (D-NM)
On September 25, three hundred educators, policymakers, and other key stakeholders gathered in Washington, DC to attend a briefing on the economic imperative to turn around the nation's lowest-performing high schools.
Bob Wise, president of the Alliance for Excellent Education and former governor of West Virginia, began the discussion with opening remarks, outlining the nation's dropout crisis and its impact on society and the economy. He stressed the severe effect that high school dropouts have on their cities, states, and the country with respect to lost income, impact on programs such as Medicare, costs of college remediation, and home ownership. With such a strong link between education and the economy, Governor Wise urged participants to rethink the federal role in education to include common college- and career-ready standards, aligned assessments, common graduation rate definitions, and a differentiation of high schools' needs.
Lyndsay Pinkus, director of strategic initiatives at the Alliance, emphasized the importance of identifying and targeting the nation's lowest-performing high schools in a meaningful way that will result in improved student achievement. The strategies outlined for addressing the problems found in low-performing schools include organizing the school to facilitate transformed teaching and learning; increasing teacher and principal effectiveness; transforming curriculum and instruction; providing students with the necessary academic and social support; maximizing stakeholder resources; and ensuring continuous improvement. She continued by noting the importance of measuring performance and progress in the lowest-performing high schools and building capacity for turnaround. Ms. Pinkus concluded with a set of federal policy recommendations:
Establish a goal of graduating 100 percent of students—from high school—who are college and career ready (as defined and measured through common standards and aligned assessment).

Revamp Adequate Yearly Progress (AYP) to include improved indicators of college and career readiness and graduation to evaluate and communicate both performance and progress.

Leverage state- and district-led school improvement systems that are data driven, differentiate among schools' individual needs, focus improvements to teaching and learning, build capacity, and prioritize the lowest-performing high schools.

Allow low-performing high schools to enter the school improvement process regardless of whether they receive Title I funding.

Target new funding for high school improvement.
A discussion panel followed to highlight the federal government's movement towards supporting the turnaround of the nation's lowest-performing high schools.
Carmel Martin, assistant secretary for planning, evaluation, and policy development, discussed the U.S. Department of Education's (ED) school turnaround initiatives and the unprecedented opportunity to leverage change given funding from the American Reinvestment and Recovery Act (ARRA). Ms. Martin outlined ED's proposed school improvement models, the role of state and local education agencies, and encouraged states to begin planning for this funding now. She also touched on the urgent need to reauthorize the Elementary and Secondary Education Act (ESEA) so there is a continued focus on getting resources to states and districts to pursue aggressive turnarounds. Ms. Martin said a new version of ESEA should encourage states to develop systems to measure all schools better.
Peter Zamora, senior education counsel to U.S. Senator Jeff Bingaman (D-NM), stressed the senator's long history as a champion of high school improvement. He noted New Mexico's low graduation rate and Senator Bingaman's commitment throughout his tenure to programs such as the Hispanic Dropout Project and the High School Dropout Prevention Program, both dedicated to increasing the graduation rate.
Celia Sims, senior policy advisor to U.S. Senator Richard Burr (R-NC), expressed her appreciation for a national conversation on turning around the lowest-performing high schools. She noted the importance of a high school diploma and reinforced the fact that jobs previously available to dropouts are gone, and likely they are gone for good. Ms. Sims also stressed that the end goal should not be just to stem high school dropouts but to focus on high school graduation, college enrollment, college persistence, and college graduation.
Alice Cain, senior education policy advisor on the U.S House of Representatives Committee on Education and Labor, noted there is a broad congressional consensus that the current version of the Elementary and Secondary Education Act (ESEA) does not adequately address secondary schools. She emphasized the importance of addressing the dropout crisis as a solution to other national problems such as inflated housing costs, the downturn in the economy, and the unemployment rate. Ms. Cain pointed out that it would be impossible to reach President Obama's college completion goal without successfully graduating students from high school prepared for college and careers.
Bethany Little, chief education counsel on the U.S. Senate Committee on Health, Education, Labor, and Pensions, reiterated the need to graduate students from high school prepared for college and careers, noting that college enrollment is not necessarily the problem; college remediation and persistence are. Ms. Little identified a combination of factors creating an opportunity for legislative action. She emphasized a clear and systemic problem has been identified through an examination of graduation rates and work conducted by groups such as the Alliance and ACT that has led to research based solutions. Ms. Little said policy that pulls from these solutions has garnered support on the Hill in the form of legislation such as the Graduation Promise Act. She also recognized a public will, evident in the broad coalitions that have been built up behind these policy solutions. Ms Little stated that all that remains is the transfer of these pieces into a political commitment, possibly with the pending reauthorization of ESEA.
During the question and answer period, panelists reiterated the importance of common standards that are developed and led by the states and focused on good teaching and learning; district partnerships as a method of building capacity; the targeting of funding to the lowest-performing high schools; and increased investments in high schools.
Governor Wise closed the briefing by thanking the panel and stating the critical importance of addressing the dropout crisis and the emerging window of opportunity to develop and implement meaningful policy solutions through a reauthorization of ESEA.
Event-Day Agenda 
PDF
Speaker Biographies 
PDF
Economic Imperative: Turning Around the Nation's Lowest-Performing High Schools (A PowerPoint presentation by Bob Wise)
PDF
Economic Imperative: Turning Around the Nation's Lowest-Performing High Schools (A PowerPoint presentation by Lyndsay Pinkus) 
PDF
Current Challenges and Opportunities in Preparing Rural High School Students for Success in College and Career: What Federal Policymakers Need to Know 
PDF 
Estimating the Economic Benefits of Reducing High School Dropouts 
PDF
Reinventing the Federal Role in Education: Supporting the Goal of College and Career Readiness for All Students 
PDF
Key Pieces of High School Legislation 
PDF
VIDEO (Flash popup) and 
AUDIO* from the event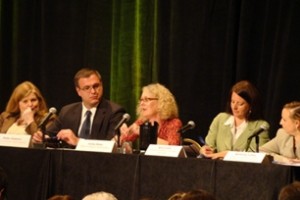 Categories:
Uncategorized