Digital Learning Now!: 10 Elements Of High-Quality Digital Learning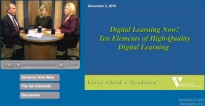 December 2, 2010
2:00 pm – 3:00 pm EDT
Washington, DC
Participants
Lisa Gillis, Project Director, Digital Learning Council
Susan Patrick, President and Chief Executive Officer, International Association for K–12 Online Learning (iNACOL)
Bob Wise, President, Alliance for Excellent Education
AUDIO and VIDEO available below.  
On December 1, 2010, Jeb Bush, governor of Florida 1999-2007, and Bob Wise, governor of West Virginia 2001-2005, released the "10 Elements of High-Quality Digital Learning." The ten elements represent the recommendations of the Digital Learning Council (DLC), a diverse group of more than one hundred leaders in education, government, philanthropy, business, technology and policy, and is meant to serve as a roadmap of reform for local, state, and federal officials to advance digital learning.
On December 2, 2010, the Alliance for Excellent Education hosted a live webinar to talk about the release of the "10 Elements." Gov. Wise was joined by Lisa Gillis of DLC and Susan Patrick of iNACOL to discuss why digital learning can improve student learning and how it can help transform the education system. Following the discussion was an interactive conversation using questions submitted by participants from the around the country.
The DLC is cochaired by Gov. Bush, chief executive officer of the Foundation for Excellence in Education, and Gov. Wise, president of the Alliance.
To learn more about the DLC, click here.
Categories:
Uncategorized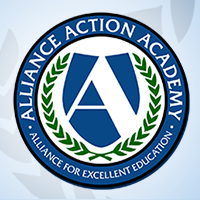 Welcome to the Alliance for Excellent Education's Action Academy, an online learning community of education advocates. We invite you to create an account, expand your knowledge on the most pressing issues in education, and communicate with others who share your interests in education reform.
Register Now
or register for Action Academy below: