Digital Learning and Technology: Federal Policy Recommendations to Seize the Opportunity and Promising Practices That Inspire Them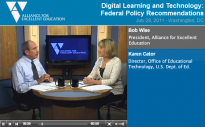 July 28, 2011
11:30 am – 12:30 pm EDT
Washington, DC
Participants
Karen Cator, Director of the Office of Educational Technology, United States Department of Education (Washington, DC)
Bob Wise, President, Alliance for Excellent Education
The Alliance for Excellent Education held a webinar on July 28 to discuss the release of a new Alliance policy brief "Digital Learning and Technology: Federal Policy Recommendations to Seize the Opportunity and the Promising Practices That Inspire Them." The brief was released in conjunction with the webinar, which focused on the federal recommendations portion of the document. This webinar was a follow up to the Alliance's July 21 Alliance webinaron digital learning's promising practices.
Over the course of the past year, the Alliance has been studying digital learning and the effective use of technology and the ways they can make a positive impact on student learning. This webinar highlighted federal recommendations and conclusions that came out of that effort.
Alliance President Bob Wise moderated the webinar; he was joined by Karen Cator from the U.S. Department of Education. Following the discussion, there was an interactive conversation using questions submitted by participants from the around the country.
Supplemental Materials:
Categories:
Uncategorized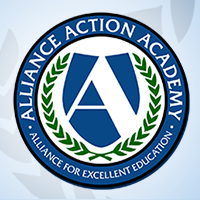 Welcome to the Alliance for Excellent Education's Action Academy, an online learning community of education advocates. We invite you to create an account, expand your knowledge on the most pressing issues in education, and communicate with others who share your interests in education reform.
Register Now
or register for Action Academy below: