Deeper Learning: So Everyone Can Succeed in a Changing World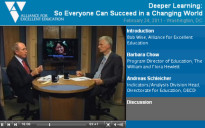 February 24, 2011
2:30 pm – 3:30 pm EDT
Washington, DC
Participants
Barbara Chow, Program Director of Education, The William and Flora Hewlett Foundation
Andreas Schleicher, Head of Indicators and Analysis Division, Directorate for Education, Organisation for Economic Co-operation and Development (OECD)
Bob Wise, President, Alliance for Excellent Education
On February 24, Alliance President Bob Wise; Barbara Chow, program director of education at the William and Flora Hewlett Foundation; and Andreas Schleicher, head of indicators and analysis division at the OECD's Directorate for Education participated in a webinar to provide an overview on deeper learning and how it can increase economic opportunity and civic engagement in order to ensure that American students are rigorously prepared for success in a globally competitive workforce.
Deeper Learning first and foremost prepares students to know and understand core academic content, but it also places equal importance on a student's ability to think critically and solve complex problems, work collaboratively, communicate effectively and be a self-directed learner, all of which are vital competencies for success in the modern workforce.
In addition to exploring the concepts of deeper learning, Gov. Wise, Ms. Chow, and Mr. Schleicher addressed questions submitted by viewers across the country.
System Requirements:
To watch and listen to the live webcast, you will need an Internet connection, a computer with speakers, and Flash Player (Version 9 or later).
The Department of Education's IT support advises its employees to use Mozilla Firefox to view this webcast. Other government agencies and similar organizations are also encouraged to use Firefox.
The Alliance for Excellent Education is a Washington, DC-based national policy and advocacy organization that works to improve national and federal policy so that all students can achieve at high academic levels and graduate from high school ready for success in college, work, and citizenship in the twenty-first century. For more information about the Alliance, visit www.all4ed.org.
Categories:
Uncategorized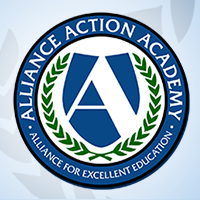 Welcome to the Alliance for Excellent Education's Action Academy, an online learning community of education advocates. We invite you to create an account, expand your knowledge on the most pressing issues in education, and communicate with others who share your interests in education reform.
Register Now
or register for Action Academy below: