Creating a Positive School Climate: Implementing Equitable and Effective School Discipline Practices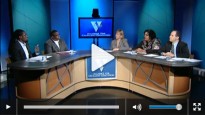 Registration Required
December 5, 2013
8:00 pm – 9:00 pm EDT
The Alliance for Excellent Education Presents a Webinar on
Creating a Positive School Climate: Implementing Equitable and Effective School Discipline Practices
Panelists
Deb Delisle, Assistant Secretary, Office of Elementary and Secondary Education, U.S. Department of Education
Dan Losen, Director, Center for Civil Rights Remedies at the Civil Rights Project at UCLA
Martens Roc, Policy and Advocacy Associate, Alliance for Excellent Education
Karen Webber-Ndour, Executive Director, Student Support and Safety, Baltimore City Schools
Darryl Briggs, BSW Candidate, Lehman College

Please join the Alliance for a webinar on the work being done to ensure that all students are learning in an environment that does not criminalize them but rather keeps them safe, instills social and emotional learning, and includes a strong academic program.
Closing achievement and graduation rate gaps requires comprehensive school reform that includes a focus on a positive school climate that meets and develops the academic, social, and emotional needs of every student. Doing this means addressing the multiple factors that can negatively affect school climate. For example, student discipline policies often keep too many students out of school and away from the classroom, causing them to lose critical learning time.
Research repeatedly shows that harsh disciplinary policies disproportionately affect students of color and students with disabilities. Not only are these discipline practices disproportionately applied, and for less serious behavior, they are also an ineffective response to the behavior. There are other practices and policies that have proven to be effective in creating a safe and positive school climate for all students and staff.
This webinar will provide data on these disparities and the equitable and effective alternatives of punitive school discipline. Specifically, panelists will discuss ways in which their work is supporting and advancing these alternatives. Panelists will also address questions submitted by viewers from across the country.
Register and submit questions for the webinar using the form below.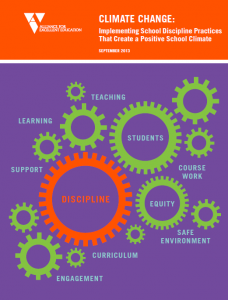 Additional Resources:
Climate Change: Implementing School Discipline Practices That Create a Positive School Climate (report)
Karen Webber-Ndour Presentation
Support for this webinar is provided in part by The Atlantic Philanthropies and The Schott Foundation for Public Education.
If you are unable to view the webinar live, an archived version will be available at https://all4ed.org/webinars within one to two business days after the event airs.
>>> Hello, today I'll be your  moderator for a very informative  conversation of promising  approaches to school discipline  that create a positive school  climate. I'm joined by a panel of experts  who will be weighing in with  their thoughts. We will meet them in a moment.
First, you know that we have  released a series of papers on  school climate describing how  school discipline, curriculum  and teaching are interconnected  and any effort to address one  issue will be limited unless the  other two are addressed as well. When addressed effectively as a  whole, the issues make up a more  positive school climate. Positive school climate is an  environment committed to meeting  academic, social and emotional  needs of every student. A positive school climate  positively correlates with  student engagement and success. While our work oh encompasses  curriculum and educators, today  we focus on school discipline.
With me are panelists who will  help us learn more about what is  going on in schools and how we  can create a learning  environment that is safe and  keeps students in the classroom. First, we have Darryl Briggs. Darryl is currently pursuing a  bachelor's degree in social work  at Lehman college. He previously served as youth  program coordinator at better  Bronx, a nonprofit organization  focused on combatting  environmental disparities in the  south Bronx. He is an alumnus of the  children's defense fund youth  advocate training. Next, Darryl Delisle of the  department of education. In this position, she plays an  important role in policy and  management issues affecting  elementary and secondary  education. She helps ensure equal access to  services leading for improvement  for all children, particularly  children from low-income  families. We also have Karen webber-ndour  with Baltimore city schools. Karen utilizes her prior work  experiences as a lawyer and  advocate and to a role in which  she oversees suspension  services, student placement,  Baltimore school police, student  health and other departments  which directly affect students,  family and students in our  school support and safety issues  for the entire district. Last but not least, Dan  Losen from the civil rights  project in UCLA. His work at the civil rights  project kernels the impact of  federal, state and local  education law and policies on  students of color. His most recent efforts have  focused on addressing the school  at the prison pipeline and  implementation concerns about  the no child left behind act. Thank you all for joining us.
>> thank you. >> we look forward to your oh  participation during this web  cast, where you can cast  questions. We will go to those questions  from time to time to answer  what's on your mind and we'll  try to answer as many questions  as possible throughout the  webinar. Also, please join the  conversation on twitter, using  the #hsclimate. Again, that is #hsclimate.
As many of you know, the  alliance for excellent education  mission is for success in life. Achieving that mission requires  engaging students, but that  requires students being safe and  in school. Policymakers and educators  across the country are seeking  effective approaches on how to  best address the academics of  students being expelled. I want to ask a couple questions  of my own.
First, Dan, the office for civil  rights data collection provides  valuable information regarding  school climate. Based on that data and your  work, what can you tell us about  the disparities in terms of  suspensions.
>> well, as you can see, there's  a slide that shows the then and  now. And the racial disparities have  been problematic for as long as  we have been collecting the  data. So the first set of numbers on  the left shows data from the  '70s, rates of secondary school  suspension. This is based on a student being  suspended at least one time. So we're counting students, not  the number of suspensions. As a percentage of their  enrollment. And at the secondary level, we  see in the early '70s that  almost 12% of black students in  the secondary level were being  suspended, and about, you know,  5, 6% of the other students,  about 2% of asian-american  students, little over. But with this sort of tsunami of  zero tolerance, get tough on  kids approach, and this  willingness to kick out the bad  kids so the good kids can learn,  that sort of mentality, we have  seen a dramatic increase, an  increase for just about all  these different groups. But the most dramatic increase  has been for black students.
And you see that now, as of  '09-'10, almost one in every  four black secondary students  were suspended from school at  least once. And so with this increase, even  though all the other groups also  increase, it increased more for  black students. So the disparities have just  exploded.
Now, the next slide shows just  comparing elementary schools to  secondary schools. And here you can see that the  elementary level, most schools,  most districts, are not  suspending high numbers of kids. This is where some of the other  patterns emerge where we see  English learners and Latinos who  were not being suspended in  really high rates in elementary  school being suspended at much,  much higher rates. It increases for all students  between four and ten times their  elementary school rate. The next slight, though, also  tells part of the story, and  that's the high rates of  suspension are not happening  uniformly. There are districts that are  high-spending, districts that  are low-suspending. And within large districts, many  schools are high suspending. There are also many we're  finding that are low-suspending. And we are looking at just black  students in this slide. Where on the far side it shows  there are 761 districts at the  secondary level, 25% or more of  the black students were  suspended out of school. But we're finding there are many  districts, over 1,000 districts,  where the rate was between — it  was less than 10%.
So this tells us that there's a  tremendous variety. And this sort of dovetails with  research that shows that it's  school policies and practices  that are driving whether schools  are suspending high numbers or  low numbers.
The next slide sort of drills  down to look confluence of race  and disability and gender. And this goes back to a national  picture. And what we see here, this is at  the secondary level. And what we see when we look at  race and gender, for example,  most shocking is in the second  column, black students with  disabilities, over 1 out of  every 3 suspended out of school  at least once. Compare that on the low end,  white females, about 6% of white  female students with  disabilities being suspended. But for all groups, if you have  a disability, you're probably  two or more times more likely to  be suspended out of school if  you don't have a disability. That suggests there is something  broken with our whole approach  to school discipline. Now, there's a lot more  information.
The next slide gives you some of  the places where folks can find  more information. The u.s. department of Ed has a  link here, the OCR data site. And the data that I just showed  you is all derived. That's some analysis based on  what was available on that  website. If you go to our website, which  is www.schooldisciplinedata.org,  you'll find this analysis that I  just showed you for every  district that was in the OCR  sample. So well over half of all the  districts in the united states  are represented. And we presented those similar  kinds of graphs. You can compare districts, as  well. And there will be new  information as the next ddrc is  expected out between January and  march, we'll be able to break  those data down and also show  some trend. So that's sort of a data  picture.
>> great. Thank you. And Dan, the disparities are  most often a result of  ineffective school discipline  policies. And I guess I'm wondering, is  there research coming to bear  that shows what works instead.
>> right. So the — we are a part of a  research collaborative, and we  have worked with mission new  research. We found research in sort of two  realms. One, helping educators see the  connectedness between high rates  of suspension and other  educational outcomes. So, for example, statewide study  in Florida by Robert baufin  showed a relationship, a  correlation, between kids who  are suspended even just one time  in ninth grade and a doubling of  their risk for dropping out from  16% to 32%. And so there's a great deal of  new research showing that, as  well as the economic costs. A lot of people don't realize  there are tremendous economic  costs, because of suspensions  increase your dropout risk or  risk for grade retention. Well, the extra year of  schooling or the huge economic  losses when kids drop out, you  know, that — you know, high  suspensions are contributing to  those costs. So more and more we're seeing  those. But on the answers what to do,  we're seeing some really  positive findings out of, for  example, Denver, Colorado, where  they did a longitudinal study,  ben cans and Gonzalez, tracking  students over six years, where  they have implemented  restorative practices, finding  that achievement went up,  suspensions came down, and the  racial disparities shrunk  dramatically. So there is a lot that can be  done, and that's a whole school  system. There is research on teacher  training program, sustained,  rigorous training program, that  focused on improving student  teacher engagement that again  showed not only that there were  great academic gains, but the  racial disparities were  eliminated, as suspension rates  came down. There are things like tiered  intervention programs. A lot of people are — have  heard about positive behavioral  interventions and supports. And there is federal funding for  some of these programs. Where the whole concept is  really to support the needs of  kids who may be acting out, help  teachers with training and how  to address those needs. But doing it in a positive way. And what we're finding, though,  is to address racial  disparities, probably more has  to be done. So you can't have a really harsh  discipline code and then say  you're doing pbis or, you know,  rti in a positive way. There has to be alignment. There has to be more community  involvement, multicultural  sensitivity for those programs  really to have the greatest  impact. And then things like social and  emotional learning where this  is — there is a study done by  David osher in a.i.r.,  Cleveland, Ohio. Their response to school  shooting was more cops and metal  detectors. Didn't make people feel safer. Instead when they train teachers  in social/emotional learning and  kids learning how to cope with  their feelings of anger and how  to deescalate situations, these  things really helped not only  bring down the conflicts and  reduce suspensions, but people  felt safer and achievement  improved. So there is quite a bit that can  be done and that's just the tip  of the iceberg.
>> that's very helpful. And I want to sort of pivot and  give more of a youth perspective  on this. Darryl, in what ways do  discriminatory discipline  practices perpetuate school to  prison pipeline issues, and what  are the consequences for today's  youth?
>> okay. So essentially, just by pushing  our students out of the schools,  we're pushing them straight to  prison, because unfortunately,  they have to end up somewhere.
So I want to give you guys a  story and just imagine how  this — how this story, you  know, carries it out. So it only takes one simple  mistake for a — for a youth to  become involved with the justice  system as a whole. Now, let's imagine that the  student is suspended from school  for arguing with a teacher. So the student then is arguing  with the teacher, gets  suspended. And from that suspension, they  are sent home. So when they are sent home,  there are truancy laws, truant  police officers. If you are stopped by a truant  officer, what happens? You're essentially brought back  into the system. But it's not school this time. In some way, shape or fashion,  you can end up in the justice  system, due to the fact that  if — if I'm stopped often, and  if I have a record of truancy,  then they can then — well, I'm  from new York state. So ACS, which is the  administration for children  services, they dispatch an ACS  officer, if your child is  missing school. And if your child is missing  school, that can lead to a  family court case, which can  then lead to being remanded by a  judge, if you haven't — if you  haven't attended school, due to  their — due to family court  scrutinization. And ultimately serve an 18-month  sentence because you were  suspended, probably committed  some small crime like graffiti,  and that escalated to the fact  you weren't in school.
So if we avoided using  suspension like the bottom line,  the student has done this, we  are going to suspend them and  that is going to be the  ramification for whatever they  have done. If we were to institute  different practices, such as —  such as relaxation circles or —  there are different activities  we can implement outside of  suspension that would — that  would prove better. And just to speak on the  consequences beyond the youth,  it affects us as a society, as a  whole. Because the youth of today are  also the youth — are also going  to be the adults of the future. So we are locking our children  away. Then they cannot become  productive members of society  because they then have a prison  charge, and the weight of  carrying prison, voters rights  are affected. Your possibility of receiving  public benefits are affected. Your possibility of receiving  financial aid is affected. So if you cannot attain the  necessary educational — if you  cannot obtain the necessary  educational — your education,  excuse me — if you can't obtain  that, how can you be considered  a productive member of society?
>> thank you. And, you know, speaking to  education and justice, in 2011,  the u.s. department — the  departments of education and  justice launched a supportive  school discipline initiative to  reduce exclusionary discipline  policies, practices and their  impact on youth of color and  youth with disabilities. Since the launch, what steps  have the federal agencies taken  to address these issues?
>> yeah, this has been a lot of  activity, and it's been really  promising. Since Sec. Duncan and attorney  general holder actually launched  this initiative two years ago, I  would say probably one of the  greatest impacts of that has  been the coordination and  collaboration, not only just  across federal agencies, but  across local agencies, as well. So we have brought together  through the national leadership  council actually 46 state teams. And what's amazing about this is  the fact that usually, these  individuals or their  organizations exist in silos. Now they have come together so  you have had school  representatives, law  enforcement, mental health  officials coming together, to  really talk about this issue  from a systemic point of view. And even more importantly, not  to view it as this is the police  department and the community has  to resolve it or the school  district has to resolve it. But come together to look at how  can we resolve this issue  together and serve as a really  great advocate for all of our  kids in our community. In addition to that, we have had  20 states who have joined what  we call a community of practice  around the whole notion of  supportive school — supportive  schools. And looking at what does that  mean? What are the attributes of that  and what resources do you need  to ensure that the kids who go  into all of our schools feel  supported. That they believe they have  adult advocates in that  building, and most importantly,  that they feel that when they  leave that school building,  they're also advocates within  the community. So people are doing great net  working across that.
We also are working with a  representative group from the  council of state government. And they have come together to  develop consensus  recommendations for really  dismantling what has been dubbed  at school to prison pipeline  that was really discussed just  previously. And those recommendations are  going to be coming out in early  2014, and what will be important  is that it doesn't just become a  document, but actually lives on  within communities.
We also have been looking at  ways in the federal agency to  think about this whole  initiative in terms of our grant  program. So we have a lot of competitive  grants. And most recently particularly  in race to the top, we have  actually put in there a  requirement for school districts  to actually do a root cause  analysis on student attendance,  for example. To determine what is it that's  causing kids to be out of  school. Because we know that it's  important for them to be in  school. Because if they're not in  school, they're not learning, as  you addressed earlier. We need to get our kids in  school in that space in order to  learn.
And also last, just after the  Newtown incident last year, the  president called for a large  proposal, which eventually  became known as now is the time. And what's really critical about  that proposal is, we are looking  at the department of Ed, working  with the department of health  and human services and  department of justice, again,  great cross-agency collaboration  to figure out how school  districts and local communities  can use dollars in different  ways to support students. So, for example, instead of just  utilizing money to arm police  officers in schools, we also are  allowing individual  school communities to make  decisions about putting more  mental health for students, to  provide advocacy in the support  system and not just move kids  out of school or automatically  engage them in the judicial  system that we know can happen  too often. So a lot of activity. Really promising.
>> great. Definitely sounds like it. And you know, I know as we  discussed earlier, the  relationship between school  climate and school discipline  are very much connected. Why don't you at the us more  about the department efforts to  support different initiatives  that are going on to improve  school climate as a whole.
>> yeah, this has been — we  have an office oh of healthy  students. And this has been a really,  really important piece for us. So it's not like we have one  program that focuses on it. In the office of elementary and  secondary education, one of the  things we're doing is looking  across almost 100 programs to  see how can school climate play  itself out. And what's really vital for me,  I've been in the field for 39  years and I find you can write a  really robust curriculum. But unless you are engaging kids  in a school setting in which  they feel they're supported and  most importantly they're  respected, the rest doesn't  really matter. It's that school climate and  culture that's so important. So we have, for example, and I  mentioned the race to the top  competition. But we also have school  improvement grants that go out  to our most challenged schools. So in that, there has to be a  focus on school culture. It's just a requirement of the  program.
And what's really vital about  that is for people to take a  step back and to assess, what is  it we say to our kids. I happen to be a believer that  everything we offer to our  students — I was going to say  our children, but everything we  say to our students tells them  what it is we value. So when you walk into a school,  any one of us, we know within  five minutes whether or not we  want our kids to be — our own  kids to be in that school. So the guiding question I have,  is this school okay for my kid. Because if it's not okay for  mine, it shouldn't be okay for  anybody else's. And there's a pervasive sense of  it, right? You feel it, how people are  talking about students. The kinds of signage they have  up. The support structures they  have. And also, the support programs  they have for teachers and  principles to understand what  are the skills or talents or  tools can they use. What resources do they have  available to really infiltrate  that culture and make it a  culture, a school where people  want to return the next day. So I can underscore the  importance of school culture.
>> fantastic. The work you're doing is very  important and vital. And we really appreciate hearing  more about what the department  is doing. And just to bring it to a more  district level, Karen, the  Baltimore city public school  system has taken a number of  steps to improve school climate,  as well. Can you please describe the  changes in policy and practice  that have been done to improve  school climate?
KAREN>> sure. I would like to take credit for  everything, but I really can't. When dr. Alonzo came, he came to  a staggering number of  suspensions in Baltimore city  schools. We were up at about 26,000  suspensions per annum. And we are talking about 79,000  students at the time. And this was something that he  said had to stop. One of the things that was  undertaken immediately is a  change to policy. Which is the best way to go  about it quickly. So the policies changed. And some of the zero tolerance  policies were removed. It was extensive training done. And until the suspensions  declined appreciably. What we noticed in the last  couple years, the suspensions  began to creep back up. And that happens when the  messaging stops. It also happens when new  principals come to the direct  with their old  practices.
So what we embarked upon about  18 months ago is a very systemic  targeted climate training  exercise. And so it wasn't just looking at  what is your vision and mission  say. What's actually going on in your  school. One of the things we developed  was something called the climate  walk tool. And the climate walk tool, as  opposed to a climate survey that  says how do you feel about your  school, do you feel safe. Those are very nice, but very  subjective. And it's not that the climate  walk tool can be quantified, but  you have objective observers  walking through a school and  looking at certain areas of the  school. And determining what's actually  happening in that school. Do you see children still in the  hallways after classes have  passed. Are teachers speaking nicely to  each other, to other students. Is this a place that feels good. So there are some subjective  questions.
But you're also actually looking  at what is literally happening. Is the bathroom dirty and  disgusting. Kids don't want to be in a  school where people are not  taking care of their bathrooms  and things that are — that  affect their daily living in a  school climate. So this climate walk tool was  introduced, and people walked  around and trotted it out. And we saw interesting things.
One of the things I can tell you  is that — one of the pushback  measures that I get is that when  we say that we want to reduce  suspensions, people  automatically think you're going  to make the school less safe. What we found done to the last  school is that the schools that  had the highest levels of  suspension also had the climate  walks that didn't come out very  nice. So they were using — they were  overutilizing suspensions. And it's not to say that  suspensions should go away  completely. But we say that we're using it  as a measure of last resort. We wanted to make that actually  the case. So one thing — one other thing  is in the climate training, we  handed schools their individual  data, one of the things that dr.  Alonzo also did was built a data  system that could track  suspensions, not just to the  type, but the location. So when schools were given a  graphic showing them where  suspensions were happening in  their school and what time of  day, they could literally make a  plan as to how they were going  to alleviate chaos. Because you're not always aware  of everything that's happening  in your school.
So we made it very practical,  very actionable. And what we saw is that it  went — as I said, from a high  of 26,000. We moved down to 11,000, and we  were starting to move back up  toward 12,000 suspensions per  annum. Last year, after pushing out  this climate training, feeling  the climate walks and having the  climate discussions, are  suspensions went down to the  lowest point, to date. And they're down under 9,000  now. And we intend to push them down  further. And not to hurt the climate, but  quite the opposite.
Because the other thing that's  being stressed in the training  is that if you're not speaking  to children, you're actually not  holding them accountable. The way the code of conduct was  written before, you could sort  of look at a grid and say, okay,  you did this so you get this  many days. That's not the way the code of  conduct should be used. It should be a document that  allows for principal discretion. A document that allows  principals to do a case by case  analysis. So one of the things we  introduced this school year was  a document that was much more  flexible.
We have removed most of the zero  tolerance policies, except those  required by law. We have also removed suspensions  as an option for principals to  utilize when they don't feel  like dealing with a kid that is  very mouthy. Go talk to that kid, learn the  de-escalation that's required. At the same time, pushing out  alternatives to suspensions that  schools can utilize. And we have gone the gamut. It's from restorative practices,  tbis. But also holistic life teaching  mindfulness. We're pushing hard on this and  not just to reduce suspensions,  but to improve the climate. Because in a district like  Baltimore city, we're 84 to 85%  of our students are free and  reduced meals recipients. Sometimes the school is the only  place that they're going to have  a good day. And a nice day. So it's incumbent upon us to do  everything we can to make the  schools a place where everybody  wants to be.
>> sounds great. And I'm wondering if there are  any other outcomes that you have  noticed as you have made those  changes to policy and practice.
Well, one of the things —  obviously, the suspension  reduction is here huge. And the fact that we did the  reduction without compromising  the climates, and, in fact,  improving many of the school  climates, because relationships  are developing, which is a key  component to establishing a  school climate, a positive  school climate. But I think the fact that people  have begun to message and  discuss the topic of school  climate. Before there was a separation or  I experienced it as a separation  between that which was academic  and that which was behavioral. And in the 21st century,  especially in urban settings, we  have to come to grips with the  fact that without the behavioral  modifications and actually  teaching and training students  how to behave appropriately,  we're not going to get the  student achievement that we're  looking for. They go hand in glove. And I think that with the  district beginning to put those  two together was a move to a  different level.
>> great. It sounds very promising and  exciting to see that, you know,  Baltimore city public schools  are, you know, making those  reductions but also keeping  school climate very well, and  important, sort of situations  for students to learn and to be  comfortable in school. Dan, I'm wondering if you can  tell us the sort of policy  changes and practice changes  going on, on a estate level and  local level.
>> so on the state level, we're  seeing states like Maryland  school boards on their own  initiative looking at their  research and saying, yes, we  have to push back on districts  and really — and also provide  the supports and training and  find ways to help districts get  back to using suspension as a  measure of last result. In Connecticut, they passed the  state legislature passed a law  that really pushes back and says  basically you should only be  using in-school suspensions,  except for some unusual  exceptions. And that's having some positive  impact. Although implementation is an  issue. In California, several measures  were passed. Some made students come to the  governor's desk. Los Angeles, for example,  there's a bill in California  that would reduce the  suspensions for willful defiance  and disruption. Which has already been adopted  by los Angeles. And the school board there,  working with community advocates  and teachers together are saying  we can do things differently. And so — but statewide there's  a movement to get red of some of  these minor offense reasons for  suspending students out of  school. So there's work going around. In Virginia, there's been the  adoption of something called the  threat assessment guidelines or  threat assessment protocol. And it's focused more on kids  who do exhibit threatening  behavior. But most of these kids don't  need to be suspended or expelled  for that behavior. So it provides educators with a  tiered way to assess whether  this is a realistic threat. And then addressing the needs of  the student and teacher. Their school climate issues. Ways to really take  alternatives. And so that's a statewide  measure. There are many districts. I mentioned Denver adopting  restorative practices. They didn't do this just as a  response to an incident where  you have a restorative circle. But they have really taken on  the whole philosophy of  restorative practices, which  means that community is at the  focus. And using punishment as a  measure of last resort of the so  when things go wrong or starting  to wrong in the classroom, the  teachers can intervene in very  positive and reinforcing ways  with the students. But the things that are working,  whether they be states or  districts, are — all have  something in common, which is  about student teacher and  teacher/parent relationships. And that I think is critically  important. And where these successful  things are going on, people can  really speak to them in a very  powerful way. Because they experience them. The teachers love these changes. The superintendents, the  administrators. Because they really do work. These alternatives — these are  not just academic ideas. Where they're in practice, they  really work and they're very  powerful.
>> great. And spring boarding off of the  youth piece there, Darryl, young  people are extremely capable of  being their own advocates. How do we get youth more  involved in undoing some of  these ineffective discipline  policies?
>> well, it comes with  awareness. First, as Dan has just  mentioned, they have to be some  sort of continuum between  students, parents, community  members and administration  within the schools. Because once we — if we all are  receiving and know the same  information, we can then move  accordingly. But there are students and  parents that feel they aren't a  valid part of equation. They feel as if the power are in  the hands of those in charge. So we have to, one, raise  awareness and allow those voices  to shine. And let them know, like, you do  have the potential to affect  this. You do have the potential to  affect change. You are involved in this policy  in some way, shape or fashion. Also, I think Dan mentioned  earlier as well — Dan and deb,  cultural sensitivity. I think all of you guys  mentioned cultural sensitivity. Cultural sensitivity and  competence plays a big part  because a lot of schools are —  I can only speak for urban  schools, the schools I'm  accustomed to. A lot of the teachers and  administration do not  necessarily live in that urban  center. So you have administrators that  are just blindly coming in and  just coming in with a one-track  mind. Okay, these are those students. These are those kinds of  students. We have to break that barrier of  cultural incompetence, I would  like to say. If we were to involve — like,  community walks, just for  instance. Teachers and administrators. Instead of a field trip of going  to an ice skating rink, let's  just take a walk around the  block and learn the cultural  cues within our community. It's — as far as break —  stigma. That's my big — we need to just  break this stigma that exists —  that exists here. Because we're all in this  together. Nonetheless. And an idea that came to me was,  like, we all have school boards. There are school boards that  exist. Yet there is barely any youth  representation. So — an idea would be creating  a student council that would  serve with the school board. The student council would be  responsible for replying to  their peers, gathering the ideas  of their peers, reporting to the  council. And then that is direct — that  has been — that would have a  direct effect on change, because  the students are then  enthralled. It would be representative of  all the schools within that  district. But if those are how the  youth — the youth — if I'm —  if I'm your friend and you're on  the counsel  sill and I know I  can express myself to you and  you're going to express it to  those in charge of the  administrators and then my  message is blown up, I will  feel, hey, you know, I did  something. I really feel that this law,  this policy or we're no longer  being suspended. So we're no longer being  suspended, outrageously, because  I spoke up and said something. So we — it goes — I don't  know. That was an idea of mine. Creating the student council to  serve with the school board that  would then benefit that  continuum between parents,  administrators and students.
>> and also talking about, you  know, the parent piece. And also, you know, educators —  meeting all adults working in a  school building, Karen and maybe  deb, I'm wondering if you can  tell how to get more buy-in from  parents and educators on more  effective school discipline and  better school climate.
>> one of the things that is imperative is for us to understand  and realize we're not in the  1950s. And all parents are not going to  be available at 5:00 p.m. to  come to a parent meeting. I think more schools are having  an open-door policy. So parents that work at night  can come in during the day. Get a pass, sign in, visit  classes. It can be more informal and  still be very engaging. But going back to — the tag  line is very corny. But if you make the school a  place where everyone wants to  be, parents want to be there  too. One of the things we look at is  how are people greeted when they  come into the school. Are they greeted? When they go into the main  office, does anyone ever speak  to you? These things are critical, and  people in business know that  this is a critical resource. We have to start learning those  things too. And so that's part of the  messaging that we're doing.
>> great.
>> yeah, I'd like to add to  that, too. Just I think you heard Karen  describe what was going on in  Baltimore, and realistically,  none of that can really occur  unless you have a really  visionary focused leadership in  place. They set the tone. Leadership matters, and it  matters a whole lot. So how kids are treated in  school, you know, are they  included with their voice  through — on a school board or  any place else really is set  from up above. So you have to have leaders, a  cadre of leaders, who believe in  kids. Who really open up their doors  and engage with families. I went into a school last year,  and they told me at this high  school they were working —  getting families into the  school. And you talk about signage and  greetings. I walked into the school and the  very first sign I saw was parent  hours, 3:00 to 4:00 p.m. and I was like, whoa, what were  they before? Nothing? These people have spent $1  million to create this center  for parents, but they could come  from 3:00 to 4:00 p.m. parents are sometimes working  two jobs, multiple children,  sporting events. Everything is causing stress. So we've got to open them up. But it takes a lead who are says  this is what matters, and it  matters on my watch. So I always say to leaders in  schools, if your team can't say  what are your  nonnegotiatables, you're not  leading strong enough. I think you heard from everyone  on this panel answers don't lie  within the schools. So a school is not always going  to have the mental health  supports for kids or the social  services to be sure that kids'  bellies are filled and they want  to be in school and can be ready  to study. So you have to develop  partnerships across the  community to harness that. And once you do that, it says  that this learning just doesn't  occur within the building. And I also think that these  leaders in schools — Baltimore  really has done, to take a very  hard look at the data. As was mentioned earlier, the  lady has been there all along,  right? Why has it taken us so long to  look at it and say it's really,  really important that we  understand the data and we  understand what's going to drive  changes within our schools. And honestly, being open to  student voice. I mentioned that. Would wouldn't want Darryl —  well, maybe some folks,  depending on your candor. Seriously. But sometimes we get so afraid  of students' voices because they  may actually tell us what we  think, but we don't want to hear  it, because then we have to act  upon it. And I think too often as adults  we assume we know what's good  for parents and families in our  community, and we assume we know  what's good for kids in our  community. When we don't. We make policies that probably  families look at us like what? Like the 3:00 to 4:00 hour to  come in the building or student  voices, trying to get kids back  in the school. Why don't we ask kids  themselves, what will keep you  in school. What will get you back to  school. What support structures do you  need. And that takes great leadership. Takes courage and tenacity, as  well.
>> definitely. Just to ask a question from our  viewers. Mario from California wants to  know, what alternatives to out  of school suspensions and what  are some reasons schools aren't  using those alternatives. Dan, do you want to take that  one?
>> sure. I think one of the reasons is  that many cases, this mantra  we've got to kick out the bad  kids so good kids can learn. That's sort of created a  mind-set where there is a little  bit of resistance to  alternatives. But I think we have research  showing there really are  alternatives that are effective  that it's not about creating  chaos or just dumping disruptive  kids back in the classroom. There are skills that teachers  can learn. One of the surveys of teachers  shows that one of the things  they want to learn more about is  classroom management. They want professional  development in that area. I know as a teacher myself, I  taught for ten years, I was one  of the teachers who were sending  kids to the principal's office  right and left. But I got effective training. Some of the things that I  learned were effective  immediately. How to sort of escalating  situations or focusing on what  kids were doing wrong, catching  kids doing right, and developing  relationships with the kids and  their parents through, you know,  calling parents about something  positive rather than that call  always being about something  negative. So there's — I think the other  thing is that there is not  enough support in terms of  resources. So there are choices that school  districts make. And more and more, as folks see  the connection between high  rates of suspension and low  achievement and lower graduation  rates, I think there will be —  we're seeing some turnaround as  people really realize that you  have to keep more kids in  school. You have to find alternatives. That is driving, you know —  pushing back on that kind of  resistance and getting us back  to the common sense, let's use  suspension as a measure of last  resort. >> can I add one thing to that?
>> sure.
>> I really want to emphasize  this issue of training. You know, in all my years of my  career, I'm hoping you agree,  Karen. I don't see teachers who walk  into schools who want to mess up  kids' lives. A lot of times their bag of  tricks that I call them is  empty. Or they haven't been given that,  right? So when it kids scary if you say  we're going to remove zero  tolerance policy. Because my fear is like what do  I do next? Or I don't know how to  deescalate. So if you have a particularly  challenging student who has had  a multiple years of that,  that kid comes with a  reputation. The only thing you can think of  is if I can get that kid  removed, I can get on to the  other students. So we can't forget the training. I just can't emphasize that  enough. And too often in budget  reductions, professional  development goes by the wayside. And so we just expect teachers  to be all things to all kids. And they want to do the right  thing. But when that bag of tricks is  empty, they just need a  replacement for it. And so it sounds like you're  doing — like to train people in  the climate to understand what  pbis is. What is it. What's restorative justice. What does that mean? Because they can see that if  you're removing this from me,  what are the three tools that I  have now, that I can be better  in reaction with my students. You know, kids thrive on  relationships, we get that. And when those relationships  become strained, I mean, we just  need help where teachers and  principals, every day. And even how to interact with  families when perhaps the four  things they used to do aren't  working anymore.
>> right.
>> and I think that some of our  teacher training programs that  have teachers in urban centers  who may be very, very young are  beginning to understand that  more training on classroom  management, cultural competency,  is absolutely required. Because otherwise the teachers  won't succeed. And they'll undergo the most  amazing kinds of stressors. Because they're just not  prepared to go where they are. I mean, I can't imagine going on  a trip to another country and  not having any prep whatsoever. I couldn't — you couldn't drop  me in I'd hoe and expect me to  know exactly what to do and how  to speak and what's funny. So I don't think we should  expect that of our teachers who  are 21 years old. Sometimes there's not a lot of  difference in age between them  and the students before them. We've got to do a better job. And I think one of the things  that we're afraid of is  stereotyping. You know, we're afraid of using  certain words, like  african-american. You know — we're afraid of  putting it out on the table. Because it may be seen as  something controversial. But until we're able to have  those tough conversations, we're  going to have people who are  falling out of teaching on a  regular basis. And it won't be because they  can't handle the subject there. They have already proven that in  college and graduate school. But it will be because they're  disconnected from what's  happening in the classroom.
>> and just another sort of —  to dove tail on that. There are — our studies of  large school districts shows  there are lots of secondary  schools that aren't suspending  high numbers of kids. What are the alternatives, in  many cases districts have  alternatives already in place. Los Angeles, for example, has  the highest number of  high-suspending secondary  schools where 25% or more are  being suspended. But they also have the highest  number of low suspending where  fewer are being suspended. Oftentimes the answers are  there. This brings up another issue  which relates to data. We heard Karen say she used data  very effectively within the  district. And you talked about the need to  look at data. If we use data, we can find out  what is working within these  districts. So one of the things I'm hoping  will happen at the federal level  is that we need an annual  requirement that all public  schools and districts report  this data to the public. This aggregated discipline data. We count what we care about. We count test scores, graduation  rates, all this other  information comes every year. But currently only for kids with  disabilities is there an annual  requirement that states report  this data. And only 16 states are actually  complying with that statutory  requirement. So we need to really put that  priority in terms of, you know,  fulfilling those obligations to  meet the data reporting. And then add to that, we should  be reporting on kids in general  as well as in special ed every  year. >> I'm also wondering, Dan, what  your thoughts are on adopting  new policies or what's federal  or state or local barriers  should be removed in effort to  improve school climate, to help  with school discipline issue.
>> right. So what my number one barrier,  we don't have enough information  on a regular basis. So the public has a right to  know this. What we're finding out is that  policymakers too often have been  in the dark in terms of not  realizing just how high these  suspension rates and how  pervasive this problem is, and  also not knowing there are  solutions right there in the  same direct. Where it's not a problem. But beyond the data issue, I  think there's a whole income   economic piece so folks who  don't care about, you know,  disparities and suspensions and  maybe they don't respond, you  know, in a warm way to talk  about school climate, the  economic reality is that it's  incredible expensive to the  taxpayer. It's incredibly inefficient to  push out high volumes of kids  for minor offenses, because they  are winding up in our juvenile  justice system. In states like new York, it  costs $100,000 per year per bed  in the juvenile justice system. So those investments we know  from economists, investing in  early childhood is really  important. Helps keep kids in school. But also investing in  alternative approaches to  discipline that don't really on  pushing kids out of school are  very cost effective, when we  really make the true costs of  out of school suspensions  visible. So that's — and the third one  is just getting the research  into the hands of the policy  makers, because I believe that  teachers and educators, when  they see these connections that  it's true that you can keep kids  in school, pursue an alternative  method of discipline and improve  test scores, improve climate,  improve graduation rates. When people really understand  that, that really moves the  ball. But there is that knowledge gap,  research to practice gap that we  really have to address.
>> I just wanted to say too, one  of the things that we did in the  last couple years is we looked  at the students who had been  suspended, and then we matched  their test scores against other  students who had not been  suspended. And they — the students who  were not suspended way  outperformed the students who  had been suspended even one  time. And once they were suspended two  or more times, their scores went  down the drain. They performed even more poorly  than students who were  chronically absent. So the evidence is there. The other thing I wanted to say  about alternatives to  suspension, though, what really  has to change is the mindset. We have to move from being  punitive to being restorative. No matter what practice we're  using, we have to think in terms  of making the child whole and  having that child make the  community whole. How did you harm the community? How did you harm this particular  student? What are you going to do to fix  this? And if we don't do that, we're  not really holding students  accountable. We're just meting out  punishments.
>> Darryl, from a student  perspective, what do you think  can be done to strengthen a  relationship between educators  and students?
>> I think — as I mentioned  earlier, just as simple as, you  know, being involved in the  community. Like walking around the  community. I think if we allowed spaces  where it allows for more free  interaction between the educator  and student so it's not all  curriculum, all the time. If we allow, you know, maybe  home room was really home room  where we all sat — I remember  at one point in my life, we sat  and we actually spoke about  life. And now home room has become a  class. So where did that transition  begin? If we were to reinstill that  social connection between the  educator and student, I think  that, you know, it would  increase the value of the school  climate.
>> leadership being important. It's not only the district  leadership, but principal  leadership. So whatever principals make the  priority is what the school  makes a priority. So if the principal determines  that climate is the number-one  priority in this school, by  golly, that climate will change  almost overnight. So teachers and all of the  adults in the building have to  not only be given permission to  form relationships, and not only  be given space and time. But that has to be the stated  and messaged priority. And then things change almost  overnight.
>> we learn a lot to our school  improvement grants, based on  that. Those schools that have been  rapidly improving through our  school improvement grant program  are those that have really  focused on building  relationships first. And, you know, I think if we  were to go around the table or  you just go out and ask kids or  even adults, I have an adult  child, what do you remember  about certain teachers, I have  never — and I probably have  interviewed thousands of kids. I have never, ever had one child  or adult kid say to me, oh, I  love this teacher, because I got  to memorize the states and the  capitals. You know? What they talk about are  relationships, right? They talk about the school nurse  who came to their first varsity  soccer game. They talk about the teacher who  gave the extra night of  homework. They talk about their teacher in  kindergarten who came to see  them when they were in high  school. It's also about relationships. And, you know, I feel like I'm  on this big charge about this. I feel if we change our language  around achievement gaps, which  to me focuses more on it's the  kids' problem. I taught it, and they just  didn't learn it. But expectations and opportunity  gaps are huge. And so the relationships always  changed. The opportunity and expectation  gaps. Now when we have a culture of  belief in kids and we're here to  support them, it's sort of that  mantra of it takes a village. We know that that changes. Kids get it. Go to a middle school and ask if  you're respected or which adults  want to be there. They get it. So we know what to do. We have just got to make it a  priority of the principal and  the school leadership and  teachers. Every adult in that school has  to care for those kids. Every one. You know, what's concerning to  me, you talk about policies and  even laws. I know the American school  council association recommends  an average of 250 students to  every school counselor. The national average right now  is 450 students to every  counselor. I think there are five or six  states under 300. Can you imagine having a case  load of 450 kids to know each of  them well enough to say, Darryl,  what's up with you? You know? You've got to have those  conversations. But we create these enormous  case loads for people. And then we expect they're going  to do monumental work in the  lives of our students. It's unfathomable. >> and so there's also a  resource issue. So I was glad when the  administration — when they said  you could spend money on police. You could also instead choose to  spend the money on school  counselors. But I think that in response to  things like school shootings,  there is this overreaction. You need metal detectors,  hardware, more police in  schools. When, in fact, those kinds of  interventions have shown to be  counterproductive. And people don't feel safe. I'm not saying eliminate all,  you know, police presence. But our investments of scarce  resources, how can we justify  spending money and it's very  expensive to have a police  officer in your school when you  don't have adequate special  education supports. When you don't have adequate  counselors. When we're sort of failing to  meet these basic needs of the  students in so many ways. So I think we have to  reprioritize the resources and  really think, especially around  things like cops and metal  detectors, and how better to  spend the money.
>> can I say something about  school police? And I'm not disagreeing. But what I do think is that for  those districts that do have  school police, which we do. We have a school police force. They're in about half our  schools at this point. What we have done is repurpose  what their mission is. Their mission is not to arrest  children.
>> right.
>> their mission is to be  embedded in the school climate. So they have become folks who  counsel, who coach, who teach,  who walk around, who make  friends, who know the parents,  even when the administrator  doesn't sometimes. They know the community. We have repurposed what their  role is. And so there's a gamut now. It's not you come in when it's a  law enforcement issue. You come in from beginning to  end. You're part of this community  and it's made a tremendous  difference. Last year when we had a  recognition ceremony, we asked  the officers to stand up who  were coaches at their school. 55 officers stood up. That's almost half of the police  force. Stood up, because they're all  coaching at the school they are  police officers in. That's the repurposing that has  to happen.
>> that's how relationships get  formed.
>> absolutely.
>> so it doesn't create kids  going into this justice system,  as you mentioned. I have seen that so often. I love for that to serve as a  model across the country, as I'm  sure you would. Because otherwise I've seen too  many schools where the police  officer is merely there if there  is a verbal altercation with the  teacher, they immediately get a  ticket and that sends them right  into a system. And what it doesn't do is divert  behavior. It actually teaches a student  different kinds or alternative  ways. Whereas that trained police  officer that you've repurposed  can say, what about if you  handled it this way. What about if you even counted  to five. Sometimes our kids don't know  that. Like what are alternative  methods of responding to a  situation in which they feel a  tremendous amount of stress. So if we could get more people  to focus in on what's the  purpose of those individuals,  and repurpose a lot of adults in  a school.
>> that's right.
>> as to what your mission is,  and to be there for kids, that  is absolutely vital.
>> there have been districts  like in Oakland and clayton  county, Georgia, who followed  judge teske or judge huff and  having written protocols that  really say just that. That the police officers are  there to have relationships with  the kids and to ward off the  really serious, dangerous kinds  of activities. But otherwise, they don't arrest  kids. They're not — they're not kids  being charged for misdemeanors  or public fray or disrupting  classroom. We're seeing just the opposite,  unfortunately, in many other  districts, where the police are  not trained, and they come in  with a beat mentality, and  evaluated on how many kids —  their arrests. And they don't have that  relationship. We have even heard of situations  where a school decides not to  suspend a kid but the officer  still charged the student and  the student has to still go to  court for some sort of assault  that the school decided wasn't  an actionable offense. So there is a big disconnect. I agree with you. There is a right way to do this. And we really have to use those  resources wisely to ensure that  it's done.
>> I was — I'm one of the  alumnus of the children's  defense fund. And also a member of the  children's defense fund of new  York. So one initiative we institute  have instituted, because new  York has a large school safety  force, so school safety is our  police force within our schools. And one thing we have done as an  initiative, we have embarked on  school safety sensitivity  trainings. So we are — we are presenting  to — we are presenting to  school safety officers how to  better deal with your students. Because as you have all  mentioned, coming in with a beat  mentality when you're dealing  with adolescents, there is  definitely something wrong  there. Because I remember with my  encounters with the police, at  15, you aren't thinking, oh,  man, well tomorrow I'm going to  regret this decision I'm going  to make receipt right now. So it's just — grasp — even  grass roots. Even if it's not on an a  federal, state, local or  district level, even grass roots  initiatives can push forth the  sensitivity training, both with  our — both with our school  safety officers or police  officers within our schools. And also with our administration  and everyone all around the  board.
>> well, we're running out of  time. But I want to go around and just  get one brief final word from  everyone. Maybe a piece of advice you  would like to tell our viewers. Dan, we'll start with you.
>> well, I think that there are  a great deal of realistic  alternatives that really work. But we do have to make this a  federal initiative. We have to start with requiring  the data to be reported to the  public. The public has a right to know. And then we have to get the  research into the hands of the  policymakers. I do see a lot of positive  change, and I just would like to  continue that momentum. So I'm really glad to be part of  this now. Thank you.
>> great.
>> yeah, I think that in  addition to the policy changes  and the practical changes that  we need to do, the messaging has  to be consistent. And it has to be from the  federal, state and local level. Because there are still too many  people that think the way out of  this morass will educate this  away. If we have great teachers, there  won't be any behavioral  problems. And that's just not true. Until we have the realistic  conversations about the cultural  disconnects and the issues  dealing with climate and  behavior, and the associations  between poverty and stress. Until we start having those  conversations, we're not going  to get out of the morass that  we're in. >> yeah. Thanks. And I  too am glad this is a  conversation, particularly in  having Darryl's voice here. I would reiterate what I said  before, which is what we offer  to our children. Our students, tell them what it  is we value. And I just think every single  day we have to realize that  every decision we make impacts  kids, impacts their ability to  come to school feeling  comforted, relaxed, supported. Challenged, even. But in a positive way. Because that culture and that  school climate is just  absolutely vital. So I want us to be really  conscientious that every policy  has to be viewed through the  eyes of a 15-year-old,  18-year-old, 5-year-old. And to recognize that people are  in different developmental  stages. And that culture matters. That the climate matters. The context matters. And we — as Karen mentioned,  have to have those critical  conversations. And we have to be able to look  deep inside ourselves and  reflect on what do we really  hope to get for all of our  students at the end of the day.
>> I would like to say that we  begin to focus more and create  emphasis on the importance of  relationships within our  schools. And the importance of  relationships across the board. Because as humans, we're social  creatures. And we benefit from  relationships. And I think that if we create an  environment where we can foster  good relationships — I've said  it three times — but if we  create an environment where that  can grow, then, you know,  goodness will grow out of it.
>> thank you all. I appreciate it.
>> thank you so much.
>> I want to thank Darryl, deb,  Karen and Dan for joining us  today. I also want to thank you, our  webinar viewers, for joining us,  as well. Please keep an eye out for  future publications and webinar  school climate in upcoming  months. If you've missed any of today's  webinar, you can watch an  archive ed video at  allfored.org/webinar. And to keep up to date with our  latest happens and federal  education policy, follow the  lines on twitter at  twitter.com/all4ed and on  Facebook. Have a good afternoon and thanks  for joining us.
— captions by vitac — www.vitac.com
Categories:
Uncategorized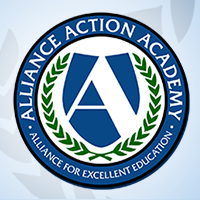 Welcome to the Alliance for Excellent Education's Action Academy, an online learning community of education advocates. We invite you to create an account, expand your knowledge on the most pressing issues in education, and communicate with others who share your interests in education reform.
Register Now
or register for Action Academy below: