Capacity Building Through a Twenty-First-Century Collaborative Network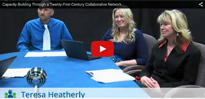 December 16, 2014
9:00 pm – 10:00 pm EDT
Capacity Building Through a Twenty-First-Century Collaborative Network
Panelists
Michelle Benham, Director of Instructional Technology, Dysart Unified School District
Teresa Heatherly, Director of Curriculum Instruction and Assessment, Dysart Unified School District
Kristie Martorelli, Professional Development Coordinator, Dysart Unified School District; 2012 Arizona Teacher of the Year
Tom Murray, State and District Digital Learning Director, Alliance for Excellent Education
Gail Pletnick, Ed.D, Superintendent, Dysart Unified School District; Member, Project 24 Team of Experts; Member, AASA Digital Consortium
Stephen Poling, Ed.D, Assistant Superintendent for Academic Services, Dysart Unified School District
On December 16, 2014 the Alliance for Excellent Education hosted a webinar in its Project 24 leadership series. Project 24 is a systemic planning framework around the effective use of technology and digital learning to achieve the goal of "career and college readiness" for all students. The Google Hangout explored how the Dysart Unified School District in Arizona built a twenty-first-century collaborative network to support digital learning implementation.
If the nation expects students to graduate from high school prepared for life and work in the twenty-first century, then secondary school staff members must be prepared as twenty-first-century leaders and learners. This webinar explored how the Dysart Unified School District (Dysart) designed and implemented a twenty-first-century collaborative network to support building new century leadership capacity with its staff. The network has several components that align instructional support systems with the outcome of building a twenty-first-century learning environment that serves its staff and students.
During the webinar, the Dysart team described how their twenty-first-century collaborative network provides a framework for personalized professional learning for all staff; offers individualized support to each school and department; and empowers staff and students to be increasingly more competent in utilizing twenty-first-century work skills.
Information on the planning and tools essential to the launch of the network were shared. The network incorporates the 4Cs, other twenty-first-century skills, and the concept of digital learning as part of the professional development for adults in the system and examples of how this was accomplished were shared. The framework can be adapted by schools to fit their current collaborative support teams and to meet professional learning needs. This creative solution approaches organizational changes with a mindset for transformational education.
Dysart's superintendent; director of curriculum, instruction, and assessment; director of instructional technology; and professional development coordinator discussed how this innovative approach tied to the district's strategic plan goals that focused on graduating its students equipped with twenty-first-century skills and ready for college and a career.  This webinar provided an overview of Dysart's twenty-first-century collaborative network describing not only the critical components, but also how each component supports the goals of the initiative. The Dysart leadership team and the Alliance's Tom Murray took questions from webinar viewers and shared ideas for transforming a school district's professional learning model.
Supplemental Resources:
Categories:
Uncategorized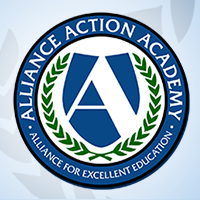 Welcome to the Alliance for Excellent Education's Action Academy, an online learning community of education advocates. We invite you to create an account, expand your knowledge on the most pressing issues in education, and communicate with others who share your interests in education reform.
Register Now
or register for Action Academy below: