What's in Your Space?: The Impact of Space on Student Learning

December 15, 2016
3:00 pm – 3:30 pm EDT
YouTube Live Event
What's in Your Space?:
The Impact of Space on Student Learning
Panelists
Dwight Carter, Principal, New Albany High School (OH)
Thomas C. Murray, Director of Innovation, Future Ready Schools, Alliance for Excellent Education
On December 15, 2016 Future Ready Schools® (FRS) held a webinar that is part of its Leadership Hub, a one-stop-shop of professional learning opportunities for school leaders.
For two decades, educators have been told to incorporate skills for the global economy, adapt to diverse learning styles, and employ technology. This requires changing thinking and physical spaces. How can or should these spaces change to keep pace with and reflect twenty-first-century teaching models?
Dwight Carter is principal of New Albany High School in Ohio and coauthor of What's in Your Space? Five Steps to Better School and Classroom Design. He discussed five practical steps to help educators shift their thinking and transform their physical learning spaces so that they work for today's students, or Generation Z.
Mr. Murray and Mr. Carter discussed various aspects of space transformation, including the following:
Understanding Generation Z
Asking thought-provoking questions
Shifting to a twenty-first-century mindset
Mr. Murray and Mr. Carter also addressed questions submitted by viewers from across the nation.
---
Please direct questions concerning the webinar to alliance@all4ed.org. If you are unable to watch the webinar live, an archived version will be available immediately at https://all4ed.org/webinars.
Future Ready Schools® is a collaboration between the US Department of Education and the Alliance for Excellent Education, a Washington, DC–based national policy and advocacy organization dedicated to ensuring that all students, particularly those traditionally underserved, graduate from high school ready for success in college, work, and citizenship.
Follow Future Ready Schools on Twitter (twitter.com/FutureReady);
Facebook (facebook.com/futurereadyschools);
and the Future Ready Schools' Leadership Hub (futureready.org/hub).
---
If you are interested in renting the Alliance's facilities for your next meeting or webinar, please visit our facilities page to learn more.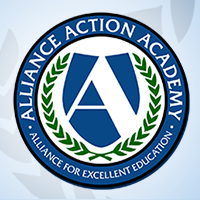 Welcome to the Alliance for Excellent Education's Action Academy, an online learning community of education advocates. We invite you to create an account, expand your knowledge on the most pressing issues in education, and communicate with others who share your interests in education reform.
Register Now
or register for Action Academy below: