Student Tech Teams: From Creation to Implementation

December 15, 2015
7:00 pm – 7:30 pm EDT
Google Hangout On Air
The Alliance for Excellent Education
Invites You to a Attend a Webinar
Student Tech Teams:
From Creation to Implementation
Panelists
Tom Murray, Director of State and District Digital Learning, Alliance for Excellent Education
Jennifer Scheffer, Mobile Learning Coach, Burlington Public Schools (MA)
Timmy Sullivan, Student, Burlington Public Schools (MA)
On December 15, 2015, Future Ready Schools held a webinar in its FRS Leadership Network, a one-stop shop of professional learning opportunities for school leaders. This Google Hangout explored the creation, implementation, and use of student tech teams.
Mobile learning coach Jennifer Scheffer and one of her students, Tim Sullivan, discussed the benefits of student tech teams in supporting large-scale technology initiatives from both the student and teacher perspectives. Practical advice on student tech teams, including curriculum and assessment development, recruitment and training of students, and how to promote team services was shared during this webinar. Learn how Burlington High School's student-run Genius Bar has become one of the nation's premiere student tech team services and how similar initiatives can be developed to meet the unique needs of their learning community.
Panelists also addressed questions submitted by webinar viewers from across the country.
Please direct questions concerning the webinar to alliance@all4ed.org. If you are unable to watch the webinar live, an archived version will be available at all4ed.org/webinars-events one to two business days after the event airs.
Future Ready Schools is a collaboration between the U.S. Department of Education and the Alliance for Excellent Education, a Washington, DC–based national policy and advocacy organization dedicated to ensuring that all students, particularly those traditionally underserved, graduate from high school ready for success in college, work, and citizenship.
Follow Future Ready Schools on Twitter (twitter.com/FutureReady);
Facebook (facebook.com/FutureReadySchools); and
the Future Ready Schools' Leadership Network (FutureReadySchools.org/network).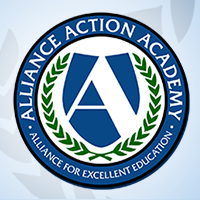 Welcome to the Alliance for Excellent Education's Action Academy, an online learning community of education advocates. We invite you to create an account, expand your knowledge on the most pressing issues in education, and communicate with others who share your interests in education reform.
Register Now
or register for Action Academy below: