From Theory to Practice: How Blended and Personalized Learning Comes to Life in the Classroom

December 1, 2016
7:00 pm – 7:30 pm EDT
Hangouts On Air
From Theory to Practice:
How Blended and Personalized Learning
Comes to Life in the Classroom
Panelists
Daniel Owens, Partner, The Learning Accelerator
Tom Murray, Director of Innovation, Future Ready Schools, Alliance for Excellent Education
Nikolaus Namba, Director of 21st Century Learning, Lindsay Unified School District (CA)
On Thursday, December 1, 2016 Future Ready Schools® (FRS) held a webinar as part of its Leadership Hub, a one-stop-shop of professional learning opportunities for school leaders.
While technology is nearly commonplace in K–12 classrooms, many educators are often left wondering how best to use it to improve teaching and learning. The Learning Accelerator (TLA) has spent the past year researching, capturing, and sharing more than 150 high-quality blended and personalized learning strategies to illustrate how technology can best be used to improve instruction.
This webinar highlighted how TLA thinks technology can be used to benefit every student in America and offered specific classroom examples of where technology is accelerating student learning. Panelists provided unique insights into these practices, including how they evolved from an idea to an instructional strategy, as well as the conditions and supports that make them possible.
Panelists solicited questions and feedback from the audience in order to provide a more engaging experience.  Also they provided resources that would allow audience members to deepen their learning about blended and personalized learning practices.
---
Please direct questions concerning the webinar to alliance@all4ed.org. If you are unable to watch the webinar live, an archived version will be available in "Resources" of the FRS Dashboard after the event airs.
Future Ready Schools® is a collaboration between the US Department of Education and the Alliance for Excellent Education, a Washington, DC–based national policy and advocacy organization dedicated to ensuring that all students, particularly those traditionally underserved, graduate from high school ready for success in college, work, and citizenship.
Follow Future Ready Schools on Twitter (twitter.com/FutureReady);
Facebook (facebook.com/futurereadyschools);
and the Future Ready Schools' Leadership Hub (futureready.org/hub).
---
If you are interested in renting the Alliance's facilities for your next meeting or webinar, please visit our facilities page to learn more.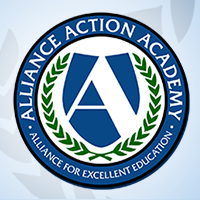 Welcome to the Alliance for Excellent Education's Action Academy, an online learning community of education advocates. We invite you to create an account, expand your knowledge on the most pressing issues in education, and communicate with others who share your interests in education reform.
Register Now
or register for Action Academy below: