Debt, Default, and Dropouts: A Congressional Report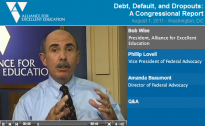 August 1, 2011
3:00 pm – 4:00 pm EDT
Washington, DC
The debate over the debt ceiling and possibility of the U.S. government defaulting on its debt is consuming newspapers and talk shows in Washington, DC, and around the nation. How does this debate impact education? Is Congress going to reauthorize the Elementary and Secondary Education Act by the time school begins as the President called for earlier this year? Or, is the U.S. Department of Education going to waive certain requirements of the No Child Left Behind Act?
On August 1 the Alliance for Excellent Education held a webinar to provide an update on recent congressional action to reform the American education system while answering the above questions and more. The webinar featured Bob Wise, president of the Alliance for Excellent Education and former governor of West Virginia, and staff from the Alliance's federal advocacy team. The webinar also provided an opportunity for Gov. Wise and Alliance staff to address questions submitted by viewers across the country.
The Alliance for Excellent Education is a Washington, DC-based national policy and advocacy organization that works to improve national and federal policy so that all students can achieve at high academic levels and graduate from high school ready for success in college, work, and citizenship in the twenty-first century. For more information about the Alliance, visit www.all4ed.com.
Categories:
Uncategorized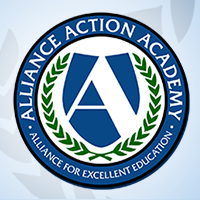 Welcome to the Alliance for Excellent Education's Action Academy, an online learning community of education advocates. We invite you to create an account, expand your knowledge on the most pressing issues in education, and communicate with others who share your interests in education reform.
Register Now
or register for Action Academy below: