Creating a Culture of Excellence: The Role of School Leaders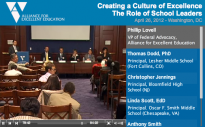 April 26, 2012
11:45 am – 1:30 pm EDT
Capitol Visitor Center, Room 209-08 First Street, East Capitol Street, NE, Washington, DC
Participants
Thomas Dodd, PhD, Principal, Lesher Middle School (Fort Collins, CO)
Elizabeth Grant, PhD, Special Assistant, Department of Education
Christopher Jennings, Principal, Bloomfield High School (NJ)
Phillip Lovell, Vice President of Federal Advocacy, Alliance for Excellent Education
Linda Scott, EdD, Principal. Oscar F. Smith Middle School (Chesapeake, VA)
Anthony Smith, Principal, Pierce County High School (Blackshear, GA)
The Alliance for Excellent Education and the National Association of Secondary School Principals (NASSP) held a briefing on April 26 to discuss the role of school leaders in creating a culture of excellence that has allowed students to succeed at great levels. The MetLife Foundation–NASSP Breakthrough Schools project identifies, showcases, and recognizes middle and high schools that are high achieving or dramatically improving student achievement while serving large numbers of students most at risk of dropping out.
The four schools participating in the panel discussion have been recognized by the Breakthrough Schools project for exemplifying the core areas of collaborative leadership, personalization, and access to a rigorous and differentiated curriculum for all students.
We would like to thank U.S. Senator Michael Bennet, honorary host of this event.
This event is made possible with support from

The National Association for Secondary School Principals (NASSP) is the leading organization of and national voice for middle level and high school principals, assistant principals, and all school leaders from across the United States and more than forty-five countries around the world. www.NASSP.org

The Alliance for Excellent Education is a Washington, DC-based national policy and advocacy organization that works to improve national and federal policy so that all students can achieve at high academic levels and graduate from high school ready for success in college, work, and citizenship in the twenty-first century. For more information about the Alliance, visit www.all4ed.com.
Categories:
Uncategorized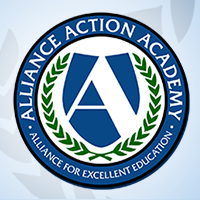 Welcome to the Alliance for Excellent Education's Action Academy, an online learning community of education advocates. We invite you to create an account, expand your knowledge on the most pressing issues in education, and communicate with others who share your interests in education reform.
Register Now
or register for Action Academy below: