College and Career Readiness: What Does It Really Mean? Part I: What Does the Research Say?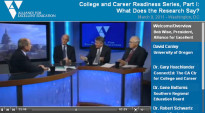 March 9, 2011
3:00 pm – 4:00 pm EDT
Washington, DC
Participants
Gene Bottoms, Senior Vice President, Southern Regional Education Board
David Conley, Founder and Director, Center for Educational Policy Research, University of Oregon; Founder and CEO, Educational Policy Improvement Center
Gary Hoachlander, President, ConnectEd: The California Center for College and Career
Robert Schwartz, Francis Keppel Professor of Practice of Education Policy, Harvard Graduate School of Education
Bob Wise, President, Alliance for Excellent Education
The national conversation around education has shifted from baseline academic proficiency to preparation for the rigors of college and the workplace. This shift comes as many college faculty and employers note that students graduating from American high schools are not prepared for postsecondary education or workplace demands. Lack of college readiness is demonstrated by low college attendance rates, low college graduation rates, and high remediation costs endured by postsecondary institutions.
To address this shift in goals and outcomes for students, policymakers must address several questions to help ensure that a high school education prepares the nation's students with the skills to succeed, including:
What knowledge, skills, and dispositions do students need to succeed in college and careers?
What federal, state, and local policy infrastructures are necessary to ensure the delivery of effective college- and career-ready instruction?
To address these essential questions and more, the Alliance will host a three-part webinar series, "College and Career Readiness: What Does It Really Mean?" that will reflect a myriad of perspectives from the field.
During part one of the series on March 9, "What Does the Research Say?," our distinguished panel shared lessons drawn from the body of research on college and career readiness and discussed recommendations for aligning policy and practice.
Subsequent webinars in this series will engage state and community based leaders who are spearheading initiatives to incorporate college and career readiness into policy and practice.
The Alliance for Excellent Education is a Washington, DC-based national policy and advocacy organization that works to improve national and federal policy so that all students can achieve at high academic levels and graduate from high school ready for success in college, work, and citizenship in the twenty-first century. For more information about the Alliance, visit https://all4ed.org
Categories:
Uncategorized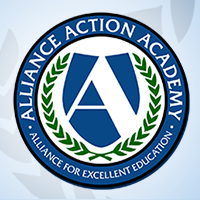 Welcome to the Alliance for Excellent Education's Action Academy, an online learning community of education advocates. We invite you to create an account, expand your knowledge on the most pressing issues in education, and communicate with others who share your interests in education reform.
Register Now
or register for Action Academy below: