College and Career Readiness: What Does It Really Mean? Part 3: The Practitioner Perspective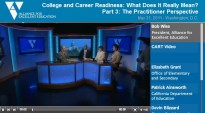 May 31, 2011
3:00 pm – 4:00 pm EDT
Washington, DC
Panelists
Patrick Ainsworth, Assistant Superintendent and Director of Secondary, Career, and Adult Learning Division,
California Department of Education
Devin Blizzard, Chief Executive Officer, Center for Advanced Research and Technology (CA)
Jeanne Escalera, Lead Teacher, Center for Advanced Research and Technology (CA)
Elizabeth Grant, Special Assistant, Office of Elementary and Secondary Education, U.S. Department of Education
Bob Wise, President, Alliance for Excellent Education
On May 31 The Alliance for Excellent Education presented "College and Career Readiness, Part 3: The Practitioner Perspective." This webinar highlighted the efforts of one very innovative school, the Center for Advanced Research and Technology (CART). Through its partnerships with the Fresno and Clovis Unified School Districts in California, CART successfully provides participating students with an interdisciplinary college- and career-preparatory curricula and project-based experiences that mirror the realities of today's workplace. When compared to similar students' results from across the two districts, CART students have achieved impressive results, including higher graduation rates, better achievement outcomes, and higher college participation rates.
The national conversation around education has shifted from baseline academic proficiency to rigorous preparation for the challenges of college and the twenty-first-century workplace. This shift comes as many college faculty and employers are realizing that students graduating from American high schools are not prepared for postsecondary education or workplace demands. The pervasive lack of college readiness among high school students is demonstrated by low college attendance rates, low college graduation rates, and high remediation costs endured by postsecondary institutions and students.
During the May 31 webinar, CART staff members spoke about the program and described their experiences, and representatives from the U.S. and California departments of education discussed how these college- and career-ready efforts can be supported at the state and federal levels. The webinar also included a panelist discussion to address questions submitted by viewers across the nation.
"Part 3: The Practitioner Perspective" is the third and final webinar in the Alliance's three-part webinar series, "College and Career Readiness: What Does It Really Mean?," which reflects perspectives on college and career readiness from a variety of sectors. The first webinar of the series, held in March 2011, convened leading researchers and practitioners to talk about what the research says about preparing students for college and a career. The second webinar, held in April 2011, convened business and postsecondary stakeholders to provide a direct perspective of what students really need to be ready for college and a career.
Please direct questions concerning the webinar to all4ed@all4ed.org.
Categories:
Uncategorized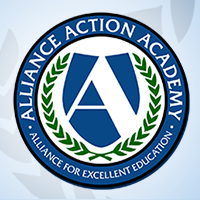 Welcome to the Alliance for Excellent Education's Action Academy, an online learning community of education advocates. We invite you to create an account, expand your knowledge on the most pressing issues in education, and communicate with others who share your interests in education reform.
Register Now
or register for Action Academy below: