Calling All District Leaders! The Need for Systemic Technology Planning to Address Higher Standards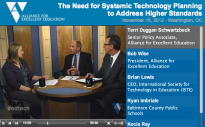 November 15, 2012
9:00 am – 10:00 am EDT
Washington, DC
Panelists
Ryan Imbriale, Principal, Patapsco High School (Baltimore County Public Schools)
Brian Lewis, Chief Executive Officer, International Society for Technology in Education (ISTE)
Kecia Ray, Executive Director of Learning Technologies, Metropolitan Nashville Public Schools;
and President-Elect, International Society for Technology in Education (ISTE)
Terri Duggan Schwartzbeck, Senior Policy Associate, Alliance for Excellent Education
Bob Wise, President, Alliance for Excellent Education
As states have rightly moved to require that all students be college and career ready, school district leaders must now make far-reaching decisions that will affect the next decade of education in the United States. Partnering with other organizations, the Alliance for Excellent Education (the Alliance) seeks to provide education leaders in states and school districts with tools to make good decisions about technology aligned with the goals and vision for their students.
The Alliance held a webinar discussion on the need for states and districts to develop plans that incorporate the use of technology in school improvement efforts, specifically as they implement college- and career-ready standards for all students; use online assessments to gauge comprehension and learning; integrate new teacher evaluations; deal with shrinking budgets; and address the effects of the Elementary and Secondary Education Act waivers.
The Alliance for Excellent Education is a Washington, DC-based national policy and advocacy organization that works to improve national and federal policy so that all students can achieve at high academic levels and graduate from high school ready for success in college, work, and citizenship in the twenty-first century. For more information about the Alliance, visit www.all4ed.com.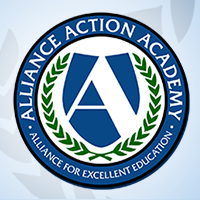 Welcome to the Alliance for Excellent Education's Action Academy, an online learning community of education advocates. We invite you to create an account, expand your knowledge on the most pressing issues in education, and communicate with others who share your interests in education reform.
Register Now
or register for Action Academy below: