Bipartisan National Public Opinion Poll On The Need For Immediate Education Reform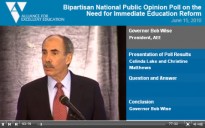 July 4, 2010
2:30 pm – 4:30 pm EDT
Washington Ct Hotel, Ballroom II 525 New Jersey Avenue, NW Wasington, DC
Participants
Celinda Lake, President, Lake Research Partners
Christine Matthews, President, Bellwether Research and Consulting
Bob Wise, President, Alliance for Excellent Education
Improving the quality of public high schools through the reauthorization of the Elementary and Secondary Education Act (ESEA) is a voting issue for over eight in ten voters, according to a new national poll released on July 14, 2010 by the Alliance for Excellent Education. The poll was conducted by Lake Research Partners and Bellwether Research and Consulting for the purpose of gaining insight into Americans' views of the public education system, the concern over the growing problems with the nation's high schools, and the urgency to enact meaningful education reform through reauthorization of ESEA.
At this event, Governor Bob Wise was joined by pollsters Celinda Lake and Christine Matthews to discuss the results of the survey. Ms. Lake is president of Lake Snell Research. She is one of the Democratic Party's leading political strategists, serving as tactician and senior advisor to the national party committees, dozens of Democratic incumbents, and challengers at all levels of the electoral process. Ms. Matthews is president of Bellwether Research and Consulting. She has been a partner and vice president at other leading Republican Party research firms, and has conducted polling in every state in the nation and for campaigns at all levels. Ms. Lake and Ms. Matthews have both appeared as guest political commentators on prominent national news networks.
Agenda 
PDF
Speaker Biographies 
PDF
Poll Questionnaire 
PDF
Poll Summary 
PDF
PowerPoint of Poll Findings 
PDF
ADDITIONAL RESOURCES
July 14, 2010 National Webinar (1:30 – 2:30 p.m. EST)
Categories:
Uncategorized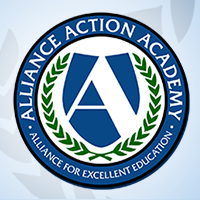 Welcome to the Alliance for Excellent Education's Action Academy, an online learning community of education advocates. We invite you to create an account, expand your knowledge on the most pressing issues in education, and communicate with others who share your interests in education reform.
Register Now
or register for Action Academy below: