Back to School: Diving Into Digital Learning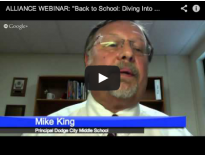 August 22, 2013
6:00 pm – 7:00 pm EDT
Washington, DC
Panelists
Christine Johns, Superintendent, Utica Community Schools (MI)
Mike King, Principal, Dodge City Middle School (KS)
Rebecca McLelland-Crawley, Science Supervisor, West Windsor–Plainsboro Regional School District (NJ)
Mary Ann Wolf, Chief Executive Officer, Wolf Ed
The Alliance held a webinar to kick off a new school year with a look at some ways to energize district efforts around digital learning. For this webinar, the Alliance used, for the first time, Google Hangouts On Air technology, showcasing one of the many innovative tools that are now available to educators.
A new school year is an opportunity for starting fresh and building momentum. District and school leaders have been hard at work all summer planning for the next year. Teachers are returning to their classrooms with new ideas and high hopes. How can leaders capture this energy to accelerate progress toward personalized, 24/7 learning for all students?
During the webinar, members of the Project 24 team of experts shared their experiences on mobilizing digital learning efforts with innovative professional learning communities; implementing revitalized curriculum and assessments; and deploying new devices. Christine Johns shared her efforts to improve teaching and learning and new online assessments and how they are affecting her district, while Mike King highlighted some of his work getting teachers ready for a new school year. Rebecca McLelland-Crawley offered guidance on improving curriculum and instruction and increasing student engagement through project-based learning.
The panel also provided advice for districts looking to participate in Project 24, the Alliance's effort to assist school and district leaders with systemic planning for effective digital learning. Mary Ann Wolf, who supports much of the Alliance's work in educational technology,  moderated the discussion.
Supplemental Material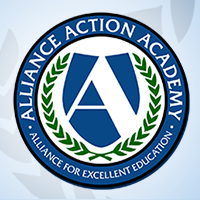 Welcome to the Alliance for Excellent Education's Action Academy, an online learning community of education advocates. We invite you to create an account, expand your knowledge on the most pressing issues in education, and communicate with others who share your interests in education reform.
Register Now
or register for Action Academy below: