Transforming Spaces to Transform Learning: Connected Learning in Action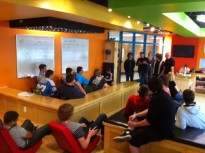 Registration Required
April 3, 2014
5:00 pm – 5:30 pm EDT
The Alliance for Excellent Education Invites You To Attend A Webinar
Transforming Spaces to Transform Learning: Connected Learning in Action
Panelists
Todd Keruskin, Assistant Superintendent, Elizabeth Forward School District (PA)
Tom Murray, Director of State and District Digital Learning, Alliance for Excellent Education
Please join the Alliance for Excellent Education for a webinar that continues a series on connected learning and the digital transition. This Google Hangout will explore how one Pennsylvania school district has transformed librarians into guides; study carrels into beanbag chairs; and a library into a learning environment where students can grab a coffee, explore a new technology, discuss projects with friends, and work with mentors.
Elizabeth Forward School District (EFSD), outside of Pittsburgh, has undertaken this transformation inspired by the YOUmedia work of the MacArthur Foundation, and is the first district to provide such space in a public school. Students are able to use innovative technologies to explore their interests, create, and connect their experience to what they are doing in the classroom. EFSD also has a Simulated Multimedia Arts Learning Lab, or SMALLab, which creates a kinesthetic learning environment that supports full-body games and new ways to experience abstract concepts. The school also incorporates game design into the curriculum to support STEM (science, technology, engineering, and mathematics) outcomes.
EFSD Assistant Superintendent Todd Keruskin will provide insight into how these new learning spaces were created and supported, and how students and teachers have responded. Alliance Director of State and District Digital Learning Tom Murray will host the interview and moderate questions submitted by viewers across the country.
Register and submit questions for the webinar using the registration form below. After registering, you will receive an email confirmation. Please check your email settings to be sure they are set to receive emails from alliance@all4ed.org.
Please direct questions concerning the webinar to alliance@all4ed.org.
If you are unable to watch the webinar live, an archived version will be available one or two days after the event airs.
Additional Resources:
Connected Learning: Harnessing the Information Age to Make Learning More Powerful. This report introduces connected learning, a promising educational approach that uses digital media to engage students' interests and instill deeper learning skills, such as communication, collaboration, and critical thinking. The report lists four elements constituting connected learning's emphasis on bridging school, popular culture, home, and the community to create an environment in which students engage in and take responsibility for their learning.
Digital Media and Learning Research Hub. This website for the DML Hub, a non-profit research organization advancing research in service of a more equitable, participatory, and effective ecosystem of learning keyed to the digital and networked era.
Pittsburgh Kids + Creativity Network. Kids+Creativity is a collaborative network of people, projects, and organizations working together to remake learning in the Greater Pittsburgh Region. Learn more about what the Elizabeth Forward school district is up to!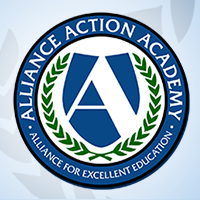 Welcome to the Alliance for Excellent Education's Action Academy, an online learning community of education advocates. We invite you to create an account, expand your knowledge on the most pressing issues in education, and communicate with others who share your interests in education reform.
Register Now
or register for Action Academy below: