Understanding the National Education Technology Plan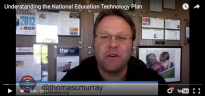 April 20, 2016
6:00 pm – 6:30 pm EDT
Google Hangout On Air
A Future Ready Schools Webinar
Understanding the National Education Technology Plan
Panelists
Zac Chase, ConnectED Fellow, U.S. Department of Education
Tom Murray, Director of Innovation, Future Ready Schools, Alliance for Excellent Education
On April 20, 2016 Future Ready Schools (FRS) held a webinar that is part of the FRS Leadership Hub, a one-stop-shop of professional learning opportunities for school leaders. This Google Hangout explored the National Education Technology Plan (NETP), the flagship education technology policy document for the United States.
The 2016 NETP, Future Ready Learning: Reimagining the Role of Technology in Education, articulates a vision of equity, active use, and collaborative leadership to make everywhere, all-the-time learning possible. While acknowledging the continuing need to provide greater equity of access to technology itself, the plan goes further to call upon all involved in American education to ensure equity of access to transformational learning experiences enabled by technology. The principles and examples provided in the plan align with Title IV A (Activities to Support the Effective Use of Technology) of the Every Student Succeeds Act of 2015.
As lead on the revised 2016 NETP, Zac Chase from the U.S. Department of Education's Office of Educational Technology shared insights into the plan's development, desired outcomes, key themes, resources, and how the plan can benefit all school districts across the nation. FRS's Tom Murray moderated this engaging conversation on the vision for educational technology in the nation. Mr. Chase and Mr. Murray also addressed questions submitted by viewers from across the country.
 Watch the webinar below.
Please direct questions concerning the webinar to alliance@all4ed.org. If you are unable to watch the webinar live, an archived version will be available online at https://all4ed.org/webinars and in the Resources section of the FRS Dashboard after the event airs.
---
Future Ready Schools (FRS) is a collaboration between the U.S. Department of Education and the Alliance for Excellent Education, a Washington, DC–based national policy and advocacy organization dedicated to ensuring that all students, particularly those traditionally underserved, graduate from high school ready for success in college, work, and citizenship. www.futureready.org
Follow FRS on Twitter (twitter.com/FutureReady); Facebook (facebook.com/futurereadyschools); and the FRS Leadership Hub (futureready.org/hub).
---
If you are interested in renting the Alliance's facilities for your next meeting or webinar, please visit our facilities page to learn more.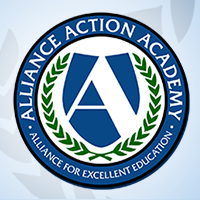 Welcome to the Alliance for Excellent Education's Action Academy, an online learning community of education advocates. We invite you to create an account, expand your knowledge on the most pressing issues in education, and communicate with others who share your interests in education reform.
Register Now
or register for Action Academy below: