America's Rural High Schools: Challenges And Opportunities For Success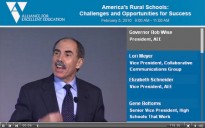 February 5, 2010
1:30 pm – 4:00 pm EDT
Newseum, Room 705 555 Pennsylvania Avenue, NW Washington, DC
Participants (in alphabetical order)
Gene Bottoms, Senior Vice President and Founding Director, High Schools That Work, Southern Regional Education Board
Caitlin Brosseau, Office of U.S. Senator Kent Conrad
Greg Darling, Superintendent, Humboldt Community School District (Iowa)
Allison Dembeck, Minority Staff, Committee on Education and Labor, U.S. House of Representatives
John Hill, Executive Director, National Rural Education Association
Bethany Little, Majority Staff, HELP Committee, U.S. Senate
Kara Marchione, Majority Staff, Committee on Education and Labor, U.S. House of Representatives
Lori Meyer, Vice President, Collaborative Communications Group
John White, Deputy Assistant Secretary for Rural Outreach, U.S. Department of Education
Bob Wise, President, Alliance for Excellent Education
High schools are a cornerstone of America's rural communities. When they are strong, rural secondary schools provide twenty-first-century students with the high-level knowledge, skills, and technology they need to succeed in college, careers, and life. In too many rural communities, however, high schools are in trouble. In fact, more than one fifth of the nation's two thousand lowest-performing high schools are located in rural areas. Despite progress in overall rural educational attainment, rural high school dropout rates are still too high and college enrollment rates are too low. With more than 3.4 million American students currently attending rural high schools, these troubling outcomes are more than a "local" problem: they are a national crisis.
Given the local and national implications of the rural high school crisis, practitioners, education leaders, and policymakers need to understand the challenges facing rural high schools as well as the inherent assets that rural schools bring to the national education reform debate. On February 5, 2010, the Alliance for Excellent Education released its latest report, Current Challenges and Opportunities in Preparing Rural High School Students for Success in College and Careers: What Federal Policymakers Need to Know. Following a presentation of the report's findings, experts discussed the challenges and opportunities in rural high schools. A second panel of congressional and U.S. Department of Education staff explored important federal policy considerations for rural high schools.
EVENT SUMMARY
On February 5, 2010, nearly one hundred educators, policymakers, and other key stakeholders gathered in Washington, DC to attend a forum about the challenges and opportunities in America's rural high schools. The event was held to release the Alliance for Excellent Education's report on rural high schools—Current Challenges and Opportunities in Preparing Rural High School Students for Success in College and Careers. This report and event were made possible by the Walmart Foundation.
Governor Bob Wise, president of the Alliance and former governor of West Virginia, began the conversation by describing the importance of concentrating on rural high schools now; rural education is the engine for economic growth and the overall future of rural communities. Governor Wise also described the year 2010 as one that will provide an important opportunity for education policy because of four distinct but overlapping opportunities: the successful implementation of the federal stimulus package; embedding education priorities in the annual budget and appropriations process; adoption of the common core standards; and reauthorization of the Elementary and Secondary Education Act. He noted that, as policymakers move these policy vehicles forward, understanding the challenges and opportunities in rural high schools could be instructive for improving education nationwide.
Ms. Lori Meyer, vice president of Collaborative Communications Group, provided a summary of Current Challenges and Opportunities. Key points from her presentation included:
The rural student population is substantial and their outcomes are unsatisfactory. Students in rural high schools primarily attend public schools. One of four American dropouts are from rural high schools; 20 percent of dropout factories are in rural communities (mostly in the South, mid-South Delta, and Southeast parts of the country); and rural students are less likely to enroll in and graduate from college.
Federal policy should address the challenges in rural high schools. Rural high schools face challenges including low teacher salaries, brain drain from rural communities, difficulty recruiting teachers and leaders, social service gaps, funding disparities, difficulty creating a college-going culture, limited access to AP and IB, and leadership capacity.
Federal policy should build on the assets in rural high schools. Rural communities benefit from personalized experiences in high schools, strong community and parental involvement, strong student-teacher relationships, place-based learning, and high job satisfaction among teachers.
Panel 1: What We Know About Rural High Schools
Panelists included:
Dr. Gene Bottoms, Senior Vice President and Founding Director, High Schools That Work, Southern Regional Education Board
Mr. Greg Darling, Superintendent, Humboldt Community School District (Iowa)
Dr. John Hill, Executive Director, National Rural Education Association
Panelists noted that the Alliance's report provides an accurate picture of the challenges and opportunities in rural high schools. They took the opportunity to highlight and expand on the topics in the report, share their insights on federal policy, and answer questions from the audience. The conversation centered on several themes:
Federal funding. The panelists discussed many reasons why competitive funding streams do not reach high schools. This conversation was summed up by Dr. Hill's recommendation that federal policymakers should level the playing field for small, poor rural schools and districts that do not have the capacity to apply.
Panelists also made some comments about specific programs. Dr. Bottoms described the Comprehensive School Improvement Grants as having positive impacts in rural schools, but he noted that the grants were flawed because they were too small and narrow, and they expected progress faster than what is reasonable. Dr. Hill described Census data as a weak measure of rural poverty and encouraged policymakers to consider using alternative methods for determining grant funding.
The role of technology. The panelists agreed that effective rural schools meet their challenges by leveraging technology. Mr. Darling shared some of the strategies his staff is using in Humboldt to engage students and expand access to content through technology. Panelists discussed that there is much to improve in terms of access to broadband, use of technology in schools and in homes, mechanisms to pay for it, and educator training to use technology well. Mr. Darling provided examples from his own experience with maximizing technology in Humboldt and compared that to other schools in Iowa without such tools.
Teachers and leaders. Panelists frequently noted the limited capacity of educators in rural communities. Mr. Darling served as a living example of this point; he described the multiple roles he plays in the district, including writer of applications for federal funding. The panelists noted several strategies for building capacity, including regional support entities and utilizing consortia.
Panelists agreed that leadership is critical to success in rural high schools. They discussed the importance of training principals as instructional leaders, improving leadership preparation programs, and building leadership succession plans. They also agreed that rural high schools need to improve and increase professional development for both teachers and leaders in areas such as use of data and technology.
In response to an audience member's question regarding President Obama's administration's focus on staff changes as part of school improvement grants, panelists agreed that policymakers must acknowledge that one-size-fits-all solutions will not work in smaller districts and that firing and replacing staff may be difficult in remote areas with limited access to a pool of interested and qualified candidates.
Blending academic and technical experiences. Dr. Bottoms observed that high-performing rural schools and states blend college-ready academic and career-technical education; he called on educators, advocates, and policymakers to broaden the notion of rigor. Mr. Darling discussed Humboldt's success in providing students with authentic experiences that support deeper, more relevant learning and the district's high college-going rate.
Understanding rural communities. An underlying theme in the conversation was the uniqueness of rural communities. Dr. Hill characterized the people of rural America as smart, self reliant, and fiscally conservative—attributes that must be acknowledged in the education policy debate. A member of the audience raised another issue often left out of the conversation about rural communities: the intersection between race and culture. Mr. Darling agreed with her observation that rural communities include increasing numbers of minority students, which presents additional challenges as educators try to address students' needs. Dr. Bottoms noted that there is a need to create broader conversation in rural communities that includes parents and other members of the community who have good relationships with families.
Panel 2: Federal Policy and Rural High Schools
Panelists included:
Ms. Caitlin Brosseau, Office of U.S. Senator Kent Conrad
Ms. Allison Dembeck, Minority Staff, Committee on Education and Labor, U.S. House of Representatives
Ms. Bethany Little, Majority Staff, HELP Committee, U.S. Senate
Ms. Kara Marchione, Majority Staff, Committee on Education and Labor, U.S. House of Representatives
Mr. John White, Deputy Assistant Secretary for Rural Outreach, U.S. Department of Education
Panelists took an opportunity to describe their offices' interests in rural high schools and federal policy that supports them. There was consensus on the panel that members of Congress and leaders within the Obama administration recognize the unique challenges faced by rural high schools and the need for federal policy—particularly ESEA reauthorization—to better address these realities. The conversation, throughout the panel and question and answer period, focused on issues such as challenges with formula and competitive funding, rural dropout factories, the role of technology, challenges related to teacher professional development, and opportunities to improve career and technical education. [Remarks made by the panelists were off the record; please contact them directly for quotes.]
EVENT-DAY MATERIALS
Event-day Agenda 
PDF
Speaker Biographies 
PDF
Current Challenges and Opportunities in Preparing Rural High School Students for Success in College and Careers: What Federal Policymakers Need to Know 
Report (PDF)
Is Your Local High School Making the Grade? Ten Elements of Successful High Schools: A Guide for Rural Communities
Brochure (PDF)
A PowerPoint presentation by Lori Meyer, Collaborative Communications Group 
PDF
Categories:
Uncategorized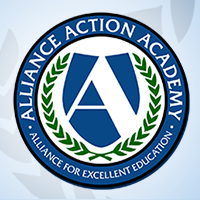 Welcome to the Alliance for Excellent Education's Action Academy, an online learning community of education advocates. We invite you to create an account, expand your knowledge on the most pressing issues in education, and communicate with others who share your interests in education reform.
Register Now
or register for Action Academy below: