Alternate Assessments for Students with Severe Cognitive Disabilities: The Assessment Consortia's Designs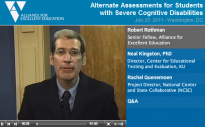 July 25, 2011
2:00 pm – 3:00 pm EDT
Washington, DC
Participants
Neal Kingston, PhD, Associate Professor and Director, Center for Educational Testing and Evaluation,
University of Kansas School of Education
Rachel Quenemoen, Senior Research Fellow, National Center on Education Outcomes, University of Minnesota;
Project Director, National Center and State Collaborative (NCSC)
Robert Rothman, Senior Fellow, Alliance for Excellent Education
While the two state consortia that are developing new comprehensive assessments to measure the common core state standards have attracted a great deal of attention, two other state consortia are also working to develop new assessments that will be highly significant as well. Dynamic Learning Maps Alternate Assessment System Consortium, a partnership of thirteen states, and the National Center and State Collaborative (NCSC), a partnership of nineteen states and five national organizations, are developing ambitious new assessments for students with severe cognitive disabilities. These assessments, which are intended to be aligned with the common core state standards, are scheduled to be implemented in 2014–15.
The Alliance for Excellent Education held a webinar on July 25  to consider the designs of these two consortia's assessments and some of the challenges involved in implementing them. The directors of the consortia, Neal Kingston from Dynamic Learning Maps and Rachel Quenemoen from the NCSC, discussed their plans. Alliance Senior Fellow Robert Rothman served as moderator. Discussants also addressed questions submitted by viewers from across the country.
Categories:
Uncategorized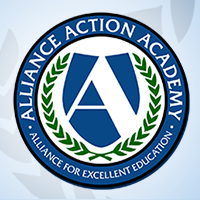 Welcome to the Alliance for Excellent Education's Action Academy, an online learning community of education advocates. We invite you to create an account, expand your knowledge on the most pressing issues in education, and communicate with others who share your interests in education reform.
Register Now
or register for Action Academy below: