March 25, 2009
9:30 am – 11:30 am EDT
Washington Court Hotel, Ballroom III 525 New Jersey Avenue, NW Washington, DC
Presenters
Andrew Smiles, Program Officer, Bill & Melinda Gates Foundation
Andrea Berger, Principal Research Analyst, American Institutes for Research
Ben Byers, Director of Evaluation and Information Technology, Gateway to College
Amy Crowley, Program Director, Montgomery College Gateway to College
Yesenia Cruz-Ramos, Student, Montgomery College Gateway to College
Nancy Hoffman, Director, Early College High School Initiative, Jobs for the Future
Over one hundred educators, administrators, policymakers, and other key stakeholders gathered on March 25, 2009 at Accelerated Learning for All: How Access to College Courses Can Help Struggling Students Graduate from High School and Succeed in College and Work, a forum hosted by the Alliance for Excellent Education, to discuss the Early College High School Initiative (funded by the Bill & Melinda Gates Foundation and coordinated by Jobs For the Future) and the Gateway to College model implemented as part of the initiative. The event focused on the challenges of early college high schools, policies and practices to overcome those challenges, and the implications of these experiences for national and federal efforts to improve America's schools.
Governor Bob Wise, president of the Alliance for Excellent Education, opened the forum by discussing the dropout crisis that America is facing and the importance of a high school diploma for a successful future. He cited the importance of strategies such as early college high schools, small learning communities, and examples including California ConnectEd and the New York City Multiple Pathways to Graduation Initiative. Governor Wise went on to note the role of policymakers in scaling up these local efforts to ensure that all students have access to the options and supports that meet their particular needs and guide them to a high school diploma. One of the ways in which federal policy can leverage this is through legislation such as the GRADUATES Act which is currently pending reintroduction in the 111th Congress; details can be found here.
Mr. Andrew Smiles, a program officer at the Bill & Melinda Gates Foundation, gave a brief overview of the Early College High School Initiative (ECHSI) and its core principles. The goal of the ECHSI is to provide a designed pathway to college for students traditionally underrepresented in postsecondary institutions. This is accomplished by creating small high schools that operate in partnerships with colleges to offer students the opportunity to earn up to two years of college credit or an associate's degree while still in high school. These schools are designed to serve low-income, minority, at-risk, and first generation college-bound students.
Early college high schools operate around five core principles: they are committed to serving students underrepresented in higher education; they are created and sustained by a local education agency, a higher education institution, and a community, all of which are mutually accountable for student success; they develop integrated academic programs that are jointly developed with higher education partners; they engage all students in a comprehensive student support system that develops academic and social skills necessary for success in college; and they collaborate with intermediaries to support and advocate for the ECHSI.
Andrea Berger, ECHSI evaluation project director at American Institutes for Research (AIR), presented on the evaluation of the ECHSI and its findings. AIR used both quantitative and qualitative research methods to determine the makeup of early college high schools and their student outcomes. According to the results of the qualitative part of the evaluation, students at early college high schools were more academically engaged than in their previous high school experiences. Daily attendance rates and state test outcomes were found to be significantly higher than those of the school district; the effect was even greater for students attending early college high schools located on college campuses.
Mr. Jahantab A. Siddiqui, special assistant to U.S. Senator Barbara Mikulski (D-MD), joined the panel to discuss Senator Mikulski's interest in and commitment to ensuring that students graduate from high school prepared to lead successful lives and create a smarter America. He cited the Senator's commitment to the freedom for all students to pursue educational excellence.
Mr. Ben Byers, director of evaluation and information technology for Gateway to College (GtC), explained the GtC model and its results as reported in the national evaluation. GtC is a dropout recovery model that serves students who have already dropped out or are not on schedule to graduate. The model provides opportunities for these students to earn high school and college credits simultaneously. GtC is not a fast-track program for high-achieving students; it is an opportunity for those students who are behind—but have expressed a commitment to completing high school—to succeed. Another hallmark of GtC is its comprehensive student support system that helps students to develop academic and social skills and obtain access to the resources they need.
Ms. Amy Crowley, program director of the Gateway to College Program at Montgomery College, discussed the GtC model, as experienced at Montgomery College, one of the first GtC replication sites. Montgomery College partners with Montgomery County Public Schools for financial support. The program aims to provide a second chance for its students in a new and mature environment. This is accomplished through the combination of high academic expectations and one-on-one advising and support from a resource specialist. The program has been successful in reengaging students in education, with graduates going on to attend college or complete a GED. Over 90 percent of the program's graduates have continued on with their education.
Ms. Yesenia Cruz-Ramos, a student in the Montgomery College Gateway to College Program, discussed her motivations to apply to and subsequently enroll in the program, its impacts on her learning, and her future education plans.
Dr. Nancy Hoffman, ECHSI director at Jobs for the Future (JFF), discussed the policy implications of early college high schools and relevant legislation. The mission of JFF is to strengthen society by creating educational and economic opportunity for those who need it most. There is great promise in early college and dual-enrollment programs that are structured to support underserved students. Early college and dual-enrollment programs address and overcome many of the barriers to academic success that these students face. Federal policy can leverage support for these programs by providing the funding that colleges and school districts need to design these programs. Dr. Hoffman called on the federal government to remove the federal policy barriers blocking this blending of pathways and to legislate support and incentives for their replication.
The event concluded with a brief question and answer session.
---
Presentation: Early College High School Initiative: Brief overview and Core Principals PPT (please be patient, large file downloading)
Handout: Legislation in Support of Early College High Schools 
PDF
Handout: Early College High School Initiative: A Portrait in Numbers 
PDF
Handout: Emerging Patterns and Relationships: A Summary of the Early College High School Initiative Evaluation Report (AIR & SRI, May 2008) 
PDF
Audio* and 
Video (Flash popup) of the Entire Event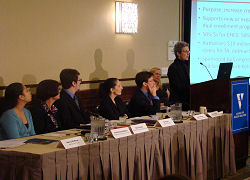 Accelerated Learning for All: How Access to College Courses Can Help Struggling Students Graduate from High School and Succeed in College and Work 
Video (Flash popup)
Categories:
Uncategorized