A Time for Deeper Learning: Preparing Students for a Changing World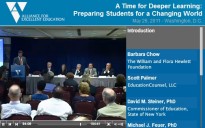 May 26, 2011
8:30 am – 10:30 am EDT
Washington Court Hotel, Springwood Room 525 New Jersey Avenue, NW Washington, DC 20001
Panelists/Participants
Barbara Chow, Program Director for Education, The William and Flora Hewlett Foundation
Michael J. Feuer, PhD , Dean and Professor, Graduate School of Education and Human Development, The George Washington University
Robert Lenz, Cofounder and Chief Executive Officer, Envision Schools
Deborah Parizek, Executive Director, Henry Ford Learning Institute
Scott Palmer, Managing Partner, EducationCounsel, LLC
David M. Steiner, PhD , Commissioner of Education, for the State of New York
Tom Wachnicki, Director, New Tech School of IDEAS (Indianapolis, IN)
Bob Wise, President, Alliance for Excellent Education
Today's increasingly complex world demands much of its students. Now more than ever, the nation's education system is being challenged by a technology-driven global economy that requires a skilled and deeply literate workforce. To accomplish this, policy and practice at the federal, state, and local levels need to support deeper learning—the knowledge and skills all students need to succeed in college, the modern workplace, and life.
On May 26, 2011,The Alliance for Excellent Education released its newest policy brief, "A Time for Deeper Learning: Preparing Students for a Changing World." Panelists and guest presenters discussed the practice of deeper learning and the federal policy implications of preparing all students for the demands of a rapidly changing global workforce and the economy.
Supplemental Materials
Presentation by Barbara Chow (PDF)
Video clip of Andreas Schleicher
Categories:
Uncategorized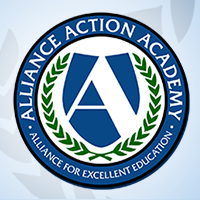 Welcome to the Alliance for Excellent Education's Action Academy, an online learning community of education advocates. We invite you to create an account, expand your knowledge on the most pressing issues in education, and communicate with others who share your interests in education reform.
Register Now
or register for Action Academy below: