A Dive Into Connected Learning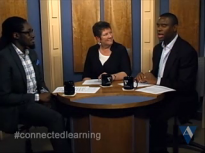 May 29, 2013
2:00 pm – 3:00 pm EDT
Washington, DC
Panelists
Elyse Eidman-Aadahl, PhD, Director of National Programs and Site Development,
National Writing Project
Mizuko "Mimi" Ito, PhD, Chair of Digital Media and Learning, John D. and Catherine T. MacArthur Foundation;
Research Director of Digital Media and Learning Research Hub, University of California, Irvine
Martens Roc, Policy and Advocacy Associate, Alliance for Excellent Education
Katie Salen, Executive Director, Institute of Play
Craig Watkins, PhD, Associate Professor, University of Texas at Austin
Educators and researchers across the country are focusing on the best ways to engage students in learning in order to prepare them for college and a career. In an age where students are linked to technology through a variety of ways, educators need to find ways to connect students' levels of engagement with technology to their academic achievement.
This webinar focused on "connected learning," which is a framework that draws on the power of technology to link young people's interests, social networks, and academic achievement. Four experts—Mimi Ito, Craig Watkins,Elyse Eidman-Aadahl, and Katie Salen—discussed the research, design, and implementation of connected learning.
Martens Roc moderated the conversation and panelists.
Supplemental Material
The Alliance for Excellent Education is a Washington, DC-based national policy and advocacy organization that works to improve national and federal policy so that all students can achieve at high academic levels and graduate from high school ready for success in college, work, and citizenship in the twenty-first century. For more information about the Alliance, visit www.all4ed.org.

>> HELLO I'M MARTENS ROC, THANK
YOU FOR JOINING US HERE, WE WILL
HAVE AN EXCITING DISCUSSION OF
AN APPROACH TO LEARNING CALLED
CONNECT LEARNING.
IT'S A FRAME WORK FOR LEARNING
THAT DRAWS UPON THE POWER OF
CONNECTING YOUNG PEOPLE'S
INTERESTS, PEER INTERACTION AND
SOCIAL NETWORKS WITHOUT REGARD
OF WHERE THE LEARNING TAKES
PLACE.
WITH THE SUPPORT OF THE MACARTHUR
FOUNDATION, WE WILL HAVE THE
GOAL OF INCREASED ACADEMIC
SUCCESS.
IF YOU HAVE BEEN FOLLOWING THE
ALLIANCE, YOU KNOW WE ARE DEEPLY
INVESTED IN HOW TECHNOLOGY CAN
POSITIVELY IMPACT LEARNING
ENVIRONMENTS.
IN FACT, WE HOSTED THE SECOND
ANNUAL DIGITAL LEARNING DAY
WHERE WE HIGHLIGHTED AND
CELEBRATED EDUCATORS ACROSS THE
COUNTRY WHO ARE SUCCESSFULLY AND
EFFECTIVELY USING DIGITAL
TECHNOLOGY IN THEIR
INSTRUCTIONAL PRACTICES.
TODAY OUR PANELISTS WILL HELP TO
EXPLAIN THE CONNECTING LEARNING
FRAME WORK, AND THEY WILL
DISCUSS WHAT IT LOOKS LIKE IN A
SCHOOL.
LET'S MEET THEM.
FIRST, WE HAVE MIZUKO MIMI ITO,
THE CHAIR OF DIGITAL MEDIA AND
LEARNING.
AS THE TECHNOLOGY USE, MIMI
EXAMINES YOUNG PEOPLE'S USE OF
TECHNOLOGY.
AND EXPLORES HOW IT IS CHANGING
COMMUNITIES.
SHE IS A PROFESSOR AT THE
UNIVERSITY OF CALIFORNIA IRVINE
IN A DEPARTMENT OF EDUCATION AND
INFORMATICS, NEXT, WE HAVE CRAIG
WATKINS, AN ASSOCIATE PROFESSOR
AT THE UNIVERSITY OF TEXAS AT
AUSTIN.
AND THE CENTER FOR
AFRICAN-AMERICAN STUDIES.
HIS LATEST BOOK, THE YOUNG AND
THE DIGITAL, AND ANY TIME
ANYWHERE MEDIA MEANS FOR OUR
FUTURE, CRAIG ADDRESSES ISSUES
THAT RANGE FROM THE SOCIAL
IMPACT OF YOUNG PEOPLE'S
PARTICIPATION IN THE DIGITAL
MEDIA CULTURE AND WE HAVE KATIE
SALEN, SHE IS A GAME DIRECTOR
AND A EXECUTIVE DIRECTOR OF THE
INSTITUTE OF PLAY.
AND HAS A LEARNING DESIGN STUDIO
THAT BASES THE WORK ON THE
PRINCIPALS OF GAMES AND PLAY.
KATIE IS ALSO THE PROFESSOR IN
THE COLLEGE OF COMPUTING AND
DIGITAL MEDIA DEPARTMENT AND
FOCUSES ON EMERGING TRENDS
DESIGN AND MEDIA.
KATIE IS A DESIGNER OF QUEST TO
LEARN, A PUBLIC SCHOOL THAT
SERVES STUDENTS IN NEW YORK.
QUEST TO LEARN ENCOURAGES HANDS
ON PROBLEM SOLVING AND DESIGNED
TO PROMOTE LEARNING OF 21st
CENTURY SKILLS.
>>> LAST BUT NOT LEAST, WE HAVE
ELYSE AADAHL, THE
DIRECTOR OF NATIONAL PROGRAMS
AND SITE DEVELOPMENT NATIONAL
WRITING PROJECT.
SHE OVERSEES PERSONAL
DEVELOPMENT PROGRAMS FROM 200
LOCAL WRITING BASED PROJECTS.
SHE HELPS EDUCATORS UNDERSTAND
THE CHANGING NATURE OF THE
DISCIPLINE IN A DIGITAL AGE IN
WRITING REVOLUTION TAKING PLACE
IN THE 21st CENTURY.
THANK YOU ALL FOR JOINING US.
AND WE WANT TO HEAR FROM YOU,
THE WEBINAR VIEWERS, USE THE
FORM BELOW THE VIDEO WINDOW AND
WE WILL TURN TO THE QUESTIONS
FROM TIME TO TIME THROUGHOUT THE
WEBINAR, YOU CAN FOLLOW THE
CONVERSATION AT TWITTER.
USING THE HASH TAG CONNECT
LEARNING THAT IS AT THE BOTTOM
OF THE SCREEN.
AS YOU KNOW, THE MISSION IS TO
ENSURE THAT EVERY STUDENT
GRADUATES PREPARED FOR POST
SECONDARY LEARNING AND SUCCESS
IN LIFE.
ACHIEVING THAT MISSION REQUIRES
A LOT.
INCLUDING ENGAGING STUDENTS.
ENGAGED STUDENTS ARE MORE LIKELY
TO LEARN AND HAVE BETTER
OUTCOMES.
POLICY MAKERS AND EDUCATORS
ACROSS THE COUNTRY ARE SEEKING
EFFECTIVE APPROACHES TO HOW BEST
TO ENGAGE STUDENTS.
ONE PROMISING APPROACH TO THIS
IS THE — THROUGH THE USE OF
TECHNOLOGY, COMBINED WITH
STUDENTS' INTERESTS.
THE ALLIANCE EFFORTS TO PROMOTE
THE EFFECTIVE USE OF TECHNOLOGY
IN AND OUTSIDE THE CLASSROOM ARE
COUCHED IN A BROADER DIVISION OF
HELPING ALL STUDENTS WITHOUT
REGARD TO THE BACKGROUND OR
GEOGRAPHY OF THE STUDENT.
WE ARE EXCITED TO INTRODUCE THIS
APPROACH TO MANY OF YOU.
LET'S HEAR FROM THE PANELISTS.
MIMI, WE WILL START WITH YOU.
>> THANK YOU SO MUCH FOR THAT
INTRODUCTION, MARTENS, SO I
WOULD LIKE TO START OFF THE
DISCUSSION BY TALKING A LITTLE
BIT ABOUT THE ORIGINS OF THE
CONNECT LEARNING MODEL AND
RESEARCH THAT THE MACARTHUR
FOUNDATION HAS SUPPORTED FOR
MANY YEARS.
ONE OF THE PROJECTS THAT I
HELPED LEAD SEVERAL YEARS AGO
WAS REALLY LOOKING VERY BROADLY
AT HOW YOUNG PEOPLE WERE TAKING
UP NEW MEDIA TECHNOLOGIES,
PRIMARILY IN OUT OF SCHOOL
CONTEXT, SPECIFICALLY GAMING,
SOCIAL MEDIA AND DIGITAL MEDIA
PRODUCTION TOOLS.
AND WE WERE REALLY TRYING TO
UNDERSTAND THE INNOVATIVE USES
OF TECHNOLOGY IN RELATION TO
LEARNING THAT YOUNG PEOPLE WERE
REALLY INNOVATING AND DRIVING IN
THEIR OWN INTERESTS BASED AND
ACTIVITIES AND WE FOUND IN THE
STUDY THAT WAS THE LARGEST OF
ITS KIND THAT YOUNG PEOPLE WERE
LEARNING A TREMENDOUS AMOUNT
THROUGH THEIR INFORMAL PEER
BASED AND INTEREST DRIVEN
LEARNING WITH NEW TECHNOLOGY.
BUT WE ALSO FOUND THAT IT WAS
REALLY ONLY A SMALL MINORITY OF
YOUNG PEOPLE WHO WERE REALLY
EXPLOITING THE NEW KINDS OF
OPPORTUNITIES FOR ACCESSING
INFORMATION.
FOR SOCIAL CONNECTION.
FOR ACCESSING NEW FORMS OF
EXPERTISE AND FORMS OF DIGITAL
MEDIA AND PRODUCTION AND SHARING
THAT THESE NEW TOOLS WERE
OFFERING.
SO COMING OUT OF THIS WORK, WE
TRIED TO DIVE DEEPLY INTO WHAT
WAS IT THAT THESE YOUNG PEOPLE
THAT WERE BEING REALLY
SUCCESSFUL IN MOBILIZING THESE
NEW OPPORTUNITIES.
HOW WERE THEY LEARNING ONLINE,
WHAT WERE THE KINDS OF SUPPORTS
THEY WERE GETTING IN ORDER TO
FURTHER THE LEARNING.
THESE WERE YOUNG WRITERS THAT
WERE PART OF FAN FICTION
COMMUNITIES AND ACTIVITIES THAT
TOOK TO YOUTUBE OR FACEBOOK TO
ORGANIZE CAUSES.
AND A YOUNG WEB DEVELOPER THAT
LOOKED TO TUTORIALS TO BECOME A
SUCCESSFUL WEB DEVELOPER AND
DIGITAL MEDIA ARTIST.
WE REALLY LEARNED THAT THESE
YOUNG PEOPLE WERE OFTEN
EXCEPTIONALLY WELL MOTIVATED,
AND OFTEN CAME FROM FAMILIES
WITH SUPPORTS FOR TECHNOLOGY,
AND HIGH EDUCATIONAL ATTAINMENT
ALREADY, BUT WE ALSO REALLY
BELIEVED THAT MANY MORE YOUNG
PEEP CAN HAVE ACCESS TO THESE
KINDS OF SPECIALIZED
INTEREST-DRIVEN LEARNING
OPPORTUNITIES THAT ALLOW FOR
HIGHER ORDER LEARNING, BUILDING
ON THE BASICS THAT ALL YOUNG
PEOPLE NEED TO HAVE IN ORDER TO
REALLY THRIVE AND BE SUCCESSFUL
IN TODAY'S DIGITAL MEDIA AGE.
WE ARE LOOKING TO SEE HOW CAN WE
USE THE NEW MEDIA, AND TO HAVE
THE INFORMATION AT YOUR FINGER
TIPS AND CONNECT WITH OTHERS WHO
HAVE EXPERTISE AND SHARE
INTERESTS, TO BE ABLE TO PUBLISH
AND SHARE AND GET RECOGNITION IN
NEW KINDS OF ONLINE ENVIRONMENTS
HOW CAN WE THESE OPPORTUNITIES
TO MAKE THIS KIND OF HIGHER
ORDER LEARNING AVAILABLE TO MANY
MORE YOUNG PEOPLE?
SO, CONNECT CANNED LEARNING
REALLY ISN'T ABOUT A SPECIFIC
TECHNOLOGY OR A PLATFORM OR A
TECHNIQUE, BUT IT'S REALLY
ASKING THE QUESTION OF WHAT IS
THE EXPERIENCE FOR THE LEARNER
AND WHAT ARE KINDS OF SOCIAL
RELATIONSHIPS, EXPERIENCES,
ACCESS TO KNOWLEDGE AND
COMMUNITIES THAT YOUNG PEOPLE
NEED TO HAVE TO THRIVE IN AN ERA
WHERE THESE FORMS OF
INFORMATION, SOCIAL CONNECTION
ARE VERY ABUNDANT.
CONNECT LEARNING IS WHEN A YOUNG
PERSON PURSING EXPERTISE AROUND
SOMETHING THEY ARE INTERESTED
IN, WHERE THEY ARE SUPPORTED BY
FRIENDS INSTITUTIONS THAT
RECOGNIZE THE COMMON PASSION AND
PURPOSE.
WE BELIEVE IN YOUNG PEOPLE CAN
HAVE THESE EXPERIENCES, IT
NURTURES A DISPOSITION FOR
PROBLEM SOLVING FOR INQUIRY THAT
IS A LIFE LONG LEARNING
DISPOSITION THAT YOUNG PEOPLE
NEED TO THRIVE IN AN ERA OF
RAPID TECHNOLOGICAL CHANGE,
WHERE PEOPLE REALLY NEED TO BE
ABLE TO BE EFFECTIVE LEARNERS,
TO BE FLEXIBLE IN THEIR CAREERS
AND HOW THEY PURSUE
OPPORTUNITIES.
AND SO, THE MACARTHUR FOUNDATION
AND DIGITAL MEDIA INSTITUTION
HAS A COME AROUND THESE IDEAS AS
A WAY OF BRINGING TOGETHER SOME
OF WHAT WE ARE SEEING IN THE
RESEARCH SPACE AND A LOT OF
INTERESTING INNOVATIONS IN
PRACTICE IN TECHNOLOGY DESIGN,
THAT REALLY INTEGRATES A TIGHT
FEEDBACK LOOP BETWEEN SOME OF
THE BASIC RESEARCH WE HAVE BEEN
DOING ON HOW YOUNG PEOPLE ARE
LEARNING AND THE KINDS OF
OUTCOMES OF THAT LEARNING AND AN
EFFORT TO DESIGN NEW KINDS OF
LEARNING ENVIRONMENTS THAT
REALLY BROADEN ACCESS TO THE
LEARNING EXPERIENCES WE ARE
HOPING TO SUPPORT.
>> THANK YOU, MIMI.
>> NEXT, WE WILL HEAR FROM
ELYSE.
>> THANK YOU.
>> WELL, ACTUALLY, JUST TO BUILD
ON MIMI, ONE OF THE THINGS THAT
I'M DEALING WITH IN THE CONNECT
WRITING PROJECT IS A NETWORK OF
EXTRAORDINARY EDUCATORS ACROSS
THE COUNTRY.
AND WHEN THEY SAW THE KINDS OF
RESEARCH THAT CAME OUT OF THE
STUDIES THAT MIMI TALKED ABOUT,
THERE WAS A WAY THAT IT MADE
TREMENDOUS SENSE.
SIT NAMED A MOMENT THAT MANY HE
HAD INDICATORS — THAT MANY
EDUCATORS ARE FEELING RIGHT NOW.
THEY ARE WORKING IN A TIME WHERE
THERE'S ABUNDANCE OF
OPPORTUNITY AND RESEARCH AND THE
SAME DIGITAL TOOLS THAT GIVE US
THIS INFORMATION ABUNDANCE,
GIVES THE STUDENTS AND EVERYONE
THE OPPORTUNITY TO MAKE, CREATE,
CIRCULATE THE WRITING, MEDIA
PRODUCTION, EVERYTHING THAT THEY
DO.
THERE'S SOMETHING ABOUT THIS
MOMENT THAT FEELS DIFFERENT FOR
SO MANY DIFFERENT EDUCATORS AND
YOUNG PEOPLE AND IT HAS TO DO
WITH THIS 24/7 ALWAYS ON,
EVERYWHERE AVAILABLE ABUNDANCE
OF OPPORTUNITIES.
IT'S NOT A MOMENT WHERE IN A
COMMUNITY, IN ORDER TO DO DEEP
WORK TOGETHER, LET'S SAY, YOUNG
PEOPLE AND THEIR TEACHERS AND
MENTORS HAVE TO GET THE LIBRARY
TO OPEN UP, AND GET IT HELD OPEN
LATE, GET SOMEBODY ELSE TO
UNLOCK THE DOOR TO AN
OPPORTUNITY IN SO MANY PLACES
BECAUSE ACTUALLY THE INTERNET IS
NEVER LOCKED.
IT'S ALWAYS ON.
SO, RETHINKING, BEING ABLE TO
RETHINK WHAT IT WOULD MEAN TO BE
ABLE TO EDUCATE YOUNG PEOPLE IN
THE MIDST OF THIS ABUNDANCE OF
LEARNING OPPORTUNITY SO THAT NOT
JUST A SMALL NUMBER OF YOUNG
PEOPLE, BUT LARGE NUMBERS OF
YOUNG PEOPLE ARE ABLE TO
NAVIGATE AND DO PRODUCTIVE
HIGHER ORDER WORK IN THE NEW
ENVIRONMENT WE HAVE.
SO THE RESEARCH MADE TREMENDOUS
SENSE AND IT OPENED UP
OPPORTUNITIES TO DESIGN PRACTICE
DIFFERENTLY.
I WILL NAME A COUPLE AND WE
COULD TALK ABOUT THEM LATER IN
THE BROADCAST.
ONE IS IT OPENS UP THE QUESTION
OF HOW WE ALL LEARN FOR
OURSELVES AND HELP YOUNG PEOPLE.
LEARN HOW TO NAVIGATE PATH
WEIGHS THROUGH ABUNDANCE.
HOW TO ACT ON THE PATH WEIGHS
— PATHWAYS OUT THERE.
IT WILL NOT BE THE PATHWAY
THROUGH SCHOOL OR THE PATHWAY
OWNED BY THE LIBRARY OR THE
MUSEUM, WE CAN HAVE PATHWAYS
THAT CUT ACROSS A WHOLE NUMBER
OF OPPORTUNITIES AND
INSTITUTIONS.
THAT IS A NEW WAY FOR US TO
THINK AND IT'S EXCITING TO
IMAGINE THIS PHRASE THAT WE SAY
A LOT IN EDUCATION.
IT TAKES A VILLAGE — TAKES A
VILLAGE TO EDUCATE A CHILD.
THIS IS ACTUALLY, A LITTLE BIT
HOW THE VILLAGE CAN WORK
TOGETHER AND UNDERSTAND HOW
LEARNERS CAN CUT A PATHWAY
THROUGH ALL THE LEARNING
OPPORTUNITIES THAT THE VILLAGE
MIGHT OFFER.
SO IT'S KIND OF TAN EXCITING
TIME.
IT'S A MODEL THAT ACTUALLY GIVES
IN ADDITION TO NAMING THIS
CHALLENGE AND THE SET OF
OPPORTUNITIES, GIVES SOME
GUIDANCE TO EDUCATE ABOUT A
COUPLE OF THINGS THAT THEY MAY
WANT TO MOVE FORWARD IN ORDER TO
TAKE ADVANTAGE OF THE TREMENDOUS
OPPORTUNITIES THAT WE HAVE NOW.
AND JUST TO SAY, THIS PATHWAY
NOTION, THIS NOTION THAT
LEARNING HAPPENS ANYWHERE.
NOT JUST IN SCHOOL.
BUT CAN LEVERAGE THE HOME AND
THE FAMILY, CAN LEVERAGE OTHER
INSTITUTIONS, LIBRARIES,
MUSEUMS, YOU CAN FIND MENTORS,
NOT ONLY IN YOUR LOCAL PLACE BUT
AT A GREAT DISTANCE THROUGH THE
INTERNET, HOW DO WE DELIVER ON
THAT.
HOW DO WE INVOLVE THE COMMUNITY
IN ACTUALLY BEING ABLE TO USE
THIS TOOL TO PUT GREATER
CONNECTIONS IN FRONT OF YOUNG
PEOPLE.
QUICK EXAMPLE, AN EXAMPLE FROM
OAKLAND, CALIFORNIA.
WE WERE WORKING WITH A SCHOOL
DISTRICT, A NUMBER OF PARTNERS
WORKING WITH THE SCHOOL DISTRICT
TO SEE WHAT IT WOULD BE LIKE,
ACTUALLY, TO TAKE REALLY CORE,
IMPORTANT ACADEMIC OUTCOMES,
COMMON CORE ALIGNED ACADEMIC
OUTCOMES AND IMAGINE WHAT IT
WOULD BE LIKE FOR A LARGER
NUMBER OF PARTNERS TO WORK FOR
THEM TO PURSUE THIS IMPORTANT
WORK.
SO WE HAVE A CONCEPT THERE THAT
WE ARE WORKING OUT, WHERE WE TRY
TO LOOK AT WHAT IT WOULD MEAN
FOR A YOUNG PERSON TO BE, OF
COURSE, COLLEGE READY AND CAREER
READY.
VERY IMPORTANT.
BUT ALSO COMMUNITY READY.
IN TERMS ON OF A CIVIC
ENGAGEMENT WITH HIS OR HER
COMMUNITY.
SO, IN SOME WAYS, CIVIC
ENGAGEMENT OR REAL COLLEGE AND
CAREER READINESS, LET'S SAY AT
THE MOST PRO FOUND LEVEL, IS
GOING TO TAKE YOU OUTSIDE THE
FOUR WALLS OF YOUR SCHOOL.
HOW DO YOU CREATE A SET OF
OPPORTUNITIES SO THAT THE
COMMUNITY BASED LEARNING
INSTITUTIONS, THE WONDERFUL
CLUBS THAT DO GREAT WORK FOR
YOUNG PEOPLE, ACTUALLY IN CIVIC
ENGAGEMENT, LOCAL GOVERNMENT AND
THE YOUTH LEADERSHIP
OPPORTUNITIES THEY WANT TO PUT
OUT THERE, THE YOUTH MEDIA
PROVIDERS THAT MIGHT BE WORKING
WITH YOUNG ABOUT HOW THEY CAN BE
CREATORS OF WRITING AND HE MEDIA
AND — AND MEDIA AND FILM.
HOW DO THE YOUNG FOLKS
SO THE STUDENTS IN OAKLAND,
CALIFORNIA CAN LEVERAGE THE
ACADEMIC WORK THAT WE WANT THEM
TO LEARN?
WE ARE LOOKING AT A SYSTEM OF
BADGES, FOR EXAMPLE, WHERE YOUNG
PEOPLE CAN TAKE ON CHALLENGES,
AGAIN IN LINE WITH THE COMMON
CORE, AND TAKE ON CHALLENGES,
PERFORM THEM INSIDE AND OUTSIDE
THE CLASSROOM, IN AN AFTER
SCHOOL PROGRAM, AND A SCHOOL
PROGRAM AND BE RECOGNIZED IN
MOVING FORWARD IN THE IMPORTANT
SCHOOLS AND DO IT IN A WAY THAT
IS SHARED MORE BROADLY THAN JUST
THE SCHOOL.
>> THANK YOU.
THANK YOU ELYSE.
KATIE, WE WILL HEAR FROM YOU
NOW.
>> THANKS, SO I'M GOING TO
CONTINUE SOME OF THE THREADS
THAT MIMI AND ELYSE STARTED AND
I'M GOING TO TALK SPECIFICALLY
ABOUT THE STORY OF ONE STUDENT
IN A — IN THE PUBLIC SCHOOL
THAT WE OPENED IN NEW YORK
CALLED QUEST TO LEARN.
THE SCHOOL IS DESIGNED TO
SUPPORT CONNECT LEARNING.
ESPECIALLY, AROUND THE IDEA OF
INCREASING STUDENT ENGAGEMENT BY
MAKING LEARNING RELEVANT WITH
THE CONNECTION TO REAL WORK AND
REAL LIFE.
THE SCHOOL USES THE TOOLS OF THE
CONNECT AGE, ONLINE PLATFORMS OF
THE COMMUNITY, ONLINE TOOLS AND
GAMES AND OTHER MEDIA TO MAKE
LEARN ENGINE SCHOOL, HOME AND
THE COMMUNITY SO LEARNING IS
RE-ENFORCED AND SUPPORTED IN
MULTIPLE STUDIES.
SO WHAT ELYSE WAS TALKING ABOUT
THERE, WE ARE INTERESTED IN THE
IDEA OF HOW TO SUPPORT A YOUNG
PERSON ACROSS THE MULTIPLE
CONTEXTS.
THE SCHOOL HAS A STRONG FOCUS ON
WHAT WE CALL CONNECT COMMUNITY.
WHICH IS HELPING STUDENTS AND
EDUCATORS DEVELOP EXPERIENCES
AND IDENTITIES AS COLLABORATORS,
EXPERTS AND MENTORS FOR OTHERS
TAKING PART IN THE COMMUNITY OUT
THERE.
CHARLES CAME IN AS A SIXTH
GRADER AND HAS BEEN WITH US FOR
FOUR YEARS.
IS A GREAT EXAMPLE OF CONNECT
LEARNING AND ACTION.
LET'S TAKE A LOOK AT HIS STORY.
>> WOW, THAT WAS GREAT, KATIE.
>> YEAH, SO ONE THING THAT WE
LIKE ABOUT THE STORIES THAT ARE
COMING OUT OF THE SCHOOL IS
THAT, IN SOME SENSE IT TELLS US
A LOT ABOUT THE INSPIRATION OF
CONNECT LEARNING.
IF YOU CAME IN AS A STUDENT AND
YOU HA LOTS OF INTERESTS AND
YOU WAY TO PURSUE THEM.
CHARLES BEGAN TO BUILD SKILLS
AND MAKE CONNECTIONS IN HIS
LOCAL COMMUNITY.
HE WAS THEN ABLE TO TAKE
ADVANTAGE OF ONLINE PLATFORMS
THAT ARE OUT THERE IN THE WILD
AND SET THE CIVIC CAUSES THAT HE
CARED ABOUT.
AND ONE THING I DID WANT TO
NOTE, EVEN THOUGH QUEST THE
LEARN WAS A PROJECT DESIGNED
FROM THE BEGINNING TO SUPPORT
CONNECT LEARNING, WHAT WE ARE
FINDINGS THROUGH THE RESEARCH
AND THE EXAMPLES THAT BOTH MIMI
AND ELYSE GAVE IS THAT THE
PRINCIPALS OF CONNECT LEARNING
CAN BE APPLIED TO ALREADY
EXISTING PROGRAMS.
SO WITH VERY SMALL CHANGES.
THIS IS FOR US A REALLY EXCITING
MOMENT.
IT MEANS THAT CONNECT LEARNING
IS DOABLE BY A DIVERSE GROUP OF
STAKEHOLDERS.
>> GREAT.
WELL, THANK YOU, KATIE.
CRAIG?
>> THANK YOU, FIRST OF ALL,
MARTENS THANK YOU FOR HAVING US
HERE TO TALK ABOUT CONNECT
LEARNING AND JUST TO HAVE THIS
CONVERSATION WITH YOU.
SO, WHEN WE — EARLIER THIS
YEAR, WE PUBLISHED A WHITE PAPER
ON CONNECT LEARNING AND THAT
PAPER WE MAPPED OUT DESIGNING
AND LEARNING PRINCIPALS AND SO
WHAT KATIE WAS TALKING ABOUT, IT
WAS KIND OF THE TOOL KIT IN A
SET OF PRINCIPALS AND GUIDELINES
THAT ONE MIGHT BE ABLE TO PUT
INTO ACTION TO REALLY REALIZE
SOME OF THE GOALS AND DIVISION
OF CONNECT LEARNING.
AND THE NUMBER OF PRINCIPALS
WERE ONE THAT I WILL FOCUS ON IN
TERMS OF MY BRIEF OPPORTUNITY
HERE, IS JUST THIS IDEA AROUND
SORT OF STUDENTS BEING PRODUCERS
AND MAKERS OF THING BELIEVE THAT
ONE OF THE SORT OF ELEMENTS OR
COMPONENTS CONNECT LEARNING IS
THE IDEA OF CREATING LEARNING
SPACES AND OPPORTUNITIES FOR
KIDS TO REALIZE THEMSELVES OF
PRODUCERS OF IDEAS AND IT ALIGNS
WELL WITH WHAT IS CURRENTLY
BEING REFERRED TO AS CONNECTER
MAKER MOVEMENT.
THAT WE CREATE PATHWAYS SO THE
KIDS SEE THEMSELVES AS
ARCHITECTS OF THEIR OWN
INFORMATION AND ENVIRONMENT.
SO IT EMPOWERS THEM IN A WAY
THAT SCHOOLS HAVE NOT BEEN
ABLE TO DO.
WE SEE A YOUNG PERSON REALIZING
HIMSELF IN A WAY THAT SCHOOL
DOES NOT ALLOW THEM TO REALIZE,
IT IS SOMETHING THAT CONNECT
LEARNING OFFERS A VISION AND A
WAY OF RETHINKING AND IMAGINING
WHAT EDUCATION AND LEARNING
MIGHT LOOK LIKE.
FROM OUR PERSPECTIVE, YOU KNOW,
A LOT OF THE EARLY RESEARCH THAT
MIMI SORT OF REFERENCED AND
TALKED ABOUT, YOU KNOW, WHAT
COMES OUT OF THAT WORK AND WORK
SUBSEQUENT TO THAT, GIVEN THE
KINDS OF SOCIAL AND DIGITAL AND
MOBILE TOOLS THAT KIDS HAVE
ACCESS NOW, THE KIDS ARE DOING
THIS, THEY ARE WRITING, AND
CONCRETING AND AUTHORING AND
BUILDING, THEY SEE THEMSELVES AS
DESIGNERS AND MAKERS OUTSIDE OF
ANY KIND OF FORMAL INSTITUTIONAL
SETTING.
AND WOULDN'T IT BE TERRIFIC IF
THEY COULD BEGIN TO LEVERAGE
THAT DISPOSITION TO DESIGN AND
MAKE, AND WE THINK THAT THOSE
ARE SOME OF THE PRINCIPALS AND
OPPORTUNITIES THAT CONNECT
LEARNING PATHWAYS PROVIDE.
AND SO, FOR THE LAST YEAR OR SO,
WE HAVE BEEN EMBEDDED IN A HIGH
SCHOOL IN AUSTIN THAT COMES WITH
MANY OF THE KINDS OF ATTRIBUTES
THAT WE ASSOCIATE WITH BIGGER
URBAN FRINGE SCHOOLS, A NUMBER
OF THE KIDS COME FROM LOW INCOME
HOUSEHOLDS AND FAMILIES AND THEY
ARE LABELED AS AT-RISK AND WHAT
IS INTERESTING IS WHAT ARE BOTH
SORT OF THE BARRIERS AND
OPPORTUNITIES FOR CONNECT
00:59:40: LEARNING
IN ENVIRONMENTS LIKE THAT.
SO WE HAVE TEACHERS AND
PRINCIPALS PREPARING FOR TESTS
AND THE CURRICULUM THAT IMPOSES
RESTRICTIONS ON THE STUDENTS.
WHAT WE FOUND INTERESTING IS THE
STUDENTS THAT KIND OF NAVIGATED
THE SCHOOL AND THE AFTER SCHOOL
SETTING TO BUILD THE PATHWAYS,
SO WE HAD AN OPPORTUNITY TO BE
MORE SPECIFIC AS STUDENTS WHO
WERE INVOLVED IN AFTER SCHOOL
DIGITAL MEDIA CLUB, AND THROUGH
THAT CLUB THEY WERE ABLE TO
CREATE SOCIAL MEDIA PROJECTS AND
CAMPAIGNS, AND A VIDEO — A
SHORT FILM THAT THEY SUBMITTED
TO AN INTERNATIONAL FILM
FESTIVAL, AND IT WAS AROUND THE
WORK THEY WERE DOING, AND THERE
WAS ONE STUDENT IN PARTICULAR
NAMED ALBERTO WHO STRUCK US AS A
STRIKING EXAMPLE OF WHAT
CONNECTED LEARNING COULD LOOK
LIKE IN AN ENVIRONMENT LIKE
THIS.
HE KIND OF STRUGGLED TO FIND HIS
VOICE AND SPACE WITHIN THE SORT
OF TRADITIONAL SCHOOL
ENVIRONMENT AND LIKE A NUMBER OF
OTHER STUDENTS, ALBERTO TALKED
ABOUT THE DEGREE TO WHICH HE
FELT, YOU KNOW, KIND OF
UNRECOGNIZED IN SCHOOL.
THERE WAS A CERTAIN AMOUNT OF
DEMOTIVATION AND IT WAS THROUGH
THE CONNECT LEARNING
OPPORTUNITIES OUTSIDE OF SCHOOL
THAT HE BEGAN TO REALIZE, RIGHT,
HIS IDENTITY AND TO CONNECT
HIMSELF BACK TO THE SCHOOL IN AN
IMPORTANT WAY.
WE THINK IT SPEAKS TO EQUITY.
AND WE BEGIN TO THINK ABOUT
DIGITAL MEDIA.
WE HEAR ABOUT THE DIGITAL DIVIDE
AND ACCESS TO TECHNOLOGY.
BUT IT'S REALLY ABOUT ACCESS TO
THE PATHWAYS AND TECHNOLOGY TO
DEVELOP THE DISPOSITION AND TO
DEVELOP SKILLS THAT ALLOW THEM
TO USE TECHNOLOGY IN WAYS TO
DESIGN, MAKE, AND I WOULD ARGUE
TO INTERVENE IN THE WORLD AROUND
THEM.
THAT IS WHAT IS IMPORTANT TO
WHAT ELYSE IS TALKING ABOUT,
COMMUNITY IMPACT.
THOSE ARE THE KINDS OF THINGS
THAT CONNECT LEARNING SPEAKS TO.
WHEN YOU THINK OF A GENERATION
OF KIDS ARE GROWING UP IN DROP
OUT FACTORIES.
THEY ARE NOT MOTIVATED AND THE
SCHOOLS DO NOT FIND THEIR VOICE,
OR FINDS THEIR WAY IN
EDUCATIONAL SETTINGS.
IT PROVIDES WITH WHAT MOTIVATES
THEM, AND HOW CAN WE CONNECT
WITH YOU AND RECOGNIZE THE
THINGS YOU ARE GOOD AT AND
PASSIONATE ABOUT AND BUILD IT
INTO THE EDUCATIONAL SETTING.
AND TO THE EXTENT THAT CONNECT
LEARNING IS IN PARTED DESIGNED
TO SPEAK TO THAT.
THERE'S THE THREE Rs.
BUT WE THINK OF THE FOURTH R,
IT'S THE IDEA OF RELEVANCE, HOW
DO YOU MAKE EDUCATION, LEARNING
RELEVANT TO YOUNG PEOPLE AND WE
THINK THAT CONNECT LEARNING IS A
PATH TO DOING THAT.
>> WELL, THANK YOU, CRAIG.
I'M DELIGHTED TO BE JOINED BY
FOUR VERY SMART AND PASSIONATE
PEOPLE WHO ARE DEDICATED TO
USING THE POWER AND PROMISE OF
TECHNOLOGY.
I WANT TO REMIND THE VIEWERS
THAT THEY CAN ASK THE QUESTION
OF ANY OF OUR PANELISTS AT ANY
TIME USING THE FORM BELOW THE
VIDEO WINDOW.
BEFORE WE GET TO THE VIEWER
QUESTIONS, I WANT TO ASK A
COUPLE OF QUESTIONS OF MY OWN IF
YOU DO NOT MIND.
ELYSE, YOU SET THAT CONNECTED
LEARNING DRAWS FROM THE PAST
LEARNING, IT'S DESIGNED FOR OUR
TIMES.
CAN YOU SAY SOME MORE ABOUT HOW
IT CAN BE BOTH?
>> YEAH.
YEAH.
THANK YOU.
I THINK WE HAVE A TREMENDOUS —
TREMENDOUS REPOSITORY OF WISDOM
IN EDUCATION, NOT TALKING ABOUT
REINVENTING A NEW MODEL THAT HAS
NEVER BEEN THOUGHT ABOUT BEFORE
IN THE EDUCATIONAL COMMUNITY.
WE HAVE GREAT PREDECESSORS, IF
YOU THINK OF SOMEONE LIKE DEWEY,
AND MARIE MONTESSORI, BOTH
DEVELOPED THEIR EDUCATIONAL
PRACTICES IN A SIMILAR MOMENT, A
MOMENT OF A CHANGE, A MOMENT
LIKE NOW WHEN PEOPLE WOULD SAY,
WE CANNOT REALLY PREDICT WHEN
THE JOBS OF THE FUTURE ARE GOING
TO BE.
THE WAY WE EDUCATED BEFORE, MAY
NOT PREPARE YOUNG PEOPLE FOR THE
SOCIETY THAT THEY ARE GOING
INTO.
THIS WAS — THIS WAS TRUE WITH
THE TURN OF THE PREVIOUS CENTURY
AS IT IS TRUE NOW.
AND THEY ALL DEVELOPED
APPROACHES THAT HAVE
A MAJOR IMPACT IN WAYS WITH WHAT WE
ARE TALKING ABOUT HERE WITH
CONNECTED LEARNING.
ONE IS, AN EMPHASIS ON THE
LEARNER AND DEVELOPING THE
LEARNER'S CAPACITY TO DO
SOMETHING TO NAVIGATE, BUILD,
CREATE IN A WORLD THAT IS NOT
FULLY UNDERSTOOD TODAY.
YOU HAVE TO INVEST IN A LEARNER
IN A LIFE LONG LEARNING PROCESS.
THEY VALUED INTEREST, THEY
UNDERSTAND THAT IN ALL OF THE
CASES THAT WE NEED A LEARNER TO
INVEST IN TAKING SOMETHING DEEP
AND FOLLOWING SOMETHING TO THE
FULL COURSE.
AND YOU REALLY GET THAT WHEN
SOMEONE IS INTERESTED AND
INVESTED IN AN OUTCOME, HOW IN
FACT WHEN WE GET INTEREST CAN
CREATE AN OPPORTUNITY TO FOLLOW
IT IN DEPTH AND LEARN WHO CAN
ONLY BE LEARNED BY TAKING
SOMETHING DEEP.
SO THERE'S MUCH THAT ACTUALLY
THEY TALK ABOUT, FROM THAT
PERIOD OF TIME, THAT HAS
INFORMED EDUCATIONAL PRACTICE
FROM GREAT TEACHERS AND MENTORS
ACROSS THE COUNTRY.
WHAT THEY DIDN'T HAVE, OF
COURSE, WAS THE POWER OF THE
INTERNET.
SO, IN SOME WAYS, IF YOU CAN
IMAGINE WHAT IT WOULD HAVE BEEN
LIKE FOR A DEWEY IN SCHOOL, OR
MARIA MONTESSORI OR JANE ADAMS,
IF THEY HAD THE INTERNET, THAT
IS IN SOME WAYS WHAT WE TALK
ABOUT NOW.
HAVING A WAY TO TAKE THE
OPPORTUNITY OF TAKING THE
VISIONS THAT HAVE JUST MADE
SENSE TO SO MANY EDUCATORS AND
ACT ON THEM IN A WAY THAT WAS
NOT POSSIBLE FOR THOSE EDUCATORS
AND I WOULD SAY JUST ONE OTHER
THING, THAT WAS THE PIECE OF
TECHNOLOGY THAT THEY HAD AT THIS
POINT.
FROM THE CHANGE IN MODELS, THAT
WE HAVE TALKED ABOUT, THEY HAD
THAT INDUSTRIAL MODEL.
THEY HAD KIND OF FORD-ISM SM IN
A WAY.
THEY COULD BUILD SCHOOLS THEY
COULD BUILD LIBRARIES, THEY
COULD MANUFACTURER BOOKS AND
SHIP THEM OUT ACROSS THE
COUNTRY.
THEY COULD BUILD A MORE
EQUITABLE SYSTEM AT THAT TIME
IN THAT WAY.
WHAT WE ARE TALKING ABOUT IS
ACTING ON THE SAME DISPOSITION
TO EQUITY.
WE NOW HAVE A MUCH MORE POWERFUL
TOOL, IT OPERATES A DIFFERENTLY
THAN THE INDUSTRIAL MODEL, BUT
JUST LIKE THAT ERA WE HAVE A NEW
SET OF TOOLS TO PUT IN REACH OF
ANY LEARNER A SET OF EXPERIENCES
THAT WERE NOT THERE FOR HIM OR
HER RECENTLY.
JUST A FEW YEARS AGO.
SO, IN SOME WAYS THAT IS WHY WE
SAY CONNECTED LEARNING IS TAKING
SOME OF THE BEST OF WHAT WE
UNDERSTOOD ABOUT CREATING GREAT
CONDITIONS FOR LEARNING BUT
GIVES US AN OPPORTUNITY TO
UPDATE IT AND MAKE IT POSSIBLE
ACTUALLY TO SPEAK TO YOUNG
PEOPLE WHO ARE IN THAT NEW WORLD
FROM THE MOMENT THEY HAVE
STARTED PICKING UP THE DEVICES
AND PLUGGING INTO THE INTERNET
AT HOME.
SO, WE HAVE THAT SAME
OPPORTUNITY RIGHT NOW.
>> AND IN SPEAKING ABOUT
LEARNING THEORIES OF OUR TIME,
MIMI, DISTINGUISHES CONNECT
LEARNING FROM OTHER TECHNOLOGY
BASES?
>> THANKS MARTENS, I THINK IT'S
AN EXCELLENT QUESTION AND WE GET
ASKED A LOT, BECAUSE I THINK
THERE'S SO MANY NEW LEARNING
APPROACHES THAT ARE BEING PUT
OUT THERE NOW WITH THE ADVENT OF
NEW TECHNOLOGY.
I THINK WHAT ELYSE IS DESCRIBED
IS REALLY A GOOD FRAME FOR
UNDERSTANDING WHAT DEFINES
CONNECT LEARNING AND MAKES
CONNECT LEARNING UNIQUE, WHICH
IS REALLY THAT IT IS AN APPROACH
TO LEARNING THAT IS BUILT ON LOT
OF LONG STANDING VALUES.
THAT IS ABOUT BUILDING
CONNECTIONS TO OPPORTUNITY AND
THE REAL WORLD, AND IT ASKS THE
QUESTION OF HOW CAN WE USE NEW
TECHNOLOGY IN THE SERVICE OF
THOSE KINDS OF LEARNING
EXPERIENCES AND IN THE SERVICE
OF BROADENING ACCESS TO
OPPORTUNITY.
SO, REALLY PUTTING THE LEARNING
EXPERIENCE AND THE EQUITY ISSUE
AT THE FOREFRONT HAS BEEN THE
DEFINING FEATURE OF CONNECT
LEARNING AND I THINK, IN TERMS
OF SPECIFIC TECHNOLOGY
PLATFORMS, TECHNIQUES, DEVICES,
ALL OF THESE APPROACHES AND
EDUCATIONAL TECHNIQUES CAN BE
USED IN THE SERVICE OF CONNECT
LEARNING.
AND I THINK THE REASON WHY WE
LEAD WITH OUR LEARNING VALUES
AND PHILOSOPHY, IS BASED ON
RESEARCH THAT WE KNOW THAT WHEN
NEW TECHNOLOGIES AND NEW
EDUCATIONAL TECHNIQUES ARE
DEPLOYED IN THE ABSENCE OF THIS
BROADER SOCIAL AND VALUES FRAME
WORK, THAT THEY TEND TO
REINFORCE THE PRIVILEGE OF
COMMUNITIES THAT ALREADY HAVE
ACCESS TO PROGRESSIVE OR HIGHLY
TECHNOLOGY LEVERAGED KINDS OF
LEARNING EXPERIENCES AND THAT IS
WHY IN OUR FRAME WORK, REALLY
FORE GROUNDED THOSE SOCIAL AND
CULTURAL DIMENSIONS OF LEARNING.
>> GREAT, THANKS, KATIE.
ONE OF OUR VIEWERS WANTS TO KNOW
WHAT CONNECT LEARNING LOOKS LIKE
IN A SCHOOL.
KATIE, WHAT HAS BEEN THE MOST
EXCITING PART OF IMPLEMENTING
CONNECT LEARNING IN QUEST TO
01:09:40:
LEARN SCHOOLS?
AND WHAT HAS BEEN INTERESTING TO
LEARN ABOUT IT?
>> IT'S FASCINATING TO TALK
ABOUT THE FRAME WORK IN TERMS OF
OPPORTUNITIES AND CHALLENGES.
I THINK ONE OF THE NORTHEAST
EXCITING THINGS THAT WE HAVE —
ONE OF THE MOST EXCITING THINGS
WE HAVE SEEN IN SCHOOLS.
IT INVITES A WHOLE GROUP OF
PEOPLE TO PARTICIPATE IN SUPPORT
THE LIVES OF YOUNG PEOPLE, SO,
IN THE CASE OF THE QUEST
SCHOOLS, WE HAVE THOSE THAT ARE
TRAINED A AS GAME DESIGNERS AND
THEY ARE IN THE SCHOOLS WORKING
WITH THE SCHOOLS EVERY DAY AND
THEY HAVE NOT BEEN INVITED INTO
THE LEARNING CONVERSATION.
AND IN THE SCHOOL, THEY ACT AS A
TREMENDOUS ROLE MODELS FOR THE
YOUNG PEOPLE IN THE SCHOOL.
PARTIALLY BECAUSE THEY ARE NOT
THAT FAR ACCIDENT IN THEIR AGE,
THEY ARE SORT OF IN THEIR 20s
AND EARLY 30s.
THEY ARE PROVIDING FOR KIDS SORT
OF MODELS OF WHAT IT LOOKS LIKE
TO PURSUE PASSION AND WHAT THE
SORT OF DAY-TO-DAY WORK LOOKS
LIKE OF MAKING THE CONNECTIONS
BETWEEN INTERESTS YOU HAVE AND
WHAT THE DAY-TO-DAY WORK LIFE
MIGHT LOOK LIKE.
SO THAT IS EXCITING.
AND WE HAVE SEEN THAT, REAL
CHANGES IF TEACHERS THAT
EDUCATORS IN THE SCHOOL, AND
BECAUSE YOU KNOW CRAIG TALKED
ABOUT THE NOTION OF THE MAJOR
COMMUNITY AND THE IDENTITIES
OF DESIGNERS THAT KIDS ARE
TAKING ON.
IN CONNECTED LEARNING IT FRAMES
TEACHERS OF DESIGNERS CREDITORS
THAT ARE REALLY TASKED WITH
HELPING KIDS, YOU KNOW, MAKE
CONNECTIONS TO TYPES OF PATHWAY
THAT THEY HAVE SEEN CONSTRUCTED.
WE HAVE SEEN A CHANGE THAT ROLE
OF THE EDUCATOR SAYS THAT
STARTED TO SEE THEMSELVES AS
DESIGNERS AND THEY HAVE BEEN
INCREDIBLY EMPOWERED AROUND THE
CLASSROOMS AND THE TYPES OF
COLLABORATIONS THAT THEY ARE
PART OF.
BECAUSE COLLABORATION IS A BIG
PART OF CONNECT LEARNING.
KIDS THRIVING AS THEIR INTERESTS
ARE ACKNOWLEDGED, AND ATTENTION
IS BEING PAID TO HELP THEM MAKE
CONNECTIONS BETWEEN THINGS THAT
MIGHT BE HAPPENING OUTSIDE OF
THE INSIDE OF
THE SCHOOL AND ALL OF THAT IS
EXCITING AND ENORMOUS
OPPORTUNITIES TO MAKE THOSE KIND
OF THINGS HAPPEN.
IN TERMS OF CHALLENGES, YOU
KNOW, CONNECT LEARNING DOES
REQUIRE THAT ONE PAY ATTENTION
TO CONNECTION.
SO THIS IS A REALLY OBVIOUS
POINT.
BUT ONE THAT IS QUITE
CHALLENGES.
IT REQUIRES ONE TO MOVE OUT OF A
SILO MIND SET WHERE YOU ARE
SEEING THE CHILDREN AS SORT OF
LEARNING THE SAME SET OF
STANDARDS.
YOU THINK HOW CAN I HELP THEM
FIND WHAT THEY ARE INTERESTED IN
AND TRANSFER THAT TO A CIVIC, OR
EDUCATIONAL, SOCIAL DOMAIN.
THAT TAKES WORK AND SKILL TO
FIGURE OUT WHAT TO DO.
AND I THINK ALL OF US TALKED
ABOUT THE DIVERSITY OF RESOURCES
THAT ARE OUT THERE.
THERE'S A CHALLENGE IN JUST
MAKING SENSE OF EVERYTHING THAT
IS OUT THERE AND HOW DO YOU
BEGIN TO TAKE DIVERSITY AND
BEGIN TO COALESCE THAT INTO
PATHWAYS THAT MAKE SENSE FOR
KIDS, WE ARE JUST IN THE
BEGINNING OF THAT.
KIDS SHOW EXAMPLES OF WHAT THE
PATHWAY MAY LOOK LIKE.
SO I THINK IT'S A CHALLENGING
PATH, BECAUSE THERE'S SO MANY
RESOURCES AND SO MANY
OPPORTUNITIES.
>> THANK YOU.
>> AND I KNOW YOU SPOKE TO THIS
JUST A LITTLE BIT EARLIER ABOUT
EQUITY.
CRAIG, WHAT IS UNIQUE ABOUT HOW
A CONNECT LEARN ADDRESSES ISSUES
AROUND SOCIAL EQUITY AND THE NEW
ECONOMY IN.
>> IT'S A GREAT QUESTION.
AND THERE'S ANY WAYS TO RESPOND
TO THAT.
ONE OF THEM IS THE ISSUE OF
ENGAGEMENT, SOMETHING THAT WE
HAVE ELUDED TO IN SOME WAY OR
ANOTHER AND I KNOW THAT THE
QUEST TO LEARN SCHOOLS ARE
DESIGNED TO PULL KIDS IN, RIGHT?
AND TO SORT OF ALLOW THEM TO
ENGAGE AND ROLL UP THEIR SLEEVES
AND GET INVOLVED IN LEARNING IN
MEANINGFUL WAYS.
THIS IS IMPORTANT AROUND THE
ISSUING OF EQUITY.
IF YOU LOOK AT THE CHALLENGES
THAT WE'VE HAD IN THE COUNTRY IN
EDUCATING AND ENGAGING YOUNG
LEARNERS THAT FALL IN SOCIAL AND
ECONOMIC MARGINS, ONE OF THE
ISSUES HAVE BEEN ENGAGES THEM IN
WAYS THAT ARE RELEVANT AND
COMPELLING AND ALLOWS THEM TO
SEE OPPORTUNITIES AND PATHWAYS
THAT MAKES SCHOOL MEANINGFUL TO
THEM IN A CREDIBLE WAY.
A LOT OF THE RESEARCH SUGGESTS
THAT YOU KNOW, KIDS SIMPLY JUST
ARE — THEY ARE NOT MOTIVATED BY
THE KINDS OFS SKILL AND DRILL
EXERCISES THAT HAVE BECOME
COMMON IN SCHOOL AND WE SEE IT
IN LOW INCOME SCHOOLS THIS HARD
DRIVE TO TEST AND PREPARE THE
KIDS FOR PASSING THE TESTS
BECAUSE OF THE STANDARDS AND
MEASURABILITY THAT IS OUT THERE
NOW.
IT PUTS EVERYONE UNDER THE GUN
AND IT MAKES SCHOOL A PLACE
WHERE THEY RATHER WOULD NOT BE.
THAT IS WHY YOU HAVE DROP
OUT FACTORS.
WE SEE IT A WAY TO REVERSE THAT
TREND AND JUST TO CREATE A
DIFFERENT KIND OF ENVIRONMENT.
A VERY DIFFERENT CULTURE, A VERY
DIFFERENT SET OF OPPORTUNITIES
TO ENGAGE KIDS IN A MORE
MEANINGFUL WAY.
I RECENTLY HEARD SECRETARY OF
STATE ERNIE DUNCAN SAY FROM HIS
RESEARCH IN GOING AROUND AND
SPEAKING WITH STUDENTS AND
SCHOOLS, THAT THEY ARE NOT BEING
CHALLENGED.
AND THAT IS CERTAINLY SOMETHING
THAT WE HAVE SEEN IN THE SCHOOL
THAT WE WERE IN.
RIGHT?
THE LOW BAR OF EXPECTATIONS, YOU
KNOW WHAT IS EXPECTED FOR KIDS
TO PASS ARE SO LOW, THAT IT
FAILS TO ENGAGE KIDS.
BEYOND THAT, AS YOU THINK ABOUT
THE FUTURE.
AS WE BEGIN TO THINK ABOUT THE
WAYS IN WHICH OUR WORLD AND
GLOBAL INFORMATION ECONOMY IS
CHANGING, YOU KNOW, THE NEED TO
BE A LIFE LONG LEARNER, AND THE
NEED TO DEVELOP THE SKILLS AND
THE DISCIPLINE TO DEVELOP IN THE
SOCIAL INNOVATION IS CRITICAL.
AND IT'S SOMETHING THAT WE SEE
LACKING IN OUR SCHOOLS AND
PARTICULARLY LACKING IN SCHOOLS
THAT ARE SORT OF CHARGED WITH
THE MISSION AS EDUCATING AND
PREPARING KIDS FOR THE ECONOMIC
AND DIGITAL FUTURE.
SO, YOU KNOW, THERE'S A SENSE
RIGHT THAT WE PLACE SUCH
AN EMPHASIS ON COGNITIVE
SCHOOLS.
BUT IT'S THE NON-COGNITIVE
SCHOOLS THAT ARE MORE PREDICTIVE
OF FUTURE SUCCESS AND
OPPORTUNITY.
YOU THINK ABOUT THE FUTURE, IF
IT'S LEADERSHIP OR
COMMUNICATION, IF IT'S THE
ABILITY TO INNOVATE AND CREATE
AND COLLABORATE, THOSE ARE THE
KINDS OF DISPOSITIONS AND SKILLS
THAT OFTEN TIMES GET — THEY DO
NOT GET NOURISHED AND CULTIVATED
IN SCHOOL, BUT RESEARCH SHOWS
THAT THOSE SKILLS ARE INCREDIBLY
VALUABLE AND THEY REACH TO LIFE
LONG LEARNING AND WE FEEL THAT
IT WHAT THEY NEED TO COMPETE FOR
JOBS IN THE NEW COMMITTEE AND TO
BE VIABLE CITIZENS AND AGENTS IN
A WORLD THAT THE CHANGING
RAPIDLY.
IT'S A KEY TO STUDENTS
DEVELOPING THE NON-COGNITIVE
SKILLS THAT ARE CRITICAL FOR THE
21st CENTURY.
>> MIMI WHAT IS THE CASE FOR
LEVERAGING THE INTERNET, DIGITAL
MEDIA, SOCIAL MEDIA FOR
LEARNING, AND HOW CAN POLICY
MAKERS AT THE FEDERAL AND STATE
LEVEL BALANCE THE RISKS AND
REWARDS?
>> YEAH, THAT'S A — THAT'S A
GREAT ISSUE, I KNOW THAT WHEN WE
DID OUR RESEARCH, WE DID FIND
THAT THERE WAS PRETTY
SIGNIFICANT GENERATION GAP IN
HOW OLDER FOLKS VIEWED THE VALUE
AND RISKS OF ONLINE
PARTICIPATION VERSUS YOUNG
PEOPLE, WHERE YOUNG PEOPLE
TENDED TO REALLY STRESS THE
POSITIVES, THE FACT THAT THE
INTERNET WAS A LIFE LINE TO
LEARNING AND TO SOCIAL
CONNECTION, WHEREAS OLDER FOLKS
TENDED TO DWELL, MUCH MORE ON
THE POTENTIAL RISKS.
AND I THINK THERE'S A LOT OF
OTHER THINGS THAT WE CAN DO IN
ORDER TO MINIMIZE RISKS AND
MAXIMIZE OPPORTUNITY, BUT I
THINK IT'S IMPORTANT TO REALIZE
ONE OF THE THINGS THAT SONIA
LIVING STONE, OUR COLLEAGUE
HAS DONE A TREMENDOUS AMOUNT OF
RESEARCH ON, IN A LOT OF WAYS
THE RISKS AND OPPORTUNITIES GO
HAND IN HAND, IF WE TRY TO
COMPLETELY ERADICATE KIDS
POTENTIAL FOR EXPLORATION, AND
INQUIRY IN SPACES LIKE THE
INTERNET, THEN WE ARE CLAMPING
DOWN ON THE OPPORTUNITIES THAT
THEY HAVE.
AND WE ARE ENTERING AN ERA WHERE
WE CANNOT CONTROL YOUNG PEOPLE'S
ACCESS TO SOCIAL CONNECTION IN
THE WAYS WE USED TO.
AND IN FACT, WE NEED TO
CULTIVATE IN YOUNG PEOPLE
THEMSELVES THE CAPACITY TO MAKE
WISE CHOICES ABOUT WHERE THEY
DIRECT THEIR INFORMATION —
ATTENTION WHAT KINDS OF
INFORMATION THEY ACCESS, AND
WHAT KINDS OF SOCIAL
RELATIONSHIPS ARE VALUABLE.
AND OF COURSE, WE NEED TO DO
THESE IN DEVELOPMENTALLY
APPROPRIATE WAYS.
BUT WE ALSO NEED TO REALIZE THAT
YOU CANNOT JUST EXPECT THAT
YOUNG PEOPLE WILL DEVELOP THESE
WITHOUT THE OPPORTUNITY TO
EXERCISE SOME AUTONOMY AND SOME
LEVEL OF AGENCY IN WHERE THEY
ARE GOING TO DIRECT THEIR
ATTENTION AND WE NEED TO START
CULTIVATING THOSE DISPOSITIONS,
POSSIBLY EARLIER IN LIFE THAN,
YOU KNOW, WHAT WE MAY HAVE BEEN
ACCUSTOMED TO AND THE INTERNET
ACTUALLY ALLOWS YOUNG PEOPLE A
SPACE WHERE THEY CAN EXPLORE
KNOWLEDGE, INFORMATION, SOCIAL
CONNECTIONS, IN WAYS THAT ARE
MANY WAYS MUCH SAFER THAN
LETTING KIDS LOOSE IN AN URBAN
ENVIRONMENT AND SO IT'S
IMPORTANT TO UNDERSTAND THAT
FOCUSING TOO MUCH ON SHORT-TERM
RISKS WE ARE POTENTIALLY SETTING
KIDS UP FOR LONGER TERM RISKS,
THERE'S A LOT OF TALK THESE DAYS
ABOUT THE TALENT GAP FOR EXAMPLE
IN HIGH TECH JOBS AND THE FACT
THAT YOUNG PEOPLE, EVEN TODAY
WHO ARE REALLY THE MOST EDUCATED
GENERATION EVER, IF YOU LOOK AT
THE NUMBERS FOR COLLEGE
ATTAINMENT, FOR SOME REASON ARE
NOT DEVELOPING THE TECH SKILLS,
THE CAPACITY FOR CREATIVE AND
INNOVATION THAT FOR EXAMPLE
SILICONE VALLEY FIRMS ARE
LOOKING FOR AND YOU HAVE TO
START ASKING THE QUESTION ABOUT
WHETHER WE ARE GIVING KIDS THE
OPPORTUNITY TO CULTIVATE THOSE
DISPOSITIONS FOR CREATIVITY,
INNOVATION AND PROBLEM SOLVING
EARLY IN LIFE.
>> MIMI I GOT A QUESTION FROM
SOMEONE IN IOWA ASKING HOW DOES
COMMON CORE FIT AND INTERACT
WITH CONNECT LEARNING CAN YOU
SPEAK TO THAT?
>> I AM HAPPY TO SPEAK ON THAT.
AND I THINK ELYSE MAY BE A GOOD
SPOKES PERSON FOR THIS.
WE SEE CONNECT LEARNING AS
BUILDING ON THE YOU KNOW,
FOUNDATIONAL LEARNING AND
LITERACY THAT YOUNG PEOPLE ALL
REALLY NEED TO ACHIEVE, AND SO,
IT'S NOT AN EITHER OR KIND OF
EQUATION, BUT IT'S REALLY SAYING
THAT IN TODAY'S DAY AND AGE, THE
YOUNG PEOPLE HAVE TO BE ABLE TO
DO BOTH.
THEY HAVE TO BOTH HAVE THOSE
FOUNDATIONAL LITERACIES AND
COMPETENCIES AND ALSO HAVE THE
ABILITY TO BE 21st CENTURY
LEARNERS THAT ARE CONSTANTLY
ACCESSING NEW INFORMATION AND
ARE ABLE TO SPECIALIZE AND ABLE
TO DO DEMAND DRIVEN INNOVATIVE
FORMS OF LEARNING, ELYSE, YOU
MAY HAVE SOMETHING TO ADD ON
THIS?
>> COMPLETELY AGREE, IT'S NOT AN
EITHER/OR PROPOSITION, ONE OF
THE THINGS THAT ARE INTERESTING
IS THAT THERE'S THINGS IN THE
COMMON CORE THAT ALIGN NICELY
WITH THE PRINCIPALS OF THE
LEARNER, AND I WOULD SAY, FOR
EXAMPLE, WE CAN POINT TO COMMON
CORE STANDARDS THAT ARE
REALLY ABOUT NAVIGATING THE
INTERNET, BEING ABLE TO USE THE
INTERNET FOR RESEARCH, BEING
ABLE TO UNDERSTAND THE
CREDIBILITY OF INFORMATION, SO
THERE'S THE LIVING IN AN
INFORMATION ECONOMY ELEMENT OF
THE COMMON CORE, BUT MORE PRO
FOUND I THINK IS IF YOU LOOK AT
THE COMMON CORE STANDARDS, WHAT
YOU SEE IS A CONSISTENT EMPHASIS
ON PRODUCTION OF SOMETHING BY
YOUNG PEOPLE.
THEY PRODUCE THINGS IN WRITING,
THEY PRODUCE THINGS WITH MEDIA,
THEY READ AND RESEARCH IN ORDER
PRODUCE AND DO SOMETHING.
AND A CORE ELEMENT OF THE
CONNECT FRAME — CONNECT
LEARNING FRAME WORK, CRAIG SPOKE
TO IT IS AT THE CENTER THE
LEARNER PRODUCING SOMETHING AND
FOLLOWING THE COURSE OF
PRODUCTION.
SO, IN SOME WAYS, I THINK
CONNECT LEARNING GIVES US
TREMENDOUS OPPORTUNITIES TO
ACHIEVE THE SPIRIT OF THE COMMON
CORE IF YOU CAN IMAGINE THE
CENTERS THAT ASK YOUNG PEOPLE
TO, FOR EXAMPLE, TO INVESTIGATE
AN ISSUE OF CONCERN, DEVELOP AN
UNDERSTANDING AND ARGUMENT ABOUT
IT, READ MORE WIDELY, CREATE
SOMETHING THAT WILL CIRCULATE IN
THE COMMUNITY THAT THEY WILL
AUTHOR AND TAKE RESPONSIBILITY
FOR.
CONNECT LEARNING TALKS ABOUT
PUTTING THAT AT THE CENTER ALSO
OF THE EDUCATION.
SO I SEE THEM AS DEEPLY
COMPATIBLE.
>> KATIE, IS CONNECTED LEARNING,
IS IT CONNECTED LEARNING IF IT'S
CONNECT TO —
>> ONE OF THE THINGS THAT HAS
BEEN ASKED, IS THIS CONNECTED
LEARNING, IS THIS NOT CONNECTED
LEARNING, YOU WANT TO THINK OF
CONNECTED LEARNING AS A GENEROUS
FRAME WORK, THAT AT THE FULLEST
POTENTIAL THAT LEAD TO SCHOOL,
CIVIC AND WORK OPPORTUNITIES.
AND THE IDEAS THAT THE THREE IS
SPHERES ARE NECESSARY TO
PROVIDING THE RICHEST, AGAIN,
RICHEST POSSIBLE SET OF
OPPORTUNITIES FOR A YOUNG
PERSON.
BUT THEY DO NOT HAVE TO ALL
OCCUR EQUAL MEASURE, EVEN THOUGH
THERE'S A DIAGRAM WHERE THE
CIRCLES LOOK EQUAL, IN
INDIVIDUAL KIDS EXPERIENCES, THE
SCALE OF THE CIRCLES WILL LOOK
DIFFERENT, AND THE IDEA IS THAT
THESE THREE CONTEXTS PROVIDE
DIFFERENT KIND OF DOORWAYS IN
FOR YOUNG PEOPLE, THEY CAN ENTER
IN THROUGH AN INTEREST SOMETHING
HAPPENING IN SCHOOL OR FROM
THEIR PEER NETWORK.
SO IT WILL LOOK DIFFERENT FROM
KID TO KID AND PROGRAM TO
PROGRAM.
MY ADVICE WOULD BE TO NOT BE SO
CONCERNED ABOUT TRYING TO SAY,
IS WHAT WE ARE DOING CONNECTED
LEARNING TO THE TEE AND RATHER
THINK OF ALL THE WAYS THAT WE
CAN REALLY DO OUR BEST TO TRY TO
ACTIVATE THESE THREE SPHERES IN
THE CONTEXT OF WHATEVER PROGRAM
YOU ARE DEVELOPING, WHATEVER
PROGRAM YOU MAY BE WORKING ON.
>> GREAT, THANKS, KATIE.
AND I KNOW CRAIG, YOU SPOKE
ABOUT THIS BEFORE, BUT,
PRESIDENT OBAMA IN THE STATE OF
THE UNION ADDRESS TALKED ABOUT
THE NEED TO CREATE A NEW
GENERATION OF MAKERS AND
INNOVATORS, HOW DOES CONNECTED
LEARNING ALIGN TO THAT CALL TO
ACTION?
>> I THINK IT WAS A GREAT, GREAT
KIND OF A PRONOUNCEMENT BY THE
PRESIDENT.
JUST THE WAYS IN WHICH HE HAS
SUPPORTED MAKER CULTURE AND
SCIENCE DAYS AT THE WHITE HOUSE
AND SPOTLIGHTING S.T.E.M.
INNOVATION AND KIDS REALLY WHO
SORT OF CONNECT TO THE WORLD IN
THAT WAY.
SORT OF RECOGNIZING AND
REWARDING THAT, IT HAS BEEN VERY
POWERFUL AND I THINK IT'S
SOMETHING THAT, AGAIN, CONNECTED
LEARNING SPEAKS TO IN AN
INTRINSIC WAY, THAT THERE'S
RESEARCH THAT THE FACT THAT KIDS
ARE ALREADY INNOVATORS, RIGHT?
THEY ARE ALREADY DOING THESE
THINGS.
IF IT'S THROUGH SOCIAL MEDIA AND
CREATING YOUTUBE CHANNELS.
YOU KNOW, CREATING GAMES, AND SO
IT'S REALLY ABOUT HOW DO WE AS
ADULTS AND EDUCATORS
INSTITUTIONAL AGENTS, MUSEUMS,
LIBRARIES, SCHOOLS, HOW DO WE
BEGIN TO RECOGNIZE THAT AND
BUILD SPACES THAT ALLOW THE KIDS
TO CONTINUE TO ENGAGE IN THOSE
KINDS OF PRACTICES AND
ACTIVITIES TO ALLOW THEM TO
PROBLEM SOLVE AND INNOVATE.
I WOULD ARGUE, YOU KNOW, THAT
LEARNING HOW TO BE COMMUNITY
AGENTS AS WELL, RIGHT IN THAT
THAT THESE ISSUES ARE ALIGNED IN
HELPING EMPOWERING THE KIDS TO
BE AGENTS IN CHANGE IN THEIR
COMMUNITY.
I THINK THE PRESIDENT IS EXACTLY
RIGHT AND I THINK THE CONNECTED
LEARNING PRINCIPAL THE VISION OF
CONNECTED LEARNING IS TO
RECOMMEND ARE NICE THAT THE KIDS
ARE PREDISPOSED TO CREATE AND
DESIGN, AND HOW DO WE SUPPORT
THAT AND BUILD THE INSTITUTIONS
AND CONNECTIONS USING TECHNOLOGY
AS A LEVER, IF YOU WILL, TO
ENGAGE THEM IN WAYS THAT SORT
OF ALLOW
THEM TO MEANINGFULLY LET THEM
BE.
>> MIMI, VIEWERS HAVE BEEN
WONDERING WHAT IT LOOKS LIKE
BETWEEN THE LEARNING THAT TAKES
PLACE IN PLACES SUCH AS
LIBRARIES AND MUSEUMS AND WHAT
IS RECOGNIZE IN SCHOOL SETTINGS
HOW DO WE BRIDGE THE GAP, AND
WHAT ARE THE CHALLENGES?
>> I THINK THAT, YOU KNOW, THE
BIG OPPORTUNITY THAT NEW
TECHNOLOGY OFFERS IS TO START
BRIDGING THOSE GAPS, THOSE
BARRIERS BETWEEN DIFFERENT SITES
OF LEARNING, DIFFERENT
INSTITUTIONS OF LEARNING.
I THINK THE REALITY IS THAT
THERE ARE STILL TREMENDOUS
BARRIERS FOR THAT TO HAPPEN.
JUST BECAUSE OF THE WAY THAT
INSTITUTIONAL ACCOUNTABILITY
WORKS AND THE WAYS THAT
PRACTICES HAVE HISTORICALLY BEEN
DEFINED.
WHEN WE SEE THEM WORKING
TOGETHER, WE SEE THE SCHOOL
BECOMING AN ENVIRONMENT WHERE
YOUNG PEOPLE HAVE ACCESS TO
CERTAIN FORMS OF
INTERGENERATIONAL CONNECTION.
THEY GET EXPOSURE TO NEW
INTERESTS, NEW OPPORTUNITIES,
NEW FORMS OF LEARNING THAT THEY
WOULD NOT NECESSARILY JUST
DISCOVER ON THEIR OWN THROUGH
SELF EXPLORATION, THERE'S A LOT
OF OPPORTUNITY FOR SCHOOLS TO
PROVIDE A BASELINE IN SKILLS AND
LITERACY AND ALSO IN
INTERGENERATIONAL CONNECTION,
AND IDEALLY YOU HAVE THAT
ENVIRONMENT, YOUNG PEOPLE ENGAGING
WITH THAT ENVIRONMENT, AS WELL AS
ENGAGING WITH ENVIRONMENTS THAT
ARE MORE ABOUT SELF DIRECTED
INQUIRY, THAT ARE ABOUT
SPECIALIZATION.
THAT ARE ABOUT YOU KNOW, FORMS
OF MORE PLAY AND EXPLORING
LEARNING, AND IN CONTEXTS WHERE
WE SEE THOSE WORKING VERY WELL
TOGETHER, YOU REALLY HAVE
OPPORTUNITIES FOR THE CONNECT
LEARNING TO WORK.
WE KNOW FOR EXAMPLE IN THE
RECENT RESEARCH COMING OUT OF
LIBRARIES, THAT FAMILIES REALLY
WANT THAT CONNECTION BETWEEN
SCHOOLS AND PUBLIC LIBRARIES TO
BE STRONGER.
BUT FEEL THAT THEY ARE NOT
NECESSARILY THERE YET.
I THINK LIBRARIANS HAVE THAT
MOTIVATION TOO.
BUT THE PRACTICALITY OF MAKING
THE ENVIRONMENT VISIBLE IS HIGH.
THERE'S NOT MUCH TRANSPARENCY IN
THE LEARNING THAT THE STUDENT
MAY BE DOING IN A MUSEUM OR A
AFTER SCHOOL PROGRAM, OR
LIBRARY.
EDUCATORS DO NOT HAVE THAT
VISUAL INTO THAT LEARNING.
THEY MAY WANT IT.
A YOUNG PERSON IS REALLY
INTEREST IN FICTION WRITING AND
HAS A GREAT RELATIONSHIP WITH
THEIR ENGLISH TEACHER THAT
INTRODUCES THEM TO A NEW COURSE
AND OPPORTUNITY IN SCHOOL.
AND THAT IS HAPPENING BUT I
THINK THE OPPORTUNITY TO BREAK
THOSE BARRIERS AND MAKE THEM
MORE VISIBLE IS REALLY THERE,
AND OPENLY NETWORK KINDS OF
ENVIRONMENTS FOR ONLINE SHARING
FOR VISIBILITY, BUT ALSO FOR
EDUCATORS TO REALLY THINK ABOUT
PROGRAMS OF INVITATIONS WAYS FOR
YOUNG PEOPLE TO BRING THEIR
LEARNING AND THE INFORMAL AND
OUT OF SCHOOL SPACE INTO THE
SCHOOL SPACE, THAT GOES BEYOND
KIND OF OUR HISTORICAL PRACTICE
OF SOMETHING LIKE SHOW AND TELL.
I THINK WE CAN DO A LOT BETTER
THAN THAT.
AND I THINK INNOVATIVE EDUCATORS
ARE REALLY STARTING TO WORK ON,
YOU KNOW, NOT JUST TECHNOLOGY
BASED SOLUTIONS BUT PROGRAMATIC
SOLUTIONS TO GET THAT THE TO
WORK IN AN ENVIRONMENT WHERE
PEOPLE ARE INCREASINGLY
RECOGNIZING THAT LEARNING
HAPPENS IN ALL KINDS OF
LOCATIONS OF A YOUNG PERSON'S
LIFE.
>> ALL RIGHT, THANK YOU, ELYSE,
HOW IS A NATIONAL WRITING
PROJECT WORKING WITH TEACHERS TO
THEN STUDENTS TAKE ADVANTAGE OF
THE CONNECTED LEARNING APPROACH?
>> ACTUALLY IT'S AN OPPORTUNITY
TO ANNOUNCE WHAT WE HOPE WILL BE
AN EXCITING SUMMER FOR EDUCATORS
AS WELL T NATIONAL WRITING
PROJECT, ALONG WITH OTHER GREAT
PARTNERS, THIS SUMMER, WE REALLY
WANT TO CREATE AN OPPORTUNITY
FOR, FIRST OFF, PEOPLE TO
EXPERIENCE CONNECTED LEARNING
THEMSELVES.
ONE THING THAT WE HAVE GOING ON
THIS SUMMER, COLLECTIVELY, A LOT
OF PEOPLE WORKING TOGETHER ON
SOMETHING CALLED THE SUMMER OF
MAKING AND CONNECTING.
PEOPLE, CRAIG, IN PARTICULAR
SPOKE TO THIS MAKING ETHOS WELL
THE SUMMER MONTHS ARE PERFECT
PEEP TO GET TOGETHER AND MAKE
SOMETHING NEW.
MAKE SOMETHING ON THE WEB, DIP
IN THE PRACTICES OF THE
INNOVATION THAT ARE WEB CONNECT
AND WEB POWERED.
FOLKS CAN GO TO THE WEBSITE AND
THERE ARE HUNDREDS AND HUNDREDS
OF OPPORTUNITIES TO DIP IN OVER
THE SUMMER TO AN OPPORTUNITY TO
LEARN AND EXPERIENCE SOME OF THE
CULTURE OF CONNECTED LEARNING.
BUT MORE IMPORTANTLY, PROBABLY
FOR THE AUDIENCE, FOR THIS
WEBINAR, KATIE TALKED ABOUT
ACTUALLY CONNECT LEARNING IS NOT
A BOX TO BE REPLICATED, IT'S A
SERIES OF DESIGN PRINCIPALS THAT
COULD RAISE FOR ANY ONE OF US AS
EDUCATORS A QUESTION.
HOW CAN I PUSH SOMETHING A
LITTLE MORE IN THAT DIRECTION?
HOW CAN I TAKE MORE ADVANTAGE OF
THIS OPPORTUNITY?
MIMI TALKED ABOUT SHOW AND TELL.
HOW CAN WE ACTUALLY TAKE A STEP
FORWARD?
WE CAN DO BETTER THAN THAT.
SO FOR EDUCATORS IN PARTICULAR,
THIS SUMMER, THERE COULD BE A
WHOLE HOST OF SPECIAL
OPPORTUNITIES AROUND A NEW
INITIATIVE CALLED EDUCATORS
INNOVATOR.
WHICH IS REALLY A CONNECT
LEARNING SITUATION ADULTS FOR US
TO PUSH OURSELVES TO MAYBE TAKE
A STEP TOWARD A MORE CONNECT
LEARNING ENVIRONMENT, WHETHER WE
ARE A TEACHER OR A PRINCIPAL OR
A SUPERINTENDENT, WHETHER WE ARE
A LIBRARIAN, MUSEUM EDUCATORS,
WE RUN AFTER SCHOOL CLUBS, ALL
OF THEM COULD LOOK AT THE DESIGN
PRINCIPALS AND SAY, NEXT YEAR, I
WILL PUSH IN THAT DIRECTION,
EDUCATORS INNOVATOR IS INTENDED
TO PROVIDE A LEARNING
ENVIRONMENT FOR THE ADULTS AND
FOLLOWS THE PRINCIPALS THAT LET
PEOPLE THINK OF HOW THEY CAN
INNOVATE THEIR CRAFT WITH AN EYE
TOWARD CREATING THE ENVIRONMENTS
WHERE YOUNG PEOPLE GETTING TO
INNOVATE ERRS AND THINKERS AND
DOERS TOO.
>> SOUNDS EXCITING.
>> YES, WE INVITE EVERYONE.
>> WELL, I'M AFRAID THAT WE ARE
OVER TIME, I WANT TO THANK MIMI,
CRAIG, AND ELYSE FOR JOINING US
TODAY.
AND KATIE, I'M SORRY.
YOU KNOW, I WANT TO THANK OUR
WEBINAR VIEWERS AS WELL FOR
JOINING US, PLEASE KEEP AN EYE
OUT FOR FUTURE PUBLICATIONS AND
A WEBINAR ON TOPIC IN THE COMING
MONTHS.
PLEASE VISIT THE LINKS ON THE
WEB PAGE BELOW THE VIDEO TO
LEARN MORE ABOUT CONNECT
LEARNING AND SOME OF THE THINGS
WE DISCUSSED TODAY LIKE THE
WHITE PAPER AND THE INITIATIVE
THAT THE WRITING PROJECT IS
PLACING FORWARD TO KEEP UP TO
DATE ON THE LATEST HAPPENINGS IN
FEDERAL EDUCATION POLICY GO TO
TWITTER.COM/ALLFORED AND LIKE US
ON FACEBOOK.COM/ALLFORED, HAVE A
GREAT AFTERNOON AND THANK YOU
FOR JOINING US.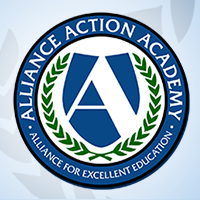 Welcome to the Alliance for Excellent Education's Action Academy, an online learning community of education advocates. We invite you to create an account, expand your knowledge on the most pressing issues in education, and communicate with others who share your interests in education reform.
Register Now
or register for Action Academy below: