Watch Gov. Bob Wise's Report from the 2012 Summer Olympics in London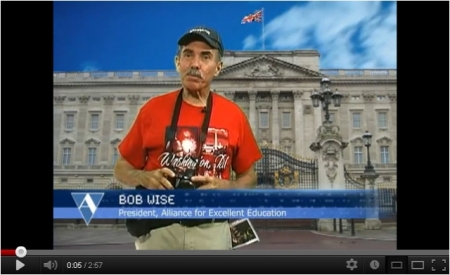 With the Opening Ceremonies for the 2012 Summer Olympics right around the corner, Bob Wise, president of the Alliance for Excellent Education and former governor of West Virginia, has "jetted" off to London to provide coverage of the competition.
But Governor Wise won't be reporting on the athletic competition, he'll be discussing the international academic competition that America's students are engaged in every single day.
To watch Governor Wise's first report from Buckingham Palace in London, click on the image above or visithttp://www.youtube.com/watch?v=eQePbRcWO7M. To embed this video on your own webpage use the following code:
<iframe width="420″ height="315″ src="http://www.youtube.com/embed/eQePbRcWO7M" frameborder="0″ allowfullscreen></iframe>
And stay tuned next week for Governor Wise's second report, which will look at major changes in training and preparation that the U.S. academic team has made since the last summer Olympics in Beijing.