Wanted: Deeper Learning Practices for All

December 18, 2015 02:26 pm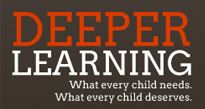 The American workforce is changing rapidly. This means that the skills, knowledge, and credentials needed to be a competitive job applicant are changing as well. By the year 2020, 65 percent of all available jobs will require some form of postsecondary education or training, according to the Georgetown University Center on Education and the Workforce. But even when students meet this requirement, employment aligned with their degree is far from guaranteed. In addition to technical knowledge related to the job, employers are looking for applicants who can work in a team structure, solve problems, and communicate effectively with people inside and outside of an organization, according to a report by Forbes. These skills are components of deeper learning, which is the "delivery of rich core content to students in innovative ways that allow them to learn and then apply what they have learned." Deeper learning competencies, including the ability to think critically and synthesize information to construct an argument, prepare students for success in college, career, and citizenship. Currently, more than 500 schools nationwide incorporate deeper learning into their curriculum and school models and several of these schools serve primarily students of color and students from low-income families.
I was fortunate enough to get a taste of the deeper learning approach during my last semester of high school by participating in the WISE Program. The WISE Program allows high school seniors to design a project that explores one of their interests or passions. WISE students meet regularly with a high school staff mentor, document the project journey and conduct research via a journal, and give a final public presentation at the end of the semester. Although WISE occupied only the last class period of the day, it often felt like the beginning of my school day. WISE was the one class that allowed me to explore a passion of mine deeply and break out of the monotony of school. Every day my project presented new challenges and goals that encouraged creativity in my work and collaborative communication with my peers. Furthermore, the student-driven structure of the program allowed me to explore the deeper learning competencies. I established basic time management skills and gained independence and academic autonomy, all of which built the skills that helped me manage my extracurricular activities and more rigorous courses in college.
The WISE Program was academically beneficial for me but, unfortunately, not every student in the country can participate in such a program. Access to opportunities for deeper learning vary widely, often by race and socioeconomic status, even though research shows that deeper learning benefits traditionally underserved students. For example, four high schools in the San Francisco Bay Area that serve predominately students of color from low-income families are implementing deeper learning practices. These schools are finding major success in boosting students' high school graduation rates and college persistence rates. According to research from the Stanford Center for Opportunity Policy in Education (SCOPE), the four high schools are outperforming other schools in their communities that serve similar populations of students. At two of the schools, the graduation rate for African American students was 90–95 percent for school year 2012–13, compared to the district and state averages of 66 percent that year. Additionally, "survey data of graduates suggest that particular high school practices of relationship-building, high standards, deep learning, and instructional relevance contribute to students' success in college." By investing in deeper learning and student-centered practices, these four high schools have enabled students to develop the skills and competencies necessary for life and academic success.
Improving educational outcomes for all students will greatly benefit the nation. In fact, the prosperity of the United States depends on it. "Increasing the national high school graduation rate to 90 percent for just one high school class would create as many as 65,700 new jobs and boost the national economy by as much as $10.9 billion," according to an analysis conducted by the Alliance for Excellent Education. Increasing access to a high-quality education and expanding the deeper learning approach to all students is crucial not only to the prosperity of the nation, but to students' future success in college, career, and life.
Categories:
Uncategorized