Using Technology to Keep the Common Core REAL

November 11, 2014 10:15 am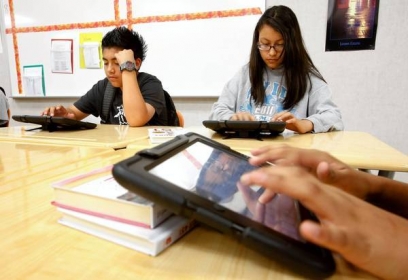 The following is a guest post written by Dr. Jeff Zoul,  Assistant Superintendent for Teaching and Learning at Deerfield Public Schools District 109 in Deerfield, Illinois, and Marcie Faust, Director for Innovative Learning at Deerfield Public Schools District 109.
---
Although we still hear the Common Core State Standards (CCSS) referred to as "new," the process of creating them began in 2008 and they have now been adopted by more than forty states. In our district, we have moved beyond debating the relative merits of the CCSS and are instead focusing on how we ensure that our curriculum, instruction, and assessment practices are aligned across all grade levels and content areas so that all students learn at high levels.
Although we are supporters of the CCSS, we are emphatic in professing that it is not standards, but instruction, that will ultimately improve student academic achievement. We must now focus on taking these standards and breaking them down into daily, weekly, unit-based, and year-long lessons. The CCSS clearly outline what students must know and be able to do; we must now focus on how we teach these concepts and skills.
One way we focus on the "how" is through the use of technology to improve pedagogy. In considering how technology can support the Common Core State Standards, we decided any such use must be REAL—Relevant, Efficient, Active and Lasting—in order to maximize the potential of the Common Core and prepare our students for college and career success.
Relevant
What we teach our kids has to matter, and by keeping our instruction relevant, we will be keeping our students invested in their learning. Real-word learning must be a priority for today's educators, and the CCSS give teachers plenty of leeway to teach the skills in contexts that resonate with students. Students can write blog posts, produce videos, and create multimedia presentations. Technology makes it possible for students to access an authentic audience and receive feedback from someone other than just the classroom teacher. Real-world learning prepares students for the world beyond their classroom walls.
Efficient
We must find and learn new ways to deliver our instruction in an efficient manner. One way technology can enhance CCSS-aligned instruction is by offering new and more efficient tools for assessing whether our students have mastered the intended learning outcomes. With tools such as Socrative, Poll Everywhere, Kahoot, and other response based technologies, teachers can more efficiently assess where their students are and determine where they must go next.
Active
To achieve the goal of ensuring college and career readiness by the time our students graduate from high school, students need to be active learners. Technology provides kids tools to keep them actively participating in the learning experience. In our district, we are fortunate to have 1:1 learning environments in all of all classrooms. Bringing technology into the classroom raises the level of interactivity and engagement to a new level. Students work toward mastery of the Common Core, while using technology tools to collaborate, design, produce, and create rather than sitting passively in their classrooms. These are the skills that our students will need for their future; to acquire them, students must be active, not passive participants in the learning process.
Lasting
Although the case can be made that it is impossible to fully prepare our kids for jobs that do not even exist today, but we can ensure they will have the curiosity and confidence to succeed when faced with new challenges if we inspire and equip them to become lifelong learners. Lifelong learners do not need to know all the answers; however, they must know where to find them and what to do with them. In technology-rich classrooms, teachers use a variety of digital tools to assist students in discovery and inquiry-based learning, increasing their chances of continuing their quest for learning when they leave the classroom. One method being used in our district to promote these skills is through "Flipped Classroom" teaching employed by Kirk Humphreys, who teaches sixth, seventh, and eighth grade math. Mr. Humphreys uses the flipped teaching model, in which a great deal of classroom lecture, notes, and research are done outside the school day, often through the assistance of various media technology he incorporates. As a result, his classroom "instructional" time can then be used for debate with peers, reflection, problem solving, and guided inquiry.
Educators face many challenges in fully implementing the Common Core State Standards in all classrooms and ensuring that all students leave high school prepared for subsequent success in college and careers. One way to address these real problems is to focus on REAL solutions. With the appropriate amount of technology in the hands of students and teachers and appropriate technological support, teachers can design and deliver CCSS-aligned instruction that is Relevant, Efficient, Active, and Lasting.
Dr. Jeff Zoul currently serves as Assistant Superintendent for Teaching and Learning with Deerfield Public Schools District 109 in Deerfield, Illinois. Before serving as an administrator, Dr. Zoul was a classroom teacher for eighteen years, teaching elementary school, middle school, and high school English. Please follow and contact Jeff via Twitter: @jeff_zoul
Marcie Faust currently serves as Director for Innovative Learning with Deerfield Public Schools District 109 in Deerfield, Illinois. Prior to her role as director, Mrs. Faust taught elementary school, middle school, and served as a technology coordinator for District 109. Please follow and contact Marcie via Twitter: @mfaust
Categories:
Uncategorized