Understanding the Science of Adolescent Learning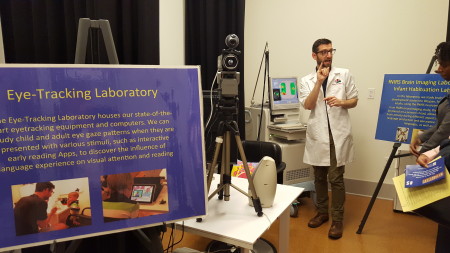 Knowledge about how students learn, particularly during the adolescent years, has grown dramatically recently, providing the opportunity to reorient the traditional, commonsense, but often incorrect approach to instruction to one based on a scientific understanding of what actually happens in and with the brain during learning.
For example, Dr. Bruce Perry, founder of the Child Trauma Academy, writes
Learning requires attention. And attention is mediated by specific parts of the brain. Yet, neural systems fatigue quickly, actually within minutes … [and] neurons become "less responsive;" … Only four to eight minutes of pure factual lecture can be tolerated before the brain seeks other stimuli, either internal (e.g., daydreaming) or external …. If the teacher is not providing that novelty, the brain will go elsewhere. Continuous presentation of facts or concepts in isolation or in a nonstop series of anecdotes will all have the same fatiguing effect—and the child will not learn as much, nor will she come to anticipate and enjoy learning.
This area of research, known as the science of adolescent learning (SAL), is the integrated, interdisciplinary study of neuroscience, cognitive science, physiology, psychology, sociology, anthropology, and human development for the purpose of developing comprehensive solutions to advance learning in the context of the student's environment. The Alliance believes that students can be better served educationally if instruction, the classroom, and school environments can shift from practices based on hunches to practices based on science, as Dr. Perry suggests above.
While most of the work and discussion around the SAL has focused on early childhood, adolescence is also a time of rapid brain development. Furthermore, the SAL can help define a different learning experience that capitalizes on the brain development that teenagers undergo. In an October 2015 Education Week article, Dr. Terry L. Jernigan, professor of cognitive science, psychiatry, and radiology and the director of the University of California, San Diego's Center for Human Development, stated
Until not too long ago, people thought the development of the human brain was essentially accomplished in the first few years [of life]. However, it's become clearer and clearer that the cognitive development of the brain is very protracted …. We have the potential to gain a lot of critical insight into this time of the developing mind.
In other words, the high school years are not "too late" to impact teenage learners, as has often been thought. Adolescence can be a prime time to intervene.
Furthermore, the SAL has particular significance for students in historically underserved schools and communities. Since the adolescent brain is not at full capacity when confronted by a threat, such as poor nutrition or an unsafe learning environment, the SAL can help delineate the need to remove barriers to learning for traditionally underserved students. In addition to implementing effective instruction, strong curriculum, and high-quality assessment, "[r]educing stress and establishing a positive emotional climate in the classroom … [are] essential component[s] of teaching," states Mariale Hardiman, a former teacher and administrator and current assistant dean of the Urban Schools Partnership at Johns Hopkins University's School of Education, in this 2010 Edutopia article.
To gain greater insight into the potential that the SAL offers for improving student learning, several Alliance staff members recently visited the National Science Foundation-funded SAL laboratory at Gallaudet University in Washington, DC. The center, called Visual Language and Visual Learning (VL2), includes the Brain and Language Lab for Neuroimaging (pictured above), which features one of the world's most advanced brain imaging systems. This system allows researchers to study "the biological mechanisms and environmental factors, which, together, make possible the human capacity to learn and convey language, achieve reading mastery, and become a skilled bilingual."
Through their work, Gallaudet's researchers have concluded that students who are exposed to language, spoken or signed, develop the same cognitive abilities. Furthermore, second-language acquisition benefits both nonmajority speakers (such as English language learners) and majority language speakers. Additionally, the researchers shared that literacy and socioemotional skills improve for all students in bilingual learning environments, regardless of whether the languages learned are spoken or signed.
These and other SAL research findings have meaningful implications for traditionally underserved students. As Zaretta Hammond, author and former teacher, writes in her 2014 book Culturally Responsive Teaching and the Brain, this approach to teaching and learning can "develop new cognitive skills and habits of mind that will actually increase their brainpower. Students with increased brainpower can accelerate their own learning, meaning they know how to learn new content and improve their weak skills on their own."
At this point, though, this type of information and the ongoing research provide opportunities for identifying ways to bridge the research-to-policy-to-practice gap. The impact of this important work depends on the three-way communication between researchers, policymakers, and practitioners, and the Alliance hopes to serve as the synaptic connection between these three constituencies. Policymakers and researchers can be made aware of the most pressing problems facing practitioners, and practitioners and policymakers can be made aware of the available solutions. By making these connections and getting the right information from and to all three constituencies, the Alliance believes strongly that it can impact teaching and learning for students, particularly young people from historically underserved communities. In fact, these young people may reap the greatest benefit from this work.
To learn more about the research from Gallaudet's center, visit here.
This blog is part of the Alliance's work on the potential impact the science of adolescent learning (SAL) can have on the educational experiences of secondary students. SAL is the interdisciplinary study of what happens in and with the brain during learning.
Abner Oakes is director of outreach and strategic partnerships for standards, assessments, and deeper learning at the Alliance.