Uncovering the Secret Life of the Teenage Brain

October 01, 2018 05:03 pm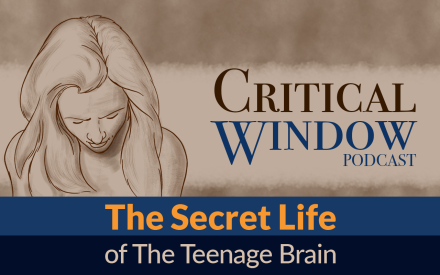 If you regularly interact with adolescents, whether as a parent, educator, or community member, you've likely noticed that there are factors that set teens apart from children of other ages. But did you know that adolescence is the second most active time of neurodevelopment in a human's life? By better understanding what's going on developmentally with adolescent students, educators can create learning environments that capitalize on the unique opportunities that adolescence offers.
For some practical advice on the subject, I looked across the pond to speak with Sarah-Jayne Blakemore, PhD, professor of cognitive neuroscience at University College London and author of Inventing Ourselves: The Secret Life of the Teenage Brain.
The following are edited excerpts from our discussion, but I encourage you to listen to the full conversation below on Critical Window, a new podcast from the Alliance for Excellent Education. Critical Window highlights how research from the science of adolescent learning can inform middle and high school design and the practice of school and district leaders.
"Adolescence Isn't an Aberration"
Bob Wise: You open your book with a chapter, "Adolescence Isn't an Aberration." In that chapter you state that adolescence is a unique stage of human development…Could you explain why?
Sarah Jayne-Blakemore: Some people have argued that adolescence is a recent invention and it doesn't really exist as a biological period of development, but actually there's really good reason to think of adolescence as a unique period of biological and psychological and social development. You see increases in risk taking and impulsivity and changes in social behavior for this age group across species, culture, and history.
"No Such Thing as an Average Adolescent"
Bob Wise: There are different stages of adolescent development, the physical process is occurring as well as other individual differences. What does this mean for the educator?
Sarah Jayne-Blakemore: I think educators themselves know all about individual differences. They work with adolescents every day of their lives and they know there's no such thing as an average adolescent, there's no such thing as an average teenager, every teenager is different and that's absolutely what we're finding in the neuroscience in the psychological research, that although you can look at averages, it's probably more meaningful to think about differences between individuals within adolescence. That might have translational and real-world implications into different teaching strategies for different types of adolescence, but we're nowhere near there yet.
"It's Not Too Late to Intervene in Adolescence"
Bob Wise: You write that "education policy tends to emphasize the importance of early childhood intervention…however this emphasis on early interventions is at odds with the findings that the human brain continues to develop throughout childhood and adolescence and into early adulthood."
Are we suggesting that the way we often think about interventions is wrong? Could you elaborate further on how you think education leaders and policy makers might think about decisions about interventions?
For many years there has been this emphasis in education policy or economics that the first three or five years is most critical to intervene. But the problem with that is that you can't just intervene in the first three years of life. You can't just try to help children, say those from low socioeconomic groups, in the first three years of life and then stop the intervention and expect them to be fine from then on.
If a child slips through the net early on in life, and they don't have that early intervention, that doesn't mean that it's too late to intervene in adolescence. It's not. The evidence from brain research suggests that in fact the brain continues to develop very substantially during adolescence and provides an important window of opportunity for intervention, rehabilitation, teaching, and learning.
Critical Window is a podcast from the Alliance for Excellent Education that explores the rapid changes happening in the body and the brain during adolescence and what these changes mean for educators, policymakers, and parents. 
Subscribe to Critical Window on Apple Music, Stitcher or wherever you find podcasts.