U.S. High School Graduation Rate Hits Another Record High—Are the Gains Real or Manufactured?

December 05, 2017 09:55 am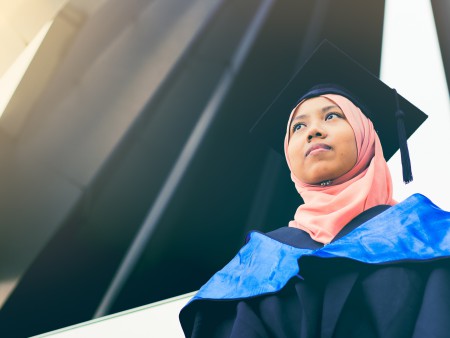 The U.S. stock market is at an all-time high and many investors are beginning to wonder if a crash is on the horizon. Similarly, the national high school graduation rate just hit another record high, leaving some to wonder whether the gains are real or manufactured.
According to data released on December 4 by the U.S. Department of Education, the national high school graduation rate hit a new all-time high of 84.1 percent for the class of 2016. The data represented an increase of nearly 1 percentage point compared to the 83.2 percent rate posted by the class of 2015.
As shown in the table below, all student subgroups have posted increases over the last five years, with African American students, Latino students, and students with limited English proficiency posting the largest gains. As a result, graduation rate gaps between white students and African American students have narrowed from 17 percentage points in 2012 to 11.9 percentage points in 2016. Graduation rate gaps between white students and Latino students have decreased from 13 percentage points to 9 percentage points.
High School Graduation Rates By Year and Student Subgroup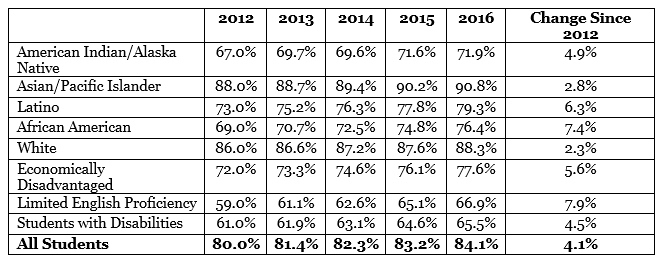 (Click on the image above to view in full size)
"If we agree that it is fundamental that every child have an equal opportunity, then we must continue to be alarmed by the persistent and remaining gaps among various subgroups of students," the organizations wrote in a statement. "While we are glad to see the rate of increase among the key subgroups, the progress is not sufficient."While acknowledging the narrowing of graduation rate gaps, the four organizations leading the GradNation campaign to raise the high school graduation rate to 90 percent by 2020 – the Alliance for Excellent Education, America's Promise Alliance, Civic Enterprises, and the Everyone Graduates Center at Johns Hopkins University's School of Education – pressed for continued commitment.
The new graduation rate data comes of the heels of a report by NPR and WAMU finding that a Washington, DC high school celebrated for having every senior get into college gave diplomas to more than half of the 164 seniors even though they missed more than three months of school.
But for every report about manipulated data or shortcuts, there seem to be many more about schools and districts that are engaging students in new ways like Pittsfield High School in New Hampshire, providing real-world learning through career academies like Scottsbluff High School in Nebraska, or thinking about school discipline in new ways like in Highline Public Schools in Washington.
As they work toward higher graduation rates, high schools must also prepare their students for the next step after graduation, especially with more and more jobs requiring some form of additional education or training after high school. In that area, much more work remains, especially for students of color and students from low-income families. According to a recent report from the Alliance for Excellent Education, historically underserved students are much less likely to earn a college- and career-ready diploma than their white or affluent peers.
"States must ensure that high school diplomas reflect the highest standards for college and/or career readiness and that students have the supports to meet those standards," the GradNation organizations write. They also question the value of credit recovery programs, which are designed to help students make up credits, but frequently rush through content faster than students can retain it.
"Online schools, credit recovery programs and multiple diplomas that are not consistently expected to achieve positive student outcomes challenge the progress that has been made over the past 10 years and put certain young people at a disadvantage," the organizations write. "Any fudging of graduation rate data hurts students and compromises their chances for success.  These are issues that we must continue to address and put pressure on if we are to stand by the goal that we seek."
So where does this leave us? Phillip Lovell, vice president of policy development and government relations at the Alliance for Excellent Education, offers some perspective in an article by Catherine Gewertz at Education Week.
"Just because students are graduating from high school doesn't mean they're ready for college," Lovell said. "So our celebration must be muted. We are clearly doing something right when it comes to getting kids across the line, but we're not quite there when it comes to ensuring students are ready for the next step."
But are school districts and schools feeling too much pressure around graduation rate accountability and taking shortcuts to push kids across the Graduation Day finish line?
"We should always keep our eye on unintended consequences," Lovell tells Gewertz, "but blaming accountability is like blaming the speed limit for a traffic ticket. The purpose of accountability is to identify where we need to be making improvements. Schools shouldn't be taking shortcuts."
Jason Amos is vice president of communications at the Alliance for Excellent Education.