U.S. High School Graduation Rate Hits All-Time High: A Time for Celebration and Rededication

October 25, 2016 11:16 am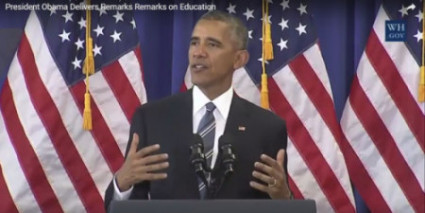 Speaking on October 17 at Benjamin Banneker Academic High School in Washington, DC, President Barack Obama announced that the nation's high school graduation rate reached a new all-time high of 83.2 percent for the Class of 2015, up from 82.3 percent last year and 79 percent for the Class of 2011. Even with the progress, Obama acknowledged that more work was necessary.
"America's high school graduation rate went up to 83 percent. That's the highest on record. That's good news. More African American and Latino students are graduating than ever before," Obama said. "We've still got too many high schools where a third of their students do not earn their diplomas on time," Obama said. "For too many students in America, zip codes still determine how far they'll go. And that's not acceptable."
Are Gaps in Graduation Rates Closing?
According to data released by the National Center for Education Statistics (NCES), Asian/Pacific Islander students have the highest high school graduation rate, followed by white students. Hispanic students, black students, and American Indian/Alaska Native students trail significantly. The NCES data also includes graduation rate data for students from low-income families, English learners, and students with disabilities, as shown in the graph below. (Click on the image for a larger version.)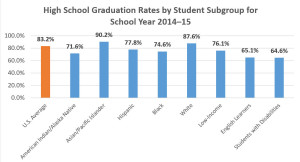 High School graduation rate gaps have narrowed as African American and Hispanic students graduate from high school at record numbers, but the pace is slow. On average, from School Year (SY) 2010–11 to SY 2014–15, graduation rate gaps between white students and black, Hispanic, and American Indian/Alaskan Native students narrowed by about 1 percentage point per year.
Alliance for Excellent Education President Bob Wise believes the new Student Support and Academic Enrichment (SSAE) program, a new grant program under the Every Student Succeeds Act (ESSA) that provides formula grants to states, is one way to address the increasing challenge to ensure that all students graduate from high school, prepared for success in college and a career.
"The nation's high school graduation rate is at an all-time high, but school and district leaders need new tools and resources in their tool belts to close graduation rate gaps between white students and their peers and ensure that high school graduates are truly prepared for postsecondary education," Wise said in an October 24 statement. "The Student Support and Academic Enrichment grant program eschews business as usual in favor of rigorous, innovative approaches to tackle long-standing challenges."
A High School Education Is No Longer Enough
President Obama also stressed the importance of additional education after high school, telling the students in attendance from Benjamin Banneker High School—a high school with a 100 percent graduation rate—that they had more work to do.
"A high school education these days is not enough," Obama said, noting that two out of three job openings will require some form of higher education by 2020. "It used to be that a high school [diploma] might be enough because you could go into a factory or you could go into an office and just do some repetitive work and if you were willing to work hard, you could make a decent living. The problem is repetitive work now is done by machines and that's just going to be more and more true."
To succeed in the global economy, Obama said, students need to think creatively, work in teams, and do "more sophisticated thinking than just sitting there and doing the same thing over and over."
What Changes Led to the Increase in Graduation Rates?
Obama discussed some of the policy changes he pursued to meet the goal he set that the United States would once again lead the world in education by 2020. Specifically, he mentioned investments in high-quality early education, a focus on next-generation high schools and personalized learning, and investments to encourage more traditionally underserved students to get involved in science, technology, engineering, and math (STEM) fields. (For more information on Obama-led initiatives to improve high school graduation rates see this fact sheet from the White House).
Speaking to CQ Roll Call, Phillip Lovell, vice president of policy development and government relations at the Alliance for Excellent Education, noted that a variety of policymakers at all levels—both past and present—should share credit for the increase in high school graduation rates.
"It should be attributed to multiple administrations across party lines," Lovell said. "It's involved governors, it's involved partners of education, and it's involved teachers and students who are working hard to make these gains."
Progress Is No Accident, a recent report from the Alliance for Excellent Education and its GradNation partners (America's Promise Alliance, Civic Enterprises, and the Everyone Graduates Center at Johns Hopkins University), also credits the improvement in high school graduation rates to state and local on-the-ground efforts, as well as federal requirements issued in 2008 under President George W. Bush and in 2011 under President Obama that targeted the dropout crisis.
Are High School Graduation Rate Gains Real?
These findings were also included in Are High School Graduation Gains Real?, a new GradNation brief that responds to skepticism about recent graduation rate increases. The brief acknowledges that some school districts have been caught inflating graduation rates, but it notes that the data manipulation "doesn't involve enough students to have a major impact on state graduation rates."
The brief also addresses key questions about high school graduates' readiness for college, asking whether schools have lowered their standards to graduate more students and answering succinctly, "no." Instead, the brief says that states have done the opposite. "The most rapid rise in graduation rates occurred from 2006 to 2014, the peak years of exit and end-of-course examinations and an era when states were increasing graduation requirements," it notes. "In other words, graduation rates rose even as it was getting more difficult to graduate."
The brief also finds that ACT and SAT scores have either held steady or increased slightly since 2009, indicating that high school graduates are not less prepared for postsecondary education and a career. "As the country turns more students who would otherwise have dropped out of high school into graduates, some assume schools and districts must be lowering standards," it reads. "If that were true, as more of these graduates take the ACT and SAT, one would expect test scores to decline as graduation rates increase. The evidence does not support this case."
Among individual states, Iowa boasted the nation's highest high school graduation rate (90.8 percent), followed by New Jersey (89.7 percent), Alabama (89.3 percent), and Texas (89.0 percent). At the other end of the spectrum, the District of Columbia had the lowest graduation rate (68.5 percent), followed by New Mexico (68.6 percent), and Nevada (71.3 percent).
At the same time, however, the District of Columbia and Nevada (+9.5 percentage points and +9.3 percentage points, respectively) were among the top three states in terms of biggest high school graduation rate gains since SY 2010–11, joining Alabama, which posted the largest gain (+17.3 percentage points).
A map with high school graduation rates for every state is included below. (Click on the map for a larger version.)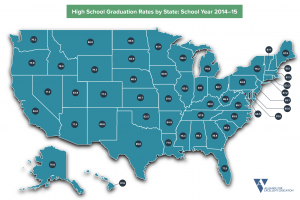 Jason Amos is vice president of communications for the Alliance for Excellent Education.
Categories:
Uncategorized