U.S. High School Graduation Rate at All-Time High but off Pace to Meet 2020 Goal of 90 Percent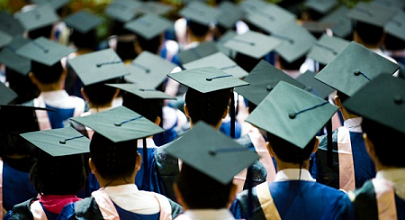 The U.S. high school graduation rate is at an all-time high of 83.2 percent, but for the second straight year, the nation is off pace to meet the 90 percent graduation rate goal by 2020, according to the 2017 Building a Grad Nation report, issued by Civic Enterprises and the Everyone Graduates Center at Johns Hopkins University, in partnership with America's Promise Alliance and the Alliance for Excellent Education.
"National high school graduation rates increased 4 percentage points from 2010 to 2015. That's more than just a data point; it means hundreds of thousands more young people are in a better position for postsecondary enrollment. These increases, reflected across all states and student subgroups during that five-year period, are a profound achievement for our nation," said Robert Balfanz, director of the Everyone Graduates Center at Johns Hopkins University School of Education and coauthor of the report. "Now, as we move into the last leg of the campaign, we must double our progress if we are to meet our goal. This report offers a blueprint for how to get there."
Although about half of the states reported a high school graduation rate of 85 percent or higher and are on track to meet the 90 percent graduation rate goal by 2020, the report says that the nation must "double down" on its efforts to increase graduation rates for students from low-income families, black and Latino students, students with disabilities, and English language learners. Additionally, it says that more must be done to improve low-graduation-rate high schools—defined as high schools that enroll 100 or more students and have a graduation rate at or below 67 percent—that disproportionally enroll many of these students.
According to the report, there are roughly 2,250 low-graduation-rate high schools nationwide, representing just 12 percent of all public high schools that enroll 100 students or more. Under the Every Student Succeeds Act (ESSA), states are required to identify these schools for intervention and support.
Among the 2,250 low-graduation-rate high schools, about 10 percent are virtual high schools, even though they make up a small percentage of public schools and are present in less than half of the states, the report notes. Alternative high schools, which the U.S. Department of Education (ED) says are designed to "address the needs of students that typically cannot be met in regular schools," account for 30 percent of all low-graduation-rate high schools, even though they represent only about 6 percent of all high schools enrolling 100 or more students.
While acknowledging the existence of high-quality non-traditional high schools that help off-track students catch up or re-engage students who have dropped out, the report notes that recent increases in the number of alternative schools and the students enrolled in them have brought about "significant" accountability, data reporting, and management issues. For example, it notes that some states have "waived or reduced accountability for alternative programs and schools" or "inadvertently created loopholes that allow them to become dumping grounds for students other schools and districts no longer want to educate."
Complicating the issue is that some states have reduced or eliminated accountability measures for these schools, leading the four Grad Nation organizations to urge ED Secretary Betsy DeVos to require that all high schools, including alternative, charter, and virtual schools, be included in the accountability and improvement systems that states are developing under ESSA.
"High school graduation rate progress is primarily a state and local responsibility, but federal oversight remains a critical component of making sure that traditionally underserved students receive the support they need," said Bob Wise, president of the Alliance for Excellent Education and former governor of West Virginia. "By implementing and supporting policies that strengthen school accountability and transparency, we avoid potential loopholes that can be devastating to many young people."
Building a Grad Nation: Progress and Challenge in Raising High School Graduation Rates is available at http://gradnation.americaspromise.org/report/2017-building-grad-nation-report.
Jason Amos is vice president of communications at the Alliance for Excellent Education.
Categories:
Uncategorized