Trump's Budget Slashes Education Funding, Declared "Dead on Arrival" by Republicans and Democrats Alike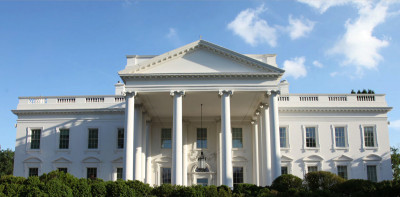 President Trump released his Fiscal Year (FY) 2018 budget on May 23 and immediately received bipartisan criticism from members of Congress concerned with deep cuts to education, health-care programs for low-income adults and children, and a variety of other federal programs.
"I can understand why President Trump wanted to be overseas when he released a budget slashing education at home," said Alliance for Excellent Education President Bob Wise. "Still, I bet he could hear the outcry emanating from U.S. schools all the way in Rome. Thankfully, members of Congress are already signaling that Trump's proposal will be parked—permanently—on the tarmac when he returns."
Trump's budget would cut discretionary funding for the U.S. Department of Education, excluding Pell Grants, by $5.3 billion or 11.6 percent compared to the 2017 funding levels recently approved by Congress. Funding cuts and program eliminations were plentiful and targeted everything from large programs such as Title I, which was cut by $578 million, and special education, which was cut by $114 million, to smaller programs focused on literacy and afterschool academic opportunities.
In a statement, U.S. Secretary of Education Betsy DeVos said the budget "reflects a series of tough choices" and "ensures funding for programs with proven results for students while taking a hard look at programs that sound nice but simply haven't yielded the desired outcomes."
Labeling a program as ineffective has been a popular justification to cut funding, even in instances where research says otherwise. In a March 16 press briefing, Office of Management and Budget Director Mick Mulvaney said Twenty-First-Century Community Learning Centers, or afterschool programs, had "no demonstrable evidence of actually helping kids do better in school." This is despite a U.S. Department of Education report finding that these programs "[touch] students' lives in ways that will have far-reaching academic impact" and make students "more likely to persist to graduation."
Afterschool Alliance Executive Director Jodi Grant said Trump's proposal is "painfully short-sighted and makes a mockery of the president's promise to make our country safer and to support inner cities and rural communities alike."
Trump also proposes that funding be eliminated for the brand-new Student Support and Academic Enrichment (SSAE) grant program created with bipartisan support under the Every Student Succeeds Act (ESSA). The program supports a well-rounded education for students; a safe and healthy school climate; and the effective use of schoolwide technology.
"Republicans and Democrats consolidated and eliminated several different programs to create SSAE and give flexibility to school leaders," said Wise. "Now the president's budget removes the funding—and flexibility—designed to improve education. Instead of eliminating funding for the program, President Trump should take the advice of two key ESSA architects, former House Education and the Workforce Committee Chairman John Kline and U.S. Representative Bobby Scott who have urged that the program receive the full $1.65 billion for which it is eligible under ESSA."
Even programs recently praised by DeVos and Trump did not avoid the budget cleaver. In an April 18 speech in Kenosha, Wisconsin, Trump said that vocational schools are "going to be a big factor" in the his administration. However, his budget proposes to cut career and technical education grants to states by $168 million, or 15 percent.
Proponents for charter schools were among the very few winners in Trump's budget as it includes an increase of $158 million, or 46 percent, to start new charter schools or expand and replicate existing high-performing charter schools. Still, charter school advocates disagree with Trump's approach.
"The National Alliance supports the administration's investment in opening, expanding, and replicating high-quality charter public schools," said National Alliance for Public Charter Schools President and Chief Executive Officer Nina Rees. "However, we are concerned that the proposed budget doesn't maintain final FY 2017 funding levels for IDEA and reduces Title I Part A formula funds. Both IDEA and Title I are foundational programs for some of our most vulnerable students."
In addition to expanded funding for charter schools, Trump proposes $1 billion for a new program that would provide supplemental awards to school districts that allow federal, state, and local funds to follow students to a public school of their choice. These Furthering Options for Children to Unlock Success, or FOCUS, grants would help school districts establish or expand "student-centered systems that (1) differentiate funding based on student characteristics, providing disadvantaged students more funding on a per-pupil basis than other students; (2) offer a range of viable school options and enable the federal, state, and local funds to follow students to the public school of their choice; (3) make school performance and funding data easily accessible to parents; and (4) empower school leaders to use funds flexibly to address student and community needs," according to the U.S. Department of Education's budget summary.
"Under the guise of empowering parents with school choice, the Trump administration has proposed a federal budget that would hurt the very communities that have the most to gain from high-quality public school options," said Eli Broad, founder of the Eli and Edythe Broad Foundation. "The budget would undermine the purpose of Title I by encouraging states to redirect resources away from the highest-need schools and students. It would slash other education and social support programs that serve students and families in need. Arts education and science instruction, a safe place to go after the last school bell rings, an affordable home, and financial support to make it through college—these are all essential to a student's success. Public school choice cannot come at the expense of all public school families and students."
Members of Congress from both parties quickly panned Trump's budget. U.S. Senators John Cornyn (R-TX), the second-highest ranking Republican in the Senate, and John McCain (R-AZ) called it "dead on arrival." U.S. Representative Bobby Scott (D-VA), top Democrat on the House education committee, said Trump's budget "undermines public education."
Current and proposed funding levels for programs under the U.S. Department of Education are available at https://www2.ed.gov/about/overview/budget/budget18/18pbapt.pdf.
Jason Amos is vice president of communications at the Alliance for Excellent Education.
Categories:
Uncategorized