Transforming Monticello High's Library Into the Creative Hub of the School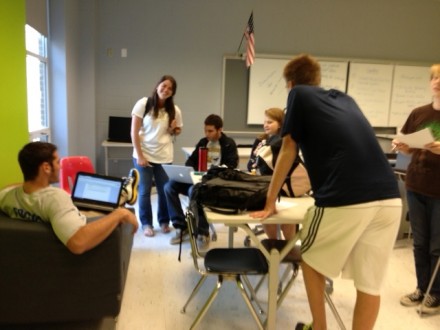 The following is a guest post co-written by Joan Ackroyd and Mae Craddock, library media specialists at Monticello High School in Albemarle County Public Schools in Charlottesville, Virginia.

How do your make your high school library the creative hub of the school that it was always meant to be? It takes a unique perspective and a can-do attitude.
Our philosophy about library programming has always been one of open access and flexibility. As library specialists at Monticello High School in the Albemarle County Public Schools district in Albemarle, Virginia, we have seen the library evolve from a traditional, research- and reading-centered space that few students utilized to one where students and teachers flock to use the latest technology, collaborate on projects, and create content.
Our library at Monticello has not always been the "MakerSpace" that it is now, though. Picture a traditional setting with few students and a very quiet atmosphere. Those were very long weeks! However, as students learned that they were welcome at any time and could talk and eat while they worked, they began to visit in increasingly greater numbers.
One of the first steps Monticello took to improve its library was to focus on music. That sounds strange for a library, right? One of Monticello's librarians at that time had been a musician, and music was still his first love. He spearheaded a library transformation that went through several stages. For a while, the library space resembled an equipment storage room. Then it slowly started to become a technology exploration space. Finally, it quickly became a music creation lab – with the help of a few resurrected computers.
The space instantly became a magnet for students, especially those who had rarely visited the library before. In fact, many students have stated that the chance to spend time making "beats" was the only thing that motivated them to come to school at all!
A traditional space doesn't turn into a vibrant, community space without a few growing pains. The noise level was high, especially since the library had been designed acoustically to amplify any sound detrimental to a research atmosphere, as many libraries are. Even though students weren't purposely trying to be loud, even quiet conversation was a distraction for teachers and librarians trying to deliver instruction. The noise became a "lemon" that we needed to turn into lemonade.
Each June out library is packed up (books, shelves and furniture!) so the facility can be used by a local company. In the current economy, this endeavor brings much needed revenue to our school district. This provided a unique opportunity to remodel the library, dividing the space into smaller collaborative learning areas instead of one large "research" room. Our Superintendent, Dr. Pam Moran, was able to secure some of the revenue from the rental fee to finance the renovation. Now we had spaces that were conducive to creativity and collaboration and students that knew we trusted and indeed "loved" them. We turned those lemons into lemonade.
The rest of the formula came together quickly. Add a supportive Administration, a very supportive Superintendent and our "lemons turned into lemonade" attitude, we couldn't fail. Students were beginning to take ownership of "their" library. What we needed next were activities that would infuse our teachers with the same spirit.
The word had definitely gotten around to kids that the library was the happening place to be, but our instructional time – teacher visits – were still low.  Today, we average 12 classes per day in the library. What changed? How did we get from low instructional time to where we are now? Some of the things we did were purposeful and some were just a matter of philosophy.
We gave purpose to many of our spaces. We transformed our markerspace library from a blank canvas to a veritable craft room with art supplies and tools. This makes it a perfect space for all those messy things that teachers want to do in their classrooms but can't because they're, well, messy. An area of the library that we dubbed "the hacker space" for its innovative technology usage got a green screen, a gaming system, and glass boards to make it perfect for filming and for group projects.
In this way, we have managed to give each spot a reason for teachers to use it. The library has become a desirable instructional space. As Kevin Costner so aptly put it, "If you build it, they will come."  And wow – have they ever.  On any given Monday, our library is so packed that, as librarians, we often instruct students in the teacher's classroom because so many other educators are using our spaces.  We're so packed that we have to take our expertise on the road.
The other, less purposeful shift was to simply say, "yes."  Yes to almost everything.
"Can we come to do research in the library?" Yes.
"Can we use your markers?" Yes.
"Can we write on the tables?" Yes!  (The students made chalkboard tables!)
"Can I put this computer over here?" Yes! (The students made a gaming area.)
"Can you help my class make videos?" Yes.
"Can you bring free reading books to my room?" Yes (And now we offer a program called "bookmobile" to encourage more students and teachers to use library materials.)
"Can you help my class make digital portfolios?" Yes (The first time we were asked, we didn't know how, but we figured it out!)
That attitude of yes – of positivity – of welcoming students and teachers – has made all the difference. While it's often stressful, to have already said "yes" to something you have no idea how to pull off – it's also the best kind of professional challenge.
There is no hard and fast "how to" for transforming libraries from places where information goes to die to places where information takes on new life. But, ultimately, it's about having a welcoming and helpful library run for and by the students.
This guest blog post was co-written by Joan Ackroyd and Mae Craddock, library media specialists at Monticello High School in Albemarle County Public Schools in Albemarle, Virginia.
Categories:
Uncategorized