To BYOD or Not To BYOD: A financial, inventory solution, that was so much more (#FutureReady)

November 13, 2014 12:00 pm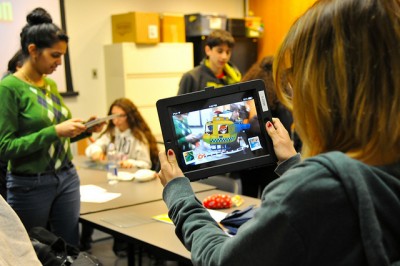 The following blog post is part of the Alliance's Future Ready blog post series. The Future Ready initiative working to support school district superintendents and their leadership teams on district-wide transformation. This blog was written by Sharon LePage Plante, director of technology at Eagle Hill Southport School for students with learning disabilities in Southport, CT. It originally appeared as part of a collaborative post titled, "To BYOD or Not To BYOD: that isn't the question," on Plante's own blog The Road to Learning.
---
This is not a post that's going to guide you and your questioning as to why or why not to go BYOD (Bring Your Own Device) and is not going to provide you definitive answers as to the pros and cons. It is reflections of the BYOD process by some who have been through the implementation and truly what the answers were that it provided.  It is a collaboration of how educators led their schools to be #futureready in this time of flux and the need for leadership to benefit student engagement and learning.
For public schools, there is a movement to embrace the Future Ready Pledge….as an independent school educator personally, I think it is crucial for the larger education community, public and private, to come together to do what is best for our students through the modalities that best engage them. In this post, it is a refection on what the three of us have to share about our experiences in going BYOD to limit the financial burden, but realize the greater educational implications that coincide in part with the @All4Ed momentum.
Eagle Hill-Southport  is an independent school for students with language based learning disabilities.  As well as a classroom teacher, I have served as Academic Technology Coordinator and now Director of Technology.  Technology as a tool when I started there was for word processing.  Slowly but surely teachers and students learned the power of using technology to support skill acquisition as well as provide a path for students to demonstrate their knowledge through multi-modal methods that highlighted their strengths.  The challenge suddenly became that we did not have enough devices in the building to support regularly cross-curricular usage for the entire student population.  How to fund more device purchasing is a concern for public and private schools alike….my suggestion was go BYOD.
Despite trepidations and concerns from admins, January 2012, mid-school year, a BYOD initiative was launched.  By January 2013, 75% of students were utilizing their own devices, and currently it is even higher.  While it did solve the lack of inventory without putting a financial burden on the school, it led to greater solutions.
BYOD opened the door for students with learning differences to learn how to access content in differentiated ways, and gave them tools to organize, produce, and to grow.  For the students @EHSSouthport, BYOD gave them a path to own their learning within our walls, and empowered them to advocate for utilizing technology to support their weaknesses and show their strengths in settings beyond.  BYOD was a solution, that became an accommodation, that became a strong illustration of how while technology is just a tool, it can be a powerful tool for those with learning disabilities.
Sharon LePage Plante is a learning disabilities teacher and the director of technology at Eagle Hill Southport School in Southport, CT.